More than two months after Papua New Guinea's strongest earthquake in almost a century, stranded survivors are turning to an unexpected lifeline: a small domestic violence hotline run by a non-governmental organisation.
Although the risks of violence against women rise after disasters, most callers aren't women. They're men reaching out for support, enquiring about how to obtain food, shelter, and other  services, or fearful of violence that has broken out in some areas after tribal clashes.
The toll-free line has been ringing almost non-stop with calls from people whose lives are still upended by the 7.5-magnitude earthquake that struck the country's remote highlands region on 26 February.
The quake triggered landslides that toppled villages, wiped out food supplies, and blocked key access roads. Authorities say the disaster killed dozens and left an estimated 270,000 in need of help. But tens of thousands of displaced people in isolated areas are still waiting for food, water, shelter, and other emergency aid.
"In a way, it was one of the only available help sources for people," said Sally Beadle, programme team leader on gender and child protection with ChildFund, which runs the hotline in cooperation with the Port Moresby-based Family and Sexual Violence Action Committee. "We see that many, many people who access the hotline probably have no access to any other face-to-face service."
She added that people are desperate, "and what we hear is that people are hungry".
The nine local trauma counsellors at the 1-Tok Kaunselin Helpim Lain have fielded roughly 2,000 calls since the earthquake, according to ChildFund. In addition to hearing about shortages of food and other basic needs, the Port Moresby-based counsellors talk with people who are afraid of aftershocks or simply anxious about what's happening in their communities.
"Everything was destroyed: their house, their gardens," said Audrey, a trauma counsellor who uses a pseudonym in her work to protect her identity. "They have no means to get food, and also the water is polluted."
She and other hotline workers forward information from the calls to disaster responders working with the government and NGOs. Most callers don't know where else to turn. "They're traumatised," Audrey said. "They're in fear that it's going to happen again."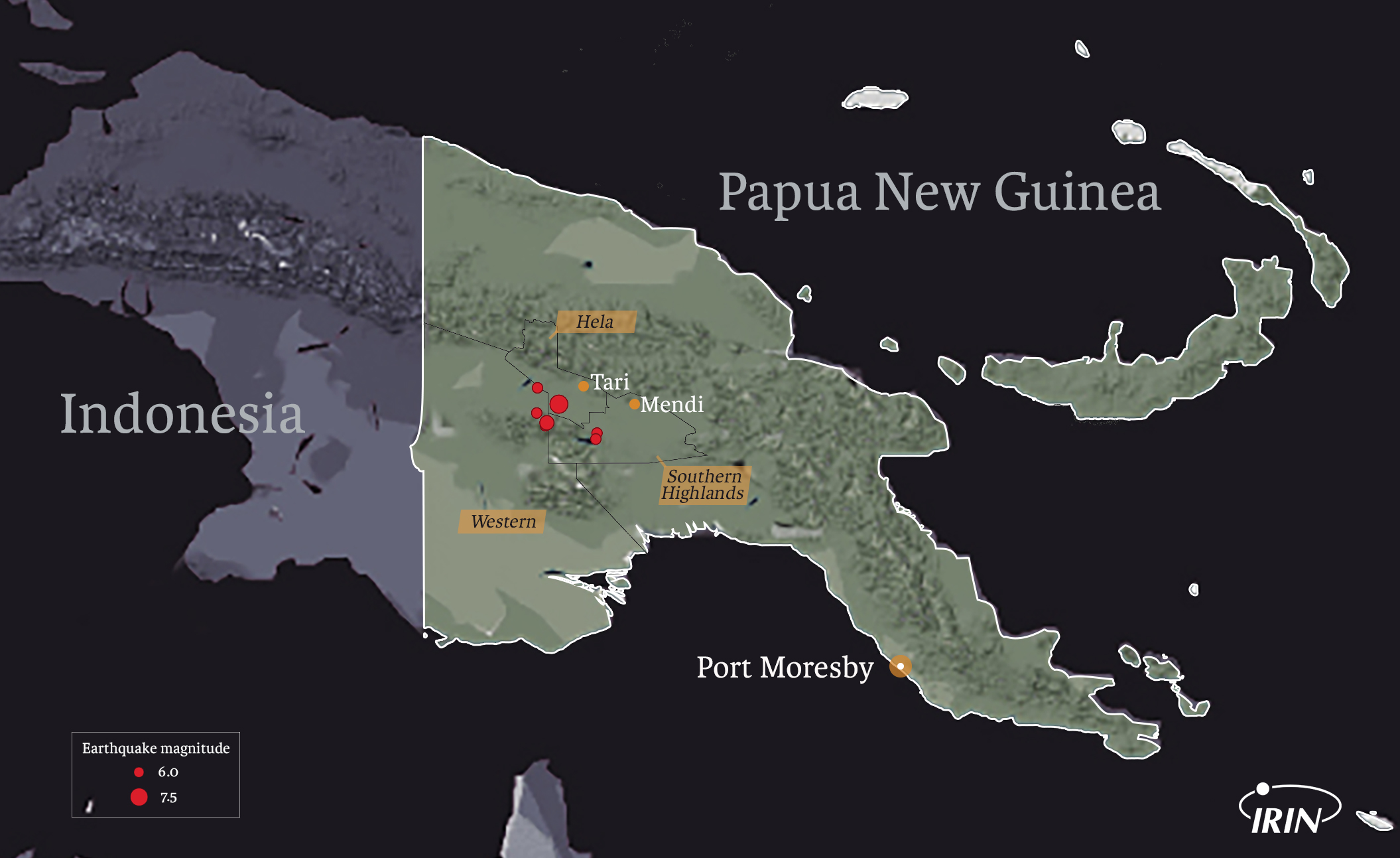 Vast distances
The hotline was set up in 2015 to provide counselling to domestic violence survivors in a country where 68 percent of women report experiencing physical or sexual abuse. ChildFund had recorded about 10,000 calls before the February earthquake.
The surge in calls after the earthquake reflects the challenge of responding to disasters in Papua New Guinea's highlands region, where many already remote communities have been further isolated by landslides that have blocked roads, forcing aid workers to make hours-long journeys through rough terrain, often on foot.
The government and aid groups say that at least 42,000 people in the three hardest-hit areas – Hela, Southern Highlands, and Western provinces – are still without shelter, living in poorly stocked camps or near their buried homes. Survivors in more than two thirds of 38 recently surveyed displacement sites said they had not received food shipments since the earthquake, leaving them reliant on home gardens and dwindling food stocks that were damaged by the disaster.
The number of displaced people is expected to rise as aid workers finally visit the most hard-to-reach areas. Some of these are accessible only by helicopter, and airlifts are costly; UNICEF says logistics and security – necessitated by the outbreaks of violence that followed the earthquake – consume more than a quarter of its $13.8-million budget for the response.
Last month, Robyn Drysdale, deputy humanitarian director in the Pacific for the International Planned Parenthood Federation, visited communities in Southern Highlands Province, near the epicentre of the earthquake, as part of an ongoing response focused on minimising maternal and newborn deaths after the disaster.
She explained that it had been tough to provide healthcare and other basic services to the remote area in the best of times, but that after the earthquake the task of simply reaching people is even more difficult, with roads blocked and entire villages swept away by landslides. Now, she said, "health centres are destroyed, aid posts are destroyed", and health workers have "run away because they're scared".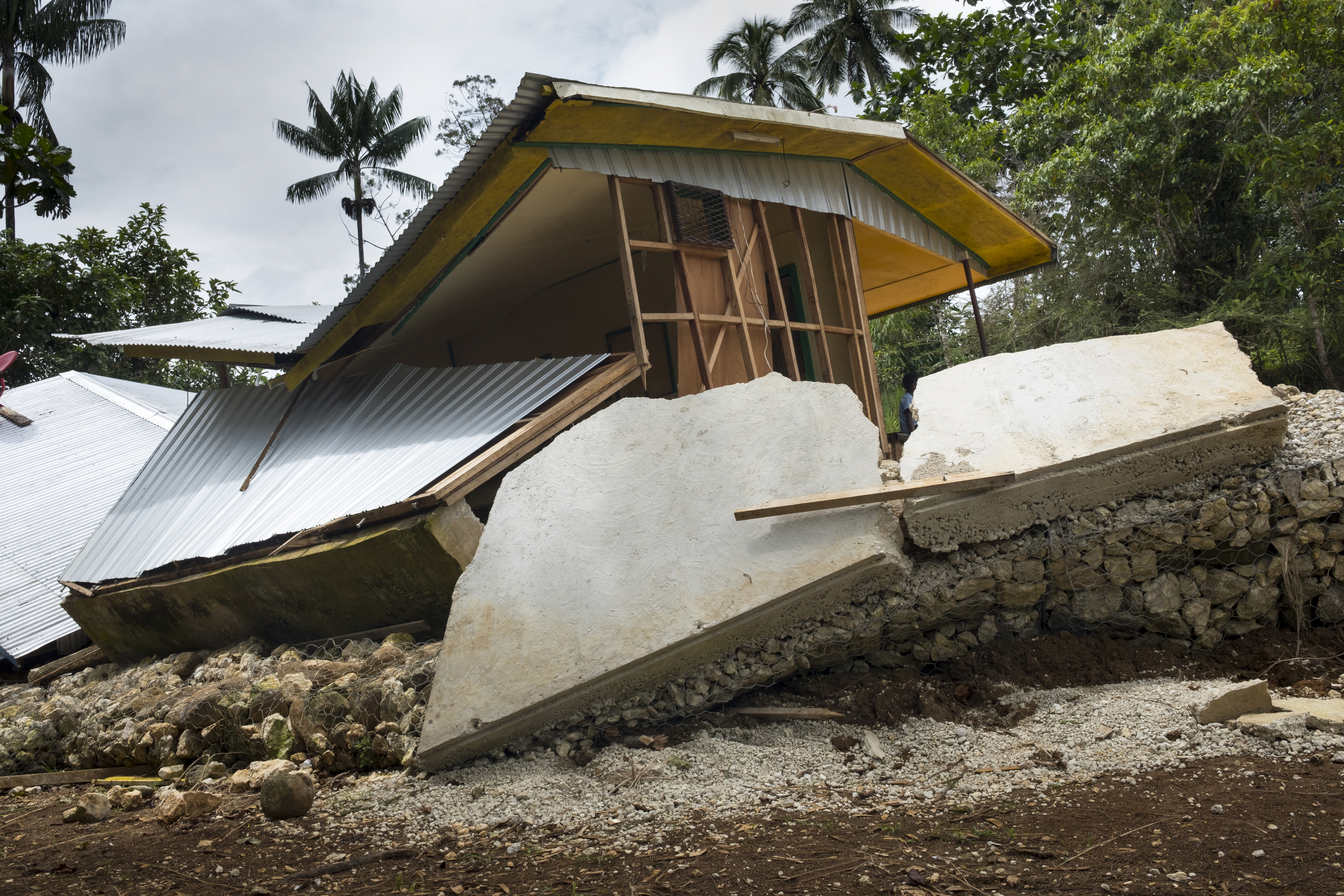 Long-term impacts
UNICEF warns that the most-affected areas already had one of the world's highest levels of child malnutrition. The UN agency predicts widespread damage to farms and other food sources could lead to a jump in the rate of life-threatening severe acute malnutrition – from the current national average of 2.6 percent to 4 percent in the worst-hit provinces. Health authorities are reporting diarrhoea outbreaks and deaths from preventable diseases.
The earthquake has also inflamed tribal tensions in some areas, and UNICEF says more than 40,000 people now live in the midst of this violence. In late March, UN staff pulled out of Tari, the capital of Hela Province, after tribal clashes killed four people.
The hotline has received unexpectedly few calls for its original purpose: to help survivors of family violence. Beadle said that while the phone service is available to anyone, the overwhelming proportion of male callers underscores the need to find ways of reaching more women in the weeks ahead.
"We've got calls from single women who don't have a man, and a lot of this distribution is controlled by men. So they're just completely missing out," she said.
She noted that "women aren't not calling because they don't have a need for counselling and support; we're quite certain of that."
For most of the helpline staff, this is the first time they have counselled people after a natural disaster. But with aid still out of reach for many and aftershocks continuing to rattle the country, the trauma counsellors are preparing for the long haul.
"There's so much to do," said another trauma counsellor, using the pseudonym Cathy. "People are still calling and asking for aid support. There's still more to do in the months to come."
(TOP PHOTO: A woman and her one-year-old son stand outside a makeshift tent where they have been living since a 7.5-magnitude earthquake hit Papua New Guinea on 26 February, destroying most of the homes in their village. Authorities estimate that at least 42,000 people are still displaced, two months after the earthquake. CREDIT: Thomas Nybo/UNICEF)
Il/js/ag