Hundreds of civilian lives are at risk in the Yarmouk Palestinian refugee camp as Syrian government forces pummel the neighbourhood – one of the last in the capital controlled by so-called Islamic State – with airstrikes. Thousands of others who have fled the area are in need of humanitarian aid.
With a ground offensive looming, the last remaining Palestinian refugees in what was a Damascus suburb of 160,000 before becoming an international symbol of human suffering in the Syrian war are now without water, electricity, or medical services.
Those fleeing say those who remain are hunkering down in basements or underground shelters as homes and infrastructure have been destroyed. As many as 1,000 civilians are believed to still be in the area that is under IS control, either unable or unwilling to leave, although some estimates put the number as low as 300.
Since April 19, 5,000 of the estimated 6,000 civilians left in Yarmouk when the offensive against IS began have fled to the nearby village of Yalda, according to the United Nations.  While they are no longer under fire, they are also in dire need.
As pro-government forces advance, there are concerns that Yalda too might become caught up in the fighting and offer little respite for fleeing civilians.
Chris Gunness, spokesman for UNRWA, the UN's agency for Palestine refugees, told IRIN on Monday that many of the new arrivals to Yalda are "begging for medicine and are sleeping in the streets".
"The situation facing Palestine refugees in and around Yarmouk is unimaginable," he said. "In Yarmouk itself, thousands of homes have been destroyed and the last remaining hospital [has] been rendered inoperable by fighting. We call on all sides to spare civilian life and infrastructure. The situation they face is piteous."
UNRWA has confirmed two deaths since the offensive began, but local relief workers say the death toll is higher, at least 10. IS shelling on government-held areas on the outskirts of Yarmouk has also claimed lives.
Yarmouk resident 'Am Bilal, who fled to Yalda over the weekend, told IRIN that the people who stayed behind now cannot leave their homes because of the bombing.
"The only way out is to cross to Yalda," 'Am Bilal said. "Nobody knows how many stayed behind."
A journalist based in the Yarmouk area, Mattar Ismaeel, told IRIN on Monday that there are only 300 to 400 civilians left in the camp. "The only food they have is whatever was stored in their homes… people are relying on wells to get water, which is extremely difficult to get hold of given the circumstances now."
The 6,000 Palestinians who were still in or fleeing Yarmouk on the eve of the offensive are thought to be the elderly and those either unable or unwilling to leave.
Muawiya Muhammad, a doctor from Yarmouk working with the newly displaced in Yalda, told IRIN over the weekend that those left in Yarmouk were mostly elderly, most of whom are ill and no one to care for them.
"Even without the siege, the medical situation is really in a bad state," he said. "The major percentage of [these cases] are infectious diseases that could be prevented with proper hygiene – typhoid fever and hepatitis A have broken out in the camp on many occasions."
A timeline of suffering
Yarmouk was divided by the start of the Syrian war in 2011, and rebels from the Free Syrian Army forcibly took control of the of the camp in 2012. It was first fully besieged by the government in July 2013, with reports emerging at the time of desperate residents eating cats and dogs to survive.
These sorts of stories, combined with a 2014 photograph showing thousands of hungry civilians waiting for UNRWA assistance in a bombed out Yarmouk street, made it a haunting symbol of human suffering in a war marked by starvation tactics and sieges.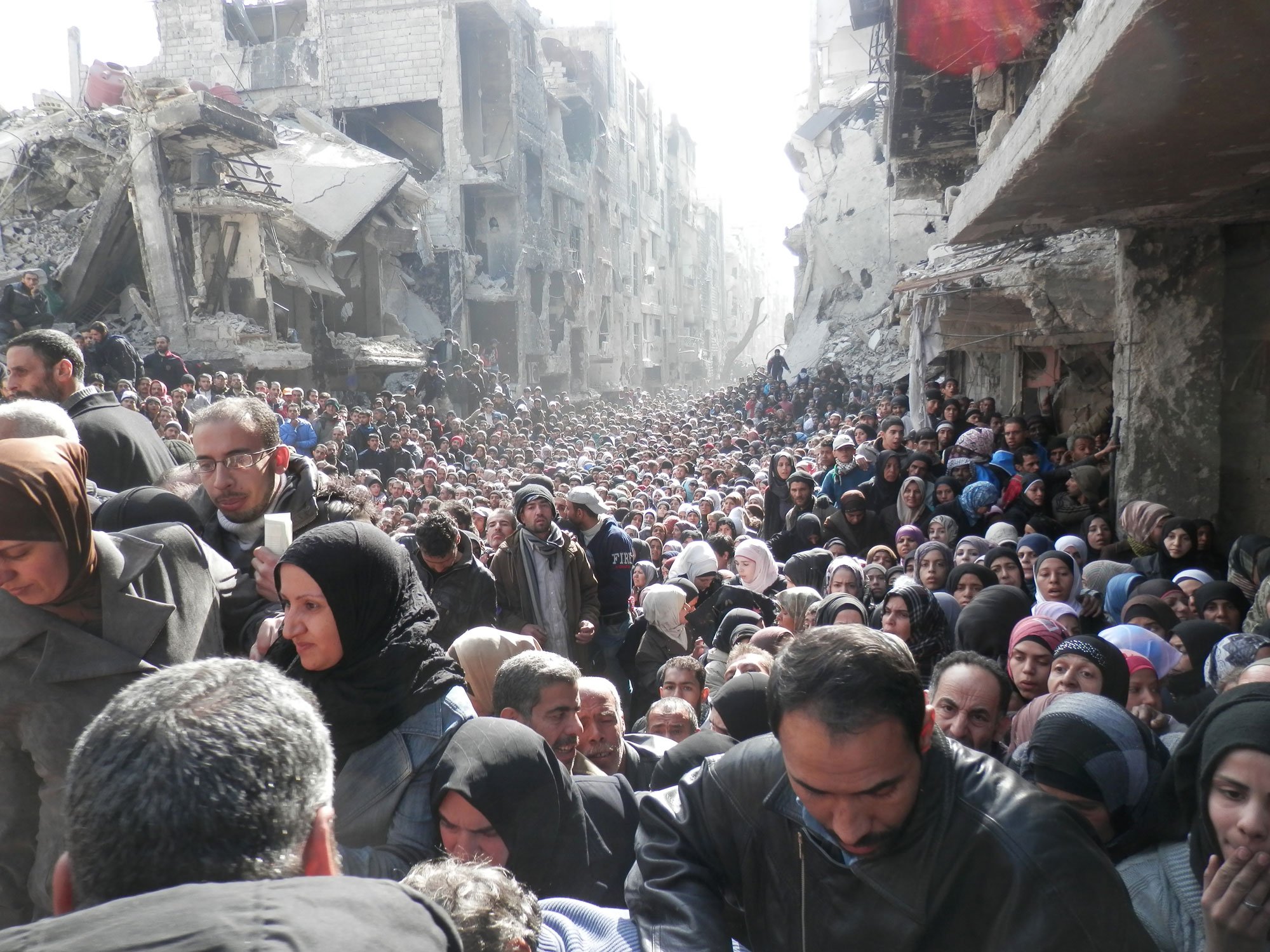 By March 2014, at least 194 people in the camp were reported to have died from starvation and a lack of medical care, although estimates differ.
The siege was partially lifted in 2014, but UNRWA has been unable to access or deliver aid directly to Yarmouk since 2015, when IS gained control of almost the entire neighbourhood.
The security situation has also prevented the UN agency from accessing Yalda since 2016. This has not only deprived hungry Palestinians in the village, but also stopped provisions from reaching civilians in Yarmouk.
'Oroubeh, the last remaining checkpoint between Yalda and Yarmouk, has been a lifeline for civilians, allowing for the movement of some goods and people. However, the rebel group that controls Yalda has been intermittently closing it over the past month.
'Am Bilal said that before he finally left Yarmouk, he stood for hours last week at the closed checkpoint, hoping to cross and purchase bread for himself and his family. The checkpoint remained shut, and he walked back empty-handed. "People [were] on their feet waiting for hours each day just to get a single bag of bread," he said. "We are tired-out from the siege."
The end of Yarmouk
Prior to 2012, there were 560,000 Palestinian refugees registered in Syria, according to UNRWA. The vast majority, 438,000, have remained in the country: UNRWA says 58 percent are internally displaced and 95 percent are in need of assistance.
Among the pro-government forces mobilising to enter Yarmouk are some pro-government Palestinian militias, and the offensive has the support of some Palestinians.
Ibrahim, a Palestinian from Yarmouk who fled to central Damascus some time ago and spoke to IRIN via WhatsApp on the condition of anonymity, welcomed news of the offensive.
"People want a solution in order to preserve their property and save innocent lives," Ibrahim said. "God-willing, the civilians [inside Yarmouk] will be okay… but the army is targeting specific IS positions, not civilians, whereas IS is indiscriminately bombarding the vicinity of the camp."
But Salim Salamah, a former Yarmouk resident and director of the Palestinian League for Human Rights-Syria, had a different take on what appears to be the end of Yarmouk camp.
"This is the very last chapter in a slow and painful destruction of the Palestinian existence in Syria," he told IRIN. "Yarmouk's siege is about to come to an end – not through a situation where people are allowed access to food, medical care, and freedom of movement, but instead one where the camp itself is being totally erased."
-With additional reporting by Osama Moussa, a former Yarmouk resident
(TOP PHOTO: Smoke billowing from the Palestinian camp of Yarmouk during Syrian government strikes targeting so-called Islamic State group. AFP)
om-tr/as/ag