Mexico City awoke to a strange mix of calm and chaos on Wednesday, following a powerful earthquake that has killed at least 225 people.
In the financial district where buildings were largely unscathed, restaurants served their usual fare, banks opened, and office workers in jackets and ties went about their usual business as if nothing too serious had happened the day before.
But just a few blocks away, the city resembled the set of a doomsday movie: Droves of volunteers rushed towards flattened buildings carrying pick axes, water bottles, food rations, and anything else that could aid rescue efforts.
The 7.1-magnitude earthquake, which struck on Tuesday afternoon, was the deadliest to hit the nation in more than three decades. It also came just weeks after an 8.1-magnitude temblor in the south left at least 90 people dead.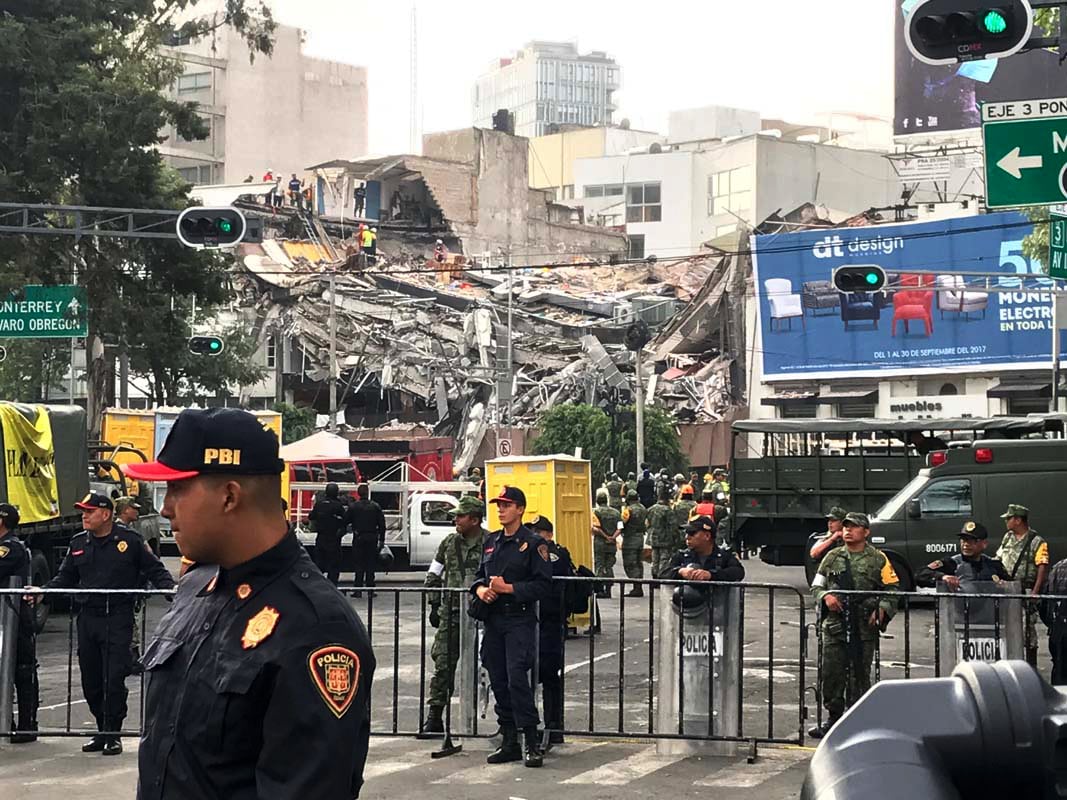 Hundreds of people could still be trapped under the rubble of dozens of buildings that collapsed in the city on Tuesday, eerily exactly 32 years to the day after Mexico's deadliest quake killed thousands.
"It's real ugly in there," Victor Aragon, a mountain rescue expert who'd already done two, four-hour shifts at a collapsed office building in the Roma neighbourhood, told IRIN. "For my own mental well-being I prefer not to describe what I saw."
Aragon said his team of mountaineers had managed to pull two people out of the rubble on Tuesday evening, but he expected only to find bodies on Wednesday. "People are trapped under many layers [of cement]," he explained.
Mexico City's government said rescue workers had succeeded in pulling 52 people alive out of the rubble across the municpality by Tuesday night. But the quake has already claimed at least 93 lives across the capital, according to Mexico's Agency for Civil Protection.
The toll in Mexico City includes at least 21 children and four teachers who died in a collapsed primary school. As the sun set on Wednesday, rescue teams were still engaged in a frantic race to clear the deadly debris, with reports of two more survivors being pulled out alive.
Helping out
The rescue effort has been powered by the support of hundreds, perhaps thousands, of volunteers showing up spontaneously near collapsed buildings.
Many have focused on providing food and drinks for the rescue workers and earthquake victims who have lost their homes. But some volunteers have taken a more hands-on approach.
Manuel Anzaldo, a shop owner from a far-flung suburb on the edge of the city, made a two-hour trip on public transport with three of his friends to volunteer at one disaster site in the wealthy central part of the city.
Anzaldo arrived at Colonia Roma on Wednesday morning with a shovel, a facemask, and a hard hat, ready to help remove rubble from a five-storey office building that had folded with possibly dozens of people inside.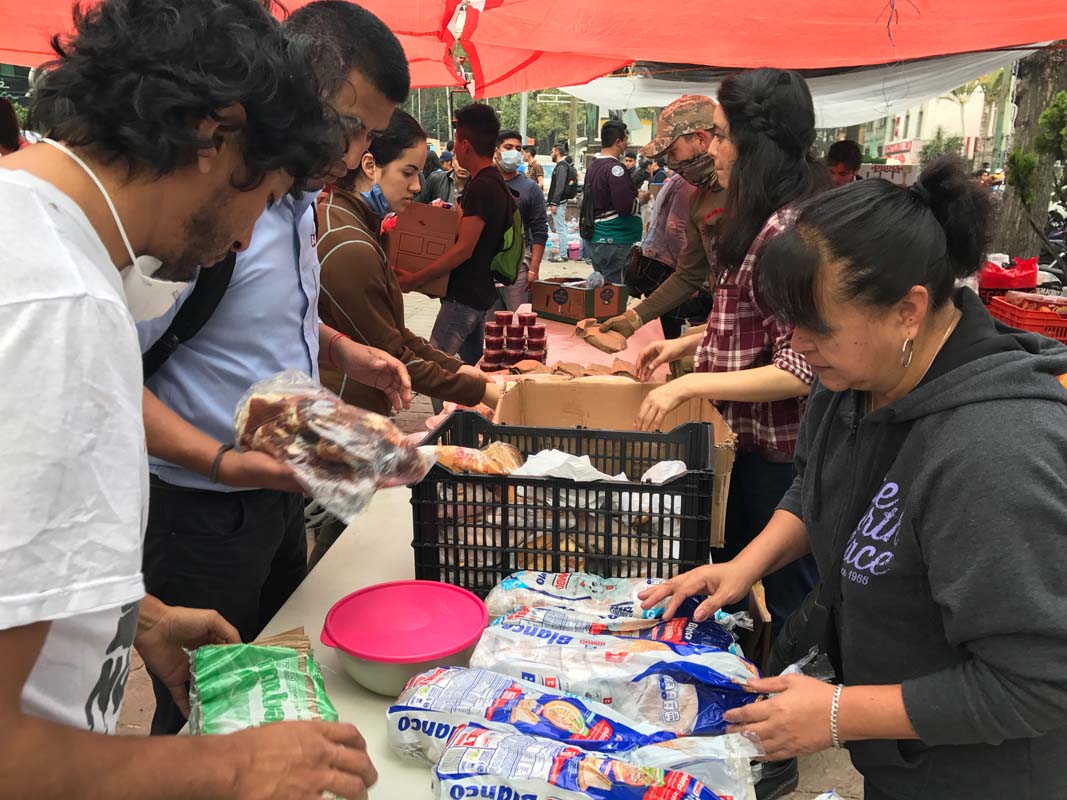 "I think we have to stand with the Mexicans who have suffered from this event," Anzaldo told IRIN. "This is one of the ugliest sites my eyes can see right now."
Near Anzaldo, dozens more volunteers scrambled to organise medical kits and food rations under an improvised tent. Those not ferrying supplies held cardboard signs asking people not to smoke in the area due to a possible gas leak.
Jorge Suarez, a restaurant supply manager, was leading the food collection effort. He said many sites affected by the earthquake still needed support.
"We just found out about two [more] buldings that crumbled," he said on Wednesday afternoon. "So we are trying to tell volunteers to go there. We have plenty of people here already."
Suarez, 26, said he was happy to be part of the rescue effort and was impressed with the large numbers of citizens contributing.
But he also suggested the local authorities could get more involved. "They should help us to transport our volunteers," he said.
Response gaps
Carlos Avila, a rescue worker with the city's civil protection unit, said support needs were changing quickly, depending on conditions at the different disaster zones.
"At this site, in Colonia Roma, we already have enough food, for example," he told IRIN. "Now we need to get more ladders for our rescue teams."
Brenda Nava waited outside the building's security perimeter for news of a cousin apparently trapped inside.
Nava said she didn't know whether her relative, an accountant, was dead or alive. She pleaded with rescue workers to provide more detailed updates on the number of people still believed to be inside the building.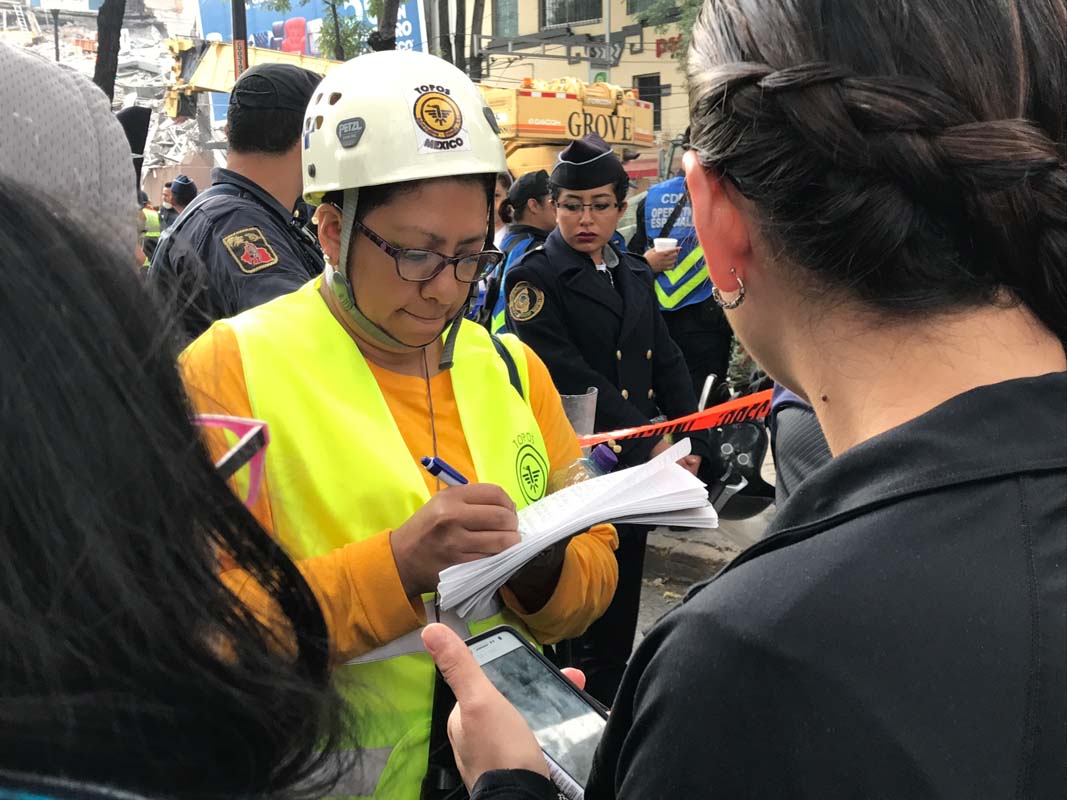 "The information hasn't been clear and we have to go to different people for updates," she said.
Mexico's Red Cross has called for more support for people injured during the quake. On Tuesday, on its Twitter account, the organisation asked for donations of neck braces and shared a bank account where people could make financial donations for more medical supplies. Several hospitals in Mexico City were also asking for blood donors.
Homeless
Mexico City's government has meanwhile been setting up shelters for those who've lost their homes.
Although the number of properties that have actually collapsed is relatively small compared to the city's massive size, dozens more buildings have been rendered uninhabitable due to structural damage.
Victor Ramos was forced to evacuate his apartment on Tuesday in Colonia Roma after the walls separating some of the rooms came down.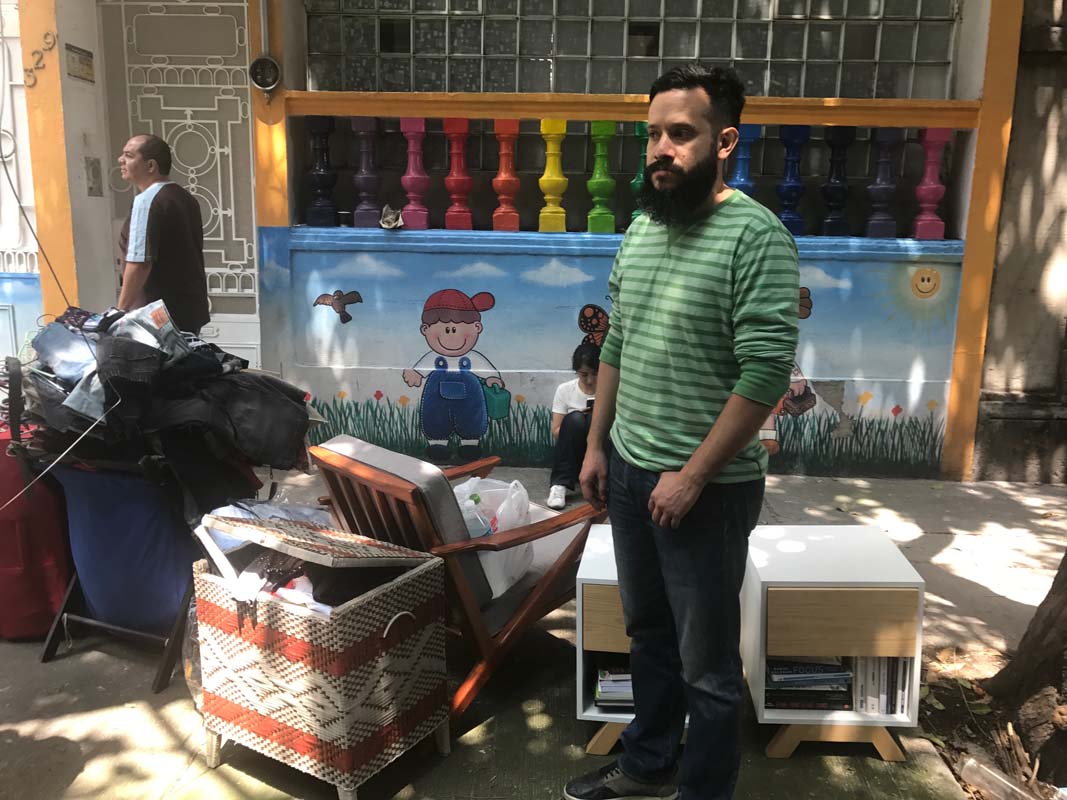 IRIN found him on Wednesday standing on the sidewalk with a suitcase full of clothes and a drawer full of books, waiting for a friend to pick him up.
"Fortunately, my partner and I have someone to stay with while we rebuild our lives," he said. Ramos was grateful to be alive and not injured but sad to abandon the apartment he had lived in for six years. "It's where my partner and I first moved in together," he said. "This was a significant place for us."
mr/ag