Days after the Philippine military launched an assault on Islamist militants in the southern city of Marawi, the conflict came straight to Jamil Ampaso's home.
Soldiers burst into his family's compound one evening in late May. He watched as they gouged a large hole into his backyard.
"My family and I were so terrified, thinking they would massacre us and bury us in the hole," Ampaso said.
His home was overrun. Outside, his city was under siege: a few kilometres away, toward Marawi's city centre, the Philippine military was tumbling into a drawn-out campaign to root out Islamist militants.
Ampaso believes the soldiers were looking for weapons that night, that they suspected his family of supporting the militants.
"They found nothing," Ampaso said. "We are not supporters of the terrorists."
Now, more than three months into a siege that was supposed to be a lightning-quick operation, the city has emptied. Hundreds have died. Parts of the city's core have been flattened.
The battle, military commanders insist, is nearly over. But analysts say it has ripped open lasting wounds among a population that was already deeply distrustful of the government. Rebuilding the city will be crucial for stability in Mindanao, where a new breed of extremist groups is increasingly emboldened. But repairing the damage may prove just as difficult as ending the conflict.
'A brutal siege'
On 23 May, the Philippine army launched an operation aimed at capturing Isnilon Hapilon, a member of militant group Abu Sayyaf, believed to be affiliated with the so-called Islamic State. The clashes pulled in fighters from the Maute group, a radical faction that has also pledged allegiance to IS.
Instead of a quick capture, the army found itself in a prolonged urban conflict. President Rodrigo Duterte quickly declared martial law throughout Mindanao, further enflaming tensions. Airstrikes rained down on insurgent positions in Marawi — in some cases, missing their targets.
"It's a brutal siege with indiscriminate tactics," said Joshua Kurlantzick, a Southeast Asia analyst with the Council on Foreign Relations. The damages have been extensive.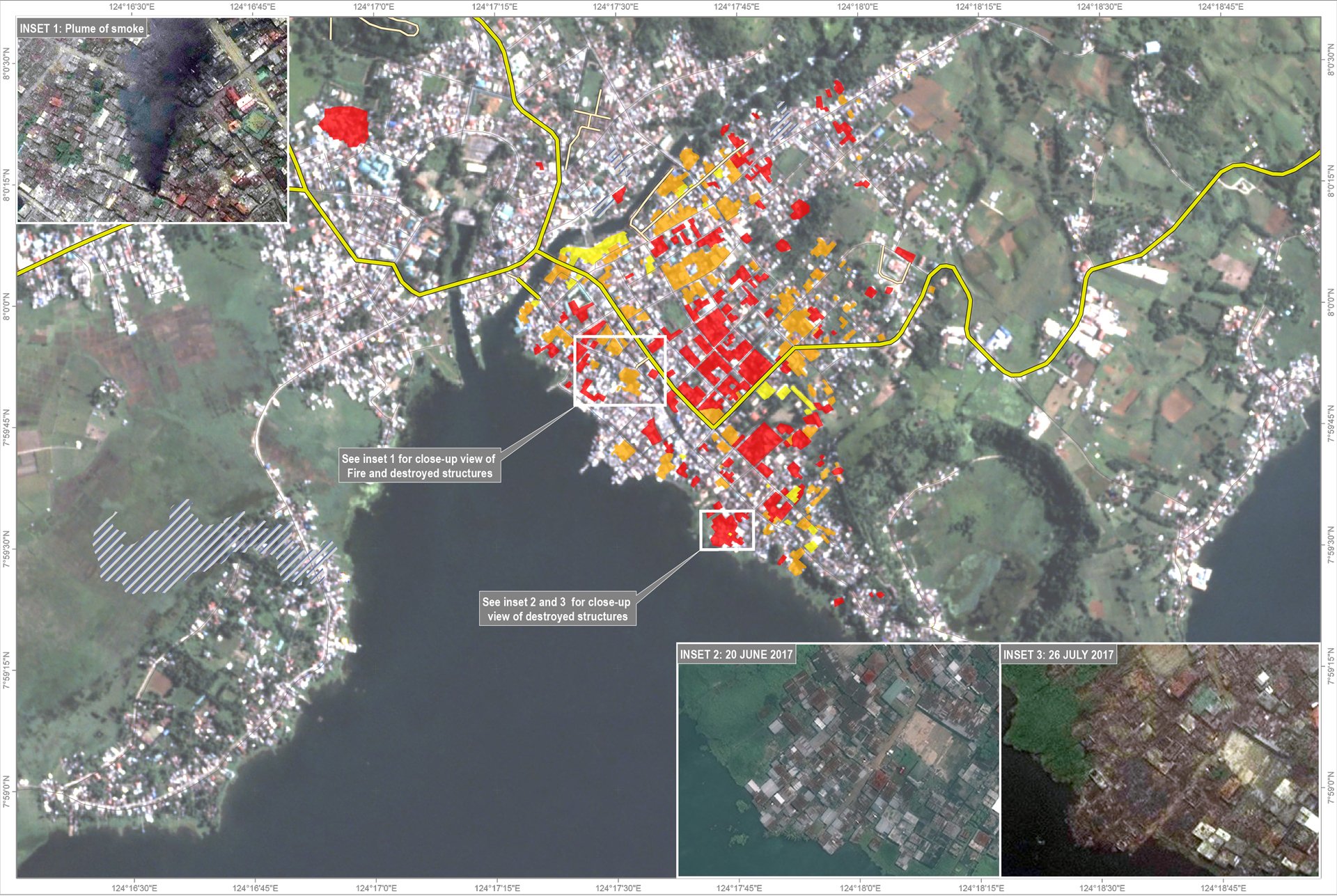 According to an analysis of satellite imagery released in mid-August, the extent of destruction in Marawi more than doubled during a month of clashes. The analysis identified 217 "areas of destruction" covering 45.5 hectares, as of July 26.
"The Philippine armed forces are just not particularly good at either counterinsurgency or fighting in a way that minimises civilian casualties or understanding the terrain," Kurlantzick said.
The conflict has deepened the mistrust between the government and the city's predominantly Muslim residents, who find themselves caught between the army and the militants. Many community leaders condemned the insurgents but urged the military to reject airstrikes, according to Haironesah Domado, who works in development and conflict management in Mindanao.
"Communities may have been blaming not only the Maute group, but also the security forces, for the loss of lives and civilians and the destruction of their communities," she told IRIN.
'We did not destroy Marawi'
Marawi – officially known as the Islamic City of Marawi – is an overwhelmingly Muslim city in an overwhelmingly Catholic country. Long before the current siege, many Muslims in Mindanao already held a deep distrust of the government, fostered by bloody military operations against various iterations of Moro Muslim rebel groups and peace agreements that have fluttered then collapsed.
The current conflict has divided the community, said Domado, whose family has roots in Lanao del Sur province, where Marawi is the capital. She believes there is considerable risk for further violence even after the siege is over. Clan feuding, or rido, could erupt in surrounding communities as suspicions and accusations over loyalties bubble over.
And the instability in Marawi raises the possibility of radicalisation among already disaffected youth. Online messages sent from Marawi suggest militants are already using the military siege as propaganda.
"We did not destroy Marawi City. We did not bomb it to ashes," read one message, according to research from the Jakarta-based Institute for Policy Analysis of Conflict. "We conquered the city for the purpose of implementing the laws of Allah… but the response of the crusader army was brutal."
In this context, rebuilding a shattered city isn't simply a matter of piecing together bricks and mortar. The government must take steps to calm tensions, build trust, and give the most vulnerable a say in how the city is rebuilt, Domado said.
"They have to at least consider that they are generally dealing with a local population that is distrustful of them," she said.
When the war is over
Publicly, at least, authorities say they are aware of the sensitivities at play.
Duterte has said armed forces will not target mosques, even if combatants are inside, while the military has taken steps to publicise images of Muslim soldiers praying at a reclaimed mosque.
In a recent briefing, military officials told reporters they will work with local sultanates and Islamic scholars to counter the spread of extremist ideology.
"When the war in Marawi is over, we'll be facing another battle," said Lt. Gen. Carlito Galvez Jr, who is in charge of military operations in Marawi. "We will be fighting the Islamic State ideology."
Related stories:
Muslim "profiling" under martial law in the Philippines
Starvation threatens hundreds trapped by fighting in Philippine city
What matters now, however, is what the estimated 360,000 people displaced by the conflict think. And that's where efforts may already be falling short.
Aid groups say emergency supplies are running low. Evacuees have complained of squalid conditions in some official evacuation centres, where food and water distribution has grown increasingly erratic. The vast majority of evacuees – more than 90 percent – are staying with relatives, where they have far less access to the same supplies that are delivered to evacuation centres, according to the aid groups and interviews with displaced people.
And, when IRIN recently visited, there were no finished houses at a resettlement site, although they have been promised to evacuees whose homes have been destroyed.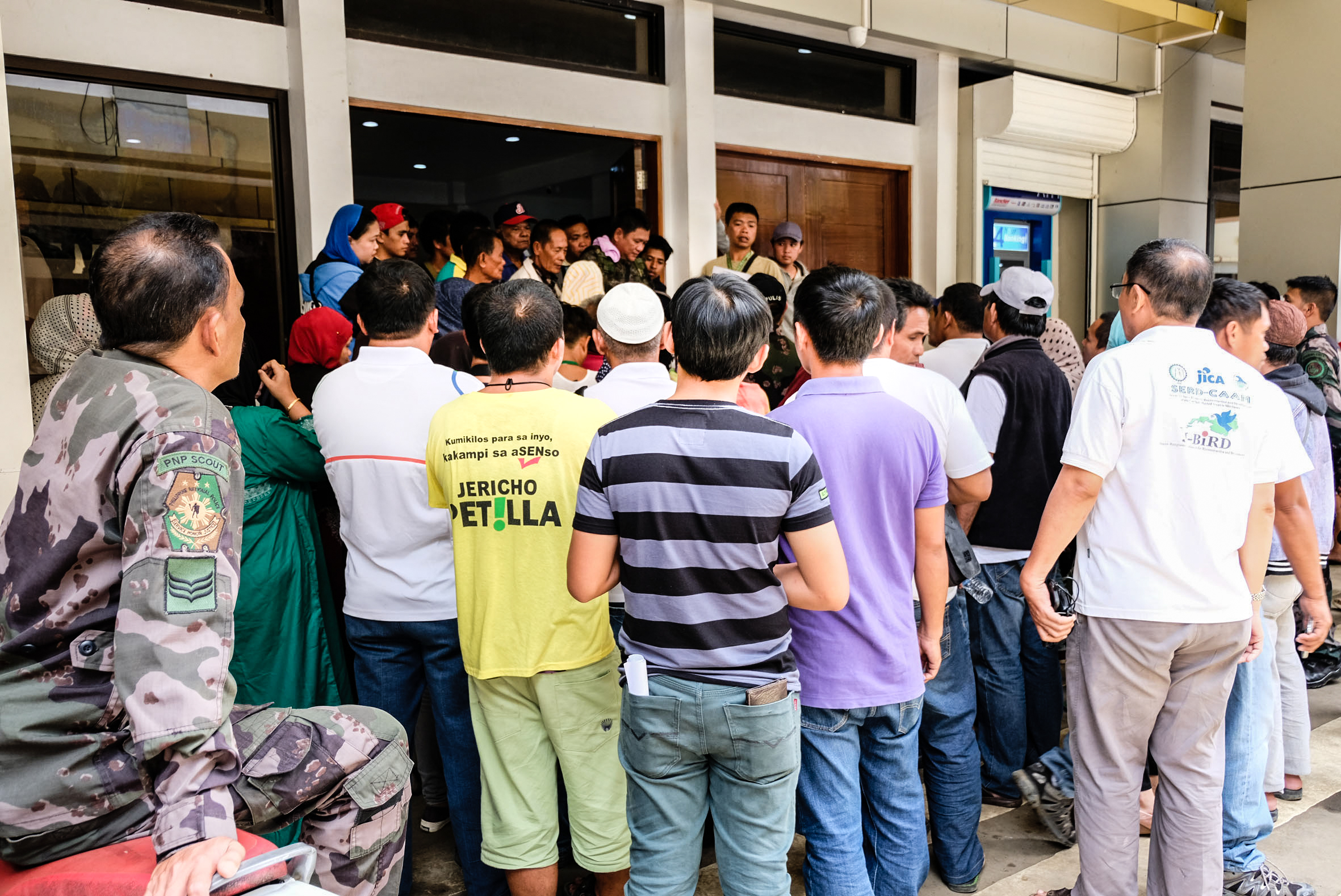 The longer the conflict drags on, the deeper the damage.
The wounds are still fresh for Jamil Ampaso, the man whose home was raided by soldiers at the start of the siege.
On a recent Monday, he stood in line outside a government building, waiting for an official pass that would let him return to his home outside the main conflict zone.
"I'm really angry about what happened to our city," Ampaso said.
On the verge of tears, he told IRIN of his empty pockets, and how he no longer has the money to send his 12 children to school.
Ampaso said he has no sympathy for the militants.
But he's also mad at Duterte for declaring martial law.
And he's angry with both the militants and the military for destroying his city.
(Additional reporting by Irwin Loy in Bangkok)
(TOP PHOTO: A baby girl endures the heat in a cramped warehouse in Balo-i, Lanao del Norte, in the Philippines. Separated by sheets or clothing, roughly 40 families from Marawi have sought refuge in the warehouse. Bong S. Sarmiento/IRIN)
bs/il/ag