Millions of survivors are still reeling from shock two weeks after Typhoon Haiyan devastated large parts of the central Philippines, particularly the city of Tacloban.  The category 5 storm that struck on 8 November killed more than 4,000 people and affected over 13 million more, including 5.4 million children, many of whom are now living with serious protection, health and safety risks.
According to the UN Office for the Coordination of Humanitarian Affairs (OCHA), some 4.4 million people have been displaced, 2.5 million are in need of food aid, and close to 400,000 are staying in evacuation centres across the six damaged regions.
National and local authorities are working around the clock to get assistance to ruined areas more quickly. With aid efforts now intensifying, survivors are slowly picking up the pieces of their lives, demonstrating courage and resilience in the face of tragedy and loss.
Many are shocked or anxious, others are aware of the huge challenges ahead, while some simply want to know what will happen next. The future is uncertain.
IRIN spoke to five people in the city of Tacloban who survived the storm, locally known as Yolanda.
Mayor of Tacloban, Alfred Romualdez, 52
"Our focus is on the displaced, but we pretty much need everything. This storm has changed our lives, so we have a lot to do. In addition to food and relief supplies, we need more tents so that we can move people away from their [damaged] homes. Many people have lost absolutely everything and are living under nothing more than a few pieces of plywood. It's imperative we get people under emergency shelter.
"Additionally, we need more relief supplies, in particular food. Food assistance is getting in, but not fast enough. Much of the international assistance is coming through the national government, but if it was sent directly to the local government we could get the food to the affected population faster. The water system is still [not working] in many areas, and we don't have enough water purifiers.
"Debris removal also remains an issue, and we could use more help in this regard. The main roads into and out of the city have been cleared, but there is still a huge amount of debris from areas that were completely washed away by the storm surge. For this we need more vehicles and heavy equipment, as well as generators and fuel.
"There are still bodies out there that we haven't been able to recover, so we need more specialized equipment for that."
Camela Calderon, a grandmother, 81
"We lost everything, so we need everything. You can see it all around you. I want to return to my home but I know that is not possible. Many people are living outside and don't have anything. Just getting enough food and water is difficult.
"We have been a given a new lease of life but, really, I was prepared to die. I told my children [during the storm] to leave me behind. I'm too old, I told them, and would slow them down if they waited for me. But they didn't listen, and instead insisted on carrying me to a safer area. Now, at my age, I am faced with this.
"I'm not sure what will happen now, as there is nothing left. Some of my children will go to Manila [capital of the Philippines] to restart their lives there, but I want to stay here in Tacloban. This is my home. I only hope the government will help us rebuild our homes or assist us to relocate to safer areas. I just pray something like this [typhoon] won't happen again."
Eric Ponce, a police trainee, 31
"I lost my brother, sister-in-law, a nephew and a niece during the storm. Strong winds, coupled with the storm surge, devastated our two-storey home and there is nothing left.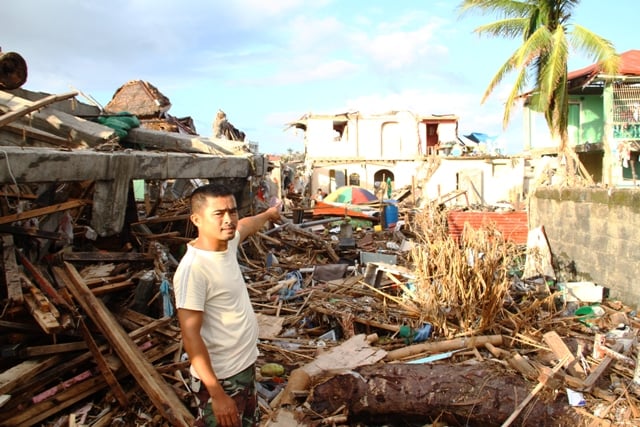 "The last time I saw my brother he was trying to save his children, but he could not even save himself. I don't [know] where to go and live now that we lost our homes.
"What do we need now? This should be obvious. We're all starting from zero. Our homes are gone. We need the government to assist us to rebuild. Either that or they should relocate us completely as it's not safe. We can't stay like this. This could happen again.
"I was training to be a police officer, but I don't know what will happen now."
Lyka Manlunas, student, 12
"This storm devastated our lives, and we're still facing difficulties in getting enough food and water. On top of that, I don't know what will happen next and worry for the future.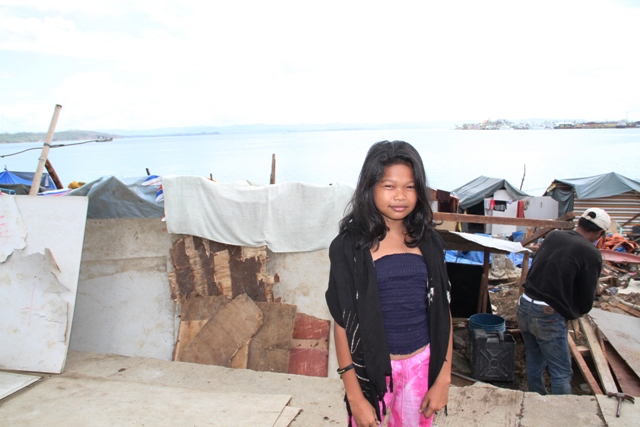 "I don't know what my parents are thinking. They may want to leave this place [Tacloban] altogether. As for me, I would like to stay here. This is the only place I know, and where my friends are.
"I would like to resume school as soon as possible, but not sure how that will be possible, given the current situation. School is very important to me and I will need it for a better future."
Charlie Cajeda, a fisherman and labourer, in his 30s
"This storm was so strong it washed ashore huge ships from the sea. [It] really frightened me. I guess I'm lucky to be alive, as is my family.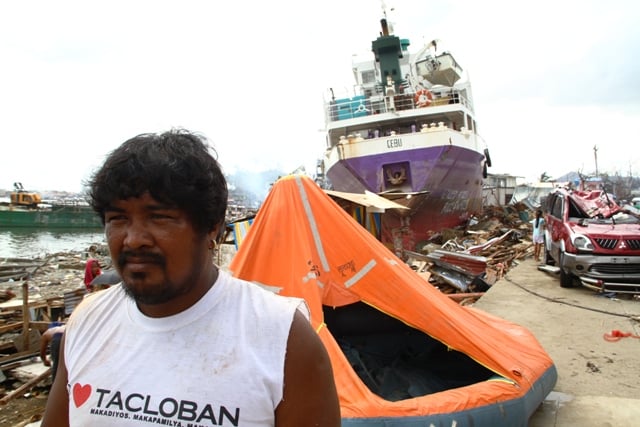 "But now I can't help but wonder will happen next. There is just so little information.
"Right now we are dependent on food assistance from the government. We don't have any other options. But what about after that? What about four weeks later? We don't have any money. Will there still be food assistance? How will we feed our families? What will we do for incomes now that everything has been destroyed?
"I would like to stay in Tacloban and rebuild my home here. But I'm going to need help. In fact, if this is going to work at all, we're all going to need a lot of help."
ds/ds/he
---
This article was produced by IRIN News while it was part of the United Nations Office for the Coordination of Humanitarian Affairs. Please send queries on copyright or liability to the UN. For more information: https://shop.un.org/rights-permissions