As hundreds of thousands of displaced Palestinians stream out of the northern Gaza Strip amid heavy Israeli bombardment and an ongoing ground invasion and siege, shelters in the south of the enclave are packed beyond capacity. 
Many recent arrivals have nowhere to sleep, ending up in the streets, while overcrowded conditions in the facilities where people have taken refuge, and a lack of water for sanitation, are leading to disease outbreaks. UN officials continue to warn that nowhere in Gaza is safe.
Around 200,000 Palestinians have fled from the north of the Gaza Strip to the south since 5 November through a corridor opened up by the Israeli military, which has been "exerting pressure" on residents of northern Gaza to move southwards, according to a 12 November situation report from the UN's emergency aid coordination body, OCHA.
Abu Ahmed Bakr, in his late 40s, and his family are some of the thousands who recently made the trek. When The New Humanitarian met him in the southern Gazan city of Khan Younis, exhaustion was etched across his face.
Along with his wife and 10 children, Bakr escaped from al-Shati refugee camp, to the west of Gaza City, with little more than the clothes on his back. The family walked around 28 kilometres – a journey that took almost seven hours – to reach Khan Younis.
"When the tanks started infiltrating our neighbourhoods, death loomed from every direction, and the shells wouldn't stop," Bakr said. "We narrowly escaped death near Israeli military tanks."
When they reached Khan Younis, the family could not find space in any of the shelters run by the UN agency for Palestine refugees (UNRWA) or by the Hamas-run government in Gaza.
"We are on the streets now, but at least we are a little safer than we were in the north," Bakr said.
Israel began bombarding Gaza after the Palestinian political and militant group Hamas launched an attack into Israel on 7 October, taking around 240 hostages and leaving around 1,200 dead, many of them civilians who were deliberately killed, according to Israeli authorities. On 9 October, Israel announced a total siege of Gaza, cutting off water and electricity and blocking the entry of food, fuel, medical supplies, and other essentials.
Since then, only a limited amount of humanitarian aid has been allowed to enter Gaza through the Rafah border crossing with Egypt, and an Israeli ground invasion that began on 27 October has effectively cut northern Gaza off from the south. Israel allowed the first delivery of fuel into Gaza since fighting began – for use by the UN – on 15 November, but the amount will likely do little to alleviate shortages in the enclave.
The death toll of Palestini
ans in Gaza has not been updated by the Health Ministry in the enclave since 10 November, after communication and services at hospitals in northern Gaza collapsed amid heavy bombardment and a lack of fuel to power backup generators. As of 10 November, more than 11,000 people in Gaza had been killed – over 7,500 of them women and children – and more than 27,400 had been injured, according to Palestinian health officials.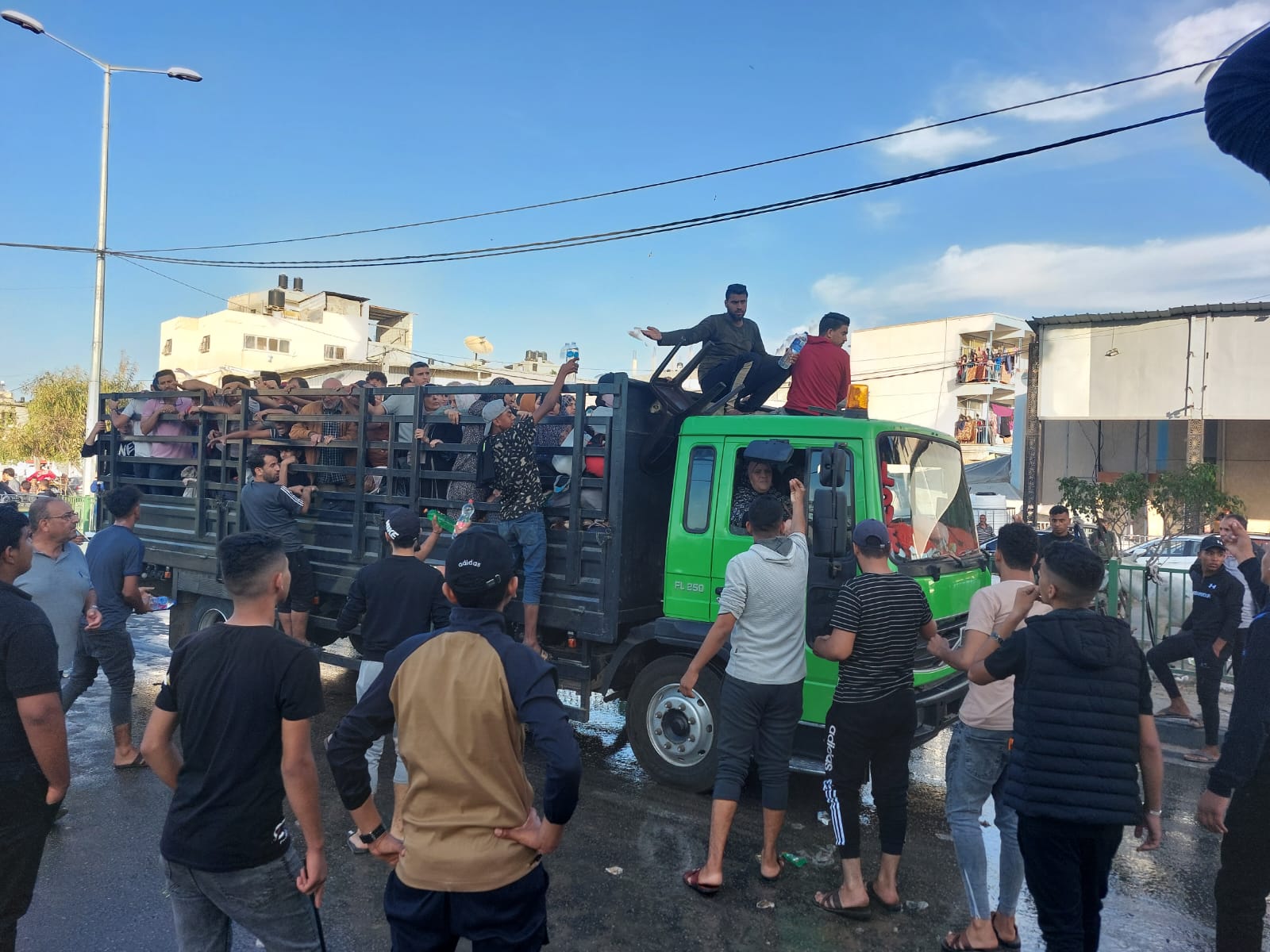 An estimated 1.65 million people, out of around 2.3 million in Gaza, have been displaced from their homes, according to OCHA. Obtaining updated information has become increasingly challenging because of the collapse of communication networks in the enclave, UN agencies say, while a US State Department official has suggested the toll in Gaza could be even higher.
'We have survived so far'
Salah al-Din road, the main artery connecting northern and southern Gaza, has now become an avenue of mass displacement. For nearly two weeks, the Israeli military has opened a corridor along the road for people to move from the north to the south.
Israeli tanks are stationed along the route, which has been destroyed by Israeli bombing, making it difficult to walk along, according to dozens of families The New Humanitarian spoke to who have had to make the journey, after being forced from their homes.
"We are grateful just to be alive and to talk with you and each other. It may seem strange to feel joy under these circumstances."
"We saw corpses everywhere, some decomposed and some fresh. We don't expect anyone to claim them," an elderly man, who asked to remain anonymous, told The New Humanitarian.
The man, who was sitting on the street in Khan Younis, had just arrived with more than 20 family members, including his wife, children, and grandchildren. 
"We are grateful just to be alive and to talk with you and each other. It may seem strange to feel joy under these circumstances," the man said. "But we have survived so far."
In recent days, the Israeli military has reportedly set up an unmanned checkpoint and two containers that people have to pass through to reach the south. In the containers, people have to remove face coverings and hats and show their identity cards as they pass through what appears to be a facial recognition scan, according to people The New Humanitarian spoke to and OCHA.
OCHA said that there are numerous reports of the Israeli military arresting people travelling along the corridor to the south and that there are allegations of "beatings, stripping, and other forms of violence". 
Palestinians The New Humanitarian spoke to said that Israeli soldiers randomly pick people from the crowds walking along Salah al-Din road to interrogate them. One woman said the Israeli military had arrested her brother and son on their way to the south.
The scenes of tens of thousands of people streaming out of northern Gaza, bringing only what they can carry with them, have evoked comparisons to the mass displacement of around 700,000 Palestinians that accompanied the creation of the state of Israel in 1948, known as the Nakba, or catastrophe, in Arabic. After 1948, Israel did not allow displaced Palestinians to return to their homes within the new country's borders. Around 80% of residents in Gaza are descendents of these refugees.
Adding to the fear that those displaced by the current war may not be able to return home, Israel's far-right agricultural minister Avi Dichter recently said, "We are now rolling out the Gaza Nakba". 
UN human rights experts have warned that Palestinians are in grave danger of mass ethnic cleansing, with some saying there is a grave risk of genocide.
'We've left behind our lives, our memories'
Hundreds of thousands of people who remain in northern Gaza are facing a dire situation and are struggling to obtain even a minimal amount of food and water to survive, according to OCHA. 
In Khan Younis, where many of those displaced from the north have ended up, most shops are closed because goods have run out, and every few blocks rubble spills into the streets from buildings that have been bombed.
Despite directives for Palestinian civilians living in the northern areas of Gaza to move to safety in the south, Israel has routinely bombed the southern region, including Khan Younis.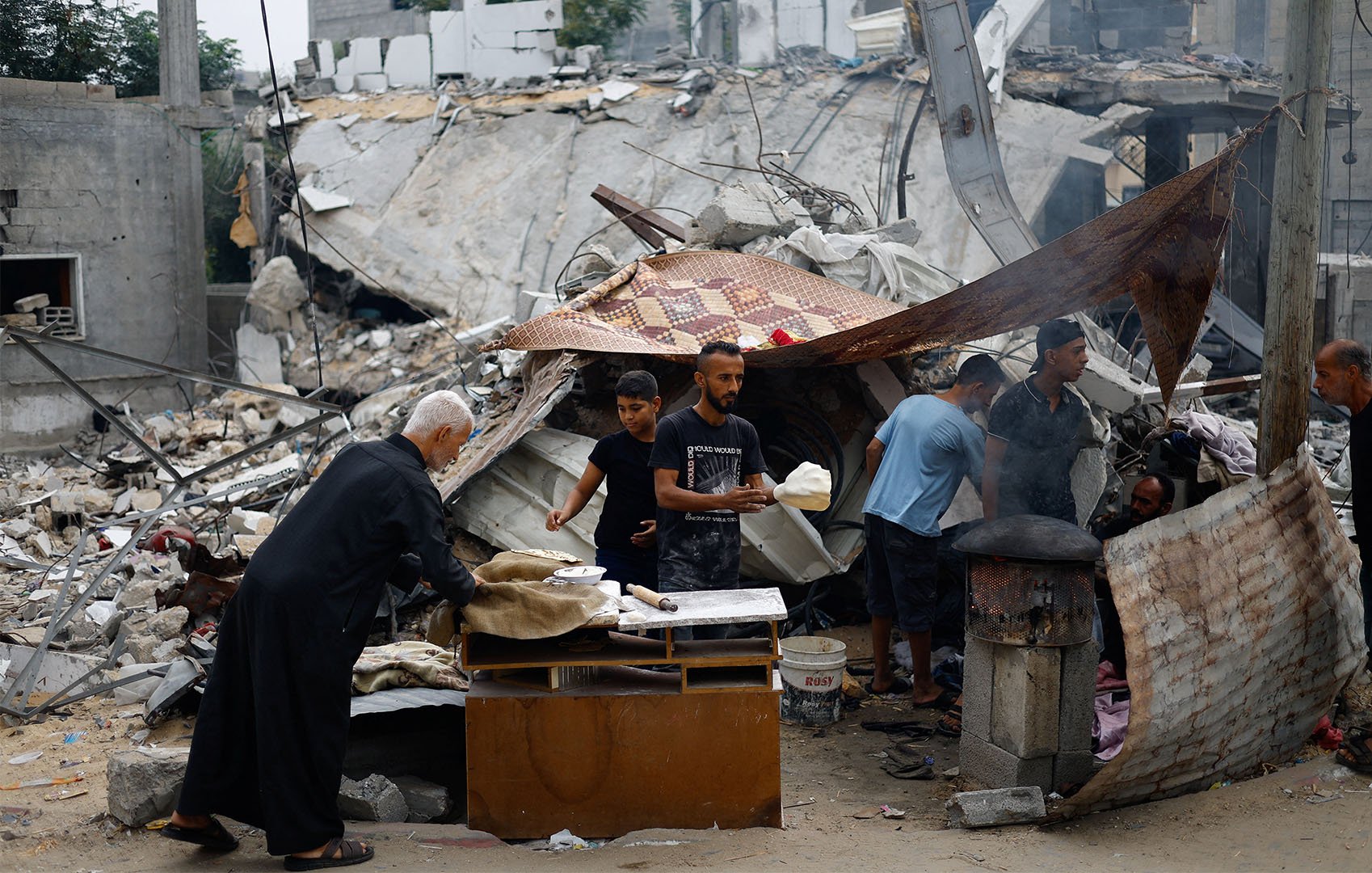 Around 787,000 displaced people are staying in 154 shelters run by UNRWA, including around 634,000 in 97 facilities in central and southern Gaza. Others are in shelters run by Gaza's government or they are staying with friends and relatives, or are sleeping in the streets. The start of the rainy season is also raising concern about flooding worsening the situation.
Bakr, the man from al-Shati refugee camp, and his family spent their first night in Khan Younis on the street because they weren't able to find space in a shelter. There are no NGOs or agencies systematically providing food or water to people living on the streets, and with limited supplies UNRWA said it is only able to provide for 39% of food needs.
Before the war, Bakr was a fisherman. "We had a simple home, but it was our sanctuary, a place where we found solace with family, friends, and neighbours," he told The New Humanitarian.
"We left behind our lives, our memories, and our shelter for an unknown place," said Um Ahmed, Bakr's wife. "We have no idea when this journey will end."
"When the war started at home, I could barely provide for the children, but now, we're on the streets, with none of the basic necessities of life," she said, cradling her youngest child, a one-year-old daughter, and weeping.
"We have nothing to offer them," she said, referring to her children. "We've moved from one form of death to another. The bombings and hunger we endured at home, we are now experiencing here, losing our home and our lives in the process."
The UNRWA shelters, many in school buildings, are overcrowded, and wastewater treatment plants, sewage pumping facilities, dozens of water wells, and desalination plants in central and southern Gaza have shut down due to a lack of fuel, according to OCHA.
"Contaminated water is a serious concern. Consequently, people suffer from diarrhoea, constipation, skin diseases, and respiratory infections."
The water crisis has led to an outbreak of waterborne diseases, according to Dr Rami al-Abdallah, deputy director-general of primary care at Gaza's Health Ministry.
"Around 10,000 cases are reported daily," al-Abdallah told The New Humanitarian.
"Contaminated water is a serious concern," he said, because there is no fuel to run the water treatment plants; people are drinking directly from wells. "Consequently, [people] suffer from diarrhoea, constipation, skin diseases, and respiratory infections."
"With our inability to guarantee a minimum level of personal hygiene, we cannot rule out the possibility of an epidemic," Al-Abdallah said.
The International Rescue Committee and other NGOs have warned about the "inevitable" spread of waterborne illnesses like cholera and typhoid in Gaza. 
'Will we die of hunger and disease?'
Inside the UNRWA shelters in Khan Younis, dozens of people – often not from the same family – are crammed into a single classroom where the desks and chairs have been pushed aside to make room for blankets, and, for those who are lucky, a sleeping mat. 
At night, men and older boys sleep in the courtyards of the school buildings or outside in the streets to make space for women and girls. During the day, people spend their time standing in long queues at the few operating bakeries or walking around looking for drinkable water or some fresh vegetables to buy. Children try to play in the courtyards as their mothers agonise over what they will be able to feed them, and the elderly sit in the hallways leading to classrooms. 
Mahmoud Abu Taaima, 60, fled his home in the east of Khan Younis, close to the border with Israel, to a shelter on the west side of the town as the area he lived in came under heavy bombardment.
"We survived the shelling, but will we die of hunger and disease in the shelters? Is it acceptable for our children to beg or for women to be driven to tears because they can't find a piece of bread?" Abu Taaima asked. "We are experiencing humiliation and degradation on a level we had never imagined."
Abu Muhammad al-Amour's family sought refuge at a shelter near Nasser Hospital in the west of Khan Younis two days after the violence erupted on 7 October. 
"These centres are death traps, lacking the essentials for human existence: not enough food, water or medicine, or even protection from Israeli airstrikes," al-Amour, 60, said. "We left our entire lives behind. We are suffering, we are humiliated, and we don't know when it will end."
Al-Amour fled his home to the west of Khan Younis to escape heavy shelling with 36 members of his family. 
"We don't eat to avoid using the public restrooms," he said. The bathrooms are unclean because of the overcrowding and lack of water, and al-Amour said people in his family haven't been able to bathe for two or three weeks. "We can't even wash the few clothes we have." 
This story has been published in collaboration with Egab. Edited by Rania Elmalky and Eric Reidy.