Last month, the UN Security Council authorised an international force to help Haiti fight gang violence. But what do Haitians themselves really think about it?
As Kenya's parliament and courts wrestle with whether to approve the East African nation's bid to lead the deployment – not a UN peacekeeping mission, but a US-backed and largely US-funded policing effort – The New Humanitarian sought out Haitians from different walks of life to find out their perspectives.
Haiti is suffering a deepening humanitarian crisis, marked by extreme hunger and poverty, and its citizens are anxious for any relief from the rampant killings and lawlessness, but these individuals – from a judge to a displaced person, from a policeman to a rapper – expressed mixed feelings about any foreign intervention.
The force was approved by the UN in early October, a year after de facto Prime Minister Ariel Henry requested it. However, the high court in Kenya, which was slated to lead the mission, then blocked the deployment of 1,000 Kenyan police officers after opposition politicians filed a lawsuit arguing that it was unconstitutional.
After some delays, a ruling on the case is now expected on 16 November, a court assistant told The New Humanitarian.
In the meantime, Interior Cabinet Secretary Kindiki Kithure responded to Kenyans' rising concerns over the mission by insisting that: "Kenya will not allow its troops to exit the country for Haiti until all the required resources, including equipment and finances, are mobilised and availed".
"The cost of deployment will be borne by United Nations member states through voluntary contributions," Kithure added in a post on X, the social media platform formerly known as Twitter.
Up to a dozen countries, including Kenya, have committed to support the force, which the United States has long been pushing for, saying it is essential to restore security before new elections can be held.
Henry has been installed as de facto leader since the July 2021 assassination of President Jovenel Moïse – an event that led to a dramatic rise in gang violence and a weakening of Haiti's now unelected institutions.
Some are sceptical about an effort that doesn't primarily involve Haitians, especially one that is led by Kenyans, who do not speak French or Kreyol and whose security forces have a record of human rights violations.
Others are hopeful the mission will break the grip of the gangs, who control most of the capital, Port-au-Prince, and large parts of the surrounding Artibonite department.
More than 200,000 people have been displaced by recent violence, 44% of the population faces acute food insecurity, more than 2,400 people were killed by gang violence between January and mid-August alone, while countless women have been raped amid the growing impunity.
A poll released by the Haiti Health Network on 31 October showed that 70% of the approximately 1,600 respondents were in favour of the mission. But some are concerned, especially bearing in mind what happened in the past with MINUSTAH – the UN "stabilisation" mission accused of sexual abuse and exploitation, and blamed for a deadly cholera outbreak. 
The testimonies that follow — edited for length and clarity — reveal what Haitians face daily, and their thoughts on the deployment of foreign security forces.
Mario Andresol, 63, former candidate to the presidency (2016), and director of the Haitian National Police from 2005 to 2012: "We've lost the momentum to solve the problem ourselves."
"In Haiti, there was a problem of public security, on top of which came a problem of national security, [of displacement, and a humanitarian crisis]. Today, we don't have institutions capable of responding to these challenges.
There always were small bandits who committed crimes, but they were contained. In the 2010s, the situation deteriorated rapidly as the Haitian National Police (PNH) lost control of weapons entering the territory and, at the same time, gangs developed very quickly. It has become a national security problem that goes beyond the Haitian police… We've lost the momentum to solve the problem ourselves.
Since Haiti does not currently have an army, we need armed support — from Kenya for example — capable of helping to regain control of lost territories. But the Haitian police will continue to have a role to play. An international force can intervene for a specific time to dismantle the gangs in the neighbourhoods, but the work of daily security must fall on to the national police, who know the territory and have a relationship with the population that will last over time. They must be the ones ensuring the day-to-day safety of the Haitian people."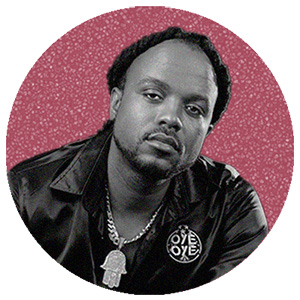 Jean Léonard Tout-Puissant, a.k.a. Izolan, 42, rapper with the popular group Barikad Crew: "Living in Port-au-Prince is like living in a prison."
"Today, we have a country that doesn't exist. Haitians tear each other apart and denigrate each other. I was born here, I'm living here, but it's all discouraging.
All Haitian artists are looking to move abroad because nothing works here. There's no nightlife, no calendar of shows, no perspectives. Living in Port-au-Prince is like living in a prison. We need a solution to this.
Worse, when you're a Haitian artist and a neighbourhood chief (that is what he calls gang leaders) asks you to come and play for him, you must go or you risk your life. But we also risk our lives by going there, because the police often shoot at us when they see us entering these neighbourhoods... The only solution is to leave the country. But we can't all leave the country.
I'm in favour of an armed force coming to help us. Not to mistreat us, but to help us...
We hope the next force will work with the PNH to strengthen the institutions, and to leave something for the country when they pull out of Haiti."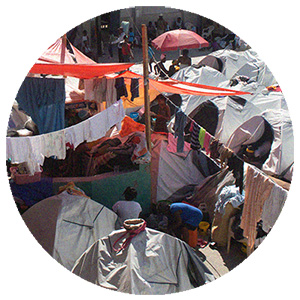 Paul W. 39, (his full name is not being disclosed for security reasons), driver and displaced person: "Not even a foreign force can change this reality."
"I was living in [the] Carrefour-Feuilles [district of Port-au-Prince] with my wife and our six-month-old child when the gangs attacked our neighbourhood. We had to flee quickly, under bullets, without being able to take anything with us, just our lives. On 16 August, 2023, the bandits came, stole everything we had, and set the house on fire.
My wife and I took refuge in a school further away. As our baby was still an infant, I didn't want to stay in a public square. We have nothing left. We don't even have a mattress to sleep on; we just use bits of cardboard. 
I'm a driver. I don't earn much, less than $200 US a month. My wife doesn't work. She is totally dependent on me. I live thanks to a few friends who help me, but the situation is very difficult. I hope to find humanitarian aid from an organisation soon.
For me, not even a foreign force can change this reality. After all, we've already had foreign forces in the country on several occasions… but it didn't prevent the situation from deteriorating. Politicians and other Haitians like me need to be conscious of our situation and take actions to change it.
I want to leave the country. I want to go to Cuba because my wife must undergo cervical surgery, and it is relatively easier to go there than to other countries. I'm asking some people for help with this. There's no point in building a life here."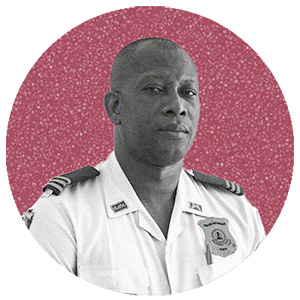 Lionel Lazarre, 42, police officer and coordinator of the National Union of Haitian Police Officers (SYNAPOHA): "We need social measures to help people in the neighbourhoods cut ties with the bandits."
"We live in a country where the state is almost non-existent regarding insecurity... The Haitian police force is one of the few institutions still standing. But [they] are overwhelmed. No gang has been dismantled. The same gang leaders are still out there terrorising the population. The government and [the leaders of the police] need to provide the resources and means for large-scale interventions, but they don't.
We hope that the international force will work closely with the police to deliver concrete results. An overall strategy must be established, and tactics to attack the gangs must be defined to impose a firepower greater than that of the gangs to quickly dismantle them…
Today, the police have no informers. Due to poverty, many people prefer to collaborate with gangs to gain economic benefits... Sometimes, gang leaders distribute a few bags of stolen rice or money in the neighbourhoods. These people inform them of any police action. 
Along with the international force, we need social measures to help people in the neighbourhoods cut ties with the bandits."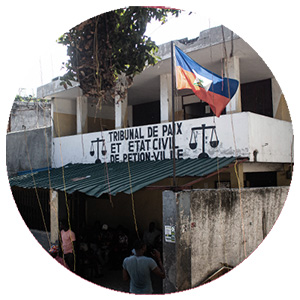 Fabien, 54, (his name was changed for security reasons), judge in Pétion-Ville, Port-au-Prince: "We are at an impasse." 
"We're all surrounded by insecurity. No one is spared. As a judge, I often dispense justice to criminals... I have no protection... Many judges have left the country due to threats. These are enormous losses for a sector that suffers from a lack of qualified personnel.
The principled position is to say 'no' to any foreign force in Haiti. First, because we are a sovereign country, and second, because historically foreign forces have caused us a lot of harm. But I can tell you that we are at an impasse. The national police force that is supposed to protect us is undermined by corruption, and many police officers are under the influence of gangs or involved in politics. So what do we do?"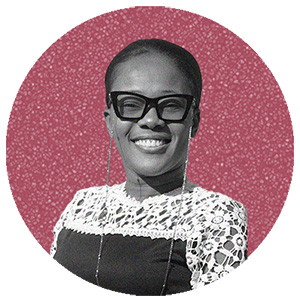 Josianne Marthel, 35, store owner: "The government wants to consolidate its power, and an occupying force will help it to do so."
"I'm a housewife with a daughter, and an entrepreneur. I have a clothing boutique in Port-au-Prince. Business used to be good, I had three employees and lots of customers. The crisis began in 2020, when kidnapping reached new heights. Since then, people don't go out anymore. There isn't really any activity. My store has shrunk considerably. I've had to sack all the staff, and I'm trying to carry on in the hope that things will improve.
Today, I'm worried about my life, [and] that of my husband and my child. A few months ago, I was attacked by bandits downtown while I went to get supplies. The country offers no future for my child. I am doing everything to make sure that she leaves this place as quickly as possible.
I'm against the international force coming to Haiti... What has the government done to solve the problem? Nothing. The government wants to consolidate its power, and an occupying force will help it do so. And the population will be abused, women will get raped. Frankly, I'm against it. The international community has to give the police the means to do their job. They could provide advisers who could help reform the Haitian police. If that doesn't work, then we consider a foreign force."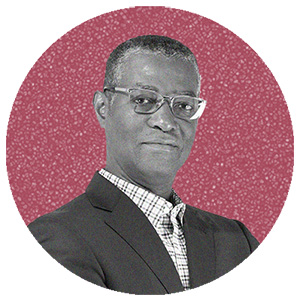 Joseph Monode, 54, president of the Chamber of Commerce and Industry of Haiti (CCIH): "I believe in our forces more than in any international force." 
"Haitian businesses are really impacted by the country's insecurity. Certain sectors almost no longer exist, such as hotels or restaurants in Port-au-Prince... Additionally, it is difficult to travel by road from one department to another because gangs occupy key crossroads, so the problem is reflected even in departments where insecurity is lower. Traders have their goods stolen on the road, leading to heavy losses... We continue to do business because we love what we do and we are tenacious, but the conditions are not good.
We need to think about strengthening our police and our army. Foreign forces have come to Haiti several times in the recent past, but what has been the result? If the energy and money that will go to the international force was invested in our national forces instead, it would strengthen these structures and give jobs to our young people, who today are trying to leave the country by any means possible. What do our national forces need? Training, equipment, ammunition... The means were never given to the police. And frankly, I believe in our forces more than in any international force, because they know our reality better than anyone."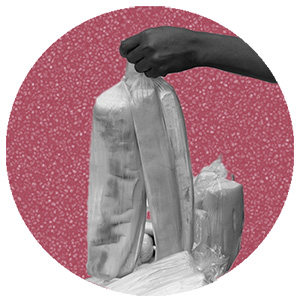 Anita Saint-Jean, 47, (her name was changed for security reasons), informal bread seller in the capital's gang-controlled neighbourhood of Canaan: "This situation is unbearable and a solution must be found." 
"The permanent insecurity there has been in the area for more than a year has put my family in many difficulties. I have three children: a 20-year-old son, a 15-year-old daughter, and an 11-year old son. The two eldest can no longer live here because they have received threats. My 20-year-old was threatened several times by gangs because he did not want to join them. As for my daughter, one of the gang members already had eyes on her. And I know they raped a lot of girls in the neighborhood. So, I arranged for [both of them] to leave the neighbourhood. 
Today, they each live at someone else's place. They can not even come to see me anymore.
Additionally, due to insecurity, my business is no longer working. The area has no life; it is a desert. Fewer people buy; they have no money because there is no activity; and most bakeries are closed. I have to go far to get supplies, sometimes under bullets. Now, I rely almost totally on my husband, who works as a DJ´s assistant. I'm very worried about my children.
Whether it is an international force or the national police [who can help], I don't know. I don't do politics. I just want to say that this situation is unbearable and that a solution must be found."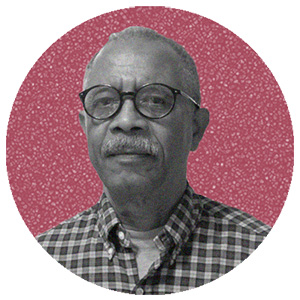 Pierre Buteau, 74, president of the Haitian Society of History, Geography, and Geology, and former minister of education: "The arrival of an international force in Haiti would be a waste of time."
"I was kidnapped on 23 January 2023. Heavily armed bandits came into my home at 5:45 a.m. I was terrified for my wife, my children, and my grandchildren who were with me. I spent a week and two days in the hands of the kidnappers and was then released for ransom. Fortunately, friends helped us financially and psychologically to get through this bad time.
Today, I fear for my loved ones and myself, but above all I worry about the country. Insecurity has claimed so many victims, especially among the middle and working classes… The situation is so explosive that the country risks breaking into pieces. But I don't want to leave the country. I am a school and university professor, I am president of the Haitian Society of History, a century-old organisation. I have a history with this country that makes me stay here.
The insecurity that prevails today is only the tip of the iceberg. The crisis is deep: It is an institutional crisis – a crisis of the state. Gangs today are an expression of this collapse. With the fall of [Jean-Claude] Duvalier (Haiti's former president), we destroyed all our institutions, as if this country never had the instruments to solve its crises and never had political traditions.
Moreover, the international community, controlled by the United States and Western Europe, have assumed the right to direct world affairs and to implement democracy their way in countries like Haiti.
The arrival of an international force in Haiti would be a waste of time. Other countries like Algeria have resolved their insecurity crisis on their own. We can solve the problem ourselves by setting up a global security system and creating a specialised military police with the same discipline that the army had. And at the same time, we look at the basic institutional problem."
*The original version of this story stated 8 Haitians in the headline. Nine Haitians are in fact interviewed. This correction was published on 16 November 2023.
Edited by Daniela Mohor and Tom Brady.