Despite xenophobic government rhetoric, a rise in anti-migrant violence, and a dangerous trend of deportations and expulsions, many Africans escaping conflicts and poverty see Tunisia as a better alternative to its eastern neighbour Libya. 
But in the southern Tunisian city of Zarzis, their expectations of a reprieve from the cycle of violence and exploitation in Libya collide with the reality of a country where attitudes towards migrants and asylum seekers have grown more and more hostile.
The New Humanitarian spoke to dozens of new arrivals who said the little assistance that does exist comes from local volunteers struggling to fill the gap left by the inaction of the government and international aid organisations. 
"I came to Tunisia to find security. At least there is peace here, and I can try to reach Europe one day to build a new life there," Abdallah Abdallah, a 22-year-old from Sudan, said last month in Zarzis. "Before coming, I heard [that international aid] organisations in Tunisia are working [to help]. But here I am in the street without shelter, food, or hygiene."
More than 90,000 people have arrived in Italy after crossing the Mediterranean Sea from Tunisia so far this year, compared to around 44,000 from Libya, the main departure point in North Africa over the past decade. A July deal between Tunisia and the EU aimed at curbing migration has had little discernible impact on the numbers leaving.
At least 2,186 people have died or gone missing this year attempting the crossings to Italy from Tunisia and Libya – known as the central Mediterranean route. This is already 50% higher than 2022's annual figure. 
People from Guinea, Côte d'Ivore, Tunisia, and Egypt make up the top nationalities taking the route. But the civil war in Sudan, which began in April, is also affecting the demographics, according to the UN's refugee agency, UNHCR. 
More than 1.1 million people have left Sudan seeking safety since April. The overwhelming majority have gone to neighbouring countries, including Chad and Egypt, which are hosting around 440,000 and 330,000 people respectively. The numbers of Sudanese heading for Europe via North Africa are vastly smaller but they are rising: Around 1,300 reached Italy from Tunisia in August, more than the total for all of January to June, and the numbers crossing from Libya into Tunisia have also risen, according to UNHCR.
Some of the Sudanese entering Tunisia were forced to flee the recent fighting in Sudan, while others, like Abdallah, have already spent years searching for stability in different countries after being displaced by earlier conflicts – particularly in Sudan's western region of Darfur. 
After entering Tunisia from Libya, many asylum seekers and migrants come to Zarzis hoping to be able to register with UNHCR, which has an office in the city. But on arrival, those hopes of protection and assistance are shattered by long registration delays and a lack of support: Dozens of asylum seekers and migrants The New Humanitarian spoke to expressed shock at largely having to fend for themselves, with only a small amount of aid provided by local volunteers. 
Abdallah, for example, had come to Tunisia in August after spending three and a half years in Libya, during which time he said he was subjected to forced labour and found himself thrown in detention centres three times. Safer, perhaps, in Zarzis, he thought his situation would be vastly different but it isn't. "With no money, where am I going to stay? What am I going to eat?" he asked. 
'You can see for yourself how we're living'
Tunisia does not have a national asylum law or an asylum system. The Tunisian government allows UNHCR to register and give an identity card to asylum seekers and refugees in the country. But because of the absence of national legislation, the card does little in terms of giving people legal status in Tunisia or allowing them to work and access services. 
At the beginning of 2022, UNHCR shut down a number of shelters it was running in the south of Tunisia, evicting the refugees and asylum seekers who were staying there and cutting off the financial assistance they had been receiving. Asked to explain, UNHCR's main office in Tunisia, in the capital Tunis, told The New Humanitarian in an email that – due to financial constraints – the agency had decided to "only provide temporary housing to refugees and asylum seekers at heightened risks".
After the eviction, in February 2022, Sudanese, Eritrean, Somali, and Ethiopian refugees and asylum seekers staged a sit-in protest in front of the UNHCR office in Zarzis. But almost two years later, UNHCR is still not providing them with housing, food, or medical support, according to several asylum seekers The New Humanitarian spoke to. No other NGOs have stepped in to fill the gaps in Zarzis, they added.
"I came here to get the papers, but I'm still waiting. None of them from UNHCR has come to see us."
UNHCR's office in Tunis insisted it was doing what it could. "[The agency] has been stepping up the provision of food vouchers for newly pre-registered asylum seekers, providing emergency health triage, as well as emergency medical care," it said.
But in early October, there was little sign of aid and support being provided by anyone other than a limited number of local volunteers. 
About two kilometres south of Zarzis, along the highway leading to the Libyan border, The New Humanitarian met around 15 to 20 asylum seekers and migrants – mostly from Sudan, and including Abdallah – squatting in an otherwise empty two-storey building. They were all young men, and some sat on straw mats while others slept on a few salvaged mattresses. 
Jowcket Amum, 21, said he had been staying in the building for over three months after entering Tunisia from Libya. Originally from South Sudan, Amum was living in Sudan when the civil war broke out earlier this year and left the country around May. He went to Libya before coming to Zarzis, where he hoped to be able to register as a refugee. "I came here to get the papers, but I'm still waiting," he said. "None of them from UNHCR has come to see us."
Asked how they're processing claims for refugee status, and if they could speed up the process, UNHCR said it was "scaling up protection activities to reduce, to the extent possible, the waiting period for registration as asylum seeker". 
Living conditions at the squat were desperate: The asylum seekers and migrants slept on the ground outside the building; they didn't have enough money for basic necessities; there was no toilet or bathing facilities, and garbage was piling up nearby. "You can see for yourself how we're living," Amum said.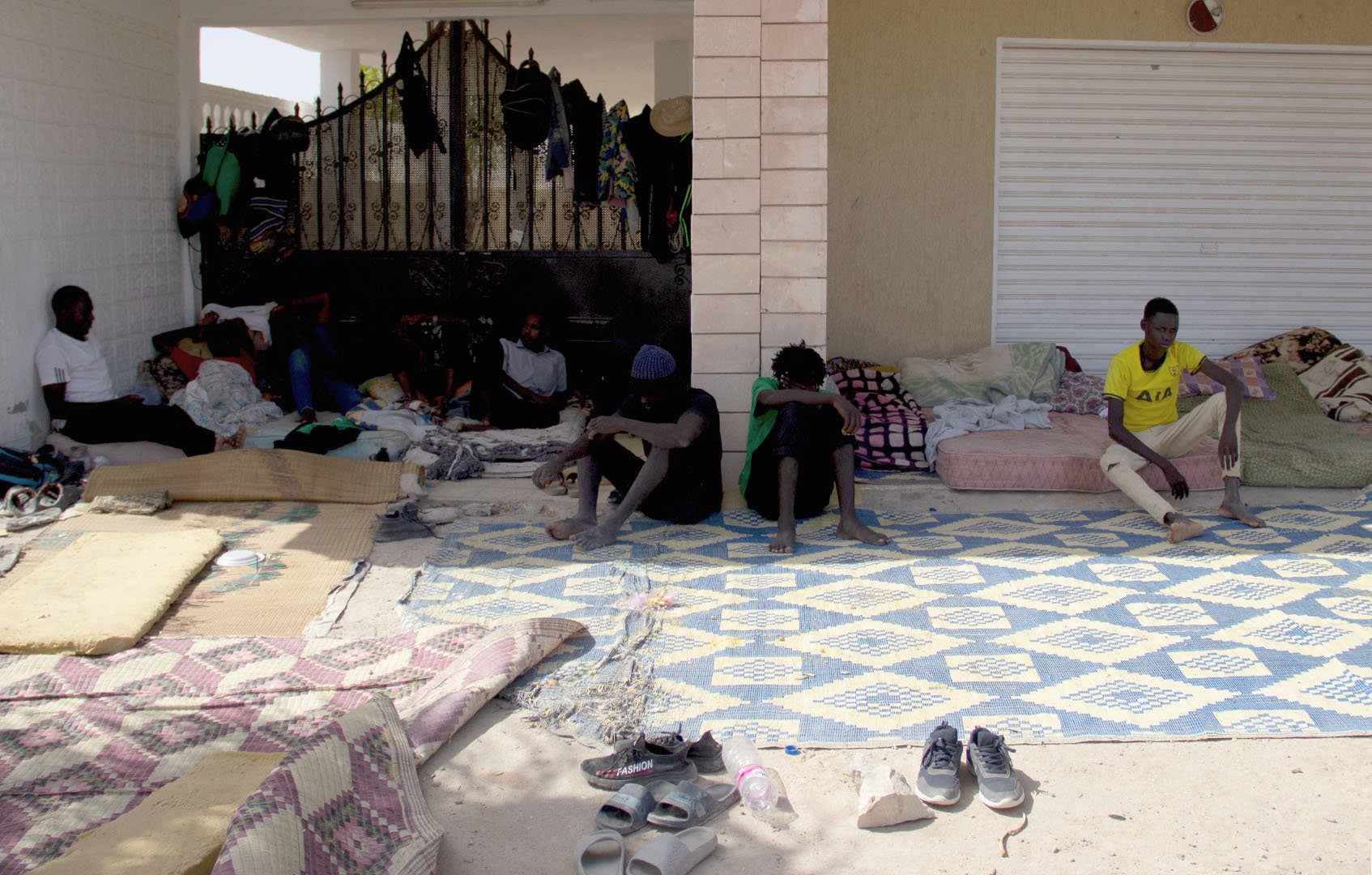 A month earlier, the group had been forced to move from outside another building by the owner, who threw water on them to drive them out. 
A few metres away, on the side of the highway, Elies Abdallah, 24, sat on the pavement with a crutch next to his left leg. Abdallah said he had lived with his family in a camp for internally displaced people in Darfur since he was four, and that he had faced persecution from the Sudanese authorities due to his political beliefs. After leaving Sudan, he said militias forced him to work without pay in gold mines in southern Libya for six months before he escaped and made his way to the capital, Tripoli, where he spent seven months in a detention centre. 
After managing to get out of detention, it took him three attempts to cross the border into Tunisia irregularly. On his first two, he said he was pushed back to Libya by Tunisian security forces. On his third, he made it but fell and badly injured his knee. "I thought Tunisia would be safer; the worst would be less bad than what I experienced in Libya," he said. 
Tunisia has been safer, he continued, but he has been frustrated by the absence of support from UNHCR and other international NGOs. "I haven't received medical assistance from any organisation; only locals with goodwill helped me," Abdallah added. 
'It's never enough'
While The New Humanitarian was visiting the squat in Zarzis, two Tunisian volunteers arrived, bringing food. The asylum seekers and migrants quickly congregated around a large, communal plate of couscous to eat on the roadside.
Later, at the same spot, The New Humanitarian met 51-year-old Fethi Rawoine, another local activist who is part of a group of around 50 volunteers who provide support to asylum seekers and migrants. There are several other similar groups in Zarzis.
"They think they will find a better situation here in terms of security and rule of law," Rawoine said of asylum seekers and migrants in Zarzis.
Rawoine and the other volunteers regularly organise food distributions in the areas of the city and its outskirts where asylum seekers and migrants tend to stay. "We serve meals for 100 people on average. But it's never enough, as we do this entirely voluntarily," he said. "We rely on our network for whenever someone needs to see a doctor, get medicines, or for other help."
Another volunteer, 57-year-old Sadok Smaali, explained how Sudanese and other asylum seekers and migrants see Tunisia as a safe country to transit through from Libya before attempting the treacherous sea journey to Europe. "It works out through word of mouth," Smaali noted. "[They] communicate with other migrants, hear that Zarzis is a calm place, [and] then come." 
"If you find where these people stay, it's misery. I saw some even sleeping beside piles of rubbish in front of the UNHCR office," Smaali continued. "We buy and take groceries to a restaurant and, once the food is cooked, we bring it to them."
Rawoine said that he and other local activists in Zarzis recently asked to hold a meeting with local authorities, UNHCR, the Tunisian Red Crescent, and other humanitarian organisations to try to address the dire conditions, but had yet to receive a response.
On the other side of the highway from the squat, another group of asylum seekers and migrants were standing outside a small football stadium. A few mattresses and carpets were arranged on the ground, along with several large water bottles, and there were clothes drying on a fence. The group said they had been squatting in a college building nearby, but had to find somewhere else to stay when classes resumed. 
As they spoke, two UNHCR employees pulled up in a car. The asylum seekers and migrants were surprised. They said it was the first time anyone from the agency had come there to see them. 
Edited by Eric Reidy.