Egypt's well-established Sudanese community is playing an important role in efforts to assist recently arrived refugees who have fled the destructive five-month conflict between Sudan's army and the paramilitary Rapid Support Forces.
More than 280,000 Sudanese have made the journey into neighbouring Egypt since April, braving tough conditions along the border, a deteriorating economic situation within the country, and limited assistance from international humanitarian agencies.
To lessen the hardship, a group of 14 organisations run by Sudanese refugees and migrants – more than two million of whom live in Egypt – have formed a coordination platform that has reached tens of thousands of families since April.
The organisations have been helping new arrivals find affordable apartments and free temporary shelter, and are offering a range of other services, from psychosocial support and enrolling children in local schools to helping people formally register as refugees.
The community-based groups, which rely largely on volunteers, are "front-liners" in the refugee response, said Babiker Tokor, a project leader at the Sudanese Fulani Association for Refugees and Migrants, which was founded in 2016.
"When an immigrant or refugee arrives in Egypt, the first thing they encounter is the society, and therefore community-based initiatives," Tokor told The New Humanitarian. "Through [us], they learn how to take their first steps in the country."
Egypt's government has a longstanding opposition to establishing refugee camps, and it also restricts the ability of refugees seeking formal employment. Many therefore end up in urban areas where they struggle to make ends meet in the informal economy.
The country's dire economic straits are making matters worse for the new arrivals. The Egyptian pound has weakened significantly in recent months, there is a dollar shortage, and inflation rates have hit record highs, driving up housing rents.
"It is exceedingly difficult to keep up with all of the demand that has been placed on us."
The UN's refugee agency, UNHCR, has provided cash to 30,000 Sudanese refugees, but has only received 31% of the $28 million it has requested from donors. The World Food Programme has supported 44,000 arrivals, but its cash stipends are worth just $15 per person.
The broader humanitarian response to Sudan's conflict – which has displaced over five million people, including around one million who have crossed into neighbouring countries – is short of almost $2 billion, according to the UN.
Leaders of community-based initiatives – which play a neglected role in global refugee responses – said their groups are receiving contributions from the Sudanese community, as well as grants from international humanitarian organisations.
Tokor said the initiatives are able to deliver assistance far quicker than better-funded international agencies, which have to advertise jobs, wait for staff to be hired, and then conduct lengthy refugee registration and needs assessment processes.
"As soon as someone contacts us for help, we either offer assistance right away, or campaign that there are numerous people in need and solicit donations from the community," Tokor said.
Still, Tokor and others said their organisations are facing challenges, from long working hours and limited budgets to navigating complex bureaucratic procedures that make it hard for them to register formally with the Egyptian government.
"It is exceedingly difficult to keep up with all of the demand that has been placed on us," said Mahgoub Adam, a Darfuri refugee and the head of the 6 October Initiatives Union, the platform that gathers the 14 Sudanese-run organisations.
The New Humanitarian spoke with leaders and workers of three of the 14 groups to better understand how refugee groups are supporting new arrivals, and the challenges they face as community-based organisations, or CBOs.
From community school to refugee shelter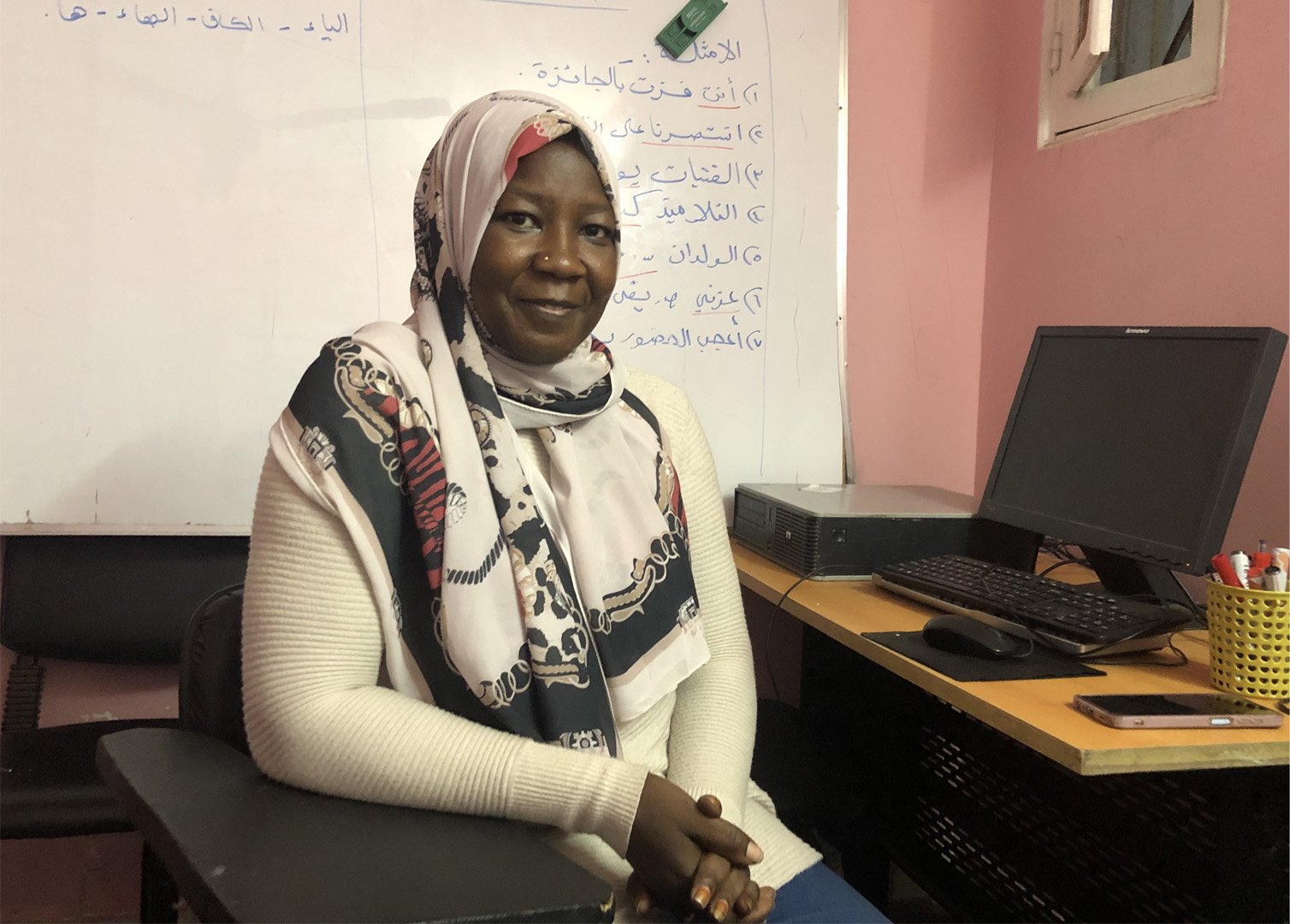 When it comes to humanitarian issues, "refugees have always been an integral part of the answer," according to Amal Rahal, a 39-year-old architect who left Sudan for Egypt in 2018 and then applied for asylum.
In 2019, Rahal – who is from Sudan's conflict-affected Nuba Mountains – launched an initiative called Hopes For the Future, with the purpose of setting up a community school to teach Sudanese children in Cairo their own country's curriculum.
Rahal opened the school in the city's Boulaq neighbourhood, and was assisted by seven other Sudanese women. Together, they pooled their resources, renting a space for the school and buying items for pupils, including chairs, tables, and books.
When the current war broke out, Rahal worked with the 6 October Initiatives Union to launch a coordination platform called the War Emergency Services, which helps newcomers find shelter and work.
She also opened her school and additional space belonging to the initiative as a shelter that hosts around 100 refugee families. It is funded from the initiative's own resources, and has received donations of household appliances and other items from UNHCR.
On top of this, the organisation has set up a refugee database so that it can contact people if a job opens up in the community. And it has been conducting beading workshops for women who are planning to sell their products at a market.
Some of the recently arrived Sudanese families have also enrolled their children into Rahal's school. It now has 400 pupils who are coached to sit exams at the Sudanese embassy in Cairo.
The cost of tuition is around $129 per year, Rahal said, though families can pay in monthly instalments and most of the takings are allocated to Sudanese teachers, who are themselves refugees and migrants.
"The Sudanese community [in Egypt] has traditionally favoured community schools because the children experience bullying in the Egyptian public school system," Rahal said.
She added that her biggest challenge has been getting Hopes For the Future registered in Egypt, which would help the organisation apply for funds and improve its overall operations.
She is currently going through the registration procedure, but is struggling with the size of the bank deposit required by the government, and with rules around how many Egyptians should be sitting on the executive board.
Still, Rahal said her work is rewarding and has helped her find community in Egypt. "I left my family behind when I moved to Egypt… but after I launched the initiative, it became a home for me," she said. "The volunteers became my family."
Battling bureaucracy and burnout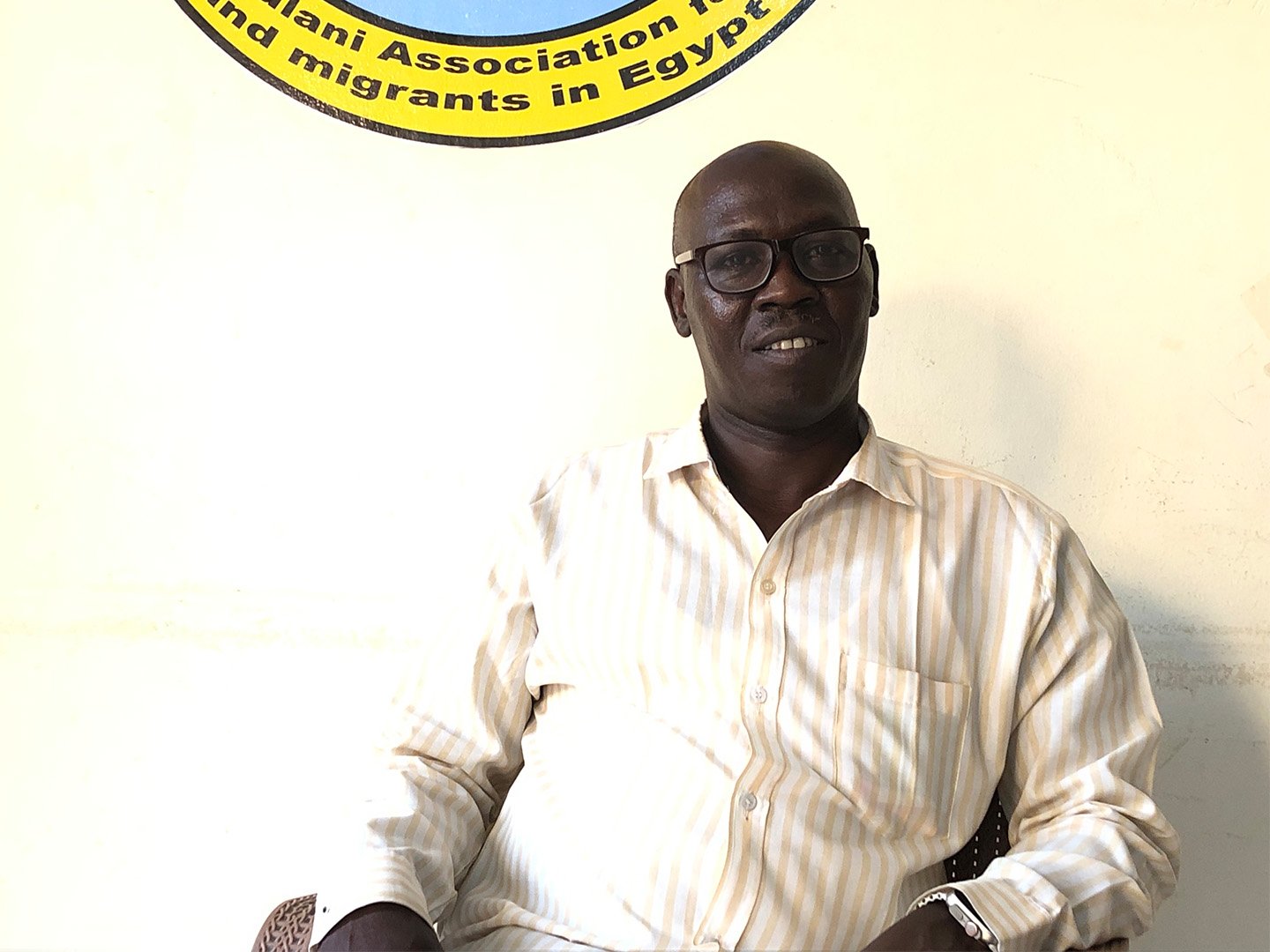 Tokor, the project leader at the Sudanese Fulani Association for Refugees and Migrants, said his organisation was founded as a multi-service refugee support centre in 2016. It was created by a group of Fulani refugees who fled to Cairo because of discrimination and harassment.
Since April, Tokor said the organisation has focused on providing legal services, psychological support, cash assistance, daily meals, and medical care to around 12,000 Sudanese refugees.
"The best experts to assist refugees are the refugees themselves," Tokor said. "Because the refugee has lived through the same experience and endured the same ordeal, and because he would have the information that the newcomers are seeking."
Salsabil Abdallah, a nurse and psychosocial worker at the organisation, said she receives eight or nine people each day at her therapy room. Most are unaccompanied Sudanese minors and women who have survived gender-based violence.
"Hearing some of the women's experiences with sexual and domestic violence can be emotionally draining for me, but I'll continue to offer this service," said Abdallah, who is a Darfuri refugee.
Abdallah said she also connects people to other medical organisations with professional psychiatrists like Médecins Sans Frontières but believes her clients appreciate her work.
"People feel more comfortable approaching me because we have commonalities," Abdallah told The New Humanitarian. "I am Sudanese, and I am also a refugee in Egypt." 
Tokor said the organisation has received recent donations from local Egyptians and Sudanese. This has allowed them to rent apartments for refugee families, to provide cash assistance to some new arrivals, and to rent a space to start a food kitchen.
Still, Tokor said the funding they have received is insufficient given the number of refugees in need. And he said obtaining a formal status for the organisation from the government has proved challenging too.
Overworking is another problem, according to Tokor. He said his phone has been ringing relentlessly in recent weeks as Sudanese families reach out to him, and added that some members of his staff work until midnight every day.
Tokor said he works on a volunteer basis for the organisation and has to balance the commitment with his job as a freelance English teacher. Still, he described the work as gratifying.
"When we help people settle, we feel we have contributed and aided them in some way," Tokor said. "Seeing the relief on someone else's face when we've helped them out is a source of happiness for us as well."
Abdallah explained that she is also a volunteer: her evening shifts at the initiative are on top of full days as a psychosocial worker for an international organisation. She said she sometimes has to take urgent breaks from counselling sessions due to the workload. 
"After a long day of psychological assessment cases, I would simply go for a long, long walk," Abdallah told The New Humanitarian. "A walk without a destination, until I feel better."
A handicraft lifeline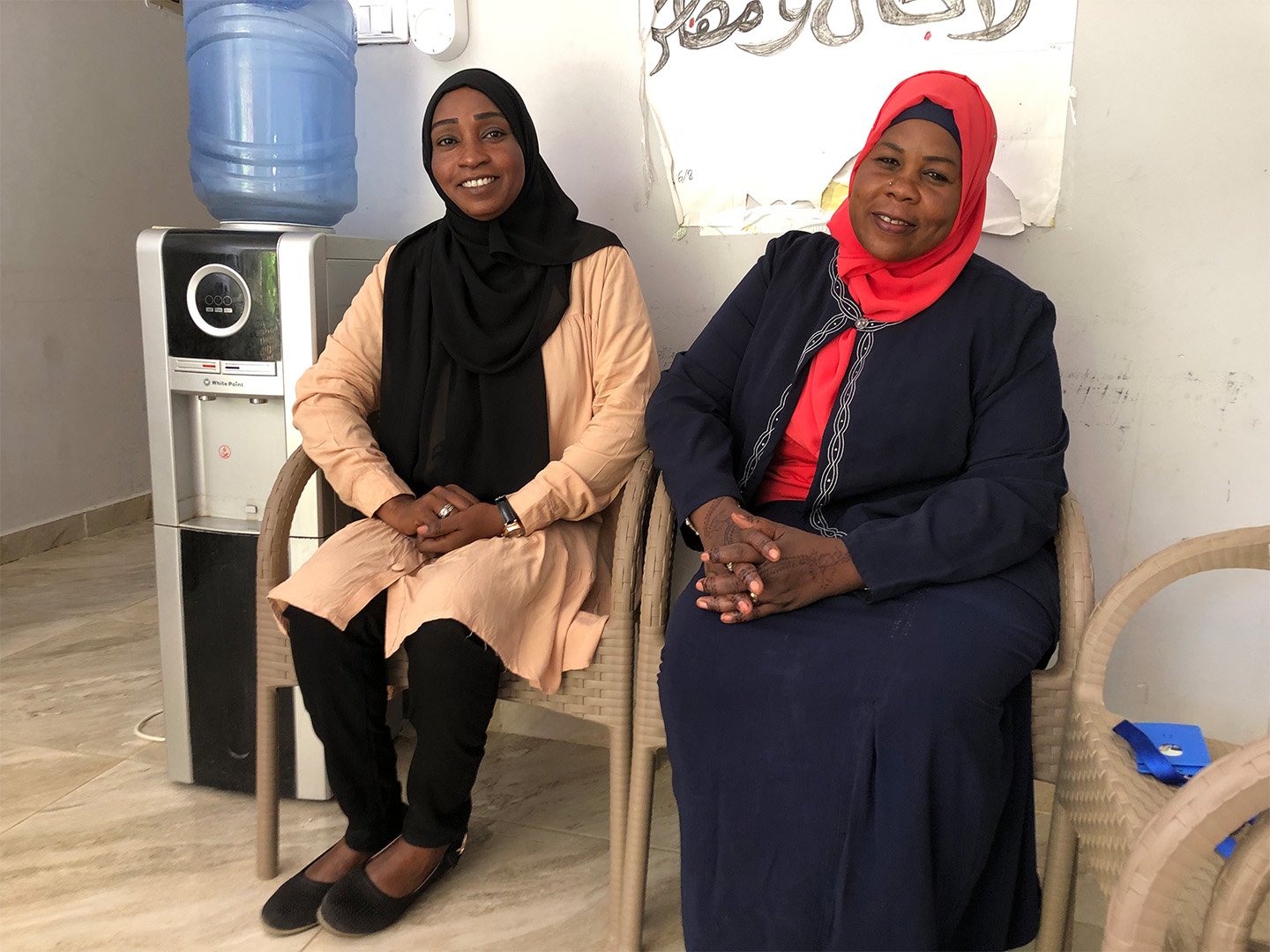 Amany Bubakr, 37, launched her initiative – For Every Refugee and Migrant – in March on the ground floor of a residential building in Cairo. It was set up to connect refugees with Egyptian medical NGOs, and to provide a safe space for children.
After the outbreak of Sudan's conflict in April, Bubakr opened up the organisation as a shelter for refugee families and began teaching single mothers how to do handicrafts so they could provide for their families in Cairo.
"I try to meet as many needs as I can, whether it is by providing shelter to newcomers to live here at the initiative's place, or by establishing handicraft workshops for household-headed women," Bubakr said.
She arrived in Egypt with her five children in 2021 after a military coup in Sudan. She said she spent weeks struggling to make a living in Cairo, and found it difficult to obtain information that might assist her.
Bubakr eventually found help from the 6 October Initiatives Union, which gave her tips for affordable housing, but the stress beforehand was hard to bear. "No other woman should have to go through the struggles I endured when I first came here," she said.
Mawaheb Othman, a handicraft instructor who works for Bubakr's organisation, said she has been teaching around 90 Sudanese women how to create crochet and macrame handicrafts.
An Egyptian company purchased more than 530 of the products created by the women who attended her recent handicrafts classes, added 42-year-old Othman, who is also a Sudanese refugee.
"If they are skilled in handicrafts, they can work from home and earn income," Othman said. "There are mothers who are unable to work in factories or in housekeeping because they have children or ill relatives who cannot be left alone".
Despite the support offered by the organisation, Bubakr said the lack of employment prospects for Sudanese refugees and migrants in Egypt could lead to a "really dark" future.
She added that she knows Sudanese female pharmacists and engineers who are working as housekeepers and factory workers – jobs that do not match their qualifications.
Edited by Philip Kleinfeld.
This project was funded by the H2H Network's H2H Fund, which is supported by UK aid.