Twelve-year-old Carla Castro knows she has Chagas. She doesn't really understand what that means – they don't teach them about the disease at school – but she has seen enough to be worried: She watched her grandfather die from it a few years ago.
In Caiza, the small village in southern Bolivia where Carla's family lives, nearly everyone knows someone who has the parasitic infection, which is usually transmitted by small, cockroach-like insects known as triatomines or "kissing bugs". In fact, Carla's mother, Rosa, and her aunt have Chagas disease too. "I keep asking my mother what age I am going to die at," Carla told The New Humanitarian.
Chagas currently infects an estimated 6-7 million people around the world. The vast majority are in Latin America, where the disease is endemic in Bolivia and 20 other countries, but Chagas is also becoming a worldwide public health concern due to its spread through migration.
Caiza is located in Gran Chaco, a semi-arid region that straddles the border between Bolivia, Argentina, and Paraguay. The infection rate in Gran Chaco is around 20%, the highest in the world, and the area is seen as the front line of the battle against Chagas.
Caused by the parasite Trypanosoma cruzi, Chagas kills an estimated 12,000 people in Latin America every year – more than any other parasite, including malaria. The majority of these deaths are preventable: Chagas is curable if treated quickly after the initial infection.
But the disease is one of the most neglected in the world, affecting predominantly poor, rural communities with substandard housing and limited access to healthcare.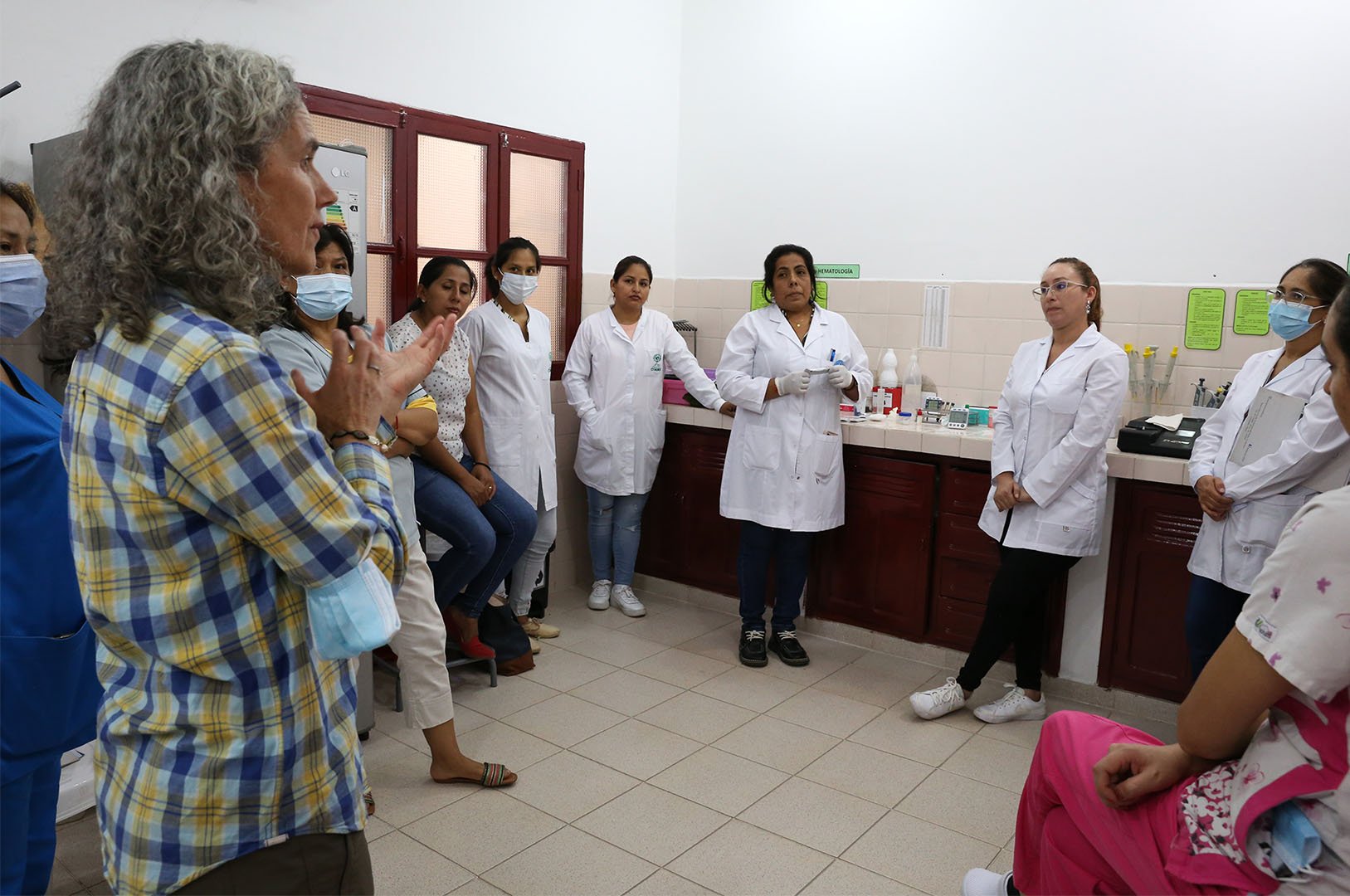 If left untreated, Chagas persists for life, eventually causing cardiac disorders in around one third of patients, and, in some cases, damage to the digestive tube and the nervous system.
Known as a "silent" killer, many patients never present with symptoms, often only receiving a diagnosis after it has already caused irreversible damage to their organs. The World Health Organization estimates that the global case detection rate is less than 10%.
All across Gran Chaco, deforestation, poor housing, rising temperatures, and insecticide resistance – a probable side-effect of climate change – are increasing people´s contact with the insect, while vector control programmes have had limited success.
Caiza, a community of a few hundred mostly Indigenous farmers, consists of a cluster of brick houses at the end of a dirt track more than an hour by car from the nearest healthcare facility. High poverty rates and the remote location mean most of those with Chagas – like Carla's grandfather – only seek diagnosis or treatment after it is too late.
A global coalition of doctors and researchers, alongside the Bolivian Ministry of Health, is determined to change that, increasing detection and treatment rates by empowering the local community to fight the disease with the help of new technology.
"For a long time here, the focus has been on the bug, not the people," said Cristina Alonso-Vega, a doctor and clinical research assistant working with the Barcelona Institute for GlobalHealth (ISGlobal), one of the founding members of the Global Chagas Coalition. This alliance is trying to improve access to prompt Chagas diagnosis and treatment.
"Messages that are addressed to the community must be co-created with them," she added, "so that they feel identified and take ownership of that information."
Fighting the normalisation of Chagas
Insufficient screening, the limitations of primary care facilities, the distance many patients need to travel to health centres, and limited understanding of disease prevention and treatment among the population and health workers: These are some of the barriers to breaking what Dr. Pedro Albajar Viñas, head of the WHO's Chagas programme, has termed "the epidemiological silence of Chagas disease".
Working with young mothers, experts say, may be the best strategy to stop Chagas from spreading. So-called "vertical" transmission, where the disease is passed from a pregnant woman to her unborn child, is another source of infection. Approximately two million women of childbearing age have Chagas across the Americas, resulting in an estimated 8,000 babies being born with the disease each year. However, if it is detected before a child's first birthday, treatments have a success rate of almost 100%.
Bolivia mandates the universal screening of pregnant women, as well as the newborns of women who test positive. Current guidelines recommend that babies are tested at birth, at two months of age, and finally at nine months, when maternal antibodies passed from mother to baby wear off and there's no more risk of false positives.
However, many women and babies fall through the gaps, failing to complete all the tests – particularly in remote areas such as Gran Chaco. This is partly because many of them live far from hospitals, but also because mothers are often unaware of the dangers of the disease, especially as the negative health outcomes often take decades to materialise.
María Silvia Rivera, a biochemist working at the main hospital in Yacuiba, the capital of Gran Chaco province, told The New Humanitarian that Chagas is so prevalent it has become normalised, so women often lack the motivation to bring their babies to the hospital for testing and treatment.
"Only a few mothers come back by themselves," she said. "We need to call them many times."
Osmani Pérez, the municipal health secretary in Yacuiba, has seen it too.
"People from Chaco say that having Chagas disease is normal; they don't see it as a problem," he said. "We want the public to understand this is a serious health issue."
But healthcare workers outside of the capital often view testing for a disease that has no immediate impact as low priority in a region where the crippling poverty and lack of resources often cause more pressing health concerns – such as maternal mortality and malnutrition – and they don't ask the children of positive mothers to be tested.
Alonso-Vega has started running awareness-raising sessions in the community to try and counter these misperceptions. Led by Fundación SANIT, a Bolivian non-profit, and backed by the municipal government, the sessions train healthcare workers on the importance of adhering to the national guidelines, teaching them how to follow up and counsel mothers on the tests and treatment options available.
Along with interactive sessions that encourage dialogue between doctors, laboratory workers, and non-profits, the team also runs workshops where healthcare workers learn how to use microscopes to identify the Trypanosoma cruzi parasite in blood samples.
Sonia Cáceres, a biochemist who works at a remote healthcare centre an hour outside of Yacuiba, told The New Humanitarian she didn't use to make the effort to do the tests but that thanks to the workshop she now understands what a serious health problem Chagas is. "Now that we have received information, we want to start doing tests for every child," she said.
A new technology for better diagnosis
The current methodology for detecting cases – using a simple microscope – lacks sensitivity and relies on the manual identification of parasites in a blood sample, a difficult task even for experienced healthcare workers. Many cases are missed.
Better technology could also help reduce the high drop-out rates because of the multiple tests babies currently need. According to Fundación SANIT, an estimated 80% of newborns whose mothers received a positive Chagas test result abandon the system before the nine-month mark.
In collaboration with several global partners, ISGlobal is coordinating a trial funded by the Global Health Innovative Technology Fund (GHIT) to validate the efficacy of a relatively new method of detecting diseases known as Loop-Mediated Isothermal Amplification (LAMP).
LAMP uses a single-tube technique to amplify DNA in blood samples and is known for its ease of use, making it appropriate for remote areas that lack high-tech laboratories and specialists. Crucially, it is also highly sensitive.
Newborns have been enrolled in the trial in hospitals with maternity wards in Argentina, Bolivia, and Paraguay, where their LAMP test results will be compared to those from the current Chagas diagnostic algorithm. If the efficacy of LAMP is validated, it could lead to updated national diagnostic guidelines, and more rapid and accurate detection of "vertical" Chagas cases in maternity hospitals.
Missed test, and no treatment
Carla didn't receive treatment early on. She was never tested at birth, and was only diagnosed because her aunt had heard that Chagas could be passed from mother to baby. By that point Carla was already a toddler and the infection was chronic, meaning that when she began treatment it took a harder toll on her body.
Alarmed by the side-effects, her mother, Rosa, began to mistrust the medicines. "She lost her appetite, she had a fever, so I decided to suspend the treatment," she told The New Humanitarian.
But things are different for Carla's younger sibling. When Rosa gave birth to Keyla, the baby was immediately enrolled in the LAMP trial. The child tested positive for Chagas at birth, and Rosa was counselled throughout the treatment process by healthcare workers at the hospital.
"I was afraid, but the doctor explained everything," Rosa said.
With the infection caught early on, Keyla experienced no side-effects and tested negative for Chagas disease after a follow-up appointment.
"I'm glad I got the treatment, because my baby is safe," said Rosa. "Now, I want to get Carla treated as well."
Reporting for this article was supported by the European Journalism Centre, through the Global Health Security Call, a programme funded by the Bill & Melinda Gates Foundation.
Edited by Daniela Mohor and Tom Brady.