At 9am each morning, patients begin trickling into the waiting area of the Mae Tao clinic in western Thailand. By the end of most days, as many as 400 will have walked through its doors. 
Located in the province of Mae Sot, the clinic is about six kilometres from Thailand's border with Myanmar. While some of the patients are locals, others come from across the border – having travelled to seek healthcare that has become nearly impossible to access in their own country. 
Since the military ousted the democratically elected government in a coup in February 2021, and became embroiled in a bloody conflict with resistance forces, healthcare facilities have been hard hit, driving up the number of patients Mae Tao now sees on a daily basis. 
Some patients come seeking treatment for injuries from the conflict. Others – displaced from their homes – have illnesses stemming from living for months in makeshift jungle camps with limited access to water and food. And some arrive with conditions that have become chronic after being left untreated because people were unable to seek care in Myanmar hospitals, many of which are now run by the governing military junta. 
The arrival of Cyclone Mocha on 14 May has only exacerbated the situation. The storm slammed into western Myanmar and neighbouring Bangladesh, leaving at least 145 people dead in Myanmar – though the real figure is almost certainly higher. 
Myanmar's Rakhine state – home to the long-persecuted Rohingya people – is one of the most heavily affected areas. Following years of forced displacement, it was already lacking basic services. Now, water, sanitation, and food are reportedly even more scarce. Experts are expecting a rise in healthcare needs to follow the storm. 
Many of those affected live close to Myanmar's borders with India and Bangladesh, and the number of those crossing in search of care may soon increase. The UN has launched a $333 million appeal to support relief efforts. 
As the only major clinic operating near one of Myanmar's busiest border crossings, Mae Tao offers rare insight into the situation on the ground in the difficult-to-access country next door. Even before Cyclone Mocha, rates of malaria, malnutrition, HIV, and diarrhoea had increased in the area, according to those The New Humanitarian spoke to, and more people were in need of surgery for chronic conditions.
Despite health needs spilling across the border, there's very little awareness of the situation elsewhere in Thailand, said Kanchana Thornton, director and founder of the Mae Sot-based NGO Burma Children Medical Fund (BCMF). "People in Bangkok have no idea what's going on," she said, referring to what's happening in Myanmar. "International NGOs need to get in there... There is no medical support, no food and shelter."
Coup, conflict, and supply chain disruptions
Prior to Myanmar's coup, the Mae Tao clinic – which has operated in the region since 1989 – saw 70 cases of malaria per year. After the coup, that number rose to around 300 cases in 2022, according to a spokesperson, who asked to remain anonymous due to security concerns. 
An estimated 55,000 homes were burned down by the Myanmar military and affiliated militias between May 2021 and January 2023, and 1.3 million people have been internally displaced since February 2021. Many are living in the jungle near the Myanmar-Thai border along the Salween River, which is a breeding ground for malaria-transmitting mosquitoes.
"Before the coup here were more health facilities, more funding opportunities, more funded programmes."
Thai media has reported that the malaria infection rate in the country in 2022 was two-and-a-half times higher than in 2021, attributing the rise in part to the increased number of people crossing the border from Myanmar following the coup. Data collected by the Mae Sot-based Shoklo Malaria Research Unit (SMRU) identified a 1,000% increase in malaria cases since 2020 in eastern Myanmar, which borders Thailand. 
Dr. François Nosten, a professor of tropical medicine and director of SMRU, cautioned that the rise in malaria cases in Myanmar cannot be conclusively linked to the conflict, but said that there could be a connection. "We attribute this – without being able to prove [it] definitively – to a mixture of reasons, which is disruption of supply-chains, security issues, [and] population movement," Nosten said.
In 2021, the World Health Organization said Thailand had the potential to eliminate malaria by 2024 – that no longer seems to be the case. "If you look at the last 10 years' trends of malaria on that border, we were on the way to eliminating [it]... and now the curve is going up again," Nosten said.
The Mae Tao clinic is also seeing an increase in HIV cases, with 55 new diagnoses in 2022. Before that, the clinic hadn't seen any new cases of HIV for several years, according to the spokesperson. That may have been due in part to COVID-19 pandemic travel restrictions that made reaching the clinic more difficult and social distancing measures that may have affected transmission rates. But it also reflected the improvement of treatment options and increased accessibility of antiretroviral (ART) drugs in Myanmar.
"[Before the coup] there were more health facilities, more funding opportunities, more funded programmes. That meant less of that type of patients in our clinic," the spokesperson said. 
Since the coup, it has become more difficult for people to secure treatment. Many healthcare workers chose to participate in the civil disobedience movement to protest the military's takeover, healthcare clinics have been destroyed by fighting, and supply chain issues stemming from import restrictions and a worsening economic situation have reportedly led to medicine shortages.
When it comes to HIV, not being able to continue treatment means a person's life expectancy can be cut short, Nosten said. "There are many people with [HIV] who have difficulty accessing their treatment, and that's the most urgent problem for them," he added. 
Malnutrition is another major issue for displaced people living in the jungle with limited access to food and water. Several mothers cradled the fragile bodies of malnourished babies inside the Mae Tao clinic when The New Humanitarian visited.
"Now is harvest season, and it's the time to plant... [but] many villagers who do the farming are on the run," said the clinic's spokesperson. 
The lack of medical support, food, and shelter inside Myanmar "is going to have a big ripple effect," said Thornton, from BCMF. Those who are displaced "are going to be starving, [have poor] hygiene, and bad health." 
Other borders, and the high stakes of delayed care
At Myanmar's other borders with India, Laos, Bangladesh, and China the situation appears to be similar, with health needs spilling over into neighbouring countries – although limited research and reporting makes it difficult to get a clear picture.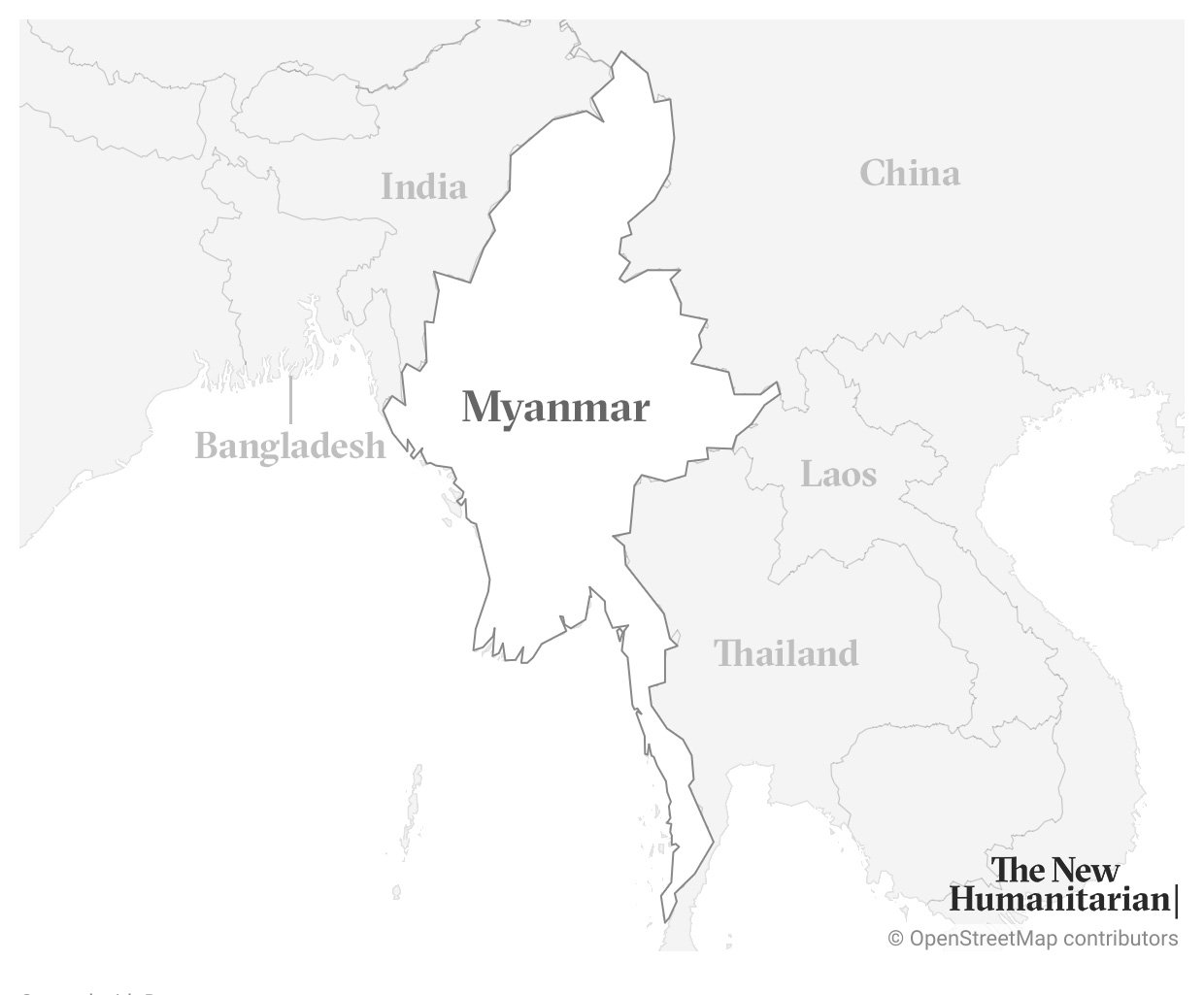 In China, one study found malaria had "crossed over the border from endemic areas of Myanmar" and was reintroduced in China's Yunnan province. Conflict between the Kachin Independence Army (KIA) – a rebel group in northern Myanmar – and the military has made malaria control interventions more difficult, contributing to a resurgence. China was previously declared malaria-free by the World Health Organization in 2021.
India's northern Mizoram state also shares a border with Myanmar and is home to more than 30,000 Myanmar refugees. Many have come from Chin state – directly across the border – and the majority live in camps where poor hygiene conditions contribute to the spread of disease.
"Chin state is in trouble. They don't have any supplies. Residents have to go into India to get medical care. There's nothing there." 
One medical centre, supported by the NGO Medical Mercy Canada (MMC), is seeing almost twice the number of patients it saw prior to the coup, including higher rates of malaria, according to Neil Samis, a project manager with the group.
"We see occasional wounds from the conflict… but mostly it's having a significant number of people there who are refugees living in suboptimal conditions and require medical care," Samis said. "Something breaks out, and it just spreads more rapidly because they're crammed in conditions and have less access to sanitation, such as water, to be able to keep a clean, healthy environment."
The medical centre has served the local community since 2009, and about 85% of its patients are refugees or patients who cross the border from Myanmar for treatment before going back. Since the escalation of violence following the coup, Samis said the number of refugees and those crossing the border every day for healthcare has increased. The centre has had to almost double its staff to eight people to match the need, while also relying on volunteers.
"Chin [state] is in trouble. They don't have any supplies. [Residents] have to go into India to get medical care. There's nothing there," said Thornton. 
Since the coup, Thornton said the number of patients requiring surgery that BMCF is contacted about has also doubled. Some of the patients were injured in the conflict. Others "will need amputations or have infections because they couldn't get any treatment early, or they were too scared to go to the hospital, or there was no access [because of] roadblocks", Thornton said. 
Highlighting the high stakes of the situation, Thornton recalled the story of a female patient, about 40 years old, who recently came to BCMF in Mae Sot with a cardiac issue. The group transferred her to a hospital in a nearby city where she could get better care, but the woman had a seizure. It turned out she didn't have a cardiac issue but an aneurysm and that the condition had worsened because she hadn't been able to get treatment in Myanmar. 
"If she had been able to come earlier, maybe it wouldn't have gotten that severe," Thornton said. "But if she was in Burma, she would die." 
Edited by Abby Seiff.