On a chilly February morning, an anxious crowd gathers in the stands of Kabul's Afshar sports complex. They've come not to watch a match but to receive blankets, robes, rice, lentils, flour, sugar, oil, beans, and tea being handed out by an all-male team from Aseel, a platform that enables online donors to purchase aid packages for needy families. Of the 42 recipients, the vast majority are men and boys.
Despite the best efforts of local groups to find ways around a decree banning Afghan women from working for NGOs, this scene of male charity workers assisting mostly male beneficiaries embodies the new normal for the aid industry in Afghanistan.
Since December, when the Taliban's Islamic Emirate government issued the ban, groups across the country have been scrambling to adjust their operations. Though exceptions were made for health and education-related work, the order has led to tough choices for those trying to help millions of Afghans in need. 
Most international NGOs (INGOs) suspended operations – saying the decree effectively cut them off from reaching half the population and that suspension was the most likely way to persuade the Taliban to rescind the ban. Tens of thousands of Afghan women at local organisations, however, have sought to continue working online from home, finding the best ways they can to continue their activities.
The ban – and its inconsistent implementation – has had repercussions well beyond the NGO world. Aseel, for instance, is a private business, not an NGO. Although it might technically have been able to keep women staffers in the field, it feared its aid efforts could still be compromised. It has therefore stopped deploying female workers on surveys or for operations like the one at the sports complex. 
"We looked at the overall situation and decided it was just better to be safe and make sure we can still reach men and women in need," Ihsan Hasaand, emergency relief lead at Aseel, told The New Humanitarian during the distribution.
Hasaand made clear the decision was not taken lightly. "It's obviously not something we wanted to do. Our female staff are a valuable part of our team," he said. "But there are so many people in need across the country, and someone has to reach them."
The UN estimates that a record 28.3 million Afghans will require humanitarian and protection assistance in 2023, an increase of nearly four million on the previous year. At least 17 million will also experience acute hunger in 2023.
The cultural implications of the ban go beyond its legal implementation. Afghan women may not feel comfortable heading to an all-male environment, or the authorities may insist on chaperones – especially for long distances – that not all women can find.
At a time when temperatures routinely drop to -20 degrees Celsius, the Taliban has not stopped Aseel's all-male teams from distributing to women, but this doesn't mean it hasn't tried to influence how their operations are conducted. At one recent distribution in the western province of Herat, local officials insisted that men and women arrive in different shifts to collect the aid packages. At another, in Kunar province, the authorities said women and men must queue in separate lines a certain distance apart.
Local NGOs find workarounds
Like Aseel, smaller local organisations and groups say they have found ways to work within the parameters set by the Islamic Emirate.
In January and February, The New Humanitarian spoke to several Afghan women who head national NGOs or run aid distribution programmes and said they have been able to negotiate concessions that allow them to continue their work. Given the sensitive nature of the issue, they asked for their identities to be withheld.
One female NGO director who works primarily in two districts in the north said that when officials from the Ministry for the Propagation of Virtue and the Prevention of Vice tried to stop her entering her office, she quickly turned the conversation towards the economic realities of the nation.
"I said, 'I am the head of this organisation. If I don't go and sign those documents and make sure the finances are being managed properly, 60 men and women will lose their jobs. Do you think your Amir will be able to live with that burden?'" she said, using the title the Islamic Emirate has given to its reclusive leader, Hibatullah Akhundzada. 
At a recent lunchtime gathering of female-led local NGOs in Kabul, all 20 women in attendance said they had been able to continue their aid distributions and surveys in at least five provinces by making specific concessions. 
Female workers are not allowed to go to an office building, but they can go from their own homes to a distribution site. Additionally, female aid workers are not allowed to travel outside their home province for distributions and surveys.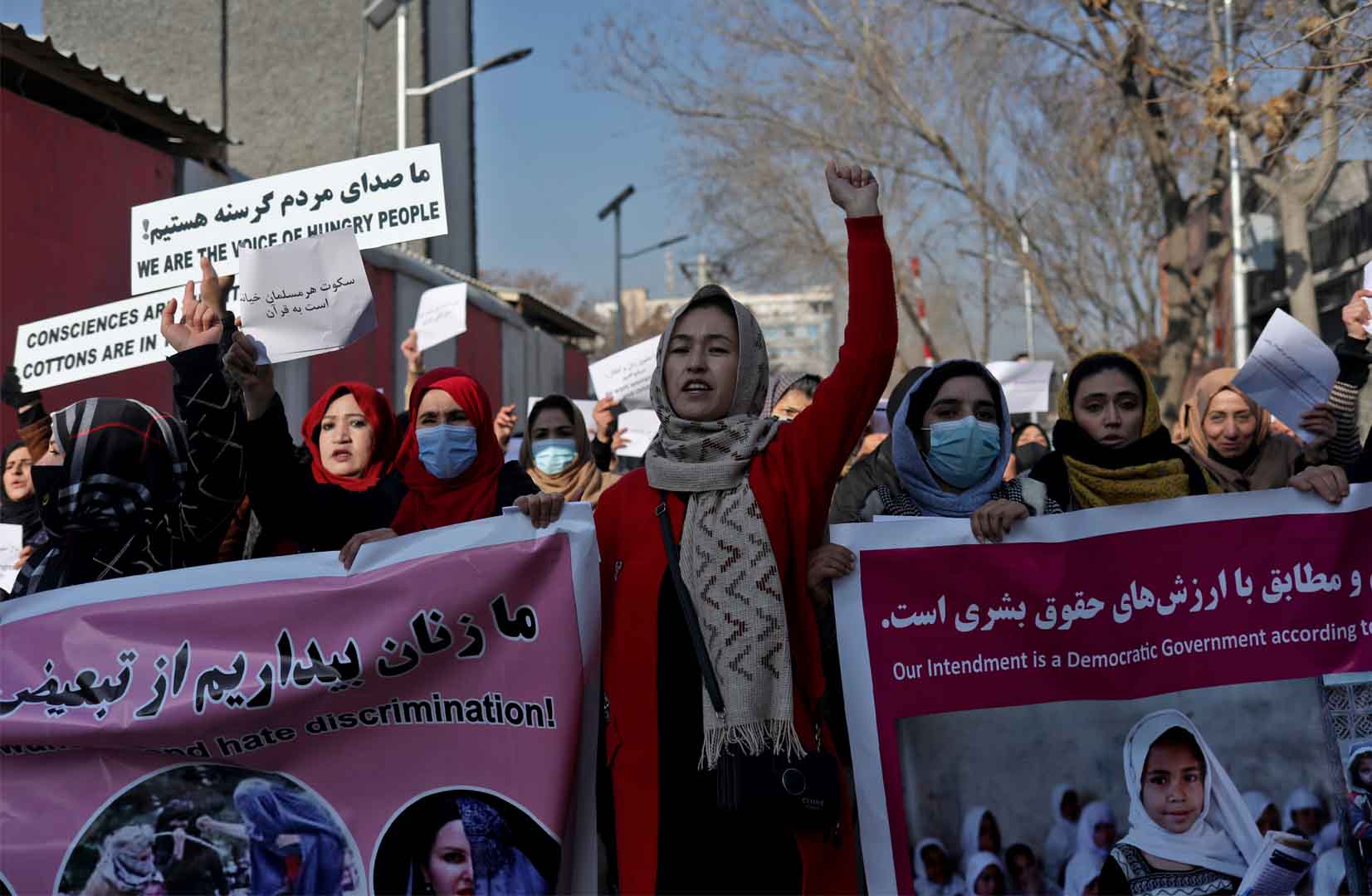 Another woman – who runs aid distribution, education, and livelihood programmes in Kabul and three provinces in northern and central Afghanistan – said she went a step further, naming a male deputy to be acting director in two of the provincial capitals so he could handle all administrative and financial matters that require a physical presence. 
By taking these steps, she has been able to continue running sewing and embroidery training for 125 girls and women from 11 different villages without issue.
"So far, [the authorities] haven't said anything to me, but even if they do, I will find a way to convince them," she said. "The women of Afghanistan need our help."
There have been other acts of solidarity too.
On 11 January, more than 100 female scholars, activists, and professionals led "a peaceful civic initiative", taking to the snow-covered streets of Kabul to distribute 3,000 items of warm clothing to men working on the streets. In a message passed around WhatsApp, organisers said it was meant to "show that [Afghan] women will continue serving their communities in times of need".
Criticisms of the INGO response 
The International Rescue Committee (IRC), Save the Children, the Norwegian Refugee Council, CARE International, and Islamic Relief all announced on 25 December that they would halt their activities in Afghanistan until female staffers were permitted to return to work. The UN did not suspend its operations, but is reportedly using men only for some of its food aid deliveries. 
The suspensions have drawn criticism from a range of actors, most recently from International Crisis Group, which in a report last week said that donors and INGOs were worsening the humanitarian crisis by pausing operations or cutting assistance.
In January, a group of more than 100 Afghan civil society groups and NGOs issued a similar statement, criticising INGOs for suspending their work.
"While understanding that a principled and value-based approach is needed in response to the Taliban's actions, [we] believe that allowing a bigger humanitarian catastrophe to develop… will create further polarisation between men and women. Stopping humanitarian aid is not expected to change [the] Taliban's policies," the statement read.
"Afghans need to be at the forefront of any dialogue with the Taliban at different levels on this subject, and make them realise the human cost of neglecting the rights of half of the population." 
The international community has tried to persuade the Islamic Emirate to amend or scrap the edict. Amina Mohammed, deputy secretary-general and the UN's top female official, was dispatched in January to lead the most senior UN delegation to visit the country since the Taliban returned to power in August 2021. 
In a recent address to the UN, traditional ally Saudi Arabia called on the Islamic Emirate to allow women to "fully enjoy their rights without discrimination", including the right to work.
All the female Afghan aid workers The New Humanitarian spoke to said that rather than halting their work, the international organisations should be looking to partner with and invest in women-led local NGOs who have found ways to continue to operate. This call was echoed in a recent report from the Overseas Development Institute, written by Orzala Nemat, former director of the Afghanistan Research and Evaluation Unit. 
Nemat, who has been involved in NGO and humanitarian work since 1999, said she believed that Afghan women must be included in any negotiations with the Islamic Emirate around the rights of women and girls to work and study freely in the country.
"Afghans need to be at the forefront of any dialogue with the Taliban at different levels on this subject, and make them realise the human cost of neglecting the rights of half of the population and the grave longer-term consequences of this ban on women and children," Nemat wrote.
INGO diplomacy behind the scenes
While suspensions continue, foreign aid groups working in Afghanistan are quick to stress that they too are still looking to do what they can to help.
A representative from one major international NGO told The New Humanitarian she understood the frustrations and criticisms around the suspensions but insisted INGOs needed to present a united front in response to the ban – one that could lead to the restoration of aid delivery without discrimination or further harm.
"We had to suspend in order to take a step back and understand how we could all respond to that order," she said, asking for anonymity so as not to jeopardise ongoing diplomatic efforts on the issue between foreign organisations and the Islamic Emirate. "We needed time to figure out how to prevent discrimination in our work, while also being sensitive to cultural norms."
As the weeks passed, she explained that her organisation decided to take a position of "quiet diplomacy". This meant turning their focus towards the relationships they had cultivated with leaders at the district and provincial level, while high-level talks at the ministerial level continued in Kabul. Slowly, they were given permission to have women continue to implement the activities that existed prior to the ban in a number of districts and provinces.
"In situations like this, it's better to start from something rather than making it black and white, all or nothing," the international NGO representative said. 
Because the organisation has been working in Afghanistan for more than three decades, it has built close relations with the communities it serves, something she said helped them in their interactions with officials. "We had communities where the people themselves went to the leadership and asked them to allow us to continue our work," allowing female workers to take part in distributions, she explained. 
These localised solutions have allowed the organisation to directly assist 9,000 people, with the involvement of female staff, since the 24 December ban. But even with these exemptions – which the representative referred to as "a hope, not a certainty" – the INGO counted at least 155,000 people not reached by their group alone this winter.
Edited by Abby Seiff.