Last month's deadly earthquakes have made an already massive shelter crisis in northwest Syria much worse, with both aid groups and newly displaced people concerned that long-term efforts to rehouse millions in the battered region have been set back years.
The death toll from the 6 February earthquakes has now crossed 51,000 in Türkiye and northern Syria. As survivors grapple with the physical and psychological impact, the focus in Türkiye is now on recovery and the need to rebuild safely. 
Across the border in northwest Syria, however, the earthquakes have added to an already bleak humanitarian situation that is unlikely to improve anytime soon. 
The UN estimates that some 4.5 million people live in northwest Syria, much of which is controlled by the rebel group Hayat Tahrir al-Sham – considered a terrorist organisation by the US, Türkiye, the EU, the UK, and the UN. Of the 2.9 million displaced there by Syria's nearly 12-year civil war, 1.8 million were already living in camps made up of tents, prefabricated shelters, and rudimentary brick-and-cinder block buildings.
What was already a desperate situation is now a catastrophe. Between 55,000 and 200,000 people have been newly displaced by the earthquakes, according to the UN and local groups. Existing camps have taken in many of those left homeless, but others have been unable to access even basic shelter after their houses were damaged or destroyed. Many have been forced to sleep in their cars, in tents in the street, in makeshift settlements, or out in the open in sub-zero temperatures.
Mustafa Salih al-Khatib is one of those who have been rendered homeless. The house he was renting in Jindires, a town northwest of his home city of Aleppo, collapsed in the earthquakes, which also killed two of his cousins. The 45-year-old fled fighting in Aleppo more than four years ago. Now he, his wife, and his four children are sleeping in their car at night, and spending their days outside on the streets.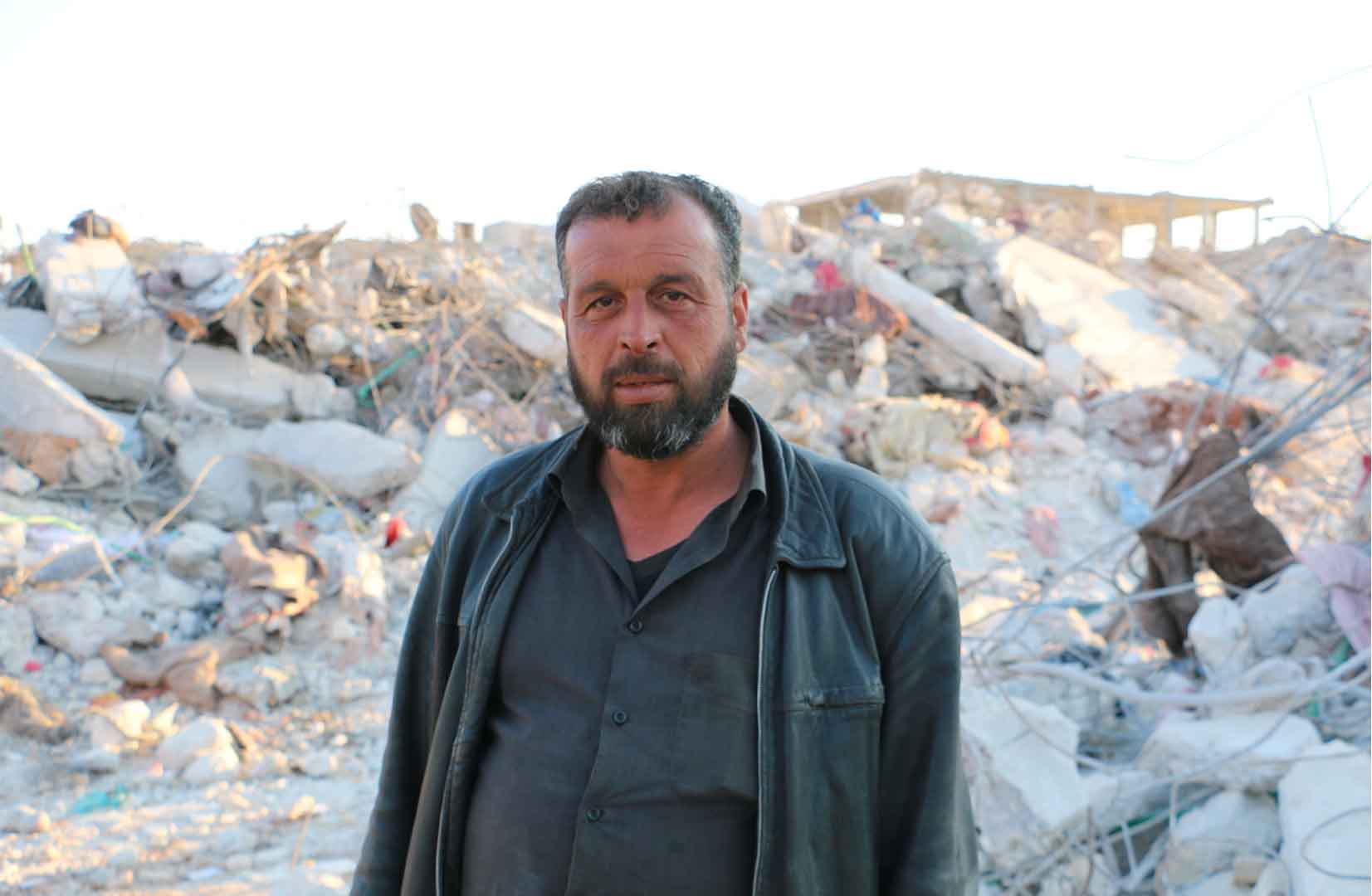 Staring at the pile of rubble that used to be their rented home, al-Khatib told The New Humanitarian how he and his family had now lost all their belongings and are again looking towards what he called an "unknown future".
Al-Khatib's family has been unable to get a tent from aid groups or a spot in one of the more than 1,400 official and unofficial displacement camps in the northwest. Since he didn't own his home, rebuilding seems unlikely. "I feel like I was born into a life with no future and nowhere to turn to," he said.
Temporary shelters become long-term housing
Since the earthquakes hit, 60-year-old Hasana al-Habash and her husband and son have been sleeping outside on an empty plot of land near their home in Jindires.
Their house is one of over 1,000 estimated to have been damaged in the town. It did not fully collapse, but the earthquakes rendered it unsafe to live in. Al-Habash, who has lived in Jindires all her life, said her family won't be able to afford the cost of repairs. "All its walls are cracked. It's uninhabitable," she said.
Like al-Khatib, al-Habash said she hadn't been able to find space in a camp and she has yet to receive any aid. 
For those who have been able to get in, the camps provide some shelter and closer proximity to aid groups, but many are extremely cramped, not winterised, and have poor sanitary conditions, which has allowed cholera to spread. Once people enter, the prospects of leaving the camps for permanent housing are slim.
Syria's long conflict – combined with shifting political interests and efforts by the Syrian regime to isolate the rebel-held northwest – has forced hundreds of thousands in the region to live long-term in what are meant to be temporary camp shelters. 
Any hope of constructing permanent housing to replace units destroyed in the earthquakes is sure to run into barriers in both regime- and rebel-controlled parts of the country. International funding for war reconstruction in government-controlled areas of Syria has long been controversial. And rebuilding in the northwest will likely be hampered by limited aid funding and the complications of building in a conflict zone that is controlled – at least in part – by a group many countries consider to be a terrorist organisation.
In an advisory note published prior to the earthquakes, the Syria Shelter Cluster, a group of humanitarian organisations coordinating shelter support for displaced populations, said it was "not supporting any construction of permanent housing for displaced people in northwest Syria".
Tomáš Kocian, regional director for People in Need, a Czech organisation that has been providing emergency aid and shelter in Syria for over a decade, told The New Humanitarian that people who were staying in camps have already spent years living in conditions "not really durable or sustainable from the long-term perspective".
"There is very little prospect for change, and the earthquake has just increased the need for a solution, because at least thousands of families have lost their housing," Kocian said.
Wasim Abu Mustafa, branch manager for the Sham Association for Orphan Care, which supports orphans in Idlib, agreed that the majority of humanitarian support is currently focused on temporary housing. 
Following the earthquakes, his organisation expanded its operations. They are now providing emergency relief as well as financial support to families to cover building repairs in Idlib and areas of Aleppo that are also under rebel control. "We were not ready for this kind of disaster, but we did everything we could to help people," Abu Mustafa said.
Financial support from organisations like Abu Mustafa's has helped to house some families for the medium-term, but longer-term solutions are unlikely to materialise. "We don't think people should have to stay in tents, but there are no alternative solutions right now," he said.
'There is a roof, at least'
Despite the bleak prospects, aid groups and civilians lending a hand are still trying to do the best they can. As is also happening in areas of Syria controlled by President Bashar al-Assad's forces, local civil engineers in Idlib have offered free building safety assessments to support earthquake victims. 
Other solutions in the northwest – ranging from improved temporary shelters to repairs to the construction of new permanent housing – are also being proposed by local and international humanitarian organisations.
Kieren Barnes, Syria country director for the NGO Mercy Corps, told The New Humanitarian that his organisation will offer support for refurbishing damaged buildings and is working on providing "dignified shelters" in camps.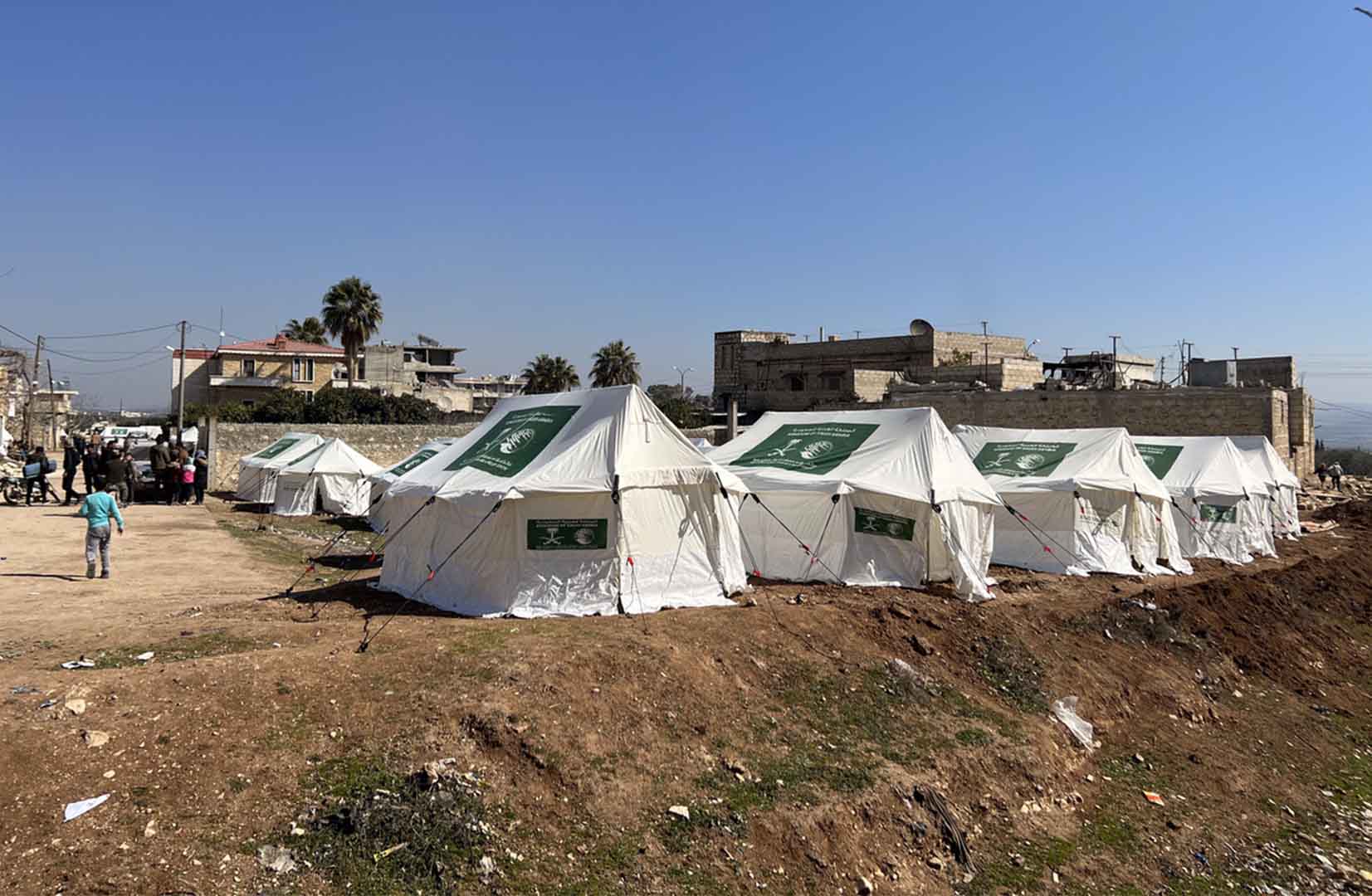 Mercy Corps' existing shelter project includes plans to upgrade sites and move people from tents into housing units. "We will need to move towards that in the long term," Barnes said. Given the high levels of gender-based violence and harassment reportedly occurring in camps across the northwest, he said that improved structures could also translate into safety for many.
Kocian of People in Need said his group is considering building homes in two towns in Idlib province – one or two storeys only, reducing the likelihood of potential damage from future earthquakes.
While temporary shelters are far from ideal, they are sometimes the best option available in northwest Syria. Human Appeal, a UK-based humanitarian organisation, has rehoused 1,000 families who lost their homes in the earthquakes to new, semi-permanent brick structures in a town settlement project called Al Zohoor in Idlib province.
The town was initially designed to house those displaced by the war, explained Thaer Bakour, operations coordinator for Human Appeal. But the group has now decided to prioritise people displaced by the earthquakes.
"We cannot say that these [housing units] can be permanent for [someone's] whole life," said Bakour. "They are better than tents. There is a roof, at least, over people's heads to protect them and keep their dignity and their privacy."
He added that the town still needs some basic infrastructure, as well as a school and a health clinic, "but because of the earthquake we had to [resettle] people there."
Lack of building standards
The neglect of earthquake-safe building standards in recent years may have contributed to the devastation in northwest Syria, according to Kocian, of People in Need. 
"The houses I saw which fell down were pretty new," he said. "This indicates that they were not good quality, while the older ones stayed [standing]. So local administrations should definitely focus on the minimum standards."
However, in an area controlled by fragmented opposition groups, centralised safety standards are hard to put in place, let alone enforce. Idlib city, controlled by Hayat Tahrir al-Sham, retained some municipal building codes from when it was controlled by the Syrian government. But these rules are reportedly enforced inconsistently, if at all.
The challenge of finding safe, permanent housing for the millions of people displaced in northwestern Syria is "a fundamental question", according to Barnes, from Mercy Corps. "We still don't have answers for that."
When it comes to improving housing safety conditions for future earthquakes, the northwest is "a part of Syria that's just had no investment for such a long time; it's difficult to think about getting to that level of construction and safety requirements", Barnes added. 
"We're starting from zero again; I could collapse from this feeling."
For those affected by the earthquakes, questions about long-term safety and reconstruction are difficult to consider when their immediate needs are not always being met.
Fatima al-Hamad, 35, fled Eastern Ghouta, a long-besieged suburb of Damascus, with her three daughters in 2018, ending up in the rebel-held northern city of Afrin. She told The New Humanitarian that life had been extremely difficult in Eastern Ghouta, but that the earthquake was "a greater horror, and on a bigger scale".
Her home was badly damaged in the earthquakes, so she and her daughters are now living in a temporary shelter that has no privacy or basic services.
Al-Hamad is hoping to receive financial help to repair her home so they can go back and live in it. For now, though, every day is a struggle. "We can't adapt to life in this shelter," she said. "We're starting from zero again; I could collapse from this feeling."
Mahmoud Abo Ras reported from Idlib, Syria. Melissa Pawson reported from Amman, Jordan. Edited by Annie Slemrod and Eric Reidy.
Read more about...