The Lebanese capital of Beirut is just waking up as Diana Barakat, a midwife whose car is both her office and mode of transport, checks her phone for directions to a street where she thinks women need her help.
"I believe there are at least four pregnant or lactating women on this block, but I need to find the right building," she says, parking her car on a narrow street in a poor neighbourhood in the eastern outskirts of the city. 
The 26-year-old is part of a new cadre of midwives hoping to help slow Lebanon's soaring maternal mortality rates. As Lebanon descended through the pandemic into economic collapse, they've been going door to door to provide emergency healthcare in a country that has seen the number of women dying due to complications from pregnancy or childbirth nearly triple between 2019 and 2021.
The effort to send midwives out to help at-risk women across the country is headed by the Lebanese Order of Midwives and funded by UNICEF, the UN's agency for women and children. 
Since kicking off last November, they've hired 57 women like Barakat, who worked at a private clinic before starting this job. They plan to hire 300 "mobile and community-based" midwives to cover all of Lebanon through at least 2025, although UNICEF isn't sure there'll be enough money to reach either of those goals.
Funding is far from the only obstacle Lebanon's midwives face in helping to turn the deadly trend around. First, Barakat and her colleagues have to seek out those who really need their assistance. "That is the most difficult part of the job – to find women and gain their trust," she told The New Humanitarian.
'The need is huge'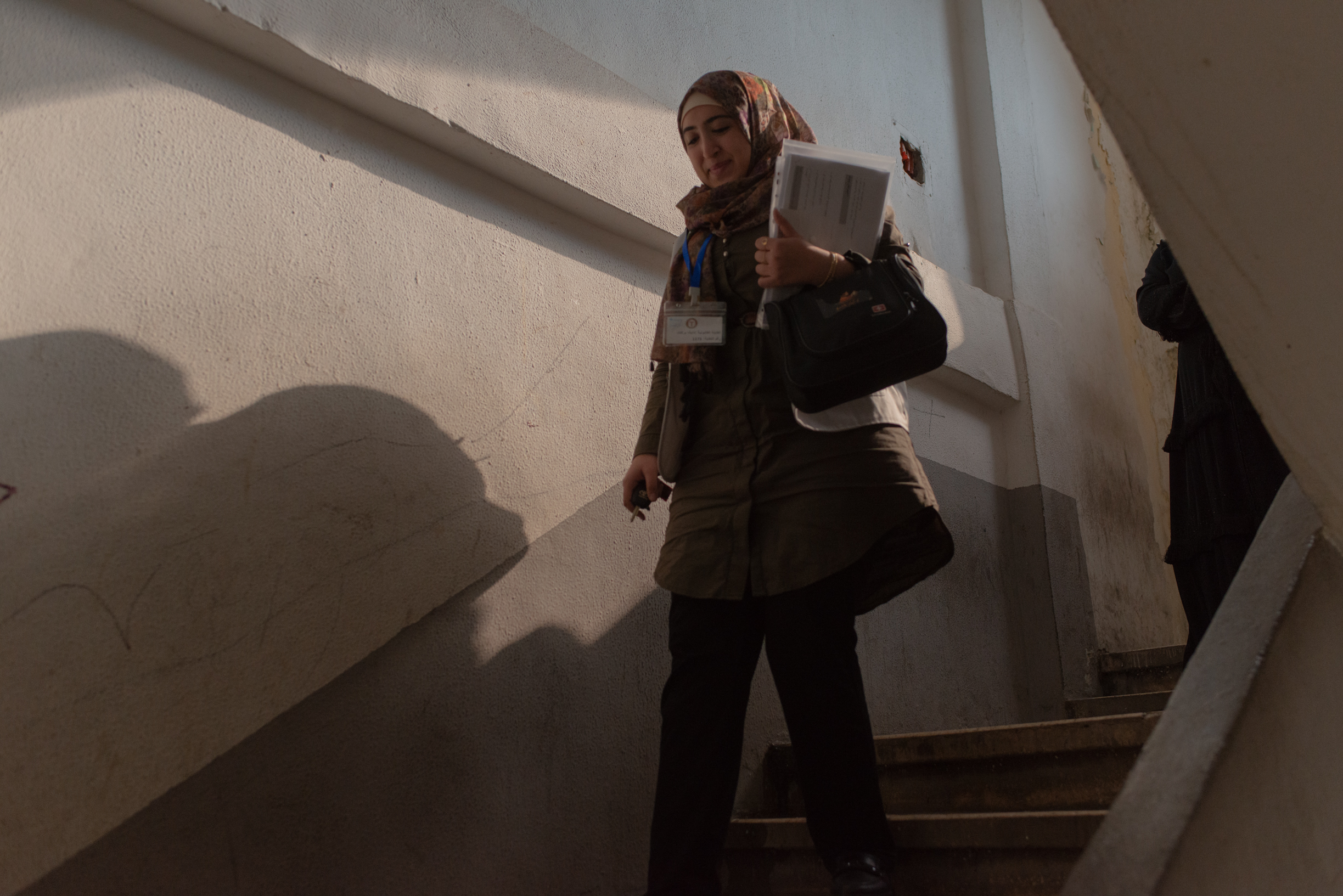 Barakat, whose mother was also a midwife, is eventually supposed to make 80 visits each month. Ideally, she'll see the same women at least three to four times before they give birth, either at a private midwifery clinic, a primary healthcare centre, or at an NGO-run clinic, and then follow up with postnatal visits. 
For now, 80 sounds like a high number. "I can already see that the need is huge," she told The New Humanitarian, walking up the stairs to her first arranged visit of the day. "But my job is also to find pregnant women in need of attention, and that's the difficult part. They're asking for a high number." 
She spends a lot of time knocking on doors and asking if there are any pregnant women in need of her services in the area. "The job is really a challenge, but I love it," Barakat said, adding that if she finds one woman who needs her services, they can usually point her to more.
The women Barakat is hoping to reach are among the rising numbers of people who can't afford either the transportation to visit doctors because of soaring fuel prices, the visits themselves, or hospital fees. The Lebanese healthcare system is overwhelmingly privatised and has seen an estimated 40% of doctors and nurses leave the country since Lebanon's financial meltdown began. 
The economic crisis, which was worsened by the pandemic, has been lethal for mothers-to-be. Rima Cheaito, president of the Lebanese Order of Midwives, believes one of the major reasons for the increase in fatalities is the delay in seeking care.
"With the economic crisis… women are staying at home [during their pregnancies]," she told The New Humanitarian. "We are trying to target vulnerable women who are reluctant to request services, and the midwives will help access care. This also means they can detect complications early."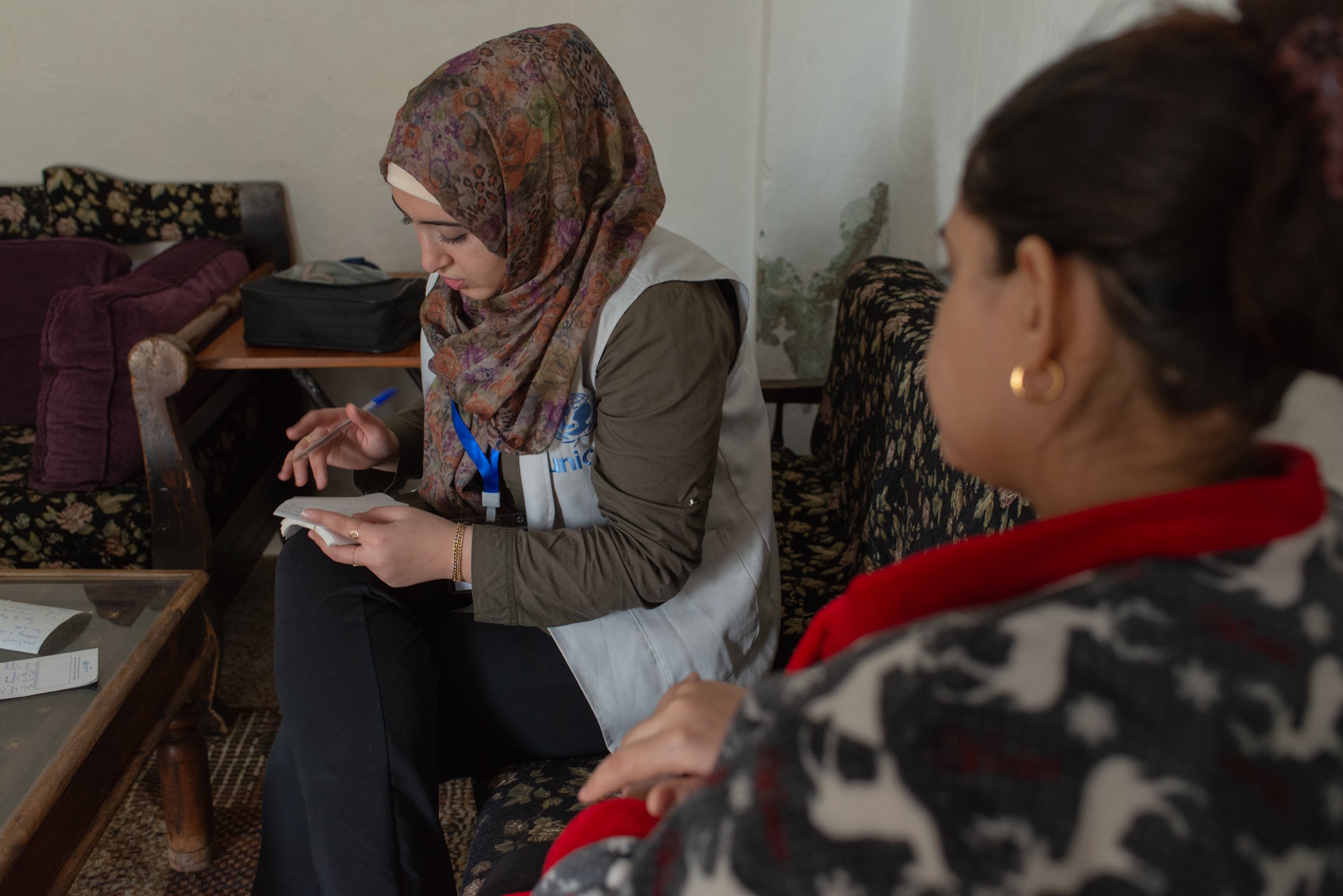 Cheaito said more and more women began to turn to licensed midwives — 1,100 are currently practising in Lebanon — during the pandemic. The main reasons are financial: Delivering at a private midwifery clinic costs about $40, whereas giving birth in a private hospital can cost around $400 to $500.
In a "healthcare system close to collapse", more and more people are seeking out care from aid groups, said Johanna Dibiasi, midwife activity manager at a clinic run by Médecins Sans Frontières where low-risk women can deliver free of charge.
MSF used to mainly serve Palestinian and Syrian refugees at the clinic – staffed mostly by midwives – that they run inside Rafik Hariri University Hospital, the country's largest public hospital.
But over the past few years, the demographics of need have changed. As the economic crisis has stretched across all segments of society – 80% of people now live in poverty – more previously middle-class families need assistance.
Dibiasi said she now regularly receives phone calls from Lebanese men who are desperate to find a place for their partners to deliver. "One man was literally begging for help," she told The New Humanitarian. "He told us, 'I cannot believe that I'm coming to MSF. Before [the economic crisis], I was donating to NGOs.'" 
Little and late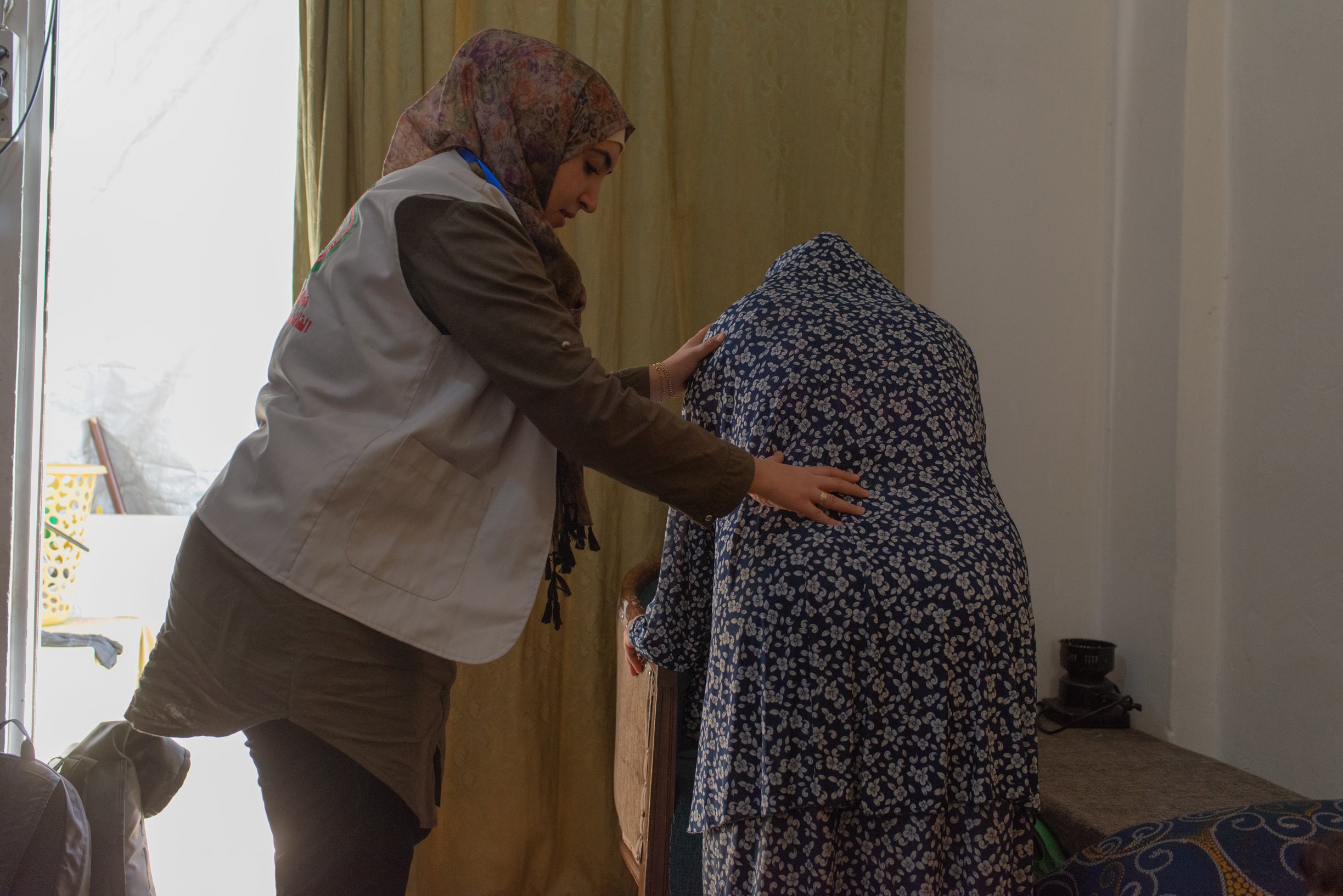 Dr George Yared, chief of obstetrics at Rafik Hariri University Hospital, said he has seen a sharp increase in high-risk pregnancies since the economic crisis began. He said they're often so dangerous because mothers can't afford to seek care until late in their second or third trimesters.
While Yared thinks it's a good idea to boost the role of midwives, he pointed out limitations to this approach. "Midwives can only help women whose pregnancy and delivery don't have any complications," he told The New Humanitarian.. 
Ideally, he'd like to see more funding for hospitals like his and, more broadly, for the entire public healthcare system. Although as many as 44% of births at his facility are high-risk, an increase over the past years, he said the amount of money they get from the health ministry per patient hasn't increased.
"Our budget is extremely strained, and we need to prioritise," Yared said. "Sometimes, there are not enough sheets, so we use plastic [on beds in the maternity ward]."
Cheaito agreed, to some extent. "A midwife can take care of a pregnant woman with a low-risk pregnancy in the same way as a gynaecologist, but for a fraction of a price," she said, adding that midwives can also spot high-risk pregnancies early on, and refer women to other services.
But there are only so many midwives working in Lebanon, and limited affordable services for those who need other sorts of treatment. Midwives in the programme refer women to specialists for more complex pregnancies, although costs are not covered.
Cheaito explained how if a woman goes into labour and appears to have complications while under the care of a midwife, the programme seeks to find a hospital or NGO that will take her on, funding some of those cases. UNICEF will cover the cost of transportation to a hospital, which can otherwise be prohibitive.
A community response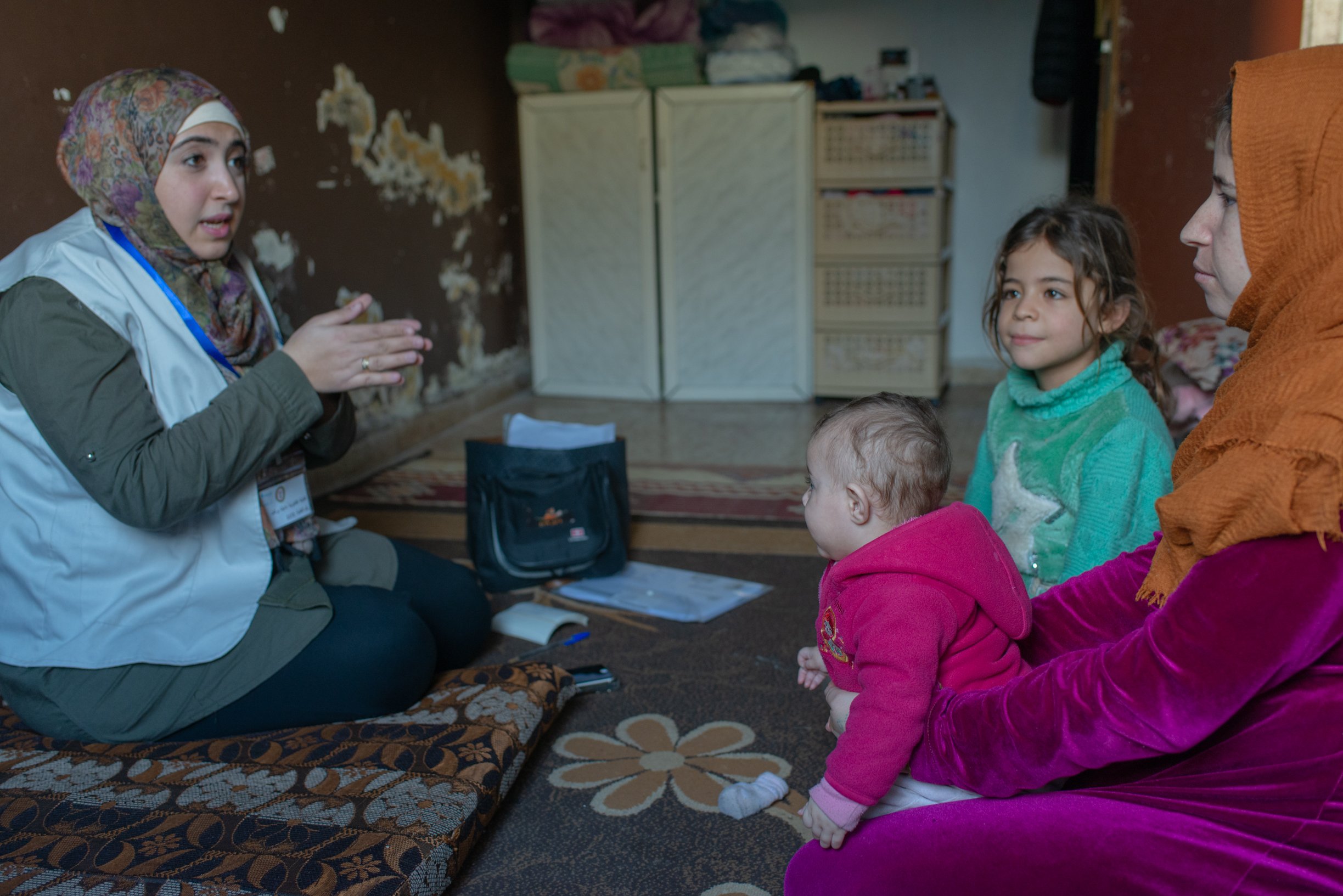 Reem al-Zeit, a 23-year-old refugee from Syria, opened her door to Barakat with a smile. She was five months pregnant and holding a one-year-old in her arms. 
It was the first time the two women had met. After a few questions, Barakat learned that al-Zeit will soon be a mother of three.
"The first trimester was tough, and I was vomiting a lot, but now it's much better," al-Zeit said of her twin pregnancy.
Instructing al-Zeit to lie down on a mattress on the floor, Barakat felt around her belly, before applying gel so she could use a monitor to listen in on the baby's heartbeat.
"Everything looks great," Barakat told al-Zeit, who was happy when she heard the twin heartbeats. "I bought the monitor with my own money," the midwife said. "It is beautiful to see how happy the women get when they can hear the baby."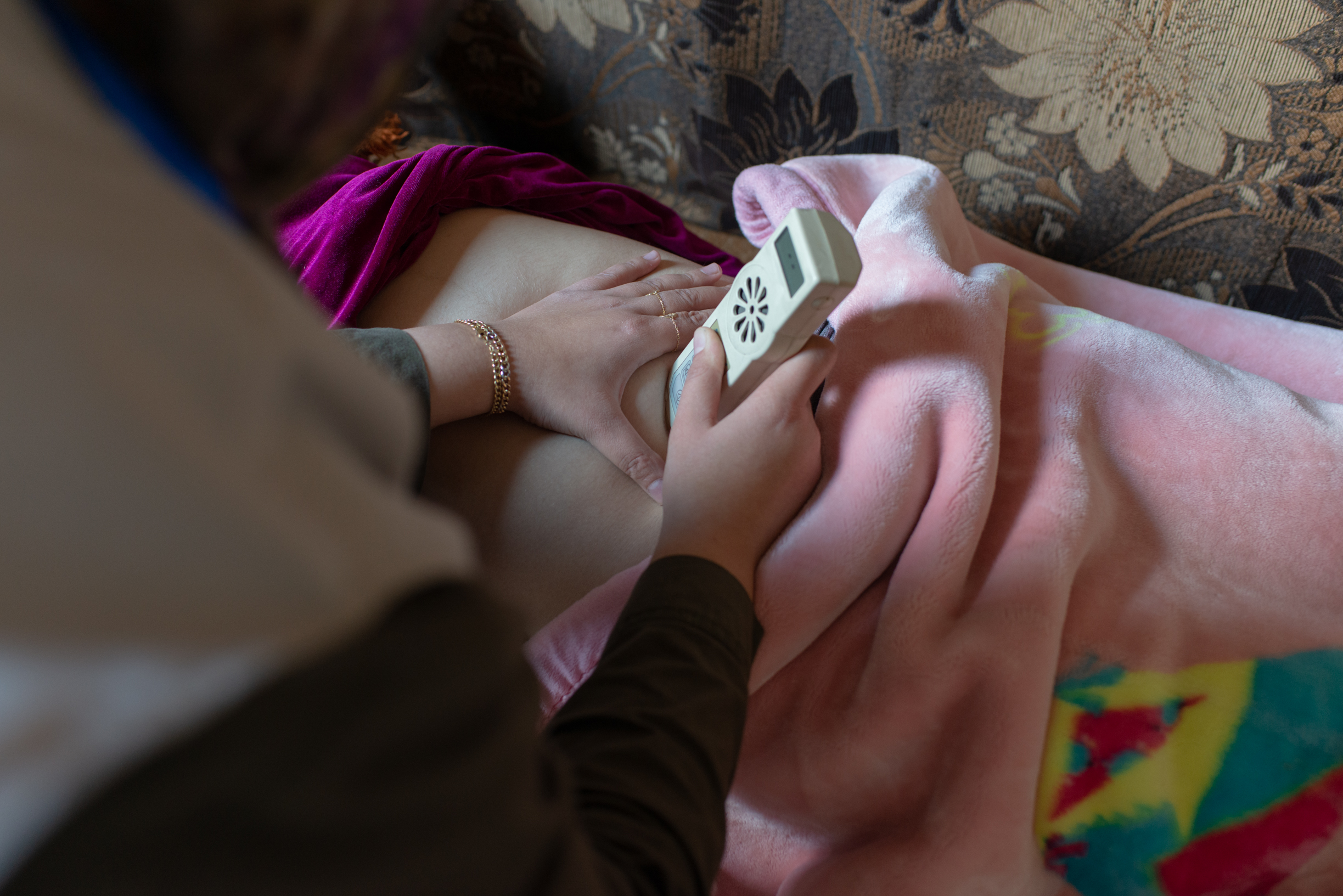 Barakat only had one hour with al-Zeit, as she does with all her patients. But she'll be back for more visits, and UNICEF is hoping that this approach of matching women with the same care provider will pay off. 
Later in the day, word of Barakat's efforts had already spread. Four women, one a brand new mother, gathered in another apartment as the midwife discussed birth control, breastfeeding, and natural pain relief during birth. For Barakat, this work is "the job of my dreams… Midwifery really has a humanitarian touch to it."
It has also been an eye-opener in terms of seeing the full consequences of her own country's economic meltdown.
"I saw [a pregnant woman who later became a patient] in the street, and she was nicely dressed. I then went to her house, and it was clean and looked good, but her children were hungry. They did not have enough money to buy food," she said. "The Lebanese people are crying in the dark. No one is seeing them, and no one is hearing them. Many are too proud to say that they need help."
Edited by Annie Slemrod.