As emergency teams continue to respond to the 21 November earthquake that struck Cianjur on Indonesia's main island of Java, killing more than 320 people and injuring thousands, survivors are asking why there was so little preparedness and awareness-raising beforehand.
Indonesia sees some of the world's most powerful earthquakes, but many – including the 2004 Aceh earthquake and tsunami that left a quarter of a million dead – have their epicentre offshore and are megathrust: the result of one tectonic plate being forced underneath another.
Cianjur was a strike-slip event, meaning one plate grinds against another. At 5.6-magnitude, it was technically moderate, but it was also relatively shallow and struck a densely populated inland area of West Java province where people aren't accustomed to such large temblors. 
"It's like our intestines were turned upside down," recalled Samsul Bahri, a 28-year-old Cianjur farmer and father of two. "Then we watched our homes crumble down. I've never been scared like that in my whole life."
Bahri explained how communities here are only used to lini – small earthquakes. While lini occur frequently, residents have little to no knowledge or awareness about large earthquakes.
And Bahri said there had been no education campaigns to help residents become better prepared. "We only watched natural disasters on the news, thinking they were far from us, but now it happened on our soil," he told The New Humanitarian. "We only use our instinct to run to open spaces or in the field."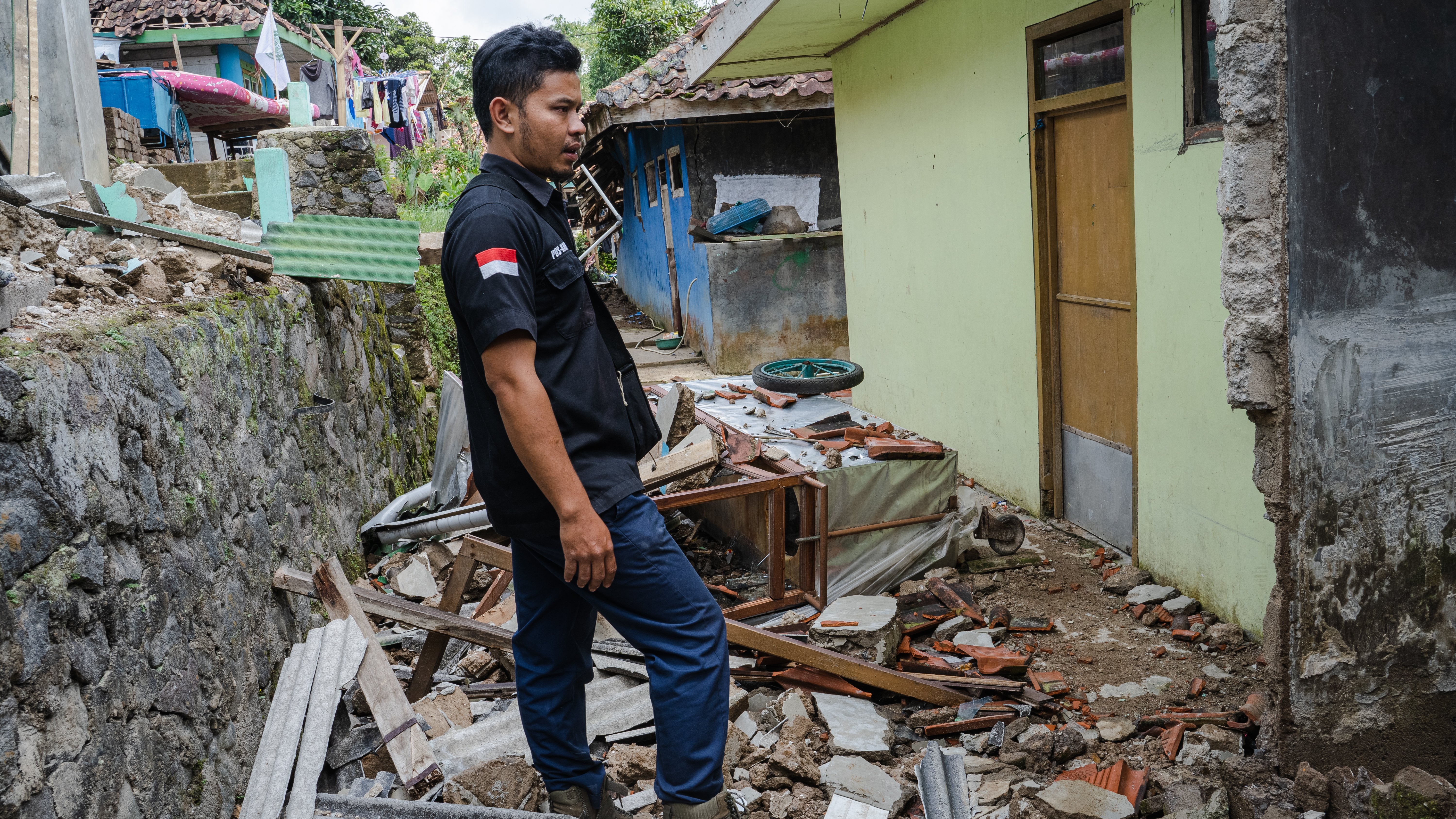 Pangarso Suryotomo, director of preparedness at the National Disaster Mitigation Agency (BNPB), said the disaster was a wake-up call for the government to step up awareness-raising efforts in inland areas, and to coordinate with local officials more.
"The Cianjur earthquake has taught us to spread better awareness due to the fact that the epicentre was located on the mainland, not in the ocean," Suryotomo told The New Humanitarian. 
While residents in some 500 villages in Sumatra and Java have been educated about the risks and what to do when an earthquake strikes, Suryotomo noted that the government campaign only focuses on coastal villages and on megathrust earthquake awareness. 
The national disaster agency has issued guidelines in conjunction with other ministries and civil society – including on how to build earthquake-proof houses and safety instructions for schools – but Suryotomo said implementation has yet to achieve the desired results and a lot depended on chasing up the local authorities.
"We [BNPB] can't work on this alone, so we hope that the local government can also do their part to raise awareness and educate," said Suryotomo. 
The local disaster agency in Cianjur did not respond to requests for comment. 
'The house is all that we had'
Seven years ago, Oon, who only gave one name, left her home on Java to work as a housemaid in the UAE and Qatar. When she returned after five years, she had earned enough money to send her four children to school and build a two-storey house.
On 21 November, all those years of hard work were shattered in just a few seconds. Oon was sitting inside her home in Babakan Cikadal village when the quake struck. "The wall fell on my shoulder and my foot got stuck, but I was lucky as there were no serious injuries," she said. 
A week after the quake, Oon was scouring the wreckage of her home for anything that could be saved. The walls of the living room had completely collapsed. The floor was covered in rubble and barely visible. A blue refrigerator still stood in the corner of what was once her kitchen, while a plastic clothing cupboard remained in the living room. A mattress lay covered in dust. This was all that was left.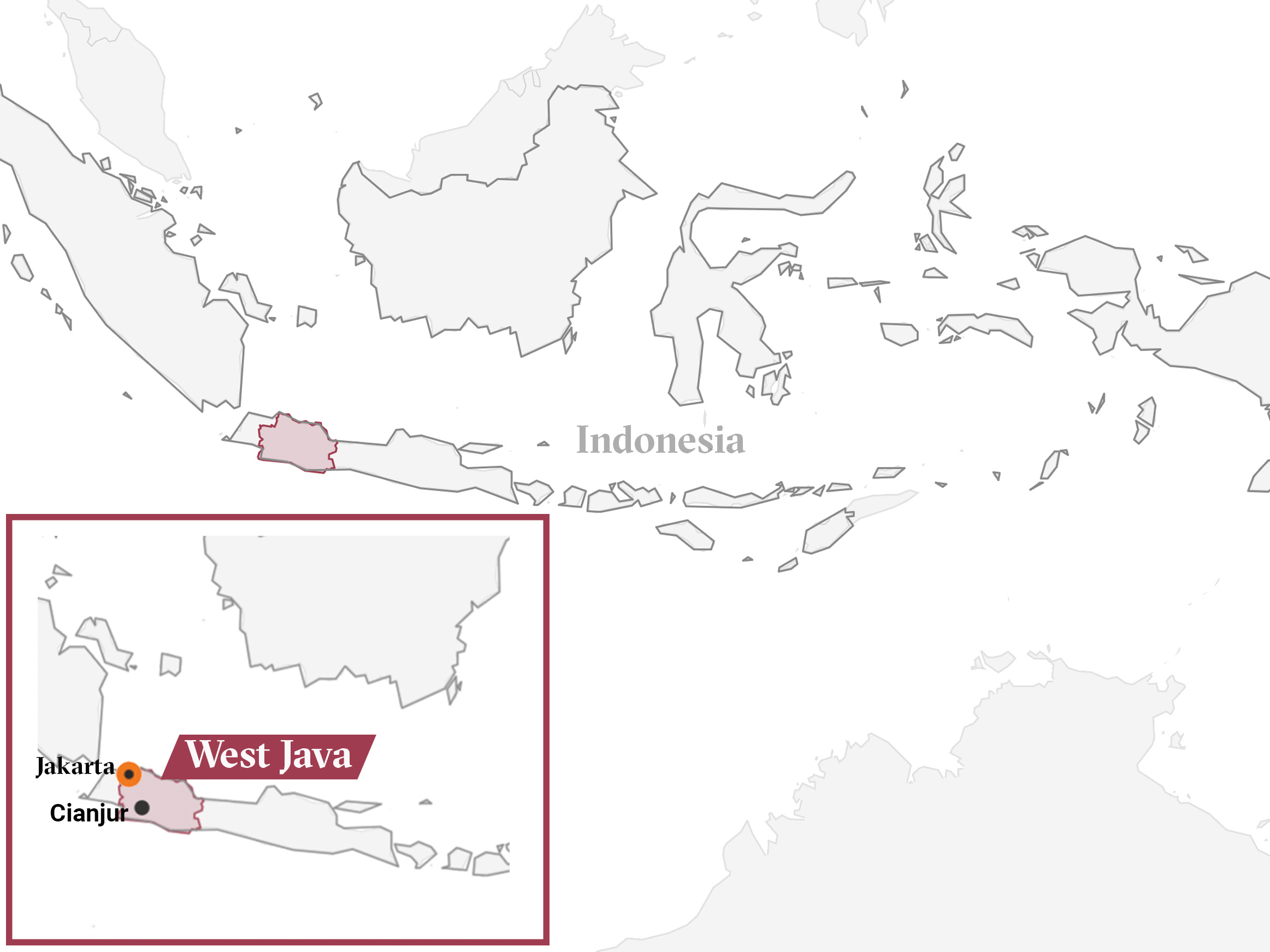 "This house is all that we had," Oon sobbed weakly, her voice trembling. "I don't know what to do or what will happen next."
West Java is the most populous province in Indonesia, with more than 48 million people.
More than 60,000 people were displaced by the Cianjur earthquake, and the response by the government and international NGOs has been rapid. Thousands of rescuers were deployed to pull people from the rubble, with hundreds more distributing aid. In the days since, nearly two dozen medical centres have been established.  
Islamic Relief warned that short-term shelter for those made homeless by the quake was inadequate and could lead to a rise in illness. It noted that the worst-affected villages have seen 80% of homes severely damaged or destroyed, evidence of the need for better quake-proofing. Across Cianjur, government figures show nearly 25,000 homes were damaged – a fifth of them severely. 
Coastal focus leaves inlanders vulnerable
Babakan Cikadal is a lush green village at the foot of Mount Gede, which rises to 3,000 metres above sea level. Most of the residents here work as farmers, growing spring onions, cabbages, and other vegetables.
The village was one of the hardest hit by the earthquake, with dozens were casualties and scores of homes destroyed. Traumatised residents now live in temporary shelters set up in fields or yards. Those whose homes survived are afraid to go back inside as hundreds of aftershocks have been recorded since the main quake. 
Asep Kurniawan, a cleric and principal of the Al Hidayah Islamic school in the village, said no one from the local administration had ever come to his school to educate students about disaster mitigation and earthquake safety. 
Many of the 329 people who died in the disaster were children who were still at schools or madrasas.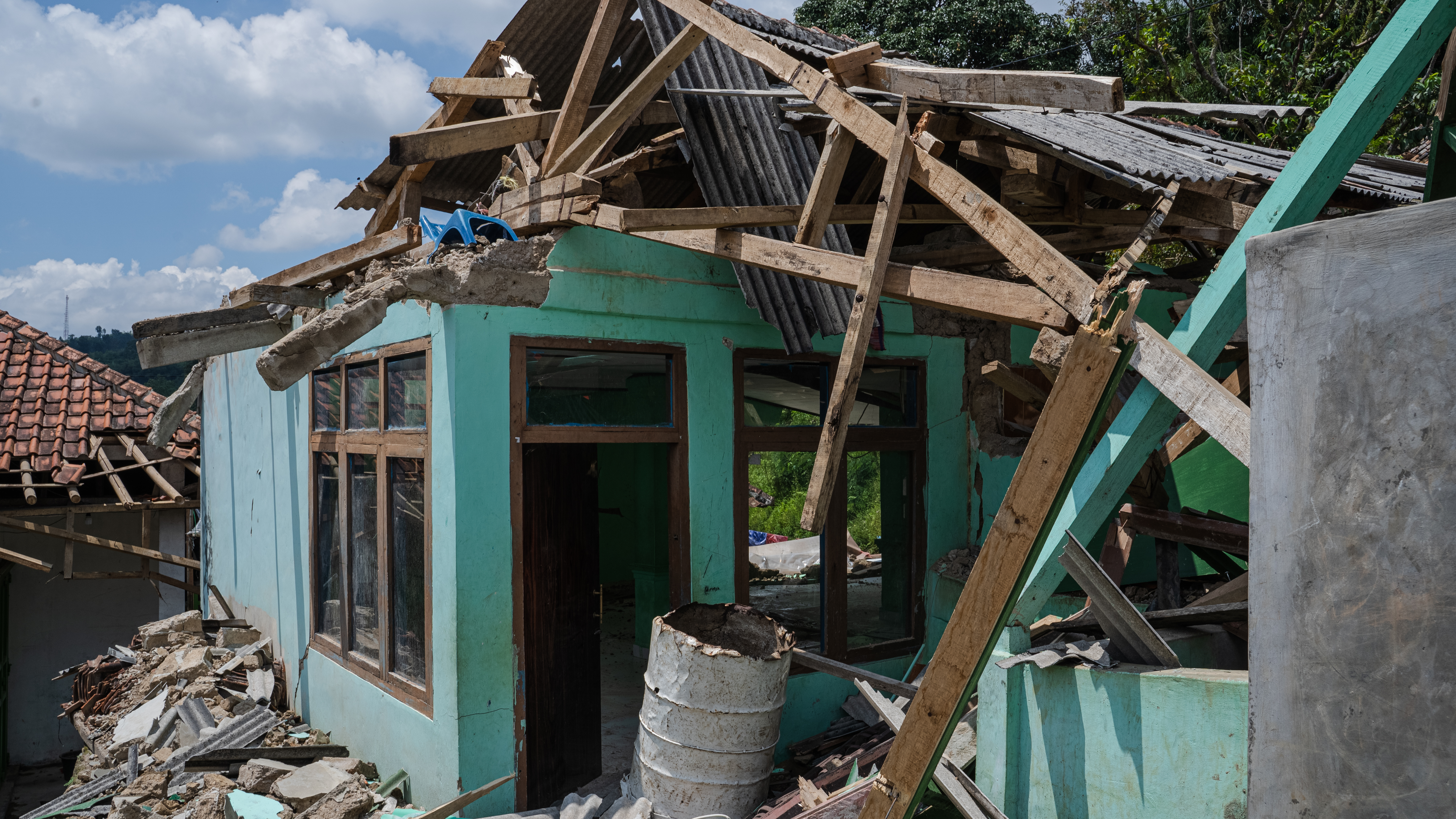 The Al Hidayah Islamic school was severely damaged, but its more than 50 students were extremely fortunate. "When the earthquake hit, the school was empty as children were already at home," Kurniawan explained. "I couldn't imagine if they were still at school."
A week after the disaster, children were studying in emergency tents set up by Kurniawan, which double as temporary musallas for prayer.
In 2019, the BNPB disaster agency recorded that 75% of more than 250,000 school buildings across Indonesia are located in earthquake-prone areas and about 60 million students are at risk.
When a 7.4-magnitude quake and tsunami hit Palu, Central Sulawesi in 2018, almost 3,000 school buildings were damaged. In January this year, more than 50 schools were damaged by a quake in Java's far-western province of Banten that destroyed more than 3,000 homes.
Read more: Indonesia tsunami rebuild moves forward, but not for everyone
Irwan Meilano, associate professor at the Geodesy and Geomatics Faculty at the Bandung Institute of Technology, said the Indonesian government needs to be more focused on disaster mitigation efforts, investing more on education campaigns and awareness building. 
"We have the knowledge based on research, we have the data, so the next thing to do is to spread this knowledge to the public to build collective consciousness," Meilano told The New Humanitarian. "So far the government's policies are responding to disasters, not mitigating. This will be exhausting as all the resources are directed for evacuation, and a little too late because the damage has [already] been done."
Despite the risks, residents like Oon, Bahri, and Kurniawan don't plan on moving from the fertile region any time soon. "We'll stay here," said Bahri. "Lesson learned, and we'll be better prepared." 
Edited by Abby Seiff.