Khushi pulls open the lid of a large aluminium trunk. Out flood the memories of the sweltering summer of 2021 when coronavirus was ripping apart India's healthcare system. She dusts off a framed photograph of her father and mother and places it on the desk next to a stack of books.
In April 2021, *Khushi's mother, Kusum, contracted COVID-19. The hospitals were overburdened with coronavirus patients amid skyrocketing cases and acute shortages of doctors, beds, and oxygen.
Khushi was Kusum's sole carer. Her father had died years before. She struggled to obtain an oxygen cylinder, while Kusum grew sicker, struggling for breath and coughing all the time. The coveted oxygen arrived only in late May, just after Kusum passed away, at the age of just 46.
"My mind was blank," 18-year-old Khushi told The New Humanitarian at her cramped home in a rural part of Hapur district, in the northern Indian state of Uttar Pradesh. "All I knew was that, [with my mother gone], I had to take care of my three younger siblings."
For months, Khushi was haunted by guilt for not having been able to save her mother, and angry at her loss. "I wanted my parents to witness my success in life," she said. "But their deaths broke our backs and left us only with their memories."
With more than 6.5 million deaths, India has the highest overall COVID death toll in the world. Hundreds of thousands of children, like Khushi, have been left to cope with the loss of a parent with little assistance. Uttar Pradesh is among the hardest-hit states in the country. 
Mental illness is still heavily stigmatised in much of India, so children who experience the trauma of COVID deaths in their families are fortunate if they can find support. One initiative did spring up in Uttar Pradesh to help Khushi. It discovered that counselling wasn't much use alone – you also had to remove the children's real-world financial and bureaucratic headaches.
"All I knew was that, with my mother gone, I had to take care of my three younger siblings."
After her mother's death, Khushi plunged into depression. Once a strong student, she suddenly couldn't summon the energy to attend school anymore. Her career dreams looked likely to shatter.
But gradually, with the help of social workers and therapists, she has re-emerged into the world, passing an engineering exam last month that will allow her to pursue the bachelor's degree in technology she always wanted. 
This recovery wouldn't have been possible without the help of an ambitious initiative aimed at assisting children struggling with the loss of parents from COVID, Khushi told The New Humanitarian.
Launched in July 2021, the Cash + Trauma-informed Psychosocial Support programme is being implemented by Uttar Pradesh's Department of Women and Child Development in collaboration with UNICEF and Mind Piper, a Delhi-based mental health organisation.
For the past year, it has helped counsel – and financially support – children orphaned by COVID, training more than 130 social workers in mental health response, improving accessibility to counselling, and expanding awareness around the sensitive issues involved. 
The regular calls and visits the social workers have had with nearly 13,000 children from poor and marginalised families also revealed the extent to which administrative and financial hurdles can derail the efforts of young people to move on from the loss of loved ones due to COVID. 
The range of support measures includes keeping orphans out of residential facilities by ensuring their guardians have sufficient funds to care for them.
'Sinking in the ocean of grief'
The initiative is the first of its kind in India. By offering a highly vulnerable group of children timely mental health support, therapists hope to prevent long-term damage to their educational chances and ensure they remain in mainstream society.
"The children were struggling with many things as they have not seen customary burial or cremation; nor were there extended families to support them," said Piush Antony, a social policy specialist at UNICEF's field office in Lucknow, 500 kilometres southeast of Hapur city.
"It was not a usual case of losing parents," she explained. "These children needed emotional and psychosocial support without any delay."
The first step in the programme sees counsellors visit the families and develop a trauma-grief scale. After plotting children on that scale, they tailor their responses accordingly. While some children are in complete denial, others are grieving. Interventions have to be planned according to the specific needs.
And these needs can vary even within the same family. For example, in April 2021, 13-year-old Ria and 15-year-old Pia, and their two brothers aged 13 and 10, lost their father to COVID after he contracted it while working at an election polling site. He died within a week.
"It was not a usual case of losing parents. These children needed emotional and psychosocial support without any delay."
With schools closed due to the lockdown, the siblings had little access to the support networks they desperately needed. While the brothers managed to handle the tragedy – their mother was still living with them and caring for them – both sisters had been particularly close to their father and struggled to get through it. Ria recounted how they soon lost any real understanding of what was happening around them. It was like "sinking in the ocean of grief", she said.
"My father always treated me with great respect and love," Ria said. "He never discriminated against us; [treating us differently] from our brothers." 
Both sisters – along with Khushi – receive psychological first aid, rapport-building, and counselling from the Uttar Pradesh initiative, along with Trauma-Focused Cognitive Behaviour Therapy (TFCBT). This therapy is aimed at helping children who are overcome by their grief – unable to move past sleeplessness and crying spells and continuing to suffer from severe anxiety, loneliness, and sadness.
For months, Ria would sob uncontrollably and run away from people. She wouldn't talk to anyone about her feelings of loss, fear, and uncertainty of the future. She had lost hope.
"They were caught with thoughts of livelihood and caregiving at an age when they shouldn't normally be burdened with it."
But through the counselling support, she said she started feeling positive about life again. When she expressed herself, she felt heard and valued, not judged. Through her sessions, she learnt that she isn't the only one who has suffered or is suffering due to such losses – there are children with more complex problems than her. That realisation has made her appreciate the things she still has, most importantly her siblings.
Ria has kept a diary in her father's memory entitled, "My first teacher and world is my father." She writes down her thoughts in the diary whenever she misses him.
While it took a long time for Ria to accept the loss, she has finally started going to school again, while continuing with her regular counselling sessions.
"Children in the age-group of 7-18 years were struggling with their emotions and they didn't even know if they had an agency to reach out and seek help [from]," said Tamanna Edwards, who runs Mind Piper's Counselling Psychology and Innovation Design department, which trains social workers and counsellors in trauma-informed care and needs-based therapeutic interventions.
"Children also spoke about nightmares, and how they weren't able to sleep properly. They complained of crying spells," said Edwards. "They were caught with thoughts of livelihood and caregiving at an age when they shouldn't normally be burdened with it."
Real-world problems
Grief isn't the only emotion children are struggling with. Many have also developed profound anxieties about finances, explained Antony, the UNICEF officer. 
"We found that children were too [scared] to ask their caregivers about their property issues. Their parents had bank loans [for instance] and [they worried about] who would repay that," she said. "Our counselling was meaningless if these things continued to bother children."
Each child in the programme receives a monthly stipend of 4,000 rupees (about $50). The funds are transferred to the child's guardian, and counsellors follow up to ensure the money is used for the children. 
Bit by bit, the initiative does appear to be hitting the mark, said Edwards of Mind Piper, acknowledging that it had been hard at first to build a rapport with the children.
In rural Indian settings like much of Uttar Pradesh, there's still a lot of stigma associated with seeking help for mental health. People are expected to handle such issues on their own. Counsellors had to work hard to create a safe space, win children's trust, and teach them that it's okay to seek time and support to grieve.
"Through our impact assessment, we are seeing a change in their narratives. The children would earlier only talk about loss. But now they are recognising that it is not the end of their world," Edwards said. "They are taking their time to heal, and we are consistently reinforcing the belief that it is normal to feel sad and [then] move ahead in life."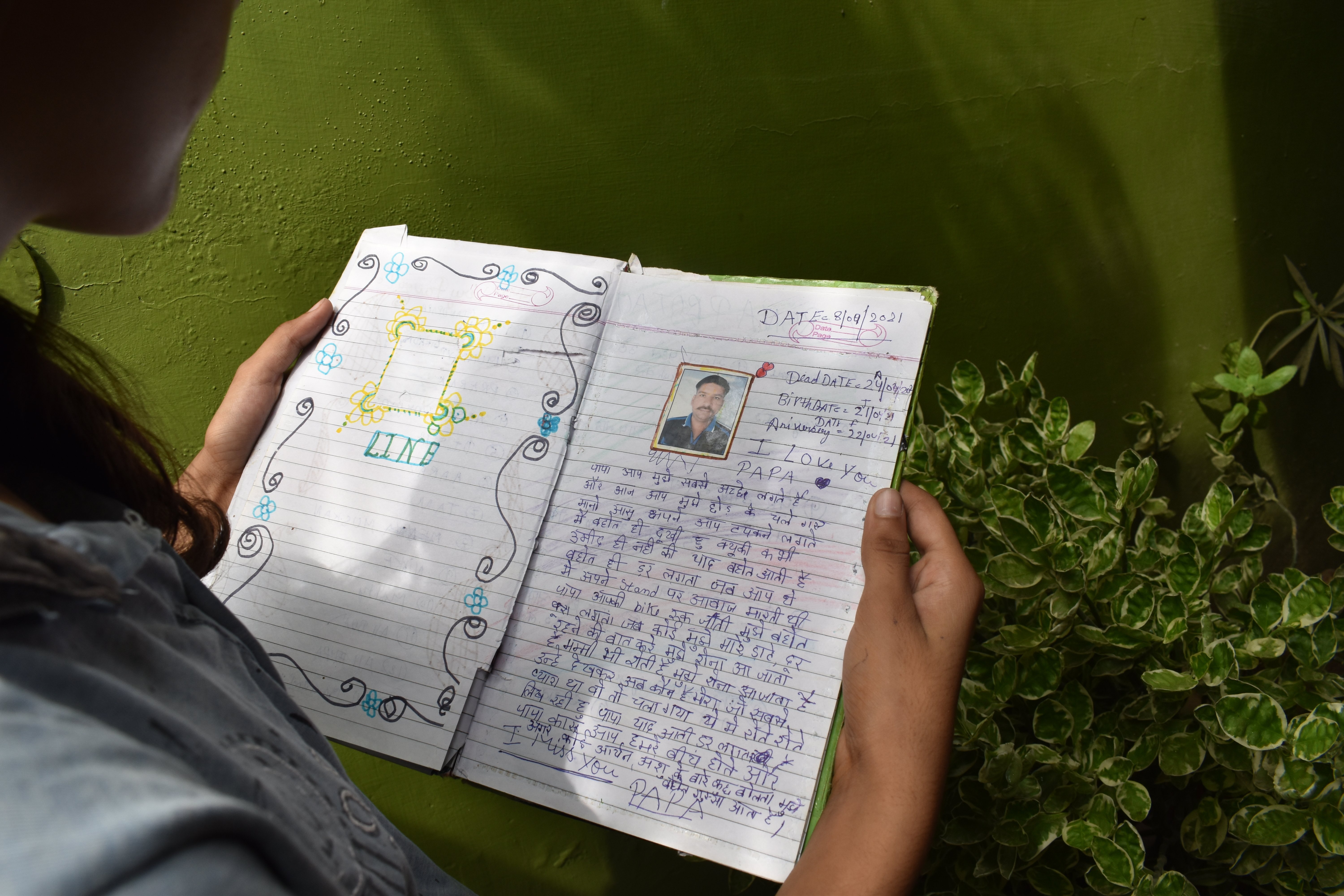 Deepanjali, a protection officer at the Department of Child and Women Development and a counsellor in Baghpat city, said the activities of the social workers go well beyond just counselling as they actively provide an "extra vigil" over the children's lives.
"We also try to keep a close watch on child marriage, child labour, harassment, and other child protection issues in these families," she said. "We want to ensure that these vulnerable children are not exploited by anyone."
If successful, Edwards expects the programme will be replicated by other states. She sees it as a comprehensive model of mental health treatment in locations where such responses are rarely prioritised, especially with the vital added ingredient of financial support.
For Khushi, the counselling – coupled with financial support – has provided a growing sense of security.
"The sessions with counsellors made me feel better. I cried, laughed, and cried again," she said. "But sharing my problems and fears with people who not only listened to me but didn't judge me, and even helped me to solve those problems with courage, gave a new meaning to my life."
Khushi sat the exams she had earlier skipped and qualified for college with good grades. All her siblings are now going to school regularly again and studying free of charge – each will receive the monthly stipend of 4,000 rupees till they reach 18 years. After 18, the amount will be halved, but it won't end until they reach 23.
Recently, Khushi wrote this poem about her life: 
 Hope that I will keep on clinging to.     The obstacles will come and go.     But, I will stand tall.                       Time will not only heal my wounds.   Time will remind me how I fell and   then survived.                                         It will remind me of my scars and   my strength.
She said she plans to print the poem out and keep it next to her parents' photograph on her desk.
*First names of children have been changed to protect their privacy. The surnames of adult victims have been withheld to protect their privacy. 
Edited by Abby Seiff.