Tapachula, a town on the Mexico-Guatemala border known for its stifling heat, has earned the nickname of a "migrant prison". Thousands of people hoping to reach the United States have found themselves detained or stuck here, waiting months to obtain a humanitarian visa and struggling to survive in the city long enough to acquire one. 
Migrants and asylum seekers who attempt to leave the city and go north on a bus will swiftly encounter a checkpoint where all on board must present their documents to a Mexican immigration officer.
Those unable to obtain a humanitarian visa often end up at the region's largest detention centre, Siglo XXI, a hellish facility where migrants report not receiving food and having their belongings – including their documents – taken by officials. 
In early August, a Haitian died in captivity. Soon after, 126 Venezuelans held at the prison were deported back to their country.
Siglo XXI detention centre has held up to 1,200 migrants at any one time this year (at least 300 above capacity), many awaiting deportation.
Mexico has long been a tricky way station for migrants to navigate en route to the United States, but the tough conditions are likely to become worse: Under President Joe Biden, the United States has been quietly pressing Mexico to accept more migrants from Cuba, Nicaragua, and Venezuela, according to a Reuters report. US Secretary of State Antony Blinken raised concerns about the escalation in crossings from the three countries when he visited Mexico City last week, two US and two Mexican officials told Reuters. Mexico did not commit to specific actions. 
Still, many migrants and asylum seekers find themselves trapped in an administrative maze, suffering corrupt and sometimes abusive officials as they travel through dangerous regions, caught up in flares of violence from organised crime groups, or exploited by coyotes or polleros. 
The sheer numbers trying to make the journey have also compounded problems in border towns. Between October 2021 and September 2022, US Customs and Border Patrol apprehended a record 2 million migrants, a 20 percent increase from the same period a year ago. Some 40 percent of the migrants and asylum seekers are from nations outside Mexico and Central America, according to the UN's emergency aid coordination body, OCHA.
"It's so much worse than the situation we left. We need to get out of here."
Many who aren't arrested find their situations equally grim. Grace, a Venezuelan who didn't want to share her last name because her family still didn't know she had left the country in the hope of reaching the United States, came to the Jesús el Buen Pastor migrant shelter with her five-year-old daughter in June. The shelter is a non-profit organisation, run by a local woman. 
Grace said she had never lived in such squalid conditions: people sleeping outdoors for lack of beds, bowls of beans for dinner, and overflowing bathrooms. The shelter has held some 1,000 to 1,400 people at any time, as opposed to a mere 500 in previous years.
"It's so much worse than the situation we left," she told The New Humanitarian. "We need to get out of here."
Influx of Cubans, Venezuelans, and Haitians
The Mexican government's policy of restricting tens of thousands of migrants and asylum seekers to one city has caused such shelters to become desperate, unable to feed everyone off donations.  
The majority currently staying at the Buen Pastor shelter are Venezuelan, following a wave of Cuban migrants and asylum seekers, and before that, Haitians. Government data confirm increases in Cubans, Venezuelans, and Haitians this year, while violence and hunger in Central America has maintained a steady stream of people from that region too.
According to COMAR, the Mexican government's asylum department, 67,000 people applied for refugee status between January and July this year. That is over four times the 16,000 people who applied during the same period last year, when Mexico registered the third highest number of asylum applicants globally. Nearly all of them passed through Tapachula.
"The Haitians face language barriers and a new kind of racism that groups of migrants in the past have not had to contend with."   
Américo Daniel, another Venezuelan, said he would rather sleep out on the street than in an overcrowded shelter. For the past several months, migrants and asylum seekers have slept in the Parque Bicentenário and other central plazas in Tapachula. 
"Of the seven countries I've travelled through, Mexico has been the worst in its treatment of migrants coming through. It's chaos here," he said.
Daniel arrived in Tapachula as part of a so-called "migrant caravan", which transit through the region in greater numbers for security. His included citizens of over a dozen countries, from as far away as Bangladesh, but most people were from Latin America and the Caribbean. Most of the Venezuelans and Haitians had crossed, roughly two weeks earlier, the Darién Gap, a dangerous strip of jungle with no roads bridging Colombia and Panama. It often takes migrants a week or more to traverse the area, leaving them vulnerable to dehydration, robberies, and deadly accidents. 
Read more → A Cuban asylum seeker's dangerous odyssey
The different nationalities within this wave of migrants present distinct vulnerabilities while travelling through Mexico, said Enrique Vidal, head of coordination at the Centre for Human Rights Fray Matías de Córdova, an organisation that provides migrants and asylum seekers with access to resources such as legal assistance and investigates claims of abuse. 
"The Haitians face language barriers and a new kind of racism that groups of migrants in the past have not had to contend with," Vidal said. "Meanwhile, the Cubans face higher fees and prices for everything. They are expected to pay five to ten times more, or to pay in dollars, and the Venezuelans are now hit with a lot of fake news targeting them." 
A recent news report blames Meta, the company behind Facebook and messaging app WhatsApp, for enabling human smuggling by not removing dangerous, misleading information posted by smugglers on the platforms. Meta says it prohibits content that could encourage smuggling.
In June, the Fray Matías centre released a statement arguing that care for refugees and migrants is abysmal in Mexico, and "could not be more irresponsible". 
Earlier this year, the Mexican Supreme Court announced that the practice of carrying out document checkpoints on highways was unconstitutional and racist. 
But little has changed. Neither the National Migration Institute (INM), nor Mexican President Andrés Manuel López Obrador, have responded to the ruling. 
The winding, dangerous path out
North of Tapachula, in the town of Huixtla, Mexico's largest checkpoint operates more like a full-scale bus depot than a roadblock. It was built in 2014 with financial assistance from the United States. 
Those who make it through the many checkpoints that line the country all the way through to Mexico's northern border with the United States still risk cartel violence and kidnappings for ransom as well as abuse at the hands of both US and Mexican authorities. In August, an average of roughly 6,800 migrants were apprehended at the US border every day – that daily number peaked in April, at approximately 8,000.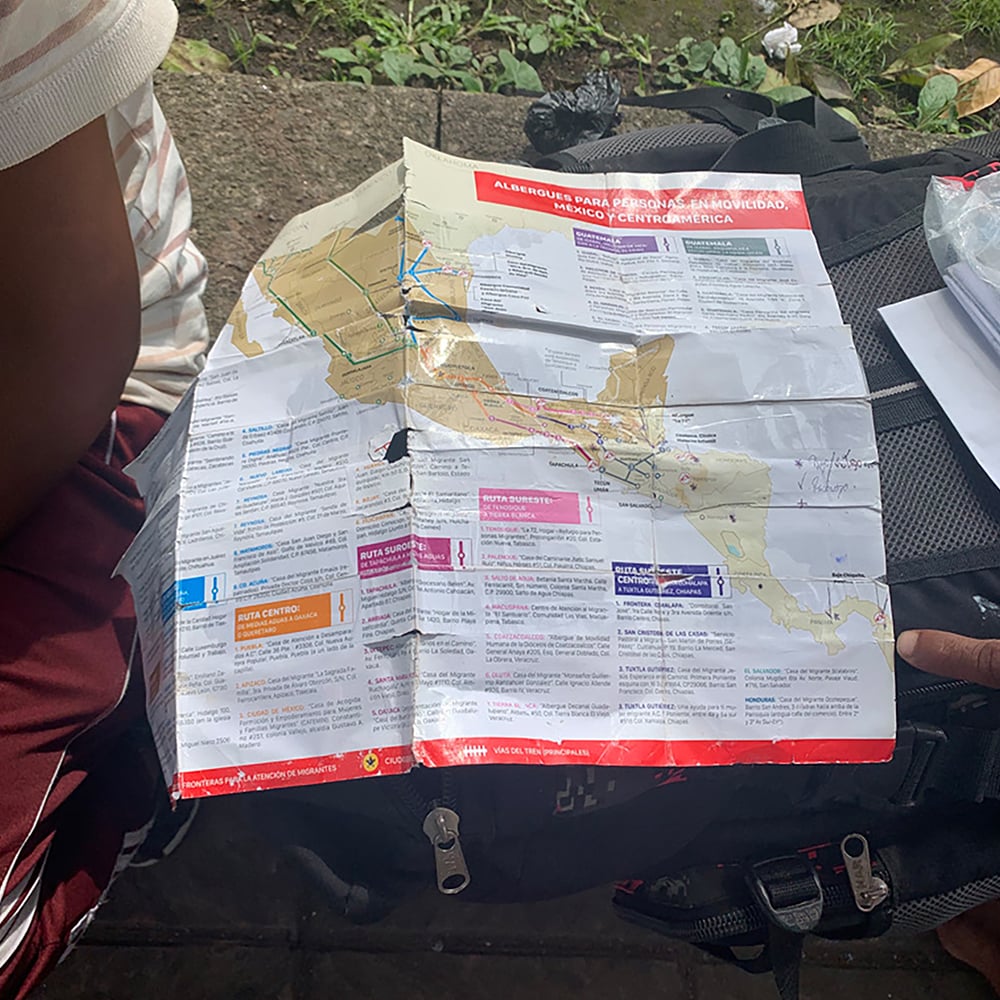 According to Vidal, the US government may urge Mexico to detain and deport a larger number of people travelling north since the recent overturning of the Remain in Mexico policy, which could allow thousands of Central Americans – many of whom have been waiting for months at the US border for their asylum claims to progress – to begin crossing more freely. 
"After the Mérida Initiative from 2006, which was a military agreement between the two countries, the United States government has a hand in keeping migration detention centres active in Mexico," Vidal explained. 
Paperwork backlogs cause more of a bottleneck
Migrants stuck in Tapachula must first go to the office of COMAR and acquire a certification of refugee status. Then they can make an appointment with the INM, the Mexican migration authority, to apply for a humanitarian visa – a small card allowing migrants to travel freely in Mexico for a year. 
A steep backlog is just one hurdle. As thousands wait, an estimated 300-400 more people cross from Guatemala to Tapachula every day. That means the current process to acquire the visa can take up to six months, according to migrants and aid workers.
The appointment sign-up section of the INM website was down for months earlier this year. In recent weeks, appointments for refugee certification at COMAR were rescheduled without properly notifying migrants, which led to anger and confusion. 
COMAR did not respond to questions about migrants' allegations of disorganisation, cancellations, and rescheduling of appointments. 
Most migrants do not have enough money to live in Tapachula for six months, especially without stable, lucrative work. Many landlords will not rent to migrants. 
The long waits have led to protests in front of the INM office in Tapachula, including one in which migrants sewed their lips shut to represent their predicament. In February, a protest became violent after an INM officer deliberately threw a migrant's papers into the dust. 
Migrants and asylum seekers told The New Humanitarian the only way to avoid six months in Tapachula is to join a caravan. This summer saw the largest caravan ever in Mexico, with roughly 10,000 people leaving Tapachula on 3 June. 
Most of this year's caravans were organised by Luís Villagrán, a migrant advocate and director of the Centro de Dignificación Humana. Villagrán holds caravan meetings before departures are scheduled and passes around a list for migrants to add their names and ID numbers to. He hand-delivers this list to the INM office in Tapachula several days before departure.
In an attempt to break up caravans before they leave the city, INM will regularly send those on Villagrán's list to a different Mexican city right away to acquire the humanitarian visa at the INM office there, where wait times are lower. "This is usually the best-case scenario," Villagrán said. 
Violence, corruption, and fake news 
The caravans that don't get broken up by INM can still face violent altercations with National Guard troops.
In April, Villagrán defied authorities by leading a caravan of several thousand people out of Tapachula without visas before being intercepted by National Guard officers some 18 kilometres outside the city. "They started beating me with a baton," Villagrán said. "Some of the migrants fought back using the wooden cross that we carried with us, and the troops responded by beating them up even worse."
So far this year, INM has arrested nearly double the number of migrants compared to 2021. Sometimes, it is unknown why INM arrests certain migrants and holds them for deportation. According to Villagrán, the night before the caravan was set to leave on 3 June, INM raided a motel where caravan participants were staying and arrested 50 people seemingly arbitrarily.
"We are investigating several cases of torture, sexual, and physical abuse by INM officers in the Siglo XXI detention centre this year," Vidal said. "And those are just the people who have come forward, which is likely much smaller than the total."
"The policy of making everyone wait in the Tapachula to process documents makes everything so much more complicated than it needs to be."
Pierre-Marc René, a press representative at the UN's refugee agency, UNHCR, said there have been a few positive changes. "For example, after pressure from many groups, they are no longer detaining children in Tapachula," René told The New Humanitarian. "But the policy of making everyone wait in the Tapachula to process documents makes everything so much more complicated than it needs to be."
In mid-June, a group of primarily Venezuelans, humanitarian visas in hand, boarded a bus in the northern Mexican state of Coahuila headed for the city of Acuña, a popular crossing point into Texas. National Guard troops stopped the bus and ordered everyone on board to get off and go south to Monterrey or face violent consequences. One young man was then led off the bus, handcuffed, and beaten in front of the rest of the passengers. 
That day, an INM official in Coahuila falsely claimed during a press conference that the humanitarian visa does not give a migrant licence to enter Mexico's northern border states. 
"INM is spreading a lot of disinformation to the Venezuelan community right now, telling them about opportunities [for priority processing] that don't exist, and setting them up to get into situations where they will be detained," Vidal said. "There's a permanent level of corruption within INM that has worsened during the pandemic. If a migrant wants to get their papers smoothly, they would pay a corruption fee."
INM did not respond to multiple interview requests for this story. 
Barriers to access
Both Vidal and Villagrán said changes in practice and policy by authorities since the start of the COVID-19 pandemic have hindered the work of humanitarian aid organisations trying to help the millions passing through Central and Latin America. 
"Using the pandemic as a pretext, they took away our private access to people in the detention centre. Now, if we're having conversations with anyone, there is always an INM officer in the room, so the migrants never feel comfortable speaking freely anymore," Vidal said. "We used to accompany migrants from the Guatemalan border to Tapachula, to make sure they arrived safely. Now, INM won't let us – they call it human trafficking," he added. 
The International Committee of the Red Cross is still allowed private interviews with migrants in detention, a privilege no longer extended to Vidal and his colleagues at the Fray Matías centre in Cordova.
"This is not going to get better even if the number of migrants lowers in the next few months," Vidal said. "And we know that is not going to happen anyway, because looking at Cuba right now, and the number of people moving through Panama as we speak, the numbers are only going to increase."
Edited by Paula Dupraz-Dobias and P.J. Joshi.