During her time in Ecuador and Colombia, Adriana Aldana, a 34-year-old Venezuelan, has sold sweets on the street, washed dishes in restaurants, and worked at a tombstone business, where she engraved names and painted religious pictures. 
Aldana, a single mother of three, told The New Humanitarian how she was recently sacked from the engraving job in the Ecuadorian capital because locals who needed work started criticising her employer for taking on Venezuelans, who, desperate for money, tend to work for less.
"They've shouted at me, 'Go back to your country! What are you doing here?' things like that, in front of my kids," Aldana recalled, in the cramped room in downtown Quito she shares with her three children, struggling to pay $120 each month for rent.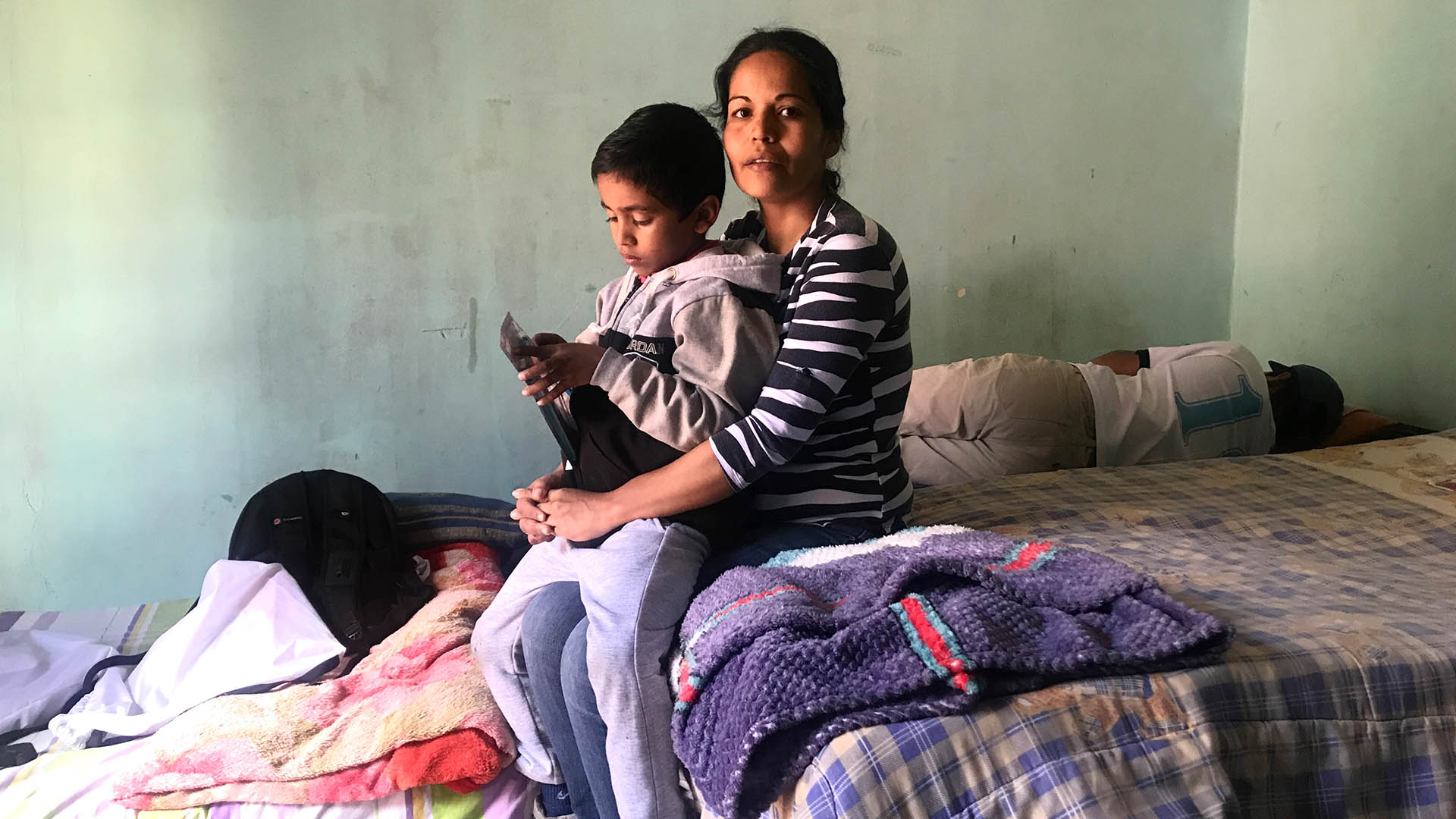 They fled Venezuela six months ago in search of opportunities as their country suffers the consequences of an economic meltdown marked by hyperinflation: shortages of basic food and medical supplies – especially for the working classes – and widespread insecurity.  
UN officials, experts, and human rights organisations focused on Venezuela's exodus have all pointed to rising xenophobia in the Latin American countries struggling to accommodate large influxes of Venezuelan migrants and refugees.
Venezuelans are taking jobs in some places that are a source of competition with local working-class citizens, and social services have been strained in certain countries. But unfounded allegations that Venezuelan immigrants are behind rises in crimes have also been made, amid a broader context of growing nationalism across the region.
Meanwhile, a new report from the Migration Policy Institute suggests some of Venezuela's neighbours are growing weary with the protracted crisis and making it increasingly difficult for migrants to enter by restricting visas and passports. It also found that resentment was rising in several countries, with healthcare and education services being curtailed, and more and more Venezuelan migrants driven into the informal economy.
For this article, TNH spoke to dozens of Venezuelan migrants in Colombia and Ecuador over a period of several recent months. The vast majority, like Aldana, said they had been the victims of xenophobia and discrimination because of their nationality.
A tale of two cities
Aldana, a former supporter of the late Venezuelan president Hugo Chávez, made the decision to leave her home in Venezuela's Trujillo State when her youngest, now six, became ill on a diet of just rice and grains. 
She crossed Venezuela's border into Colombia, where she hitchhiked and walked with her children to the capital, Bogota – now home to more than 300,000 Venezuelan migrants.
Aldana stayed there for just a month after facing what she said was harsh discrimination for her nationality in a badly paid restaurant job. Her boss would refer to her as 'Veneca' – a derogatory term in Spanish for Venezuelans – and would often proclaim: "Venezuelans are useless".
Aldana said she finally quit because she believed her boss was about to hit her. "I'd arrive home crying, but I had to suck it up for my children," she said. Aldana then took her young family to Quito, where they have now been for five months. 
Finding a place to live as a single mother with children aged 14, eight, and six was not easy, as landlords worried about the rent being paid.
Thanks to the San Juan de Dios refuge in Quito, her family was able to remain off the streets for a few days while she frantically searched for work and accommodation. Out of a job again, this time due to discrimination, she feels it's just the same result in a different city.
At the entrance to one of Quito's main parks, TNH found 45-year-old Omiera Palacios selling arepas – a traditional regional snack made from corn flour. She has been here for over two years and her heart sinks when she speaks of the situation back in Venezuela, where she worked as a pharmacist. 
"When I started here, the authorities wouldn't let me work. It's better now," Palacios said, flipping arepas to heat on her griddle. She said people in Ecuador make xenophobic comments to her and her family on a daily basis, sometimes saying "terrible things". "It's saddening," she said, "but you get used to the situation and learn how to deal with people like that." 
Just around the corner, a group of three young Venezuelan men sat under the shade of trees, holding boxes filled with arepas and sandwiches they had made in the morning to sell. They arrived two days ago from Colombia, where they had been living for over a year.
"[In Colombia], we'd get blamed for everything: 'Go back to your own country!', 'Why do you come here to steal?," said 19-year-old Elder Rodriguez, who was exhausted from sleeping rough.
A regional problem
More than 4.8 million people have now fled Venezuela since 2015, and international funding for the crisis is scant – just over half of the $738 million requested by the UN in 2019 materialised.
The UN has called for $750 million to help half of the seven million people it estimates need assistance inside Venezuela in 2020, and a further $1.35 billion to help four million Venezuelans across 17 countries in Latin America and the Caribbean.
Venezuela's closest neighbour, Colombia, has taken in the most Venezuelan migrants and refugees with over 1.6 million now residing there. Peru has over 860,000, Ecuador around 380,000, and Chile has over 370,000. Most other Latin American and Carribean countries have taken in significant numbers too.
Read more → Mapped: The Venezuelan diaspora and growing emigration challenges
The UN's refugee agency has recognised the uptick in xenophobia in Colombia and launched a series of initiatives to try to combat it. UNHCR released a campaign last year called "Somos panas" ("We're mates") to remind Colombians they were helped by Venezuela when thousands fled the other way during Colombia's 50-year civil war.
Ronald Rodriguez, director of the Observatory on Venezuela at Rosario University in Bogotá, said increased migration brings increased xenophobia, as jobs and opportunities dry up for already struggling working-class Colombians. 
"Aporophobia [a fear of poverty and poor people] also plays a big part in the discrimination that the migrant population face," he said. 
During Colombia's recent spate of anti-government protests, rumours and accusations blaming Venezuelans for the vast looting and vandalism that occurred swarmed social media, causing fear among the migrant population.
This also happened during Chile's protests in 2019, when the government and regional groups blamed Venezuelan "agitators" for ongoing violent protests, fuelling further xenophobia. 
A Colombian paramilitary group called Aguilas Negras – the Black Eagles – has also distributed leaflets throughout the country, threatening "social cleansing" of Venezuelans. 
In Peru, posts related to attacks against Venezuelans in the country began circulating on social media in September, including one of a young Venezuelan woman being beaten in the street and another of an informal street worker complaining of police harassment. Leaflets circulated demanding migrants leave the country. In September 2019, a Peruvian nationalist group organised a march against Venezuelans. Local media has also been criticised for inciting xenophobia, blaming migrants for rising crime rates.
"The [migration] burden needs to be shared more by Ecuador, Peru, Chile, Argentina, and Brazil."
Ecuador has also seen rising xenophobia and violent attacks on Venezuelans are not uncommon. UNHCR's representative in Ecuador, Maria Clara Martin, told TNH that the country has been traditionally welcoming and "it is of concern to see that this traditional hospitality is now being eroded among some sectors of the population". 
"Xenophobia and discrimination must be eradicated, but like everywhere else in the world, we need to understand the reasons why people are feeling uncomfortable about a large foreigner population, and address them," Martin said, adding that, like Colombia, they are working on a series of initiatives to try to combat the problem, including screening short educational films about refugees and migrants in community cinemas in various Ecuadorian cities.
The Washington Office on Latin America (WOLA) think tank says officials should condemn any acts of violence and xenophobic rhetoric that arises from the start to prevent generating fears among the population.
"The [migration] burden needs to be shared more by Ecuador, Peru, Chile, Argentina, and Brazil," said Gimena Sánchez-Garzoli, WOLA's Latin America director. "Even with US assistance, Colombia can't do it alone, others need to step up."
sg/ag