Roberto Patiño never intended to become a humanitarian. But today the 30-year-old heads an NGO that helps feed thousands of children a week as Venezuela's economic crisis spirals.
More than three million Venezuelans have left the country – the majority since 2015, according to the UN. They are fleeing an economic collapse that has triggered severe food and medicine shortages. Patiño's organisation, Mi Convive, is among a handful of local NGOs in Venezuela that have stepped into the breach.
Across the country, cash-strapped local organisations like Mi Convive are making drastic changes to their operations in response to a humanitarian emergency the government denies. Civil society groups that once concentrated on rights or development in Venezuela, an upper-middle income country, are transforming their operations to focus on more urgent needs as basic necessities become scarce.
Patiño founded Mi Convive in the capital, Caracas, in 2013. It was originally built to promote human rights with a mandate for violence prevention. He worked in communities with high crime rates, holding town hall-style meetings intended to increase political engagement.
But in early 2016, a child in a Caracas community where Mi Convive worked asked Patiño for food.
"She said she was starving," he recalls.  
Patiño was stunned.
"This is so urgent," he remembers thinking. "We had to adapt and we had to change."
LISTEN: Roberto Patiño, founder of Venezuelan NGO Mi Convive, which has changed its operations to focus on the country's humanitarian crisis.
By May 2016, Mi Convive had refocused on child nutrition, launching an organisation called Alimenta La Solidaridad, which opened its first community kitchen, or comedor, in the La Vega neighbourhood perched high over Caracas.
By 2018, the food programme was running 18 community kitchens in Caracas and 35 more across the country, feeding 4,500 children a week. It's still not enough. The public kitchens have waiting lists and Alimenta La Solidaridad is trying to open more, Patiño says.
As his contested second term in office begins, Venezuelan leader Nicolás Maduro faces mounting opposition at home and abroad. In November, the country quietly agreed to receive assistance from the UN's emergency response fund for the first time. But analysts say the $9.2 million in funding for existing UN programmes is a drop in the bucket compared to a humanitarian emergency that has left households without stable food supplies and medicine. Facing glaringly inadequate government services and a lack of official aid, struggling local NGOs have found themselves trying to fill the gap.
☰ Read more: What to call a crisis
Venezuela agreed to accept $9.2 million in funding from the UN's emergency aid coffers in November, but it continues to deny the existence of a humanitarian crisis within its borders.
The money, drawn from the UN's Central Emergency Response Fund, will be used to scale up existing programmes by agencies already operating in the country, including UNICEF, IOM, UNHCR, WHO, and UNFPA.
The infusion of funding is a welcome step for some – but observers say it represents only a fraction of the humanitarian need.
"Nine million dollars is a drop in the ocean. It is a colossal humanitarian crisis," says Richard Lapper, a Latin America specialist at the Chatham House think tank.
By comparison, a 2018 plan formulated by the WHO, UNAIDS, and the Venezuelan health ministry to respond to HIV, tuberculosis, and malaria was budgeted at $122 million over three years.
Tamara Taraciuk of Human Rights Watch says the government has made a subtle shift in recent months away from total denial. "They are recognising an economic crisis," she says. "They still do not talk about a humanitarian crisis."
An effective and sustainable aid response would require a comprehensive assessment of the problems – which would inevitably involve admitting the scale of humanitarian needs.
"Without a proper diagnosis there is no way this crisis is going to be solved, and for a proper diagnosis you need the government's cooperation and statistics," she says. "Or at least access to the country – full access to the country – to come up with an independent diagnosis."
"The real problem is that the state is not working," activist and former diplomat Luisa Kislinger says. "There is no way a number of NGOs or one NGO can replace the state."
"The role of local groups is so important," says Tamara Taraciuk, senior Americas researcher for Human Rights Watch, which has tracked the humanitarian impact of the crisis within Venezuela's borders and around the region. She says local NGOs have been compelled to shift their operations toward something they had never foreseen: humanitarian work.
"They are helping people who would otherwise not receive any aid," Taraciuk says.
This would be a challenge anywhere, but oil-rich Venezuela was uniquely unprepared: civil society was small; NGOs like Mi Convive largely focused on human rights or development. And, says Luisa Kislinger, a women's rights activist and a former Venezuelan diplomat, the country had rarely seen humanitarian emergencies within its own borders.
When the economy imploded, precious few organisations had experience doing humanitarian work.
"We don't know what a humanitarian emergency is," Kislinger says. "We didn't know until now."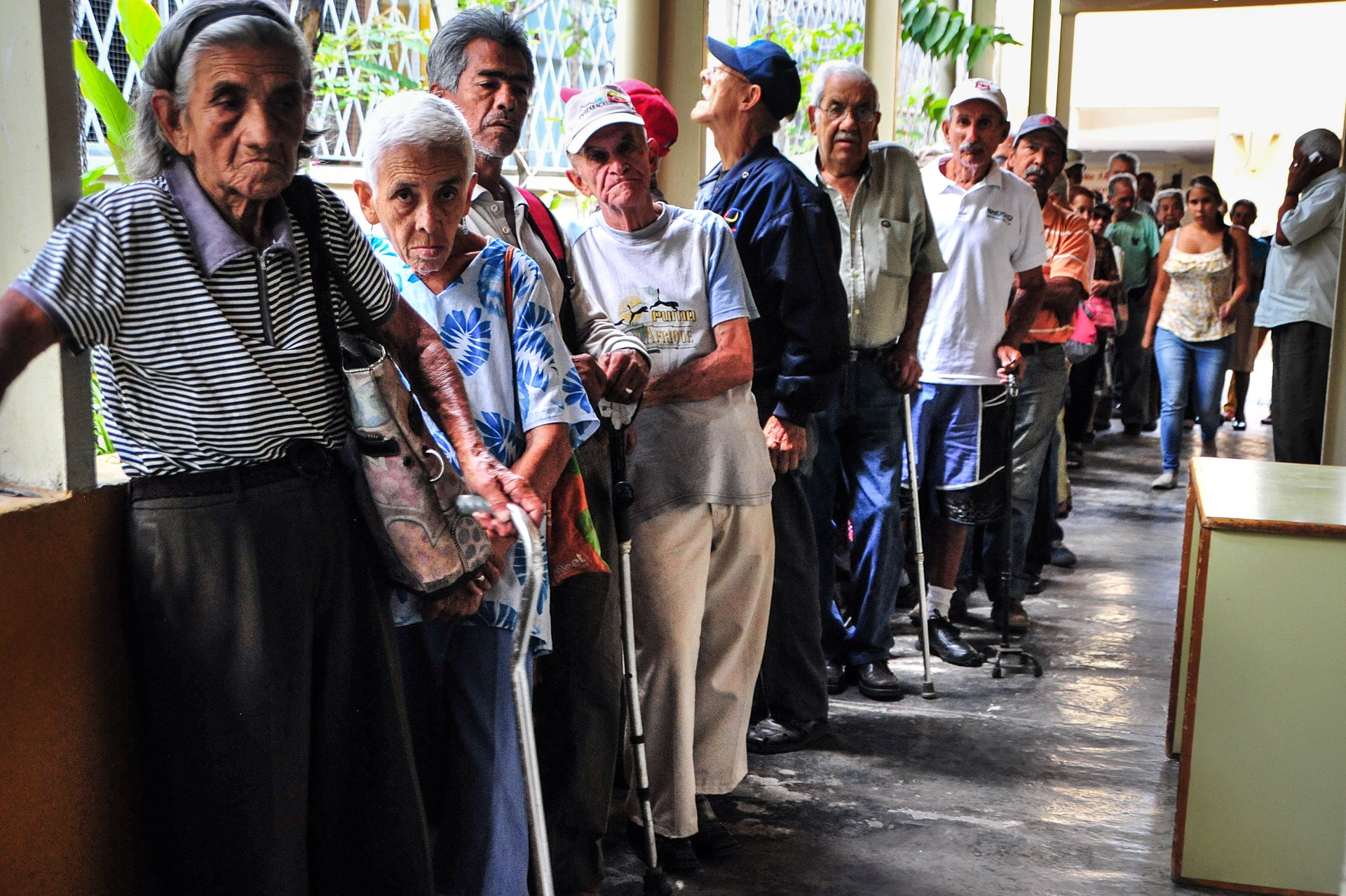 Local groups morph
The barren food supplies and run-down hospitals of today are a stark contrast with a few short years ago. Venezuela, a verdant country of 30 million with the world's largest proven oil reserves, was riding high oil prices, which papered over underlying weaknesses in the economy. But by 2016 the country was in an economic tailspin created by a perfect storm of fiscal mismanagement and plummeting oil prices.
Today, skyrocketing inflation has left many unable to afford food, and malnutrition is soaring. Daily departures rose to an estimated 5,500 people by the end of 2018, many citing hunger. The UN estimates the number of Venezuelans living outside their homeland could reach 5.3 million by the end of this year. Aid agencies say they need $738 million to tackle the humanitarian emergency in 16 countries now home to large numbers of Venezuelans.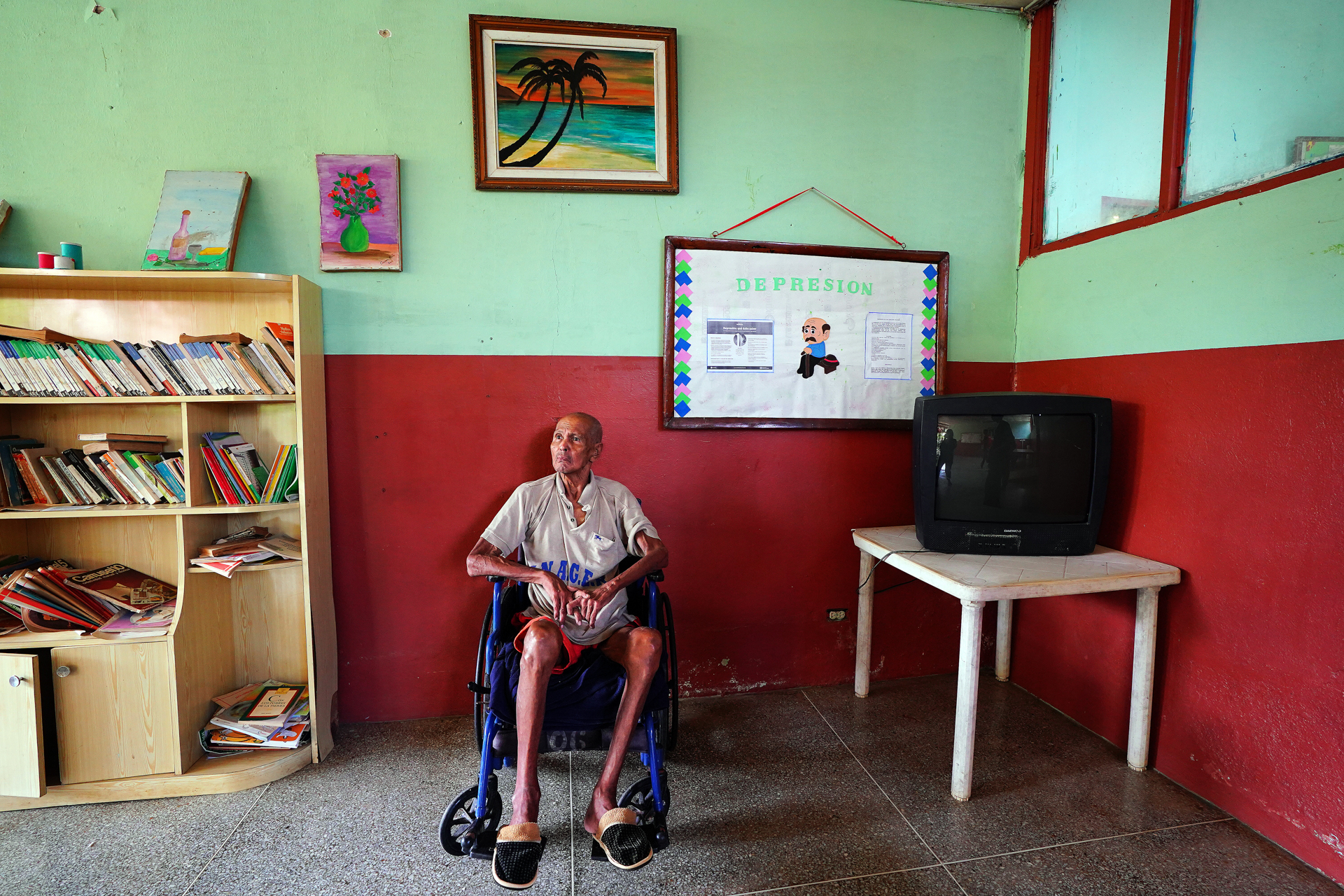 But within the country, the Maduro government denies the existence of a humanitarian crisis, instead blaming his country's economic freefall on foreign powers, sanctions, and political sabotage.
☰ Read more: Roadblocks for local aid
Venezuela's economic crisis has also claimed NGOs among its victims. Some organisations have been forced to close their doors as hyper-inflation made operations unsustainable or as staff and volunteers also fled the country.  
But dozens of tiny local foundations have also emerged. They are often self-funded or supported by donations from abroad.
Controls on foreign currency also make it tough for NGOs to operate. Staff at local organisations say it is difficult for NGOs to legally bring money into Venezuela.
Like Patiño's Mi Convive, the Caracas-based Fundación Educando Ninó Felices has been forced to switch its operations to address basic humanitarian needs.
The organisation was first founded in 2016 as an education NGO, introducing new technology and teaching methods to schools.
Within a year, however, it soon became clear that there were more pressing problems.
"The teachers started to say that they couldn't go to the school because they had to queue up to get food," says former staff member Claudia Cova.
Training teachers, Cova says, "suddenly became ridiculously unnecessary" compared to essentials like food and clothing.
"We had to abandon these things and look after more basic needs such as ensuring that the children had shoes, that they had food, and making sure that they could continue attending their classes and that the teachers didn't leave the school," Cova says.
The humanitarian emergency has also forced change on other organisations with long track records in Venezuela.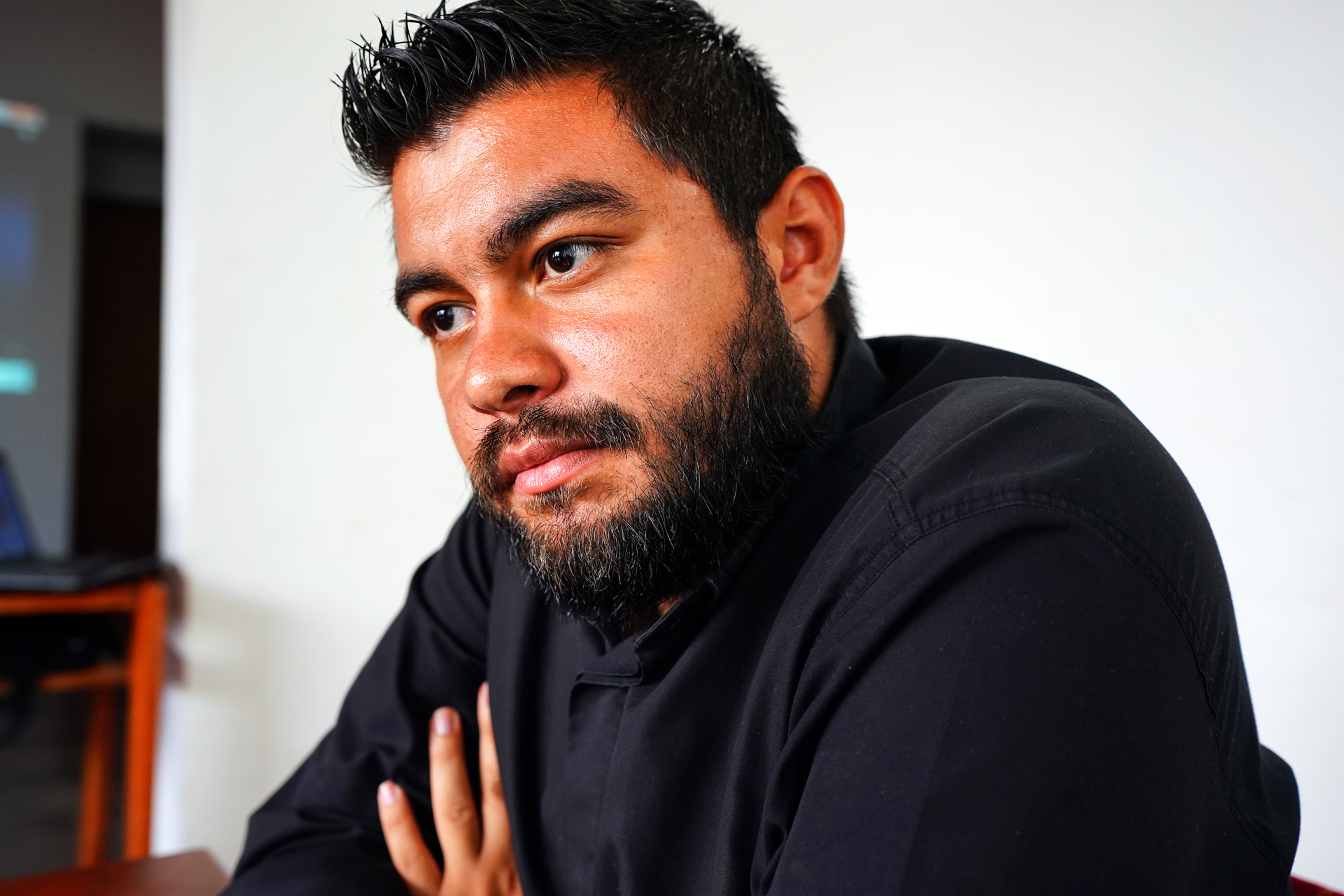 When the Catholic charity Caritas opened operations in Venezuela in 1997, its work was focused on pastoral care for prisoners, support for the sick, and human rights advocacy. But seeing hunger and malnutrition rising, the organisation started prioritising humanitarian work in 2016, says Jesus Villarroel, a priest and the director of Caritas in Carúpano, site of one of the largest churches in the eastern state of Sucre.
Caritas has opened community kitchens across the country and expanded alliances with local organisations to strengthen its humanitarian response on food and healthcare.
"We are absolutely playing a more important role now than before the crisis," Villarroel says. ''We don't pretend to be a substitute for the state. Because of the indifference of the state, we are seeking to respond to the humanitarian crisis in the country, to make dignity from little."
The Caritas Carúpano headquarters is buzzing. Food for the 90 people who come here every day is prepared in the kitchen while a dozen people wait for medical clinics run by small local foundations working with Caritas.
It is a godsend for Erimas Milagro Machado Rodriguez, 28. Her children, Sirian, one, and Damian, four, suffer frequent diarrhoea. Doctors tell her they are severely malnourished.
''The children cry every day because they are hungry," Rodriguez says, her shoulders slumping and eyes sinking into a gaunt face. "When I can't find any food, I try to make juice from fruit and give them a lot of liquid to fill them up."  
Rodriguez has also come to the kitchen to try to get treatment for Damian. The child was diagnosed with a psychological disability, but unable to get him any help, she is desperate. "I don't know what to do or where to go to get the children what they need," she says biting her lip, her eyes glassy. "It makes me feel so bad as a mother."
Around the city of Machiques, on the opposite side of the country near the Colombian border, the local Caritas office has recently increased the frequency of free meals it provides to five days a week.
"Years ago, only the homeless went," says Dr. Ingrid Graterol, director of the Machiques Caritas office. "But today everyone goes."  
Caritas is planning on setting up a medical clinic in Tucoco, a small village nestled under the foothills about 16 kilometres from the Colombian border.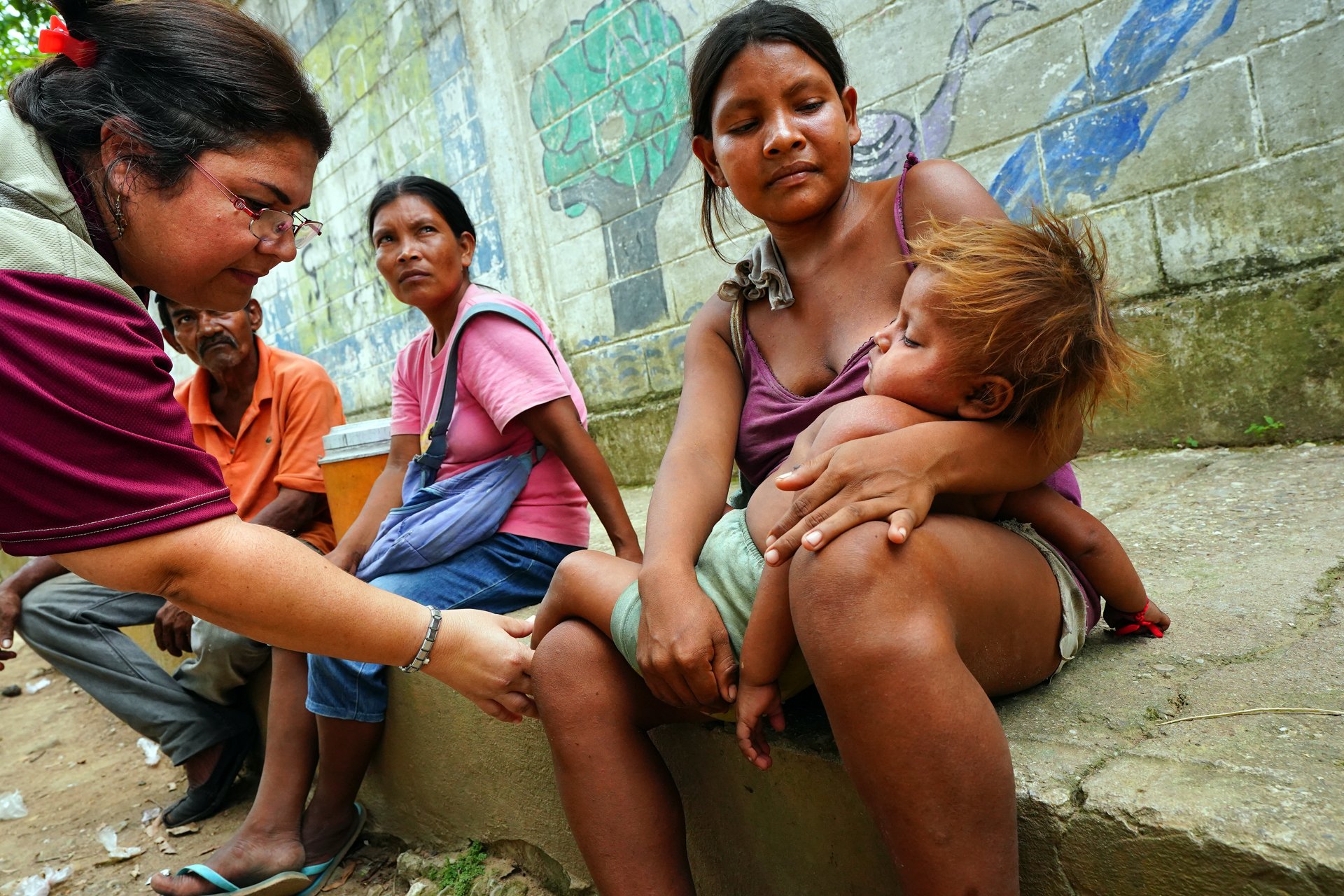 Graterol says malaria, malnutrition, diarrhoea, and pneumonia have claimed lives in Tucuco over the past three years, but a particularly severe bout of malaria ravaged the village last year.
The organisation partnered with a local friar to bring medicine to the remote village. But it was too late for Lisbeth Alehandra Fernandez, who was born last May.
The baby had arrived with a healthy scream, a shock of black hair, and an immediate curiosity about the world. Twenty-three days later, she was dead.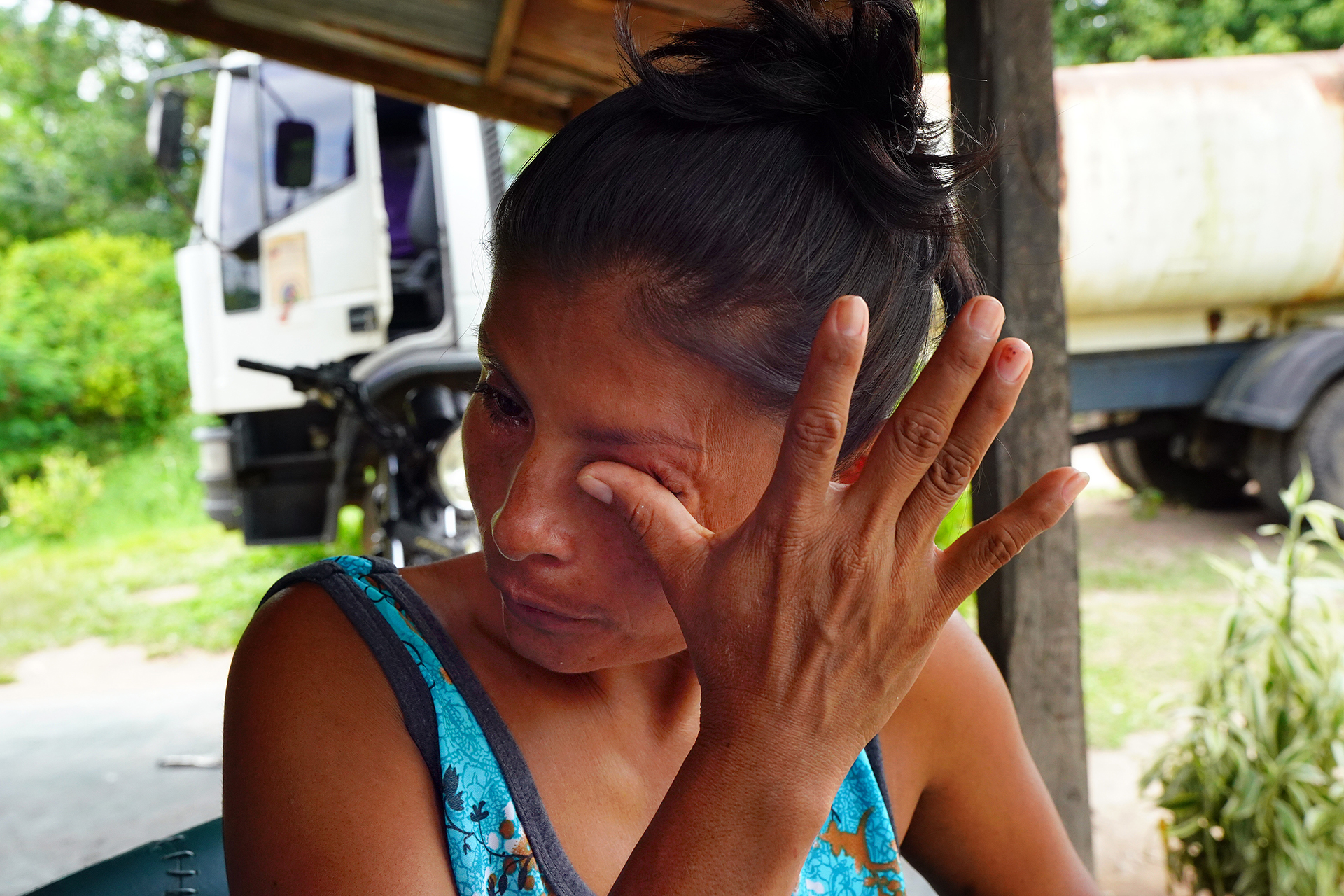 Lisbeth didn't die of the pneumonia written on her death certificate. She didn't even die from the malaria she had contracted.
She died because there were no medicines to treat her malaria in the local hospital and none in the private clinic two hours away. Left untreated, her condition worsened. By the time her parents managed to find the drugs on the black market and raise the money to pay for them, it was too late.  
"We didn't have anything and then there was a total lack of medicines," says the baby's mother, 32-year-old school administrator Ludi Mar Yakusa Fernandez.
Threats and intimidation
In Venezuela, undertaking humanitarian work in a crisis the government refuses to acknowledge comes with its own set of challenges.  
When local NGOs try to set up new comedors, they face threats, false accusations, and intimidation from chavistas – a term used to describe militant supporters of the late president, Hugo Chávez, and his successor Maduro.
Elizabeth Tarrio, who works for Alimenta La Solidaridad, says bureaucrats of the Maduro government and communal councils – the neighbourhood bodies set up in 2006 by Chávez to administer policies locally – have tried to boycott and obstruct their efforts.
"Communal councils don't want to show weakness so they prevent us doing things to improve things," she says. "They are supposed to provide food, but they don't so they don't want us to bring food."
Mi Convive's Patiño says chavistas may threaten to withhold government-subsidised food boxes from communities where the NGO is trying to start new aid programmes.
The NGO workers have found that the solution is to slowly build a relationship with the community first.
"The community leaders – the real community leaders, the mothers – are the ones who put a stop to it," says Patiño. "For mothers and grandmothers, their first priority is children, regardless of political affiliation."
Even Caritas faces headwinds, despite its long history in Venezuela. In October 2017, Caritas Venezuela warned that some 280,000 children could die from malnutrition. Two weeks later, Maduro attacked the Catholic church in the country, saying that everything linked to it "is contaminated, poisoned by a counter-revolutionary vision and permanent conspiracy".
Hunger reaches young and old
The deprivations in Venezuela extend from its outer reaches to its capital, Caracas – the nerve centre of Alimenta La Solidaridad's operations.
The colonial Hacienda La Vega sits amid lush grounds in the centre of the city. Built in 1590, it has been home to a succession of aristocratic families. Today, though, it hosts the warehouse, kitchen, and headquarters of Alimenta La Solidaridad. Mountains of leeks and bananas lie on the grounds; hundreds of tins of nutritional supplements – donated mostly by Venezuelans abroad – share space with 19th-century leather-bound books, elaborate engravings of family trees, and portraits of nobility.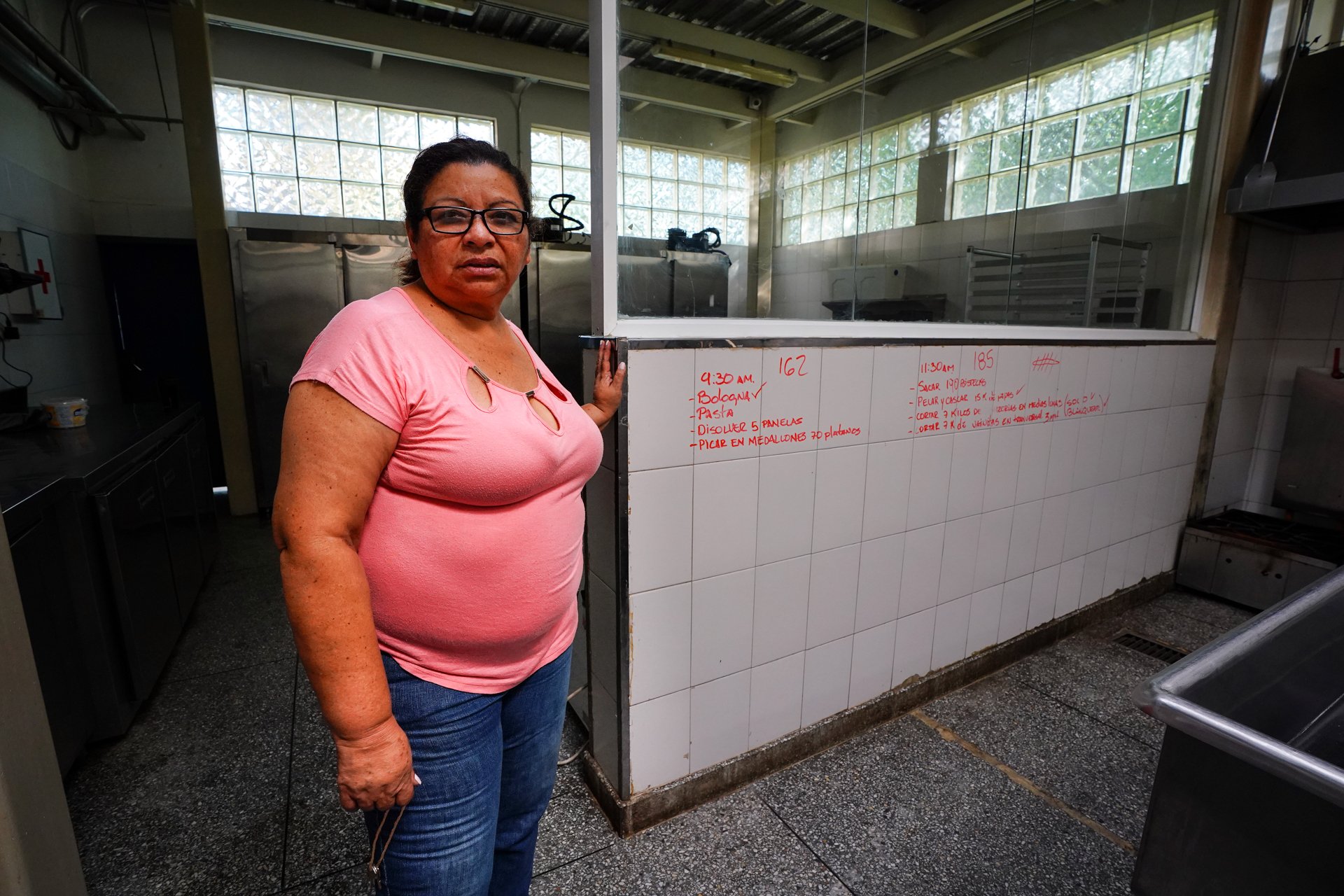 Elizabeth Tarrio, 59, is bustling around, checking on progress as volunteers sort and weigh food supplies and organise them for delivery to 18 communities in Caracas.
"We have seen a huge rise in malnourished kids. Huge. That's why we are trying to open more comedors," she says.
Throughout the country, however, needs continue to outstrip supply. Local NGOs are a stop-gap measure, not a replacement for basic government services. In addition to the food and medicine shortages, Venezuelans see frequent blackouts and water cuts, and soaring prices are a problem for groups trying to help.
Tarrio opens a deep freeze. There's a large fish but no meat.   
A couple of days earlier, the government imposed price controls on meat, regulating prices at such low rates that many distributors refused to sell.
A steep set of stairs winds up the hill, past a mural of the angel San Miguel, the namesake of this Caracas neighbourhood, past a sign advertising light bulb repair, past a stream of children, all clutching spoons, who form a long queue around a narrow staircase that rises to a small home. Inside, two dozen children sit at white plastic tables, their heads bowed in prayer. Vitamins are spooned into open mouths, bowls of food are gobbled down, and the next round of children comes in and takes their places.  
This newest comedor was opened by Alimenta La Solidaridad in San Miguel last year. The number of children who come here doubled in its first three months; there are 18 more children on the waiting list.
The hunger reaches both young and old.
In another part of Caracas, the people waiting to take their places at a separate kitchen are the elderly. Some lean on walking frames, others on canes, anxiety scoring deeply lined faces.
This public kitchen is run by Fundación Nacional Amigos de la Tercera Edad, an organisation started in 1977 – part social club, part social help. It too has been changed by Venezuela's humanitarian crisis; it now focuses on feeding the elderly.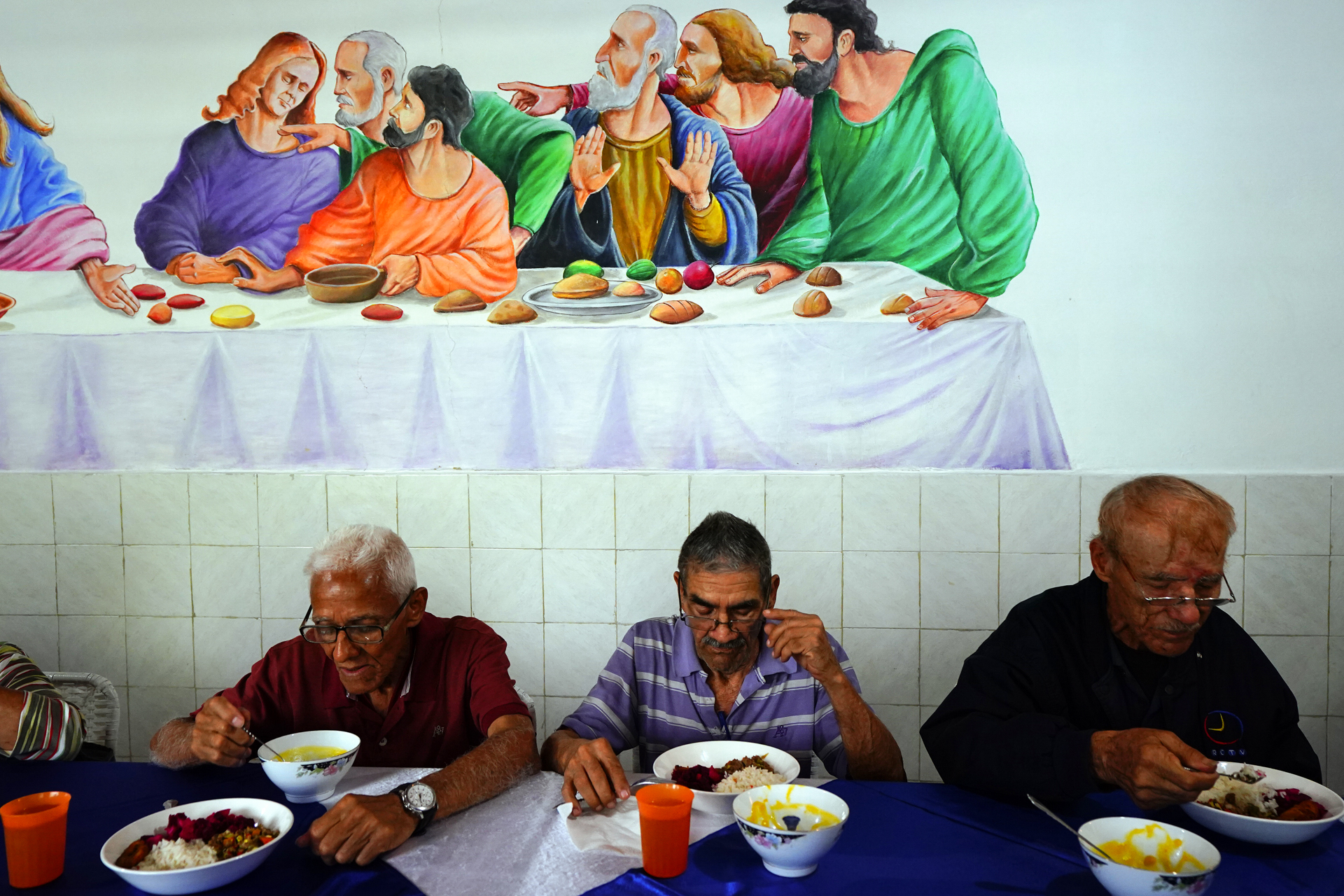 Carmen Senovia Tovar, 77, is overseeing the second sitting of the day. She has worked at the foundation for 23 years; she says the situation has radically deteriorated over the last five years.  
"We have people only eating one meal a day and sometimes none," she says. "Sometimes they have to collect it from the garbage."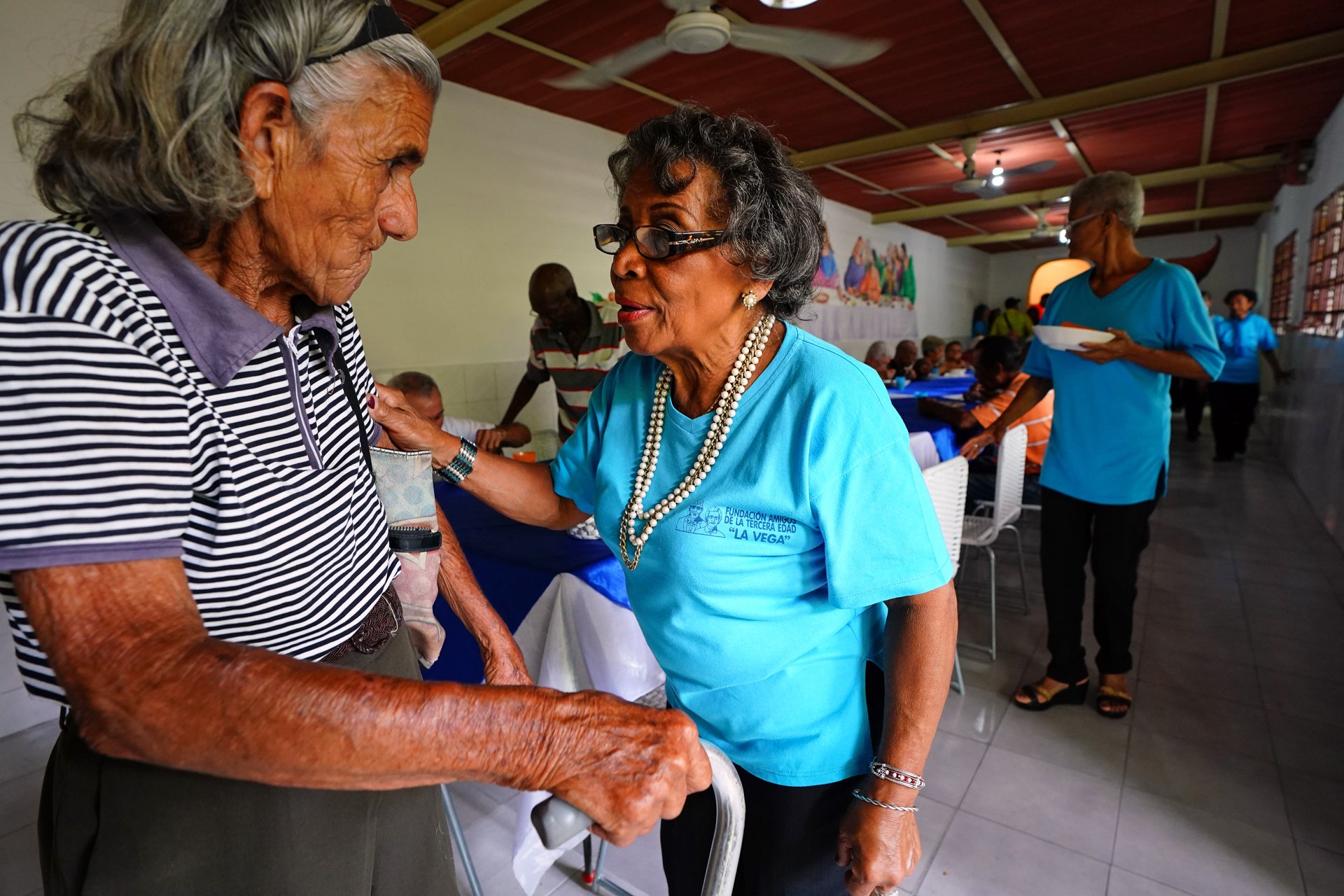 Even as the needs increase, Tovar worries that her organisation's ability to help is withering. Hyper-inflation continues to ascend, sending costs soaring on a daily basis. Funds that were once able to supply food for 200 now only cover 150, she says, and the organisation can only provide meals three times a week rather than its planned five.
For the elderly Venezuelans who rely on the local NGO, however, the efforts are life-saving.
"This place is not just very important, it is super important," says 78-year-old Martin Burguillos as he waits his turn in the queue. "It's the only place we can find food."
(TOP PHOTO: Children queue for lunch served by the NGO Mi Convive in the San Miguel neighbourhood of Caracas. CREDIT: Susan Schulman/IRIN)
ss/il/ag