As Venezuela's Nicolas Maduro began a new six-year term on Thursday, Peru led Canada, the United States, and 12 other countries in the Americas in refusing to recognise his presidency, citing irregularities in his May 2018 election and despair over an economic collapse that has precipitated the largest exodus in the region's history.
But as Peru has recalled its diplomats and imposed travel bans and financial sanctions on Maduro and his allies, human rights advocates have raised concerns that the Peruvian government itself is taking an increasingly hard line on those fleeing Venezuela and failing to adequately prepare for a flow of migrants that shows no sign of abating.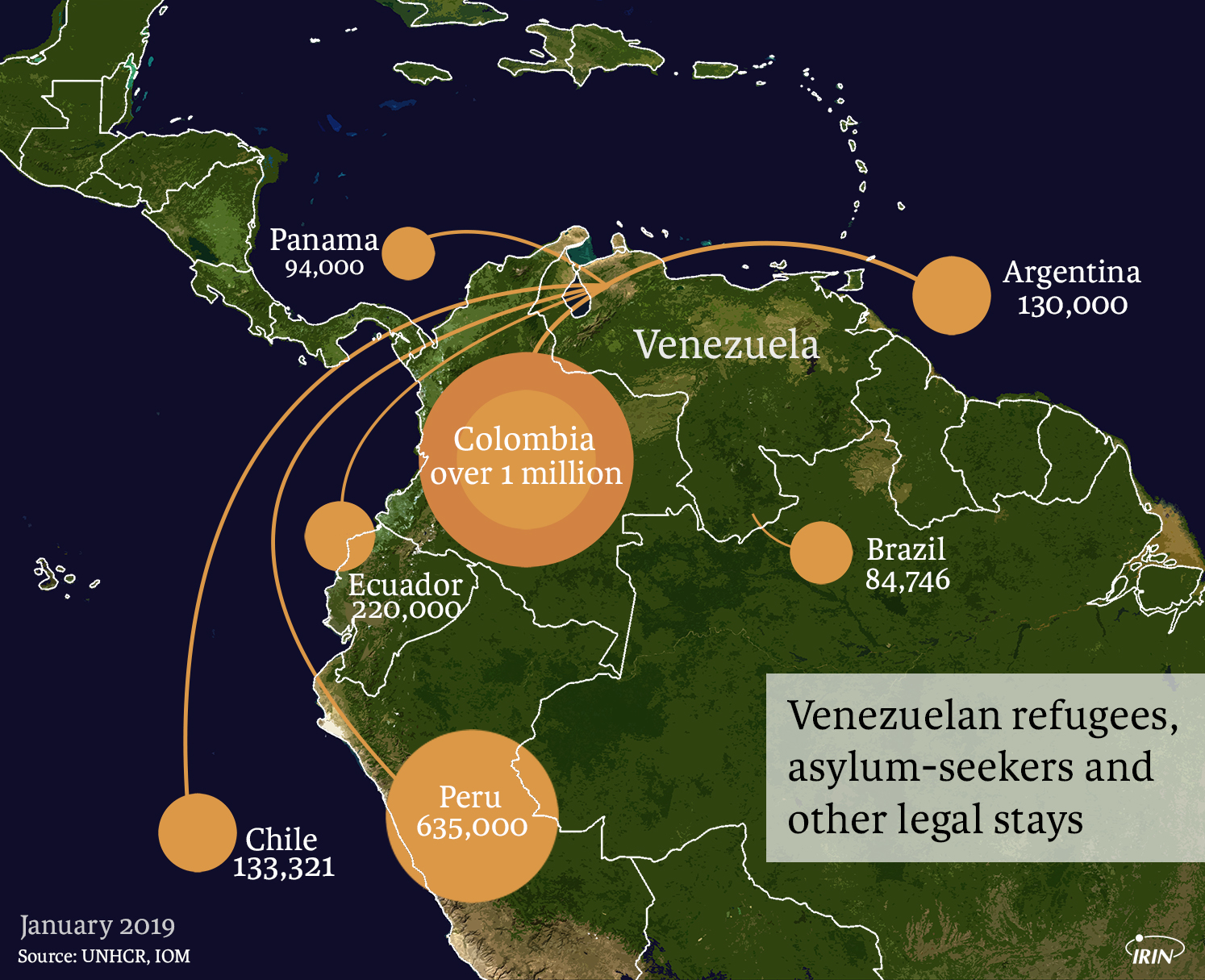 If thousands of migrants are forced to enter illegally and into the informal economy, officials and aid groups worry that a new humanitarian crisis will emerge. Rights advocates fear that tighter conditions for entry and for securing work permits and asylum – coupled with a lack of institutional support at border crossings – will leave migrants at greater risk to trafficking, sexual abuse, and labour exploitation.
Although not a direct neighbour, Peru is the second largest recipient of Venezuelan citizens (after Colombia). Hundreds of thousands of migrants have made long and often dangerous journeys through Brazil, Colombia, and Ecuador to what is one of the fastest-growing economies in the region.
According to the latest data from Peru's migration office, by December some 635,000 Venezuelans were known to be in the country, more than four times the number in January. The UN is tipping that number to reach 1.4 million by the end of 2019.
Initially drawn by Peru's open-door policy, Venezuelans now need to adapt and find other ways to enter and stay in Peru as the government takes a tougher line on immigration. Representatives of international aid organisations in the capital, Lima, told IRIN that concerns are growing over the longer-term implications of current policies – as did at least one Peruvian official.
Apprehensions come in part from the large number of asylum applicants versus the numbers of those who will be admitted as refugees.
"We are concerned because at some stage, many (asylum) applicants will be told, 'no', they do not qualify as refugees," said Selva del Rosario, an official at the regional asylum office in Puerto Maldonado, near the Brazilian border. "That is when a major humanitarian crisis will begin; when many will have to leave the country. Right now the big problem is that the current solutions... are only temporary."
During a recent visit to Geneva, Daniel Sánchez Velásquez, Peru's deputy minister of human rights and access to justice, assured IRIN that Peru would continue to welcome Venezuelans in need.
"If there is convincing information that the person is in danger and that it is in accordance with the [international] conventions on asylum and our law, (we would) immediately grant them that status," he said. "What we do not want to see is that we put in danger the lives of anyone who arrives in this country requesting asylum."
Peru is a signatory to the 1984 Cartagena Convention, a non-binding agreement now incorporated into the domestic law of most Latin American states. It expands the definition of refugee status to include "persons who have fled their country because their lives, safety or freedoms have been threatened by generalised violence, foreign aggression, internal conflicts, massive violation of human rights or other circumstances which have seriously disturbed public order."
In 2015, Antonio Guterres – then the UN high commissioner for human rights, now the UN secretary-general – referred to the convention as a "humanitarian brand name".
The UN's refugee agency, UNHCR, reported that by the end of October, more than 150,000 Venezuelans had applied for asylum in Peru, making it the number one destination for Venezuelan asylum seekers. Only around 1,000 have been granted asylum – a low number that suggests the Cartagena Convention's definition of refugee status isn't being applied in the case of most Venezuelans.
A senior Lima-based official at a global humanitarian organisation, speaking to IRIN on condition of anonymity because of the sensitivity of the issue, characterised the lack of long-term planning by the Peruvian government toward the migrant crisis as "catastrophic".
In December, UNHCR and the International Organization for Migration announced a $738 million "emergency plan" – the first of its kind in the Americas – to increase support for Venezuelans on the move and in host communities, including Peru.
Seesaw policy
Then-president Pedro Pablo Kusczynski announced early last year that all Venezuelans would be welcome in Peru under a temporary residency programme, or PTP, until June 2019. The permit allows migrants to work and reside in the country for one year, with access to basic services such as health and education.
By August however, when the exodus from Venezuela spiked, the new government of President Martin Vizcarra changed gears, announcing that only migrants with passports would be allowed to apply for the residency permits. Failures in Venezuela's passport system – which include shortages of paper and materials, breakdowns of its online application platform, and corruption – have made it practically impossible for hundreds of thousands to migrate legally.
Peru's passport requirement was reversed in October after a court order determined it violated Venezuelans' right to free movement. However, Vizcarra's government then set a new deadline for entry to Peru: 31 October for migrants holding either an ID card or a passport, with a year-end deadline to apply for the PTP.
The latest change means that since 1 November Venezuelans have been able to enter only as tourists with passports, or as asylum applicants, which does not require a passport. Unsurprisingly, the number of Venezuelans applying for refugee status, which provides a two-month, renewable work permit while they wait for their request to be processed, has increased.
By 31 December, an estimated 175,000 Venezuelans in Peru qualified for the temporary stay permits, while another 320,000 had begun the application process.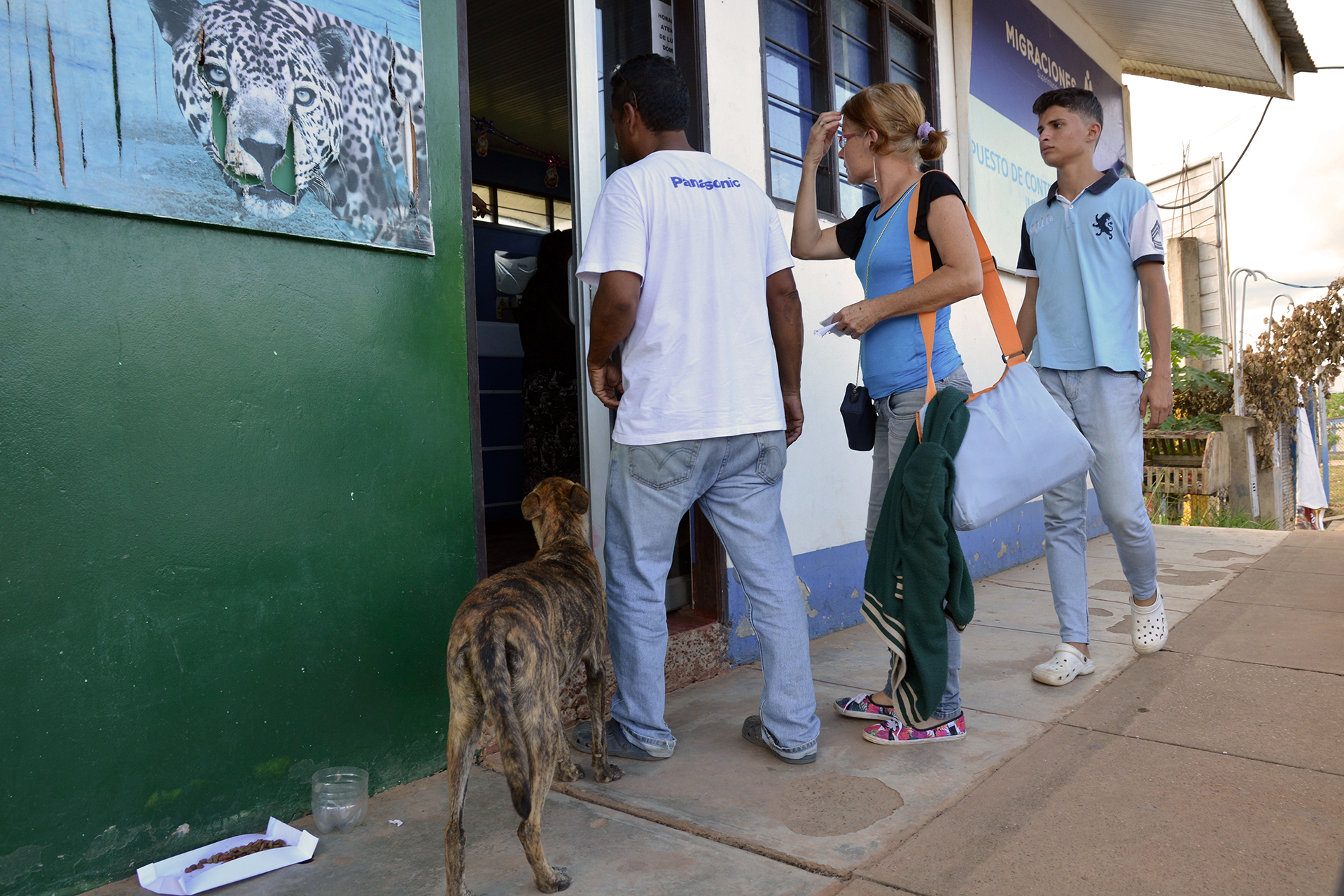 Caught in the bureaucracy
Clemis, Solisveya, and their 18-year-old son Hilberto were among the many Venezuelans ready to consider all legal options to increase their chances of entering and working in Peru.
After a long trek across the Brazilian jungle, the Venezuelan family was upbeat as they finally arrived on 1 December in Assis, just across the river from Iñapari on the Peruvian side of the border.
Like most of the more than three million Venezuelans who have left their country since 2015 – equivalent to almost 10 percent of the population – the parents only made the decision to emigrate after they were no longer able to afford basics such as food and medicine.
"With what you earn, you can't buy food. It's just not enough," explained Clemis, a builder by trade. "We were eating less and less. And then people came to steal from our home."
Read more: Venezuela: A humanitarian crisis denied
After leaving Venezuela in August, they spent four months in the city of Manaus in northern Brazil, working to earn the money they needed to pay for transport by bus and river boat to Peru. The route they took through Brazil's Amazonian jungle is often riskier than the busier one through Ecuador as it is more prone to robbery and attacks.
When they arrived at the migration office in the border town of Iñapari in southeastern Peru, they were told Solisveya couldn't enter without a passport. The family was left curbside with their luggage and not allowed to reboard the minibus that was due to drive them to the regional hub of Puerto Maldonado, some three hours away, where asylum requests are processed.
As they had expressed their interest in applying for asylum, it's not clear why Clemis and his family were denied entry. As del Rosario, the asylum official in Puerto Maldonado, explained: "It is important to understand that – regarding asylum requests – anyone may apply at whichever point within the country."
Del Rosario said "100 percent of Venezuelans" who have entered through Iñapari since the temporary stay permits were introduced also applied for refugee status "allowing them to stay in the country and work" for 60 days at a time, or until a decision on their application was taken.
At the main Ecuadoran crossing of Tumbes, major humanitarian organisations such as IOM and the International Committee of the Red Cross are present. But at Iñapari, none are – a fact confirmed to IRIN by the country heads of IOM and ICRC in December.
"There are opportunities [for criminals] to take advantage of those travelling from Brazil to here," said Carol Pezo, a human rights lawyer for Caritas based in Puerto Maldonado. She said a number of drivers are known to "promise" undocumented would-be asylum seekers transit past police checkpoints at exorbitant costs.
Due to the lack of institutional support, including shelters – even in Puerto Maldonado – Pezo said many Venezuelans are also vulnerable to other abuses. "It becomes easier for them to be captured and taken to work in (illegal gold mining) areas such as La Pampa (a lawless region of Peru controlled by mafia groups). They could be abused, sexually and in their labour rights."
Orian Sanchez, a 32-year-old journalist from the northern Venezuelan state of Aragua who said his mother had died for lack of medicine, said he could no longer find any media organisation in Venezuela where he could practise balanced news reporting – a valid reason, he felt, to claim asylum when he arrived in Puerto Maldonado in February 2018.
After months of waiting for his request to be approved, he decided to apply for a temporary stay permit, hoping it would give him the opportunity for short-term work. He promptly received his PTP and is now employed by a local Peruvian radio station.
Meanwhile, on the same bus that should have taken Clemis and his family to Puerto Maldonado, a Venezuelan father and his young daughter – who had already been granted an initial permit to stay in Peru as asylum applicants – were stopped by police and told to disembark due to a recently expired passport.
(TOP PHOTO: Venezuelan father and his young daughter are taken off the bus by police on their way to Puerto Maldonado from Iñapari. CREDIT:Paula Dupraz-Dobias/IRIN)
pdd/ag