Judith Giwa is not a migrant, but because she was unemployed and considered vulnerable to migration or trafficking she qualified for training with a local non-profit organisation working to help migrant returnees in Nigeria's Benin City.
"I learned this in just three months," she said, holding up an orange-and-blue wax print child's dress that she made in a clothes-making course run by Idia Renaissance. "Isn't it beautiful?"
Giwa, 31, said she has no intention of trying to migrate to Europe as so many other Nigerians have. During a recent "life skills" class, the discussion focused on the dangers of human smuggling.
"If I ever go to Europe, I'll go by plane," she said. "And I'll only go when I've something to show for it – something I can contribute."
Benin City, the capital of southern Edo State, has long been a hub for migrants setting off from Nigeria on the long and often unsuccessful trip to Europe. In mid-2018, some 60,000 Nigerian migrants were registered in Libya. Recently, though, people have started coming the other way.
Since April 2017 almost 9,000 Nigerian migrants have returned after being stranded or detained in Libya while attempting to reach Europe, most aided by the International Organization for Migration (IOM).
But reaching home is only part of the journey, and local organisations such as the group that trained Giwa, Idia Renaissance, are leading the way in helping people get back on their feet and realise their potential.
☰ Read more: Why the aid sector wants to go local
The global humanitarian system is overstretched. In 2017, the UN asked for a record $22.2 billion to cover 33 emergencies around the world. But the funding gap continues to widen as the price tag soars.
What is local aid?
The global aid sector has broadly committed to an agenda to "localise" aid – putting more power in the hands of locals working on the ground where emergencies hit.
Why local aid?
The aim of of the "localisation" agenda is to improve humanitarian response by making it faster, less costly, and more in tune with the needs of the tens of millions of people who receive humanitarian aid each year. Local aid workers are closer to the ground, they have local knowledge and skills, they can often access areas that international aid groups can't reach, and they know the needs of their own communities.
Who are local aid workers?
Local humanitarian aid includes a broad spectrum of potential on-the-ground responders to crises and disasters: local NGOs, civil society groups and community leaders, indigenous peoples, local governments, faith groups, as well as people who are themselves affected by crises, including refugees, migrants, host communities, and everyday volunteers helping people to reintegrate.
New skills
Besides Idia Renaissance, several other local organisations offer training programmes, including the Initiative for Youth Awareness on Migration, Development and Reintegration (IYAMIDR), and the Committee for the Support of Dignity of Women (COSUDOW), a women's shelter run by a group of nuns.
Set up in 1999 to try to stem human trafficking and prostitution, Idia Renaissance, like other groups, has in recent years expanded its focus to include returned migrants and now gets most of its money from European organisations.
It offers classes in cookery, tailoring, fashion design, hairdressing, beadwork and photography. Posters in its classrooms bear warnings in Pidgin: "I nor need to go abroad to make am" ("I don't need to go abroad to make something of myself"), and "Many Nigerians dey waste away for oyinbo ('caucasian') land."
"We give young Nigerians the skills they need to restart their lives, an alternative to a one-way journey to Europe," said Roland Nwoha, an Idia Renaissance project coordinator. "You can have a future here, in Nigeria, in your home country – that's what we want young people to know."
Oduwa (who, like others IRIN spoke to, preferred to be identified only by her first name), was trafficked into prostitution in Italy in 2012. On her return to Nigeria the following year, she enrolled in an Idia Renaissance course in catering.
She now works in the catering unit of the Christian Women Fellowship International, a faith-based non-governmental organisation that teaches young women how to prepare and serve Nigerian dishes for large groups of people.
"When I came back, I had to face the challenges of life. I couldn't further my education, but I had to get a skill," she said. "I became an instructor after some months, teaching catering as well. The experience was "a challenge for me, but it saved me," she added.
Between stirring and baking, Oduwa warns her students of the dangers of clandestine migration. "I tell them all the tricks I know human traffickers use," she told IRIN.
Yet many students still toy with the idea of leaving. "I'm already very happy when one girl changes her mind," said Oduwa.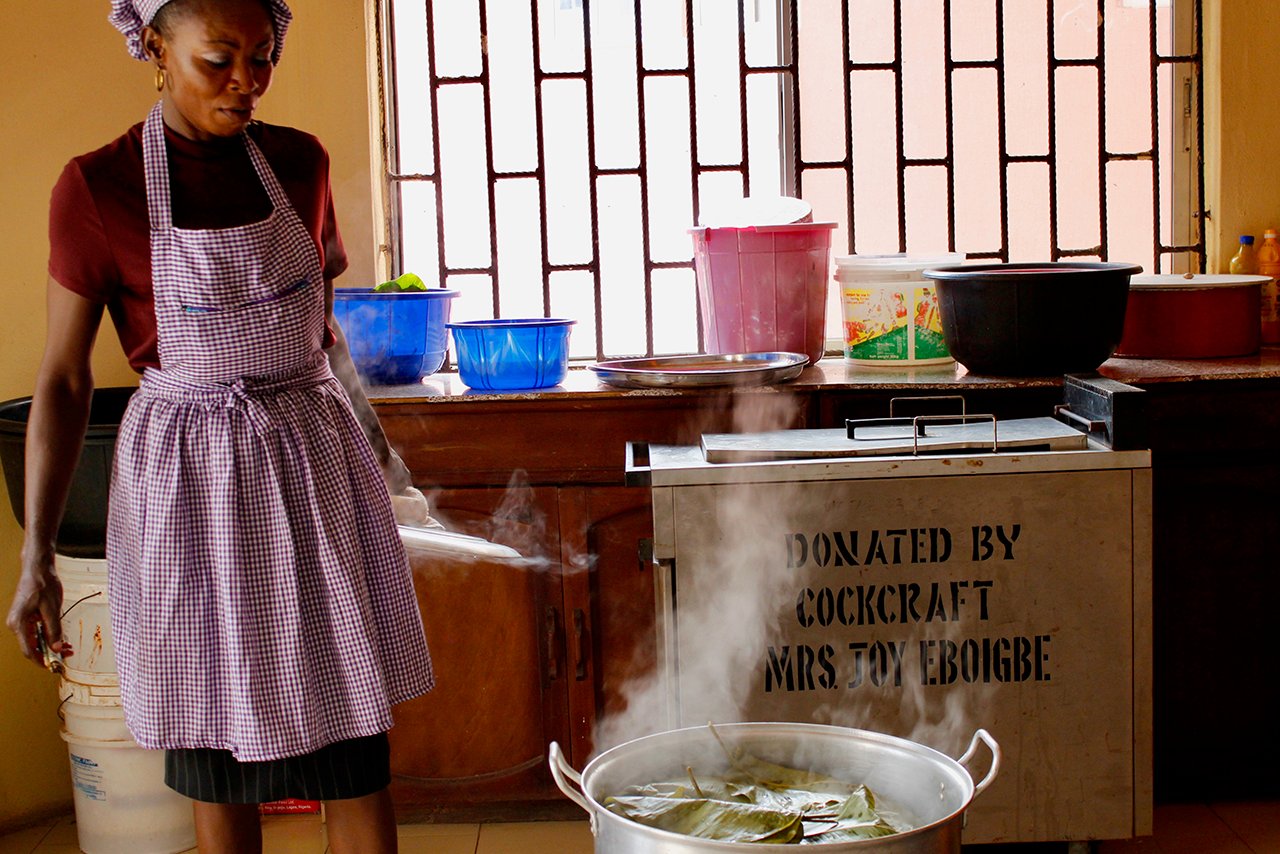 Turning the tide
Despite the extreme hardships faced by Nigerian migrants in Libya, which often include detention and physical abuse, and are widely reported by those who return, many Nigerians continue to leave in search of better economic opportunities, including in Europe.
"The people that are leaving all believe they will make it abroad," explained Nwoha.
"They believe that they are the exception, that they will be the ones to find a good job, and won't end up on the streets or in prostitution. So, with that confidence, they leave."
The most well-travelled route from Benin City leads through northern Kano State and on to Agadez in Niger and then to Libya.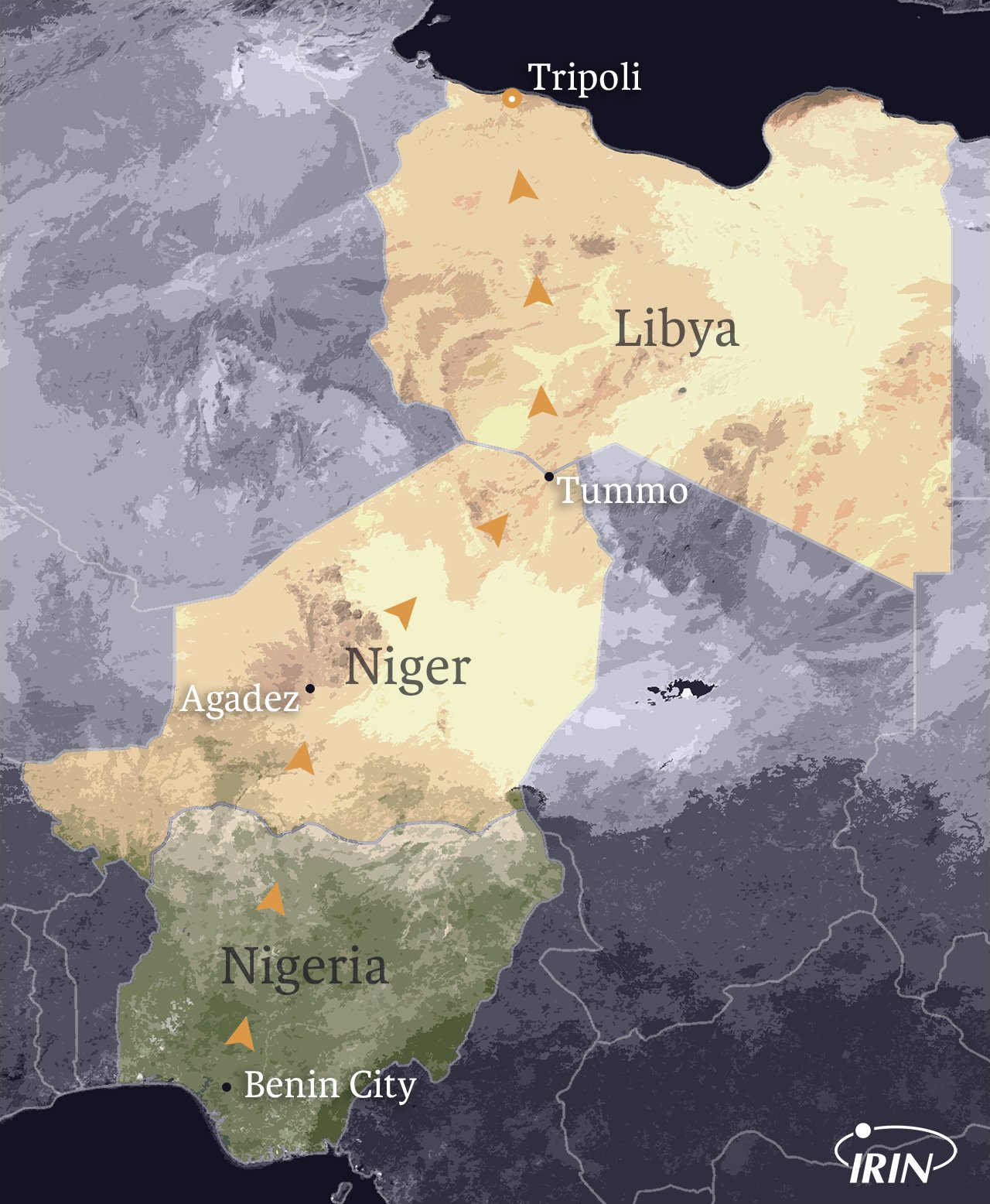 "In terms of human trafficking and illegal migration, Edo State has the highest numbers [of people leaving Nigeria]," said Aigbeze Uhimwen, a senior IOM project assistant who is overseeing the rollout of the EU-IOM Joint Initiative for Migrant Protection and Reintegration. "There is a very extended network for people who want to travel out."
The EU's determination to reduce the flow is evidenced by their recent actions in the region.
Through the EU Emergency Trust Fund for Africa (EUTF), IOM Nigeria received 15.5 million euros to reintegrate returned migrants. IOM opened its first office in Benin City in March, offering information and a wide range of services to those considering migrating from Nigeria, as well as those who have returned.
The Nigerian government's National Agency for the Prohibition of Trafficking in Persons, known as NAPTIP, also initiates training and awareness-raising programmes for returned and would-be migrants. Earlier this year NAPTIP intensified its work in Edo State by partnering up with the Oba of Benin, the influential monarch of the Edo people.  
IOM's integration services, which are being made available to 3,800 returning migrants, also include business skills training, as well as financial assistance to help people set up their own businesses. There is also awareness-raising, in the form of a Nollywood mini-series about the risks of irregular migration that was broadcast on national TV in 2017, reaching more than 100 million viewers.
"We asked people here: 'What kind of industry is needed?'" said Uhimwen. Responses, he said, led to plans to open a pineapple-processing factory that will generate between 100 and 200 direct jobs and benefit local farmers, transporters, and their families.
"I don't think the tide of human trafficking can be totally abolished or stopped," he said. "But what I think can happen is that the frequency can be reduced to a very minimal level."
It's too late to stop Rosemary, a 24-year-old mother of four, from making the trip. She left Benin City for Europe in March 2017 but got no further than Libya. IOM helped her return home that November.
Less than a year later, a NAPTIP-run training programme has taught her to make soap and set up her own business, 'Real Journey Liquid Soap'.
She wants more help to make her business grow, but won't be trying for Europe again any time soon. "I don't have the thought of going out of this country again," she said. "Because I know I can make it here."
sh-sh/am/js-ag