For years, people stuck in impoverished and often dangerous rebel-held northwest Syria have been risking it all to leave, seeking safety and economic opportunity across the heavily guarded Turkish border. 
Accurate numbers are impossible to come by, but hundreds of people have reportedly been severely injured or killed by Turkish border guards while attempting the crossing in recent years. Victims' families have few avenues – if any – to seek justice, and often end up grappling with the difficult emotional and economic effects of the violence with little support. 
While violence at the border has been ongoing for years, according to human rights groups, a recent incident put a spotlight on the issue: On 11 March, eight Syrians were reportedly apprehended by Turkish guards after crossing irregularly into Türkiye; two of them were killed, and the six others were returned to Syria with serious injuries. 
The incident was documented by Human Rights Watch (HRW) and regional news outlets. Türkiye subsequently arrested three officers and opened an investigation. 
Four months on, the victims, their families, and human rights groups say they have yet to hear any updates on the investigation. And the Turkish Ministry of Justice and Ministry of Interior did not respond to The New Humanitarian's request for information or comment. 
Turkish news outlets reported that the public prosecutor's office in Reyhanli – the town where the incident took place – had issued a confidentiality decision for the case, meaning that the details of the investigation remain unknown to the public.
"Even if the investigation [into the 11 March killings] was to be conducted effectively and transparently, that incident was by no means an isolated one," said Hiba Zayadin, a senior researcher at HRW. "The Turkish government needs to take urgent and effective measures to address this long-standing problem."
One of the people killed on 11 March was 18-year-old Abdo al-Sayah. Survivors of the incident told his mother, Salma al-Hassan, that he was beaten with electric cables, tortured for hours, and forced to drink diesel fuel before being shot dead by officers.
"[Abdo] was the breadwinner in our family," al-Hassan told The New Humanitarian. "His father is unable to work, and his brother can't work because he is blind."
Since Abdo's death, the family has been relying on financial support from local organisations and food aid from the World Food Programme, but al-Hassan says the aid they receive for a month barely gets them through a week. 
"There are days when we can't afford a loaf of bread," she said. 
Hundreds of Syrians attacked
Since the outbreak of the Syrian civil war in 2011, Türkiye has taken in around 3.6 million Syrian refugees, making it the largest refugee hosting country in the world. But the country's southern border with Syria has been mostly closed for years to those who do not have special permits to cross. 
Northern Syria is controlled by a mix of opposition groups – including the Islamist faction Hayat Tahrir al-Sham in areas of the northwestern Idlib and Aleppo provinces and a Kurdish administration in the northeast. The Turkish army and other Turkish-backed rebel groups occupy areas close to the northern Syrian border.
A decade of war, fuel shortages, and rising prices have pushed millions of Syrians across the country into severe poverty, with those in the rebel-held northwest among the worst off, including an estimated 1.9 million people who live in camps, including al-Hassan's family.
Recent cuts to aid, inflation of the Turkish lira (used as currency in parts of northern Syria), and deadly earthquakes earlier this year have compounded a growing hunger crisis.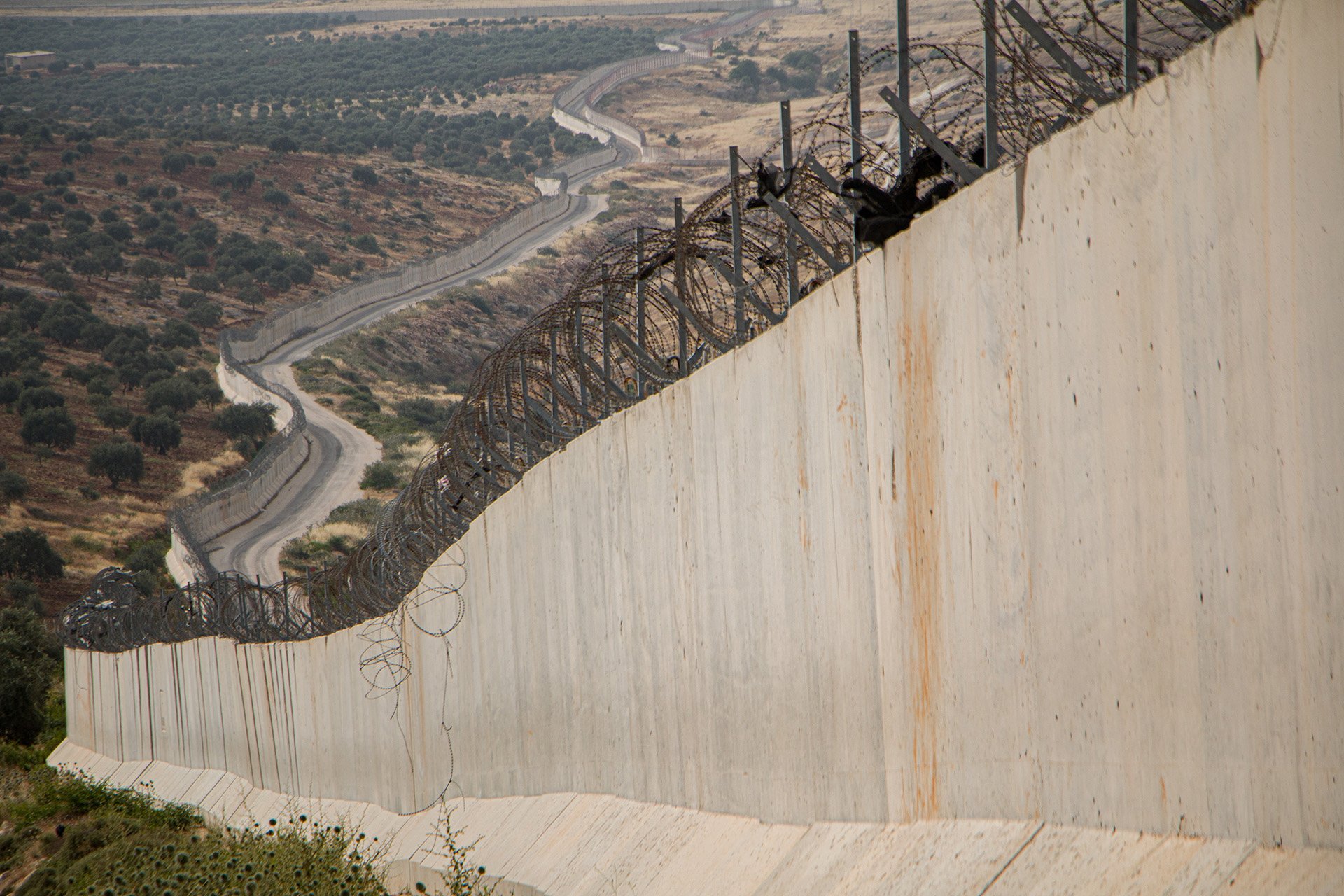 Those who want to try to leave in search of safety and stability turn to smugglers to help bring them across Türkiye's fortified border. A three-metre-high concrete wall topped with razor wire runs along 764 kilometres of the 911 kilometre frontier, which is patrolled by the Turkish army.
Zayadin said that attacks by Turkish border guards have been happening for more than 10 years. Between October 2015 and April 2023, HRW received 277 reports of attacks against groups of people trying to cross the border, a tally it called 'nonexhaustive' in an April press release. 
The UK-based Syrian Observatory for Human Rights has recorded 16 killings and 400 attacks this year alone, involving over 2,000 individuals, according to Rami Abdulrahman, the group's director. Most recently, his organisation recorded an attack on 14 Syrians who tried to cross the Turkish border on 12 July and a man who was shot dead on 26 June.
Fadel Abdulghany, director of the Syrian Network for Human Rights, another watchdog group, told The New Humanitarian that they recorded 413 civilian deaths along the Turkish border between January 2013 and June 2023. He said that some people were killed while trying to cross the border, and there were also cases of Syrians killed by Turkish border guards while herding sheep or ploughing farmland in border areas.
Zayadin added that there have so far been "no indications" that anyone has been held accountable or that Türkiye's security policy will be reformed.
Local advocates say they have heard reports that smugglers in Syria are paying bribes to border guards in Türkiye in order to ensure safe passage. Abdulrahman said he has been told that this can involve "sums of money ranging from $3,000", or more, per person. 
The scars of attacks remain
Ten members of Abdo's family live in two sparsely furnished plastic tents in an informal camp for displaced people consisting of around 100 similar tents. The camp is near the village of Kaftin in northern Idlib, in an area controlled by Hayat Tahrir al-Sham. The family has lived there since escaping fighting in southern Aleppo five years ago.
When The New Humanitarian visited in May, al-Hassan held a photograph protected by wrinkled plastic. The picture is one of the few mementos she has left of her eldest son, Abdo. 
After Abdo was killed in the 11 March attack, al-Hassan and her husband were informed by the administrators of Bab al-Hawa, one of the legal border crossings between Türkiye and Syria, that they had her son's body. 
When the parents arrived at the crossing, they learned what had happened from the survivors of the incident who were being returned to Syria. But al-Hassan said they only realised the extent of the brutalisation when they saw Abdo's body, which was no longer recognisable. "It was so frightening to see him like that," she said.
"My son left so he could find a way to live, and he was punished with death. Those responsible must be held accountable," she added. "I am his mother, and we won't drop our call [for justice]."
Yasser al-Ragheb's 16-year-old son, Merhaf, was also among the eight Syrians attacked on 11 March. Merhaf had his teeth and several bones broken after being beaten for hours by the Turkish border guards, according to his father. 
"They tortured them with iron pipes," said al-Ragheb. "They continued beating them until they lost consciousness, and then they poured water on them to wake them up, and then they beat them again."
Al-Ragheb said that on 12 March, he was informed by the authorities on the Syrian side of the border that his son was at the Bab al-Hawa crossing. He went to see him but he said the Turkish governor of Hatay asked to speak with Merhaf and others in the group.
"They went back and stayed in Türkiye for about five days," al-Ragheb said of his son and other survivors. "They treated them, somewhat, not completely, but rather with painkillers, and then they returned him to us."
"Two of them lost their lives, and the others were severely injured," he said. "Is there anything worse than this crime?"
Seventeen members of the al-Ragheb family live in three tents in a small camp near the city of Harim in the north Idlib countryside, where they have been since fleeing fighting in southern Idlib four years ago. Al-Ragheb said his son had been working in a cement factory, but was earning 30 to 40 Turkish liras ($1.10 - $1.50) a day, not enough to even buy bread for the family.
Merhaf said that since being sent back to Syria, the psychological toll of the attack has been almost too much for him to bear.
"You take a risk to help your family, who have no income. But then you return weak and broken, needing medical help and care," he said. "Every time I watch my family putting all their energy into me, increasing their debts, I am torn from the inside for how difficult life has become for them."
No accountability
Mohammad Ghaith al-Hussain, a 20-year-old from southern Idlib, made his way to Türkiye from northwest Syria last October to look for work. He said he had promised to pay a smuggler $1,100 for the trip. But as soon as he arrived on the Turkish side, he and five others were apprehended by border officers who he said beat them with iron pipes and tree branches.
"They kicked me with their military boots on my head, stomach, everywhere," said al-Hussain, adding that the officers poured cold water on the group and threatened them with dogs. 
"It took about a month for me to recover," he said, back in his home in Babsaka, a village in northern Idlib. 
While his physical condition has improved, al-Hussain said the attack has had lasting consequences on him and his community. 
"People are being forced to risk their lives and cross illegally, and as a result of this, they're being tortured and killed," he said.
For the victims and their families, justice feels distant. Al-Hassan said she hopes the international community will put pressure on Türkiye to find those responsible for her son's death. 
"The young men who died have a right to hold their killers accountable," she said.
Abdulghany said Syrian refugees have a right to asylum and safe passage. "It is legal to seek asylum," he said, adding that Türkiye's borders should be open. "People in northwest Syria are effectively being detained there, where they're exposed to so much danger."
This project was funded by the H2H Network's H2H Fund, which is supported by the Disasters Emergency Committee (DEC) and the Foreign Commonwealth and Development Office (FCDO).
Edited by Tom Brady and Annie Slemrod.