In the six years Nataliia Kyrkach has been providing assistance in conflict-affected eastern Ukraine, she has seen aid programmes move from urgent crisis response to resilience and development, as people living amidst this ongoing war have slowly begun to rebuild their lives.
2020 had brought some hopes for peace, after Russian President Vladimir Putin met his Ukrainian counterpart Volodymyr Zelensky for talks in Paris in December. But over the last month, as COVID-19 has swept the world, Krykach says the region is tumbling back to the dark days of 2014-15, at the beginning of the conflict.
"The situation is going backwards by 100 percent," Kyrkach told The New Humanitarian by phone from the town of Sviatohirsk in the eastern Donetsk region where the NGO she heads, Slavic Heart, is based.
In the second half of March, Slavic Heart – which provides a range of humanitarian aid from psychosocial services to food, hygiene items, and medicines – saw a more than 200 percent increase in pleas for assistance on its hotline. This was after Ukraine introduced strict quarantine measures, closing its borders, shuttering schools and all non-essential business, and halting public transport.
Ukraine has yet to see COVID-19 infection figures comparable to the worst-hit countries in Europe – as of 20 April, there were 5,710 registered cases in a population of 42 million, and 151 deaths. However, with a chaotic and underfunded national health system, and as the country's politics and economy has been weakened by this low-intensity but still deadly war, its fallout is likely to hit hard. And nowhere more so than in the war-torn east, where sporadic clashes continue between government forces and two breakaway regions backed by Russia: Donetsk, and neighbouring Luhansk.
Even before the epidemic, the UN estimated that 3.4 million Ukrainians were in need of humanitarian assistance in 2020. Most live in the so-called "grey zone" – a sliver of territory along both sides of the "contact line" that divides Ukrainian government-controlled land from separatist-run areas.
Adapting aid to the new normal
Sixty percent of Slavic Heart's clients – mostly women – have lost most or all of their income since quarantine measures were imposed, said Kyrkach.
With already limited public transport in frontline areas now completely stopped, many people are unable to access healthcare or get food and hygiene supplies, and most are rapidly running out of funds.
Already high levels of domestic violence are reportedly soaring. Social workers, reliant on public transport and lacking basic protective equipment, are unable to visit their vulnerable clients.
The contact line – which used to see up to a million crossings each month by people claiming social and pension payments or travelling for work, health, and family reasons – is now closed.
"The conflict has been there for a while; we all, including the population, have learned to deal with it."
"Families are entirely alone," said Kyrkach. Her NGO is using its three mobile support brigades for victims of domestic and gender-based violence to deliver food and hygiene parcels, and has moved its support groups online. But many settlements in the grey zone lack internet access.
International aid groups like the UN's refugee agency, UNHCR, and the International Committee of the Red Cross, which had previously scaled back direct assistance to focus on income generation and infrastructure projects, are also reinstating food and hygiene deliveries – all the while rushing to put their own anti-epidemic measures in place to protect both staff and beneficiaries in a war zone.
"The conflict has been there for a while; we all, including the population, have learned to deal with it," Florence Gillette, head of delegation of the ICRC in Ukraine, told TNH. "But COVID-19 is something we are learning how to deal with.
"What makes the response complicated is that this still is a conflict area. There's a duty of care in relation to the conflict… it requires certain measures, and COVID-19 requires another set of measures. So we now have an increased complexity to manage."
Those new measures have included not only finding safe ways to deliver aid, but also safely overseeing a simultaneous release and transfer of conflict-related prisoners between the two sides, on 16 April. The 38 released detainees have now entered several weeks' quarantine on the respective territory to which they have returned.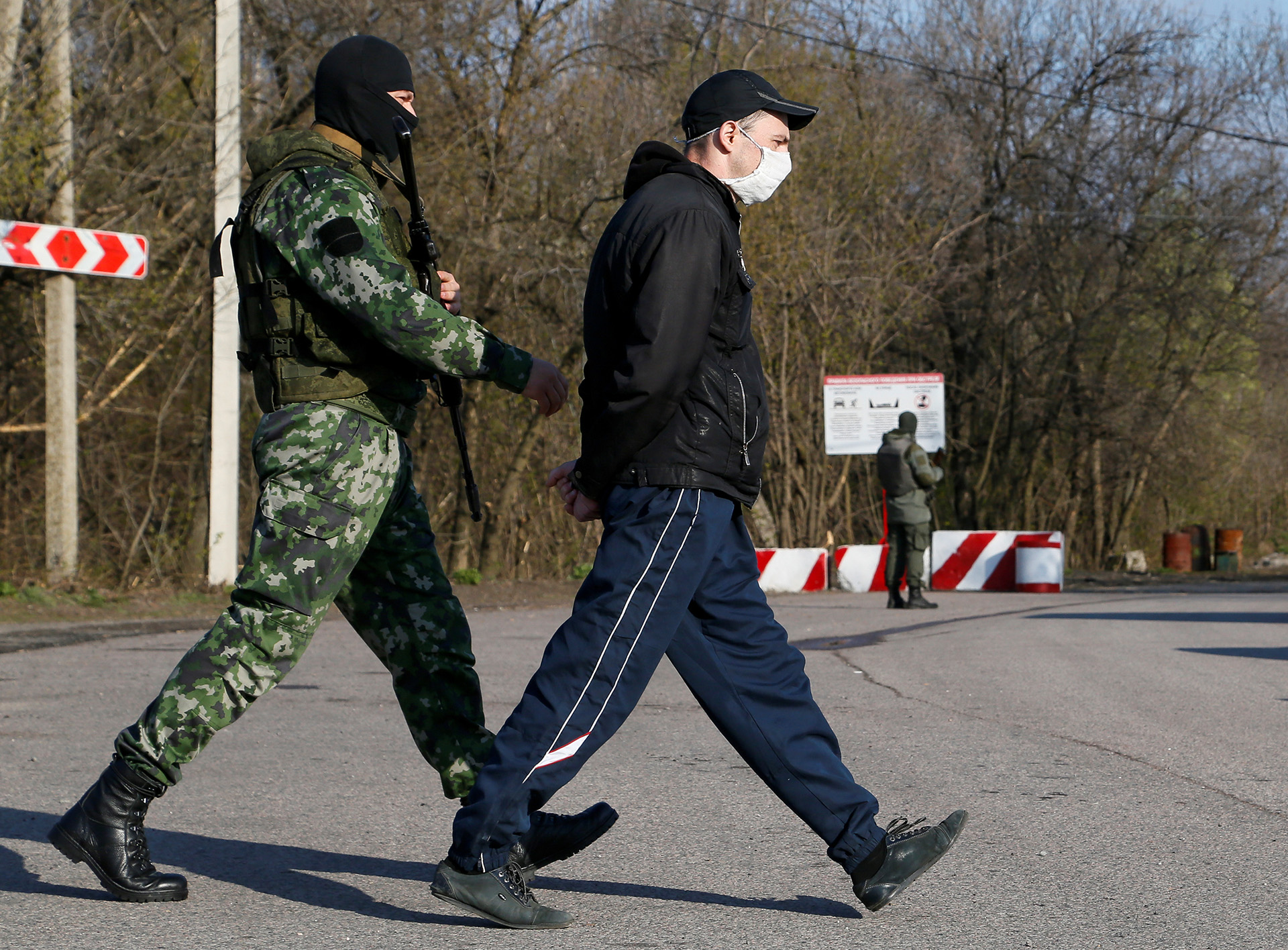 Risks and shortages in government areas
Ukraine's 450-kilometre line of contact cuts Donetsk and Luhansk in half, running through towns and villages still populated with civilians, including 500,000 children and a high proportion of elderly people. The UN estimates that 36 percent of those directly affected by the conflict are over 60, compared to 23 percent in the country overall.
Almost all of them have underlying health conditions like diabetes and cancer, increasing their vulnerability to COVID-19. They have not had good access to health services since 2014, when the conflict divided government-controlled areas from the main hospitals in Donetsk and Luhansk cities now under separatist control, cutting care, supply, and administration chains.
Ukraine has not replaced this lost infrastructure and capacity in the areas it controls. The Ministry of Health puts current medical staffing levels in the government-controlled Luhansk region at just under 62 percent – the lowest in the country. In Donetsk, it's 69 percent; protective equipment provision in both regions is only around 60 percent.
The regions lack not only hospital buildings and beds, but also laboratories for COVID-19 testing – currently in Donetsk region it's being done at the HIV/AIDS centre. To date, the Donetsk and Luhansk regions have among the fewest cases in the country. But as of 11 April just 150 tests had been performed in Donetsk, and fewer than 100 in Luhansk; although thousands of rapid tests are being delivered for testing those crossing the contact line.
"If there are five hospitals, and five of them are closed [due to treating] COVID, then what you get is a collapse of the medical system."
These healthcare shortfalls, and the re-profiling of the few existing facilities for an epidemic that's yet to hit, is already affecting other medical treatment including for HIV, TB, and diabetes, according to Ihor Kuzin, acting general director of the Ukrainian Ministry of Health's Public Health Centre.
"[COVID-19] measures like restrictions on access to facilities and people in self-isolation are working effectively, but at the same time they mean other problems connected with the medical system are being resolved more slowly," he said. "We know people are being turned away for treatment for diabetes or planned operations are being delayed, and this can impact the overall health of the region."
Twelve hospitals in Donetsk and five in Luhansk have been allocated for COVID-19 cases.
"If there are five hospitals, and five of them are closed [due to treating] COVID, then what you get is a collapse of the medical system," Kuzin said.
Known unknowns on the separatist side
Information about the situation in non-government controlled areas is scant. Most journalists are banned and only a handful of UN and international agencies are able to work there.
To date, the de facto authorities have announced 57 COVID-19 cases and one fatality, and imposed some quarantine measures, including 14 days of isolation for anyone entering from government-controlled territory. This includes humanitarian workers, who are some of the very few still permitted to cross the contact line.
In 2018, international agencies estimated that over 100 medical facilities in Donetsk and Luhansk, and 70 percent of equipment, had been put out of action because of the war. The areas rely on agencies like UNICEF and the ICRC to supply essential medicines for HIV and TB, and insulin.
"We know that they have difficulties in general accessing certain medications," said Lotta Sylwander, UNICEF's representative in Ukraine. "So what's going to happen when they do need more medical equipment like ventilators and oxygen… That we don't know."
Delivery of medications across the contact line has regularly been threatened or delayed through the course of the conflict, and the epidemic already led to one major hold-up after crossing points were closed in late March. It took two weeks of negotiation before a humanitarian convoy carrying medical, food, and hygiene supplies was able to reach Donetsk.
Water is another necessity that has to cross the front line. The supply on both sides is still managed by one Ukrainian company, Voda Donbassa. Water is regularly cut off for millions of people because of shelling and shooting, problems for workers crossing the front line, and disputes between the two sides over payment for water and electricity.
Watch our film: Water under fire in Europe's forgotten war
Despite the importance of hand-washing to prevent infection, some areas were once again without water in early April, including a town in separatist-held Luhansk that had been isolated because of a confirmed COVID case. Vital maintenance work is also not being done, as Voda Donbassa workers are restricted from crossing the line of contact.
'There needs to be an international outcry'
The closure of the contact line has also prevented thousands of elderly people on the separatist side from getting the Ukrainian state pensions they rely on.
For the duration of the quarantine, Ukraine has waived the proviso that people must register in person every 60 days on government-controlled territory, and it is continuing to pay pensions and other social benefits into claimants' bank accounts. But that's of little help to people in rebel-held territory where there are no Ukrainian banks or cash machines.
Meanwhile, the fighting, which has cost over 13,000 lives so far, has increased in the last few weeks. Nineteen civilians were killed and injured in March – more than for the whole previous five months. At least 16 Ukrainian soldiers have been injured or killed in April.
Slavic Heart has centres in several towns right on the front line; at a video conference in early April between NGO staff in Ukraine, the shelling in one such town could clearly be heard in the background.
"Imagine what the psychological pressure must be," said Kyrkach. "You're sitting under shelling, and you can't go anywhere because there's no public transport anymore. You have no money for a taxi, which is so expensive. You've only got very small local shops – if that – where the prices are much higher and the choice is so small now."
Along with a UN plea for a global ceasefire, there have been other calls to urgently resolve the Ukraine conflict in the face of the pandemic. But while the latest meeting of the trilateral contact group supposed to resolve conflict issues resulted in last week's prisoner release, no ceasefire was either agreed in the meeting or is visible on the ground in eastern Ukraine.
"There needs to be an international outcry," said Sylwander. "This is ridiculous, and very sad."
Meanwhile, Kyrkach in Sviatohirsk is yet to see any additional support, and the NGO's mobile brigade programme is slated to close in a few months as funding dries up. "Everyone's tired of Ukraine," she said. "It has become such a protracted conflict."
lh/ag
Subscribe to our coronavirus newsletter to stay up to date with our coverage.