This is the first of a three-part special report on the Evros River border crossing between Turkey and Greece. Read the other instalments: "An open secret: Refugee pushbacks across the Turkey-Greece border" and "Unprepared and overwhelmed: Greece's resurgent river border with Turkey."
For more migration coverage see our series Destination: Europe
Pavlos Pavlidis has spent nearly two decades examining and identifying the bodies of migrants and asylum seekers who have died attempting one of the least known but deadliest routes into Europe.
So far, that's 359 bodies – a grim count and occupation. Pavlidis is tall, with sloping shoulders and a cigarette perpetually affixed to his hand. He has the gentle but clinical demeanour of someone used to delivering bad news, but would rather see what he does as bringing answers to the living.
"For me, it's very important that I give an answer to people," says Pavlidis, who is in his mid fifties and personally inspects every body that washes up on the Greek side of the muddy banks of the Evros River that divides Greece and Turkey. "It's not a good answer. It's a tragedy – but at least it's an answer."
At first glance, the river where most of the corpses come from looks quaint and harmless enough. Sunflower fields dot the banks, local tavernas serve up the water's main catch, a meaty catfish, and the water itself is just a couple dozen metres wide.
But this is one of the deadliest border crossings in Europe. Until 2010, it was riddled with 25,000 anti-personnel and anti-tank landmines, buried by Greece in 1974 after Turkey invaded Cyprus. Today, all but 12 kilometres of the border are fenced off.
At first glance, the river where most of the corpses come from looks quaint and harmless enough. But this is one of the deadliest border crossings in Europe.
This spring brought a surge of people from Syria and Iraq trying to cross the Evros – 2,700 people traversed its waters in April alone (more than crossed in the whole of 2017), surpassing sea arrivals in Lesvos for the first time since 2012. The UN's refugee agency says at least 9,840 people crossed the river in the first seven months of 2018.
Along with the thousands who managed to enter Greece across the Evros this year, 29 didn't make it; their bodies brought to a hospital in Alexandroupoli, the largest city in the Evros region, and to Pavlidis' basement morgue.
Hidden dangers
Because the river isn't very wide and appears calm, many migrants don't see the danger coming. But Pavlidis says the river's current is deceptively strong and difficult for even a seasoned swimmer to navigate.
Smugglers pile families into tiny inflatable boats and, since they rarely allow luggage, many people wear three or four pairs of trousers and shirts, adding extra weight.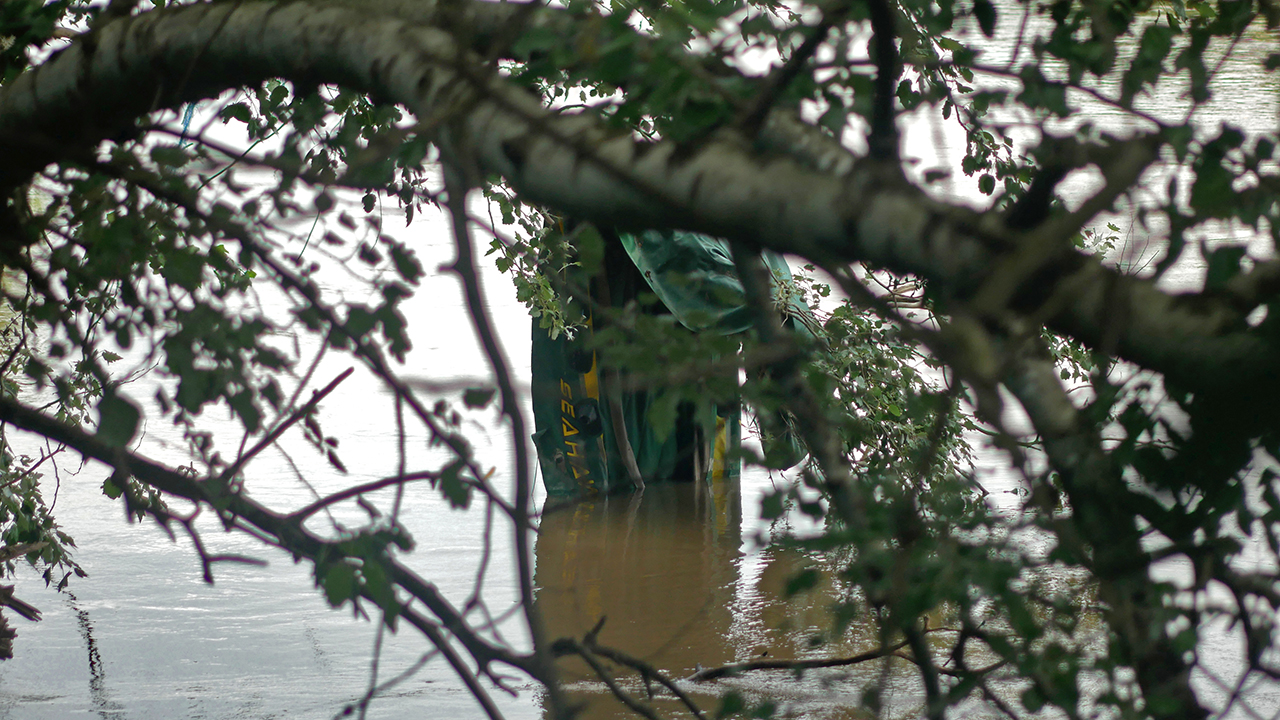 Unlike in the Mediterranean, where the salt helps keep bodies intact, the freshwater Evros decomposes them quickly. Bloated corpses are found after several weeks or months by local fishermen, the EU border agency Frontex, or local police. Pavlidis says that children, their tiny bodies bogged down by sediment and fallen trees, are almost never found.
"The bottom of the river is very muddy," he explains. "There are a lot of branches from the trees and the bodies get stuck...The fibres of the clothes get soft and disintegrate. And the fish – we have all kinds of fish in the river, and they eat the skin post-mortem."
Along with the thousands who managed to enter Greece across the Evros this year, 29 didn't make it.
Identification
By the time bodies show up in Pavlidis' morgue, most are beyond recognition.
He turns on his computer and starts clicking through dozens of horrific images. In one, a man's face is a black oval, the skin completely peeled off and frozen into a never-ending scream. The cause of death was hypothermia – a relatively quick death, two or three minutes. Hypothermia usually preserves the face, but in this case, the man's face was burned from the sun, and his eyes had been eaten by birds. In another photograph, a body is bloated like a drum, the skin stuck to the metal gurney in transparent sheets.
After 18 years in the morgue, Pavlidis is hardened against the images; he says he has to be.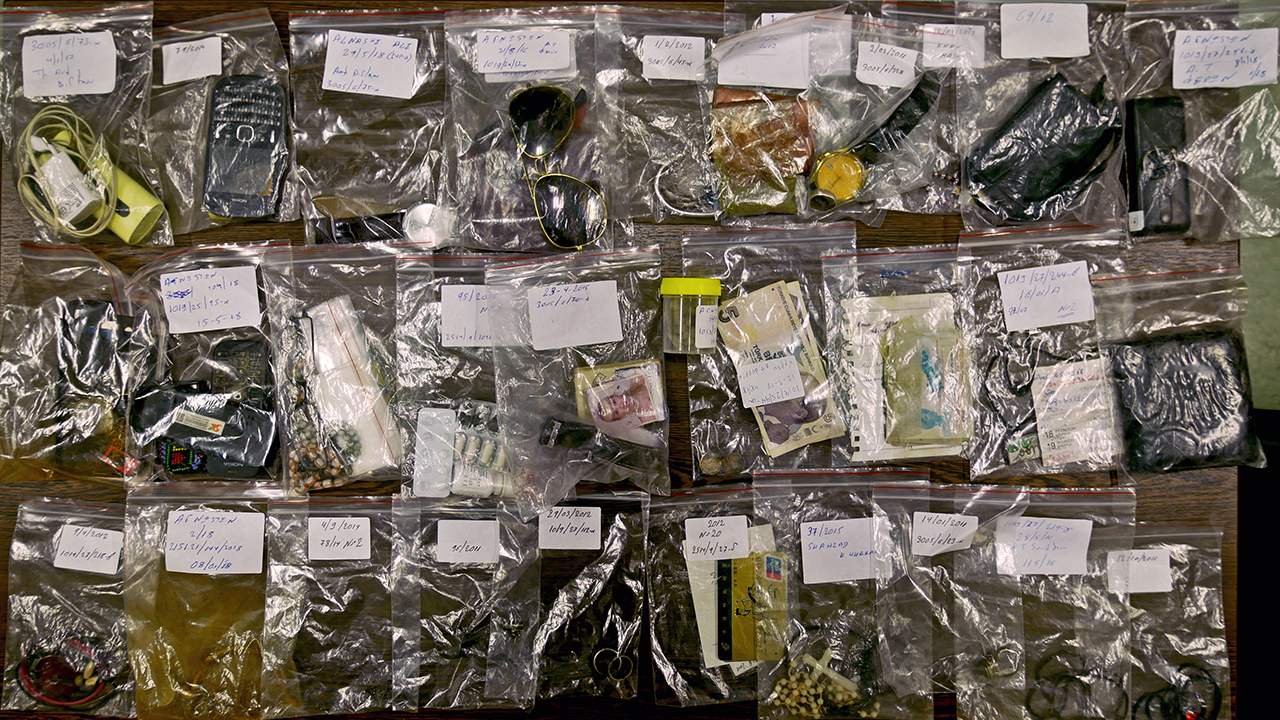 The photos do not usually help Pavlidis in giving the dead a name, but their bodies do offer rare clues, like the odd tattoo. Sometimes he can glean religion by checking male bodies for circumcision.
Pavlidis collects anything that might help with identification, but he often has little to go on. "Because of the length of time spent in the water, their personal items or documents are damaged," he says.
Pavlidis also takes DNA from each body (teeth, usually), and gives each person a unique identification number.
With the help of one nurse, he meticulously documents each corpse, photographing the body and carefully placing any salvaged personal items in little plastic bags he stores in his office.
He keeps each corpse for months – shelved in refrigerators maintained at a chilly -20 degrees Celsius – in the hope that someone will show up to claim them.
Family contact
Pavlidis can collect and catalogue the bodies with care, but connecting with the families from a small city in northeastern Greece is a challenge.
"My problem is contact with the family. These parents are in [places like] Afghanistan or Pakistan; they don't know where Alexandroupoli is or who I am," he says. "It's easier if the family is already here in Europe. I can take DNA from them to make a familial match."
Of all the corpses he's catalogued, only 103 have been identified.
Pavlidis works with the Greek police and the International Committee of the Red Cross, and is in close contact with the Pakistani Embassy in Athens; Iraq and Syria have missions there too. But the closest Afghan embassy is in the Bulgarian capital, Sofia, and communication is more difficult.
In some cases, the identification part of his job turns into a bureaucratic nightmare. Once, Pavlidis dealt with the body of a Chinese man who was found with his credit cards and other forms of identification. With the help of the ICRC, Pavlidis contacted the Chinese government. Two years later, an official response came: there were too many people in China with the same name to identify him.
That man died in a traffic accident, highlighting one of the absurd realities of the Evros crossing – the danger doesn't stop once migrants reach the Grecian banks of the river. They must walk for several kilometres to reach the nearest village, and many follow the train tracks into town.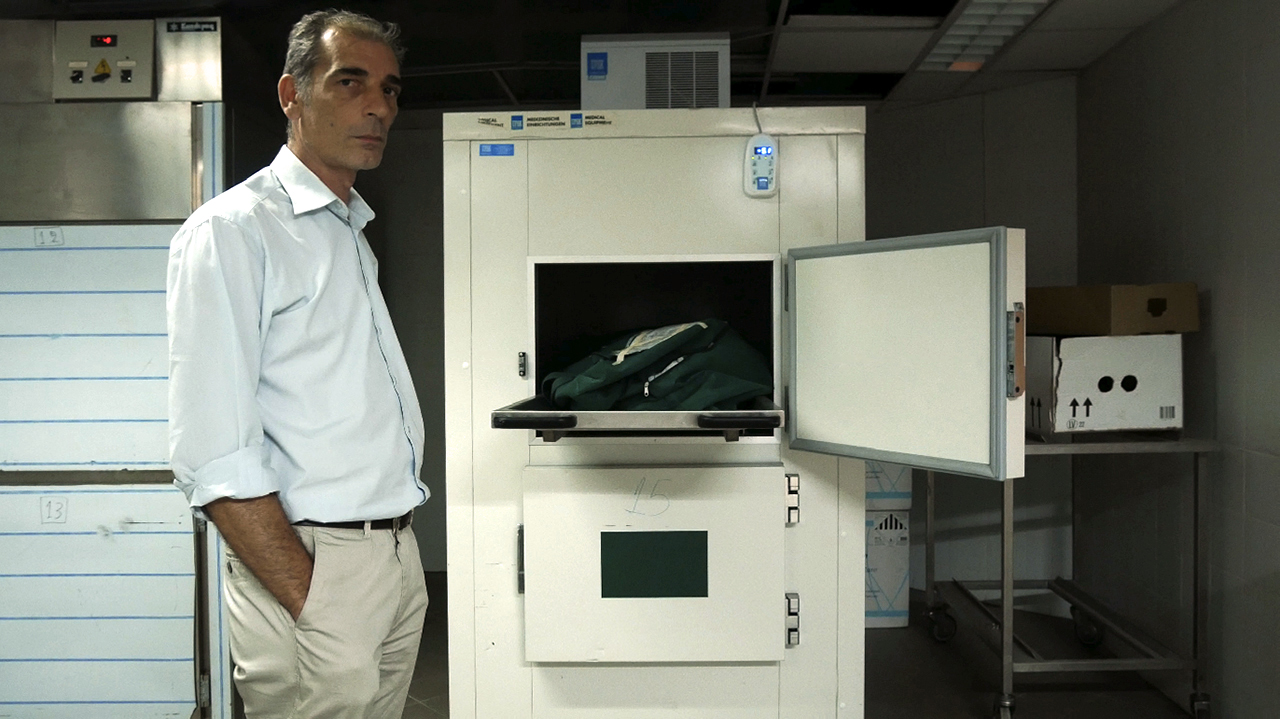 Stoic by professional necessity, one case particularly rattled Pavlidis: in 2015, a Syrian family was walking along the train tracks when a six-year-old girl let go of her father's hand and ran into an oncoming train.
Her body, like that of many others whose bodies are left behind in Greece, is buried in the village of Sidiro, a Muslim enclave in Evros. Bodies deemed to be Muslim are sent to the village, where they receive an Islamic burial. In July when IRIN visited, there were three empty graves, recently dug and awaiting bodies.
Non-Muslims are buried in a local Christian cemetery.
The car and van journey towards Thessaloniki, where many migrants are headed, is equally dangerous, thanks to unsafe cars used by smugglers (who sometimes force migrants to drive themselves), and even police chases.
In early June, a van carrying 16 Iranian migrants crashed in the mountains near Kavali, killing six people, including three children. During IRIN's time in Evros, a sedan carrying 10 people from Syria and Iraq, including two children, crashed on the main highway criss-crossing northern Greece, killing two adults  on impact. The mother of the children died upon arrival to Alexandroupoli hospital.
It was the worst car accident the hospital had seen in 2018, and it brought the hospital's director-general to tears.
Despite the dangers, there will be more deaths. People will continue to cross Evros, and some will succumb to the river or roads. And waiting for them will be Pavlidis, resolute in his duty to provide them a last glimmer of dignity from a basement morgue in a small port city.
"These families can't wait for a lifetime," he says. "It's an ethical responsibility and an ethical satisfaction to do this work."
ss/as/ag