Until 23 May 2017, Samira Gutoc had been a human rights activist and a resident of Marawi, a lakeside city on the southern Philippine island of Mindanao. But when Islamist militants barricaded themselves in the city center last year, igniting a fierce five-month battle with the army, Gutoc found herself thrust into a new role: humanitarian worker.
She wasn't alone. Local NGOs, civil society leaders, and an army of volunteers took the early lead – including many who were doing humanitarian work for the first time while putting themselves in harm's way. The fierce clashes and martial law – imposed by the government on the first day of the siege – meant that the international aid groups already working in Mindanao couldn't reach the worst-hit communities with immediate emergency assistance.
Now, these local organisations are pushing to take a greater role in responding to disasters and crises and in fostering peace in troubled Mindanao.
"We need to highlight that there are groups working on the ground… so that international NGOs can also respect the efforts of local groups where they can't reach," Gutoc says.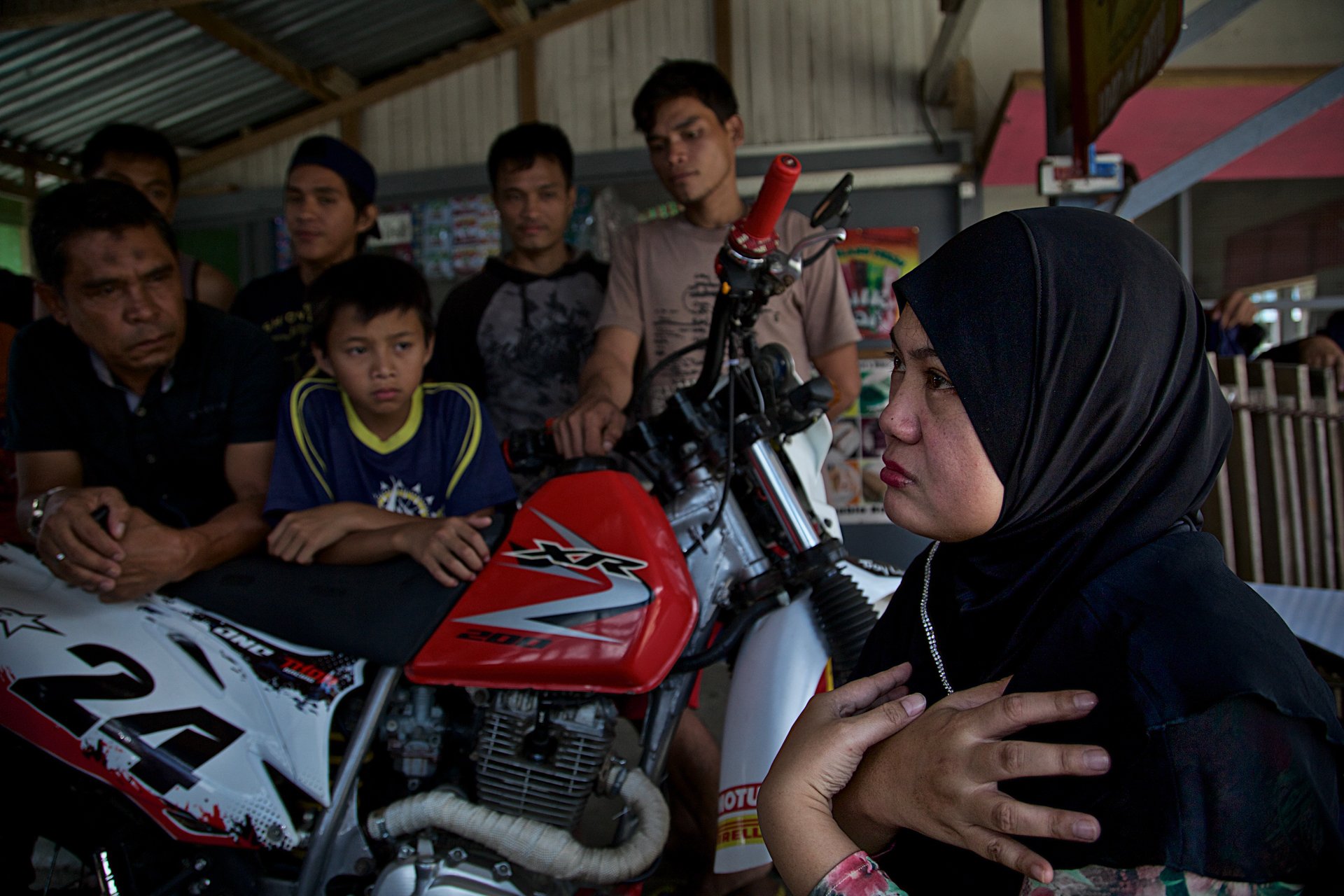 But to do that, these local groups must upend a lopsided system that funnels the bulk of donor money through international aid groups – leaving local ones continually struggling for survival.
☰ Read more: Why the aid sector wants to go local
The global humanitarian system is overstretched. In 2017, the UN asked for a record $22.2 billion to cover emergencies in 33 countries. But the funding gap continues to widen as the price tag soars.
What is local aid?
The global aid sector has broadly committed to an agenda to "localise" aid – putting more power in the hands of locals working on the ground where emergencies hit.
Why local aid?
The aim of of the "localisation" agenda is to improve humanitarian response by making it faster, less costly, and more in tune with the needs of the tens of millions of people who receive humanitarian aid each year. Local aid workers are closer to the ground, they can access areas that international aid groups can't reach, and they know the needs of their own communities.
Who are local aid workers?
Local humanitarian aid includes a broad spectrum of potential on-the-ground responders to crises and disasters: local NGOs, civil society groups and community leaders, indigenous peoples, local governments, as well as people who are themselves affected by crises, including refugees, displaced people, and the everyday volunteers working to help their own communities.
In May, Philippine NGOs, including some involved during the Marawi siege, launched a fund billed as the first in the country to raise money that directly goes to local groups to use during disasters – offering a potential alternative to the traditional international aid funding system.
Stable, local funding could equip groups to respond quickly, but it's still short-term; at the moment, local groups are struggling to maintain their operations.
Charlito Manlupig, who heads Balay Mindanaw, an NGO based in northern Mindanao, says his organisation already relies on private donations from within the Philippines – but this funding dwindled as the Marawi siege dragged on. Now, he's back to preparing one-off proposals for international donor money.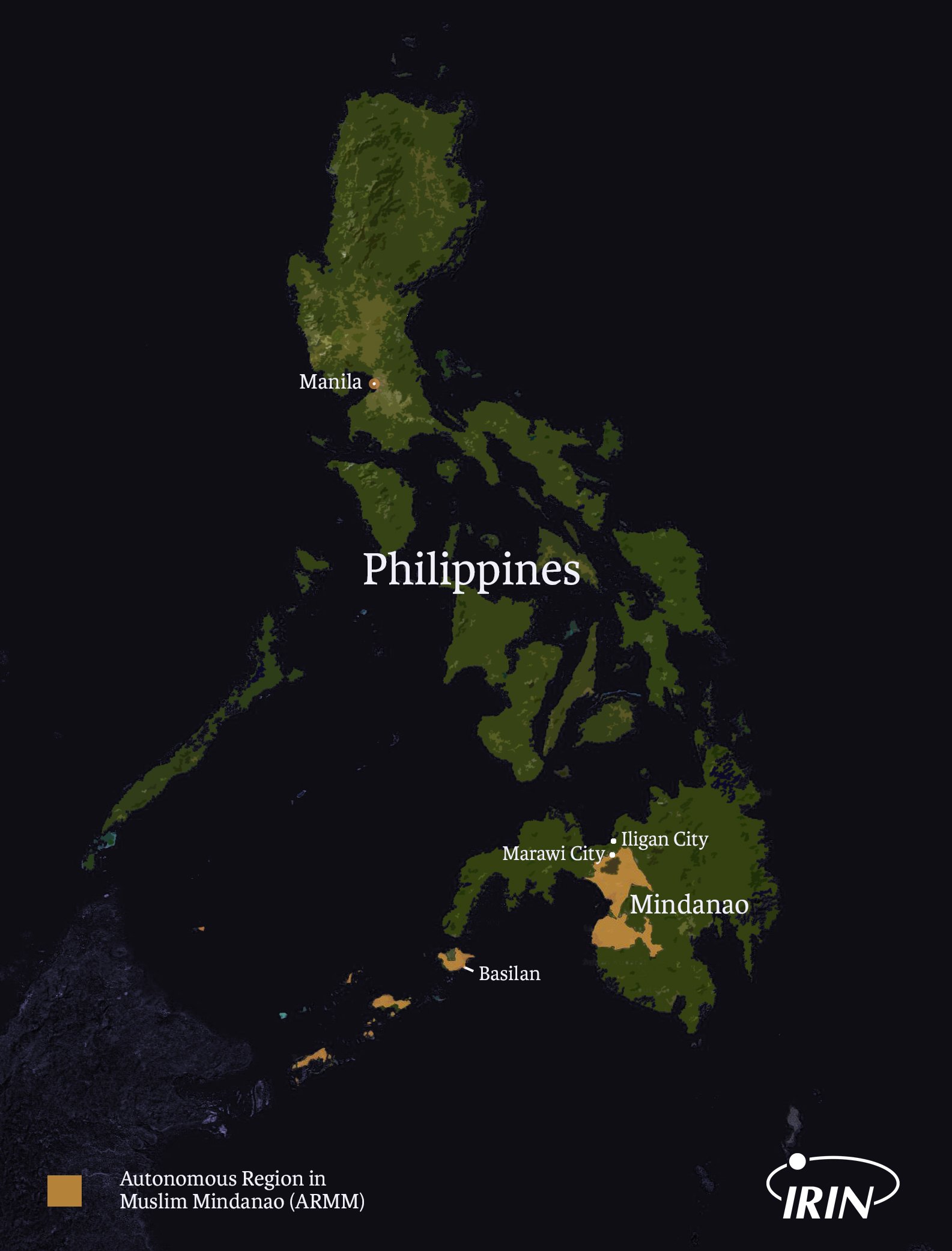 The stakes are high. Parts of Mindanao are home to a decades-long separatist movement, fuelled by generations of marginalisation and soaring poverty among minority Muslims in majority-Catholic Philippines.
Locals fear rebuilding plans for Marawi may ignore the views of the very people who call the city home – and provide fresh fodder for a new generation of militants. And the post-siege landscape in Marawi is pockmarked with intricacies that make it difficult for outsiders to navigate.
"Locals know the spoken and unspoken sentiments. They know the culture," says Regina Antequisa, who heads Ecoweb, an NGO based in nearby Iligan City, where many of Marawi's displaced bunkered down.
"This is an important role of local organisations that can be played only by them, especially in a conflict setting. We know one false move can ruin good intentions."
Marawi a catalyst for local aid responders
Today, the local organisations that stepped to the forefront during the Marawi siege continue to lead on the ground.
When Tropical Storm Tembin swept through parts of Mindanao in December, killing more than 100 people, it also hit evacuees still displaced by the Marawi siege. The same local groups that responded during the conflict used their resources to launch early damage assessments and mobilise funding.
The UN says such efforts were crucial in helping the government and other aid groups plan a response.
But Antequisa says most of the money that flows to local groups is short-term, meant to support projects that last for a finite period, rather than stable funding that could sustain and grow a generation of local aid workers. At the same time, most local groups lack the technical staff to take charge of the onerous grant applications that are a necessity for funding in the aid sector – and the skilled staff that do come up through the ranks are often poached by bigger international organisations.
"I know I cannot always provide stable jobs," she says. "I cannot assure that after this project we will have another. That's the life of some local organisations."
These local groups say their roots are their greatest strength. Marawi can be a complex environment for outsiders to grasp. The city is both a commercial hub and the spiritual heart of the Maranao, a predominantly Muslim people whose homeland circles Lake Lanao on Mindanao. Long-running feuds among family clans can fuel new conflict from old rivalries. And local customs can dictate even how aid is perceived.
Salic Ibrahim, who heads Maradeca, a Marawi NGO whose entire staff was displaced, says that while some outside aid groups were preparing to reach people in government evacuation centres set up as the siege wore on, local aid workers knew that most of the needy would be harder to find.
He says the traditional Maranao code of honour, known as maratabat, meant that extended families would be obligated to take in their displaced relatives – rather than have members of their clan be seen in public evacuation centres. The vast majority of Marawi's displaced – more than 90 percent – refused to go to evacuation centres.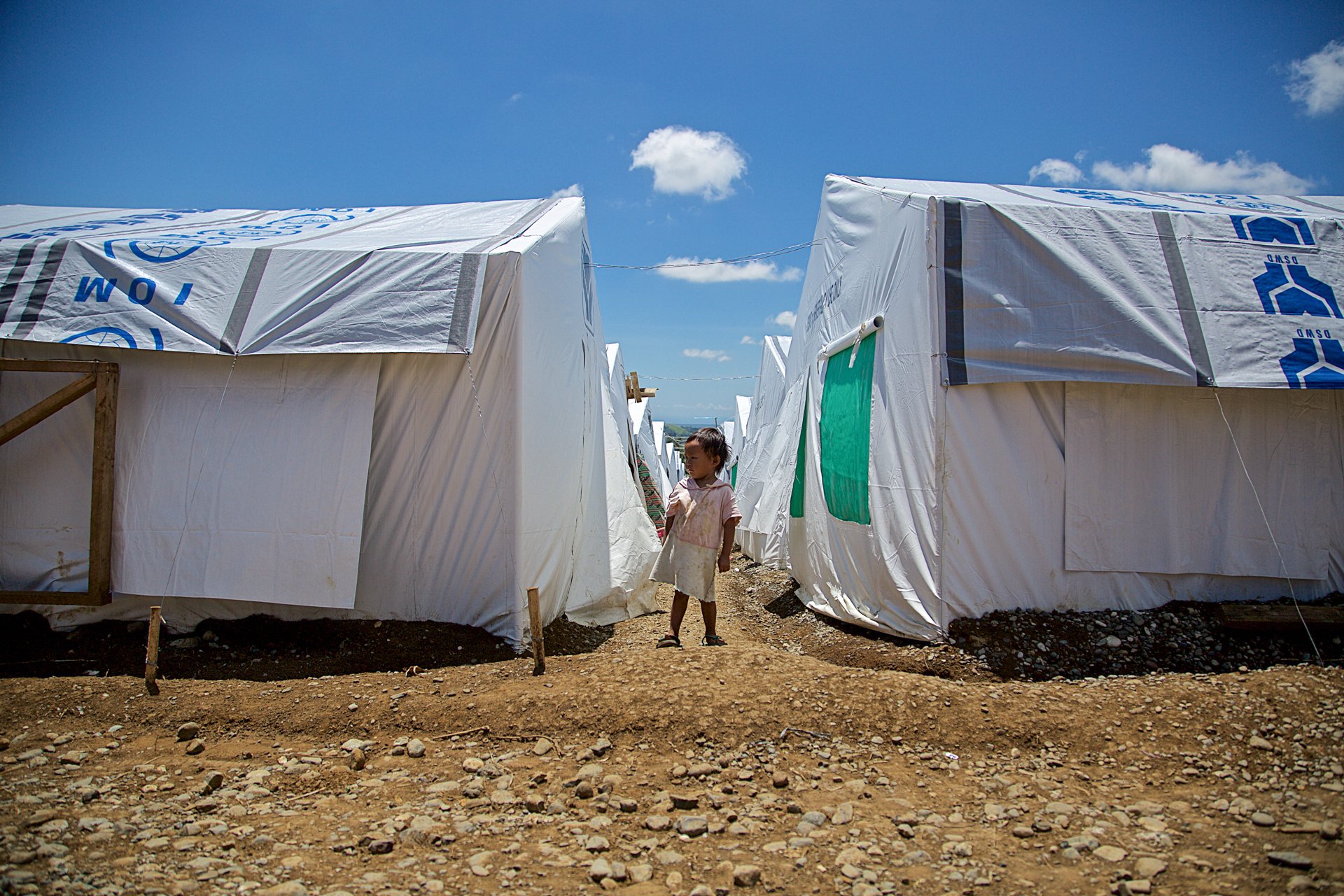 "Most of the aid agencies who came for the Marawi response do not know the locality,"  Ibrahim says. "They have targets for the number of IDPs and evacuation centres, and realised later that their targets are hard to obtain. Especially the sense of pride of a Maranao, the maratabat: if this will not be handled properly, it will ruin your whole plan."
This local knowledge – and restrictions faced by international aid groups – meant there were more opportunities for locals to lead. Rhoda Avila, the humanitarian policy manager for Oxfam in the Philippines, says she was struck how one consortium of local aid groups spearheaded on-the-ground needs assessments – the crucial first step for any humanitarian operation. It was the first time she had seen this happen.
"Usually Oxfam leads the assessment work, including the development of the response strategy," Avila says. "The difference now is that they led the assessments, they developed the response strategy, and they asked us if we could support them."
Safety passes and fickle funding
Before the crisis, Gutoc had been a prominent local activist in Marawi. But the violence suddenly put her on the front lines, along with other local leaders pushed out of the city.
It was a "humanitarian nightmare," she says. "There were no responders along the streets when people are walking. You could physically find people were dropping off their feet because they couldn't walk anymore."
Listen to Samira Gutoc on the humanitarian nightmare.
Gutoc became a part of a coalition of evacuees called the Ranao Rescue Team. Volunteers, including some from Gutoc's organisation, staged brazen rescue missions to free civilians still trapped in the city. Local groups used their connections to reach civilians who fled to hard-to-reach areas, advocated for the rights of the displaced, and delivered food and other emergency aid amid the clashes.
The fighting "limited our freedom of movement and limited our access to affected communities," says Mark Bidder, head of office for the UN's emergency aid coordination body, OCHA, in the Philippines. "This is where the local actors really played an important role."
☰ Read more: From evacuee to aid worker
Fighting left much of Marawi and its surrounding areas a no-go zone for aid workers. But help still trickled in, thanks in part to an army of volunteers from the city itself.
The violence uprooted the entire staff of Maradeca, a Marawi-based NGO. Salic Ibrahim, who heads the organisation, says they were faced with a simple choice: help their own community, or stand in line themselves to wait for food rations. They chose to help.
Their makeshift headquarters outside the city was an office during the day; at night, it became a shelter for Maradeca staff who had nowhere else to go.
Ibrahim recalls a volunteer who didn't show up for work one day. The volunteer broke down in tears when she explained why she was absent.
"We don't have anything to cook," she told him. "That's why we went out to look for food."
Duyog Marawi, a church-run NGO set up during the siege, works with 140 local volunteers displaced from Marawi. The benefits are obvious – the volunteers work with the very communities they come from.
But Rey Barnido, the group's executive director, says he also has a larger goal in mind: he believes the volunteers are the same types of people Islamist extremists would seek to recruit – young, marginalised, and frustrated.
Aisah Mamosaca works with Ecoweb based in nearby Iligan City. She says she understands what the evacuees are going through – because she is one herself.
"When you ask them what are their needs, they right away cry," she says. "And they say, 'you should not ask because we have the same experience and we have the same needs.'"
Mamosaca counts herself lucky – she has relatives to stay with in Iligan. But the city she calls home lies in rubble.
"I still haven't moved on from this," she says.
Rey Barnido is part of Marawi's Catholic minority and heads Duyog Marawi, a humanitarian organisation created by the local church during the siege.
"We do not need safety passes," Barnido says. "We are from the city. So we can go to those other areas where other NGOs do not enter."
Listen to Rey Barnido on access.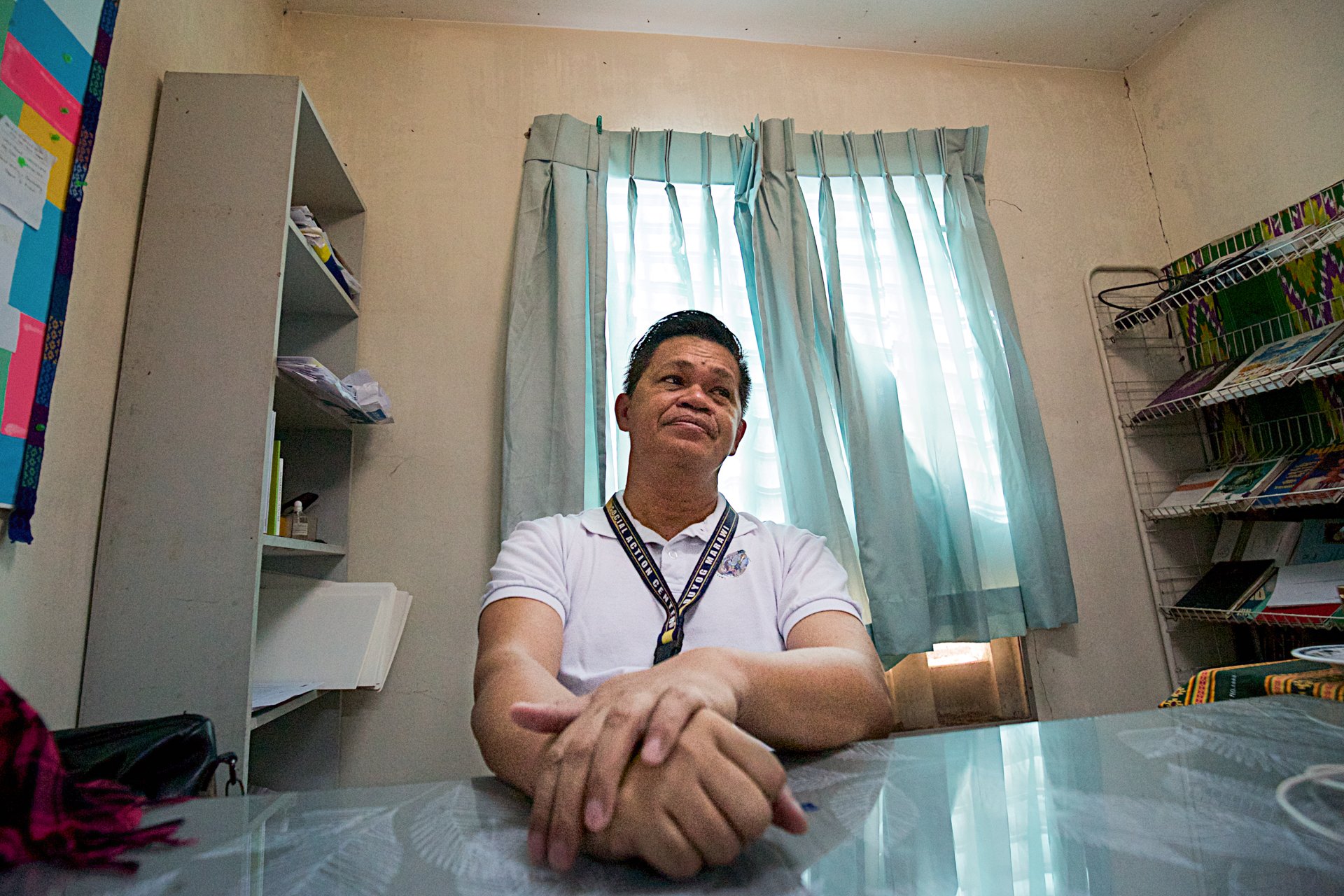 But this also exposes the glaring imbalances that permeate through the aid sector.
In a conflict zone like Marawi, locals took immense risks to deliver aid in areas off limits to international staff – without the substantial security budgets of the big NGOs. Local groups commonly see a fraction of international donor funding, which is mostly filtered through the UN and larger NGOs before it reaches the ground.
Barnido says two members of his organisation were killed early on in Marawi – one felled by a sniper's bullet, the other caught by an exploding bomb.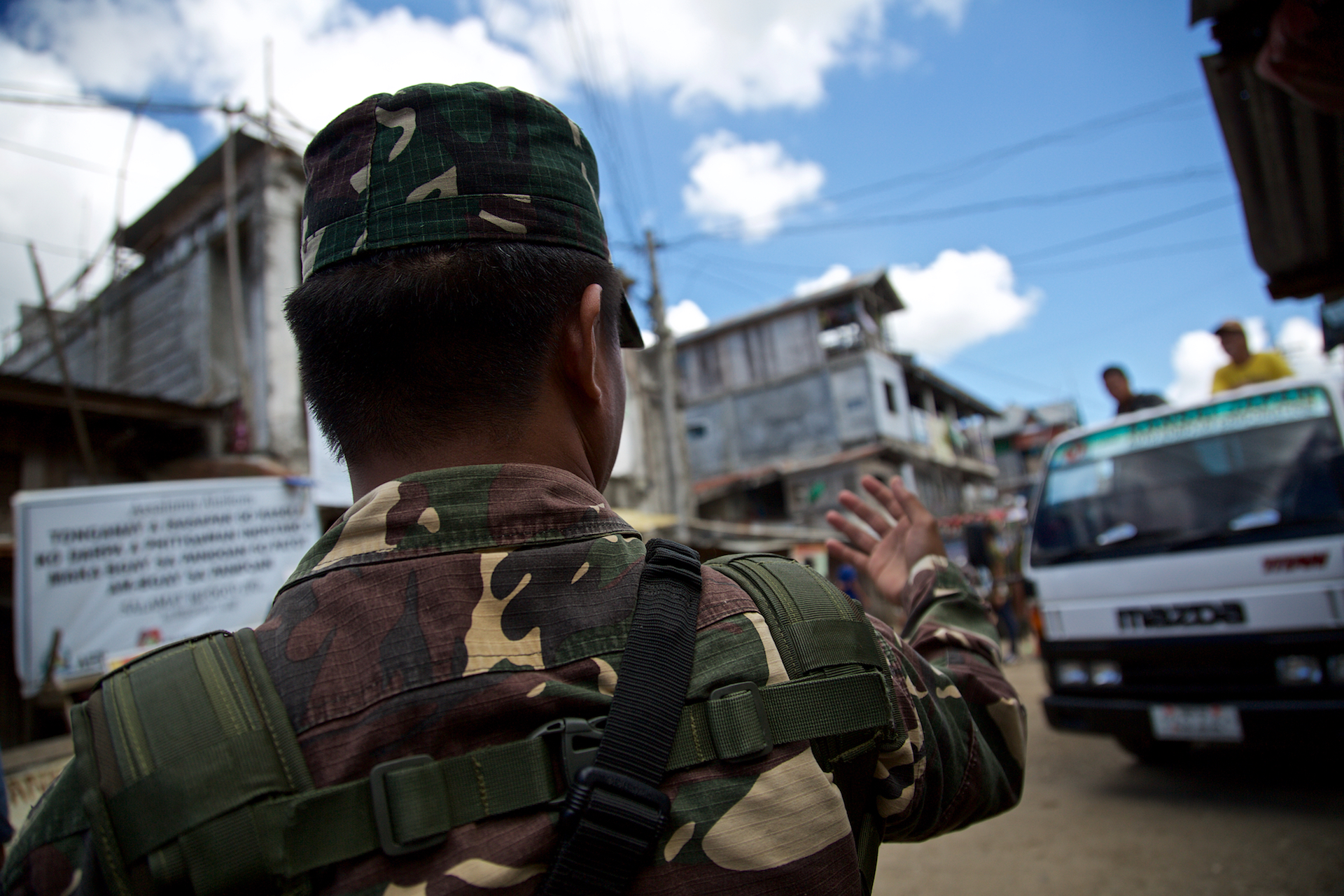 Ecoweb's Regina Antequisa says local volunteers and aid workers put themselves in danger without the luxury of even basic risk insurance.
"If we would really like to become better in our humanitarian response, I think there is this need to somehow adjust the balance," she says. "So at least the risk the locals are taking will be lessened, and the protection the internationals are getting for their staff can also be enjoyed by the locals. There is this imbalance as of now."
An uneasy peace and a 'ticking bomb'
Today, the guns are silent in Marawi; the Islamist militants who overran the city are dead or scattered. But the scars are everywhere: the urban core has been flattened to rubble, more than 69,000 civilians are still displaced, and local aid workers say the region teeters on the edge of violence.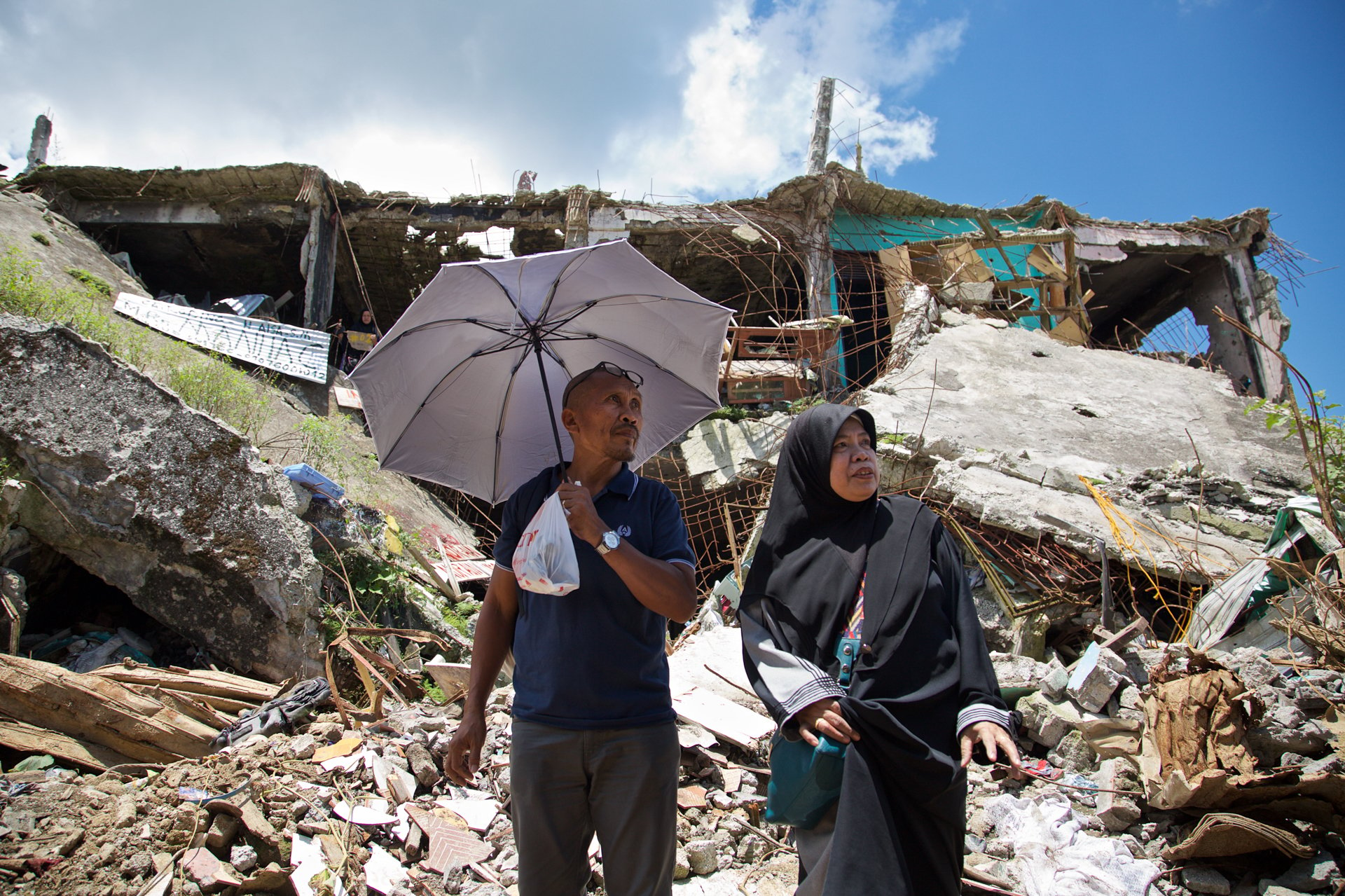 In July, Philippine President Rodrigo Duterte signed into law a long-awaited peace deal that would grant more autonomy to Muslim areas of Mindanao, including Marawi. But martial law still hangs over Mindanao, the government has been accused of not including Marawi's displaced in their rebuilding plans, and extremist militants are still active.
On 31 July, a truck bomb killed 10 on Basilan, off of mainland Mindanao; a military official blamed it on Abu Sayyaf, whose leader was killed in Marawi last year.
Local aid workers told IRIN that Islamist militants continue to recruit in nearby municipalities, though on a lesser scale than before the siege – a troubling sign given the shortage of jobs and education opportunities for Marawi youth after last year's violence, which destroyed at least 17 schools, says Duyog Marawi's Barnido.
"There was a whole population of young people who had nothing to do," Barnido says.
Listen to Rey Barnido on young people.
Families are returning to parts of Marawi, but the economy is at a standstill. Barnido fears the consequences of the continuing uncertainty.
"The grievance, the pain, and the anger are building out, which we are very much worried about," he says.
Drieza Lininding, a Marawi evacuee who heads the Moro Consensus Group, a local peacebuilding organisation, says the city remains a "ticking bomb".
"The civilians will be the ones who will suffer the most in any fighting or any conflict," Lininding says. "So if the government will not properly handle the issues on rehabilitation, this will explode in the future."
(Additional reporting by Irwin Loy)
wb/il/ag