The sun is burning at the Colombian border town of Cúcuta. Red Cross workers attend to people with dehydration and fatigue as hundreds of Venezuelans line up to have their passports stamped, covering their heads with clothing and cardboard to fashion what shade they can.
These are just the latest arrivals. By January, at least 550,000 Venezuelans were officially residing in Colombia, with nearly half arriving last year alone, according to Colombian officials. Most are fleeing  their country's economic meltdown – one of the world's largest migrations unassociated with conflict. The pace picked up in the last six months of 2017, with a 62 percent increase in the number of Venezuelans living in Colombia in the second half of that year compared to the first. And they keep coming.
Cúcuta's city centre is full of migrants sleeping on the streets. Most of them have no money. Beggars are everywhere. Underage girls prostitute themselves alongside the roads. Armed gangs, ELN guerrillas, and paramilitaries are said to be widely recruiting desperate Venezuelan youngsters.
Colombia isn't used to this. For more than half a century, the human tide went the other way – more than five million Colombians migrated to Venezuela to escape conflict among government forces, paramilitaries, crime syndicates, and guerrilla groups. Now, the tide has turned.
Jozef Merkx, country representative for UNHCR, the UN's refugee agency, worries that Colombia's hospitality is already at breaking point. He doesn't know what will happen if similar numbers of Venezuelans arrive over the next six months – a distinct possibility, especially as tensions may rise around Venezuela's 20 May presidential elections.
Colombian officials say that legal migration from Venezuela declined in February, after Colombian President Juan Manuel Santos announced that a valid passport or migratory card — which permits short-term visits to the border area and which Colombia has temporarily stopped issuing — are needed to cross the border, tightening what had been an often lax review of documents. Entries at seven migration checkpoints fell from 48,000 to 35,000 per day, officials say, although those numbers include people who buy goods and return to Venezuela as well as those who transit through Colombia. But analysts and observers say more migrants are now crossing at informal border points, or trochas, often controlled by illegal armed groups.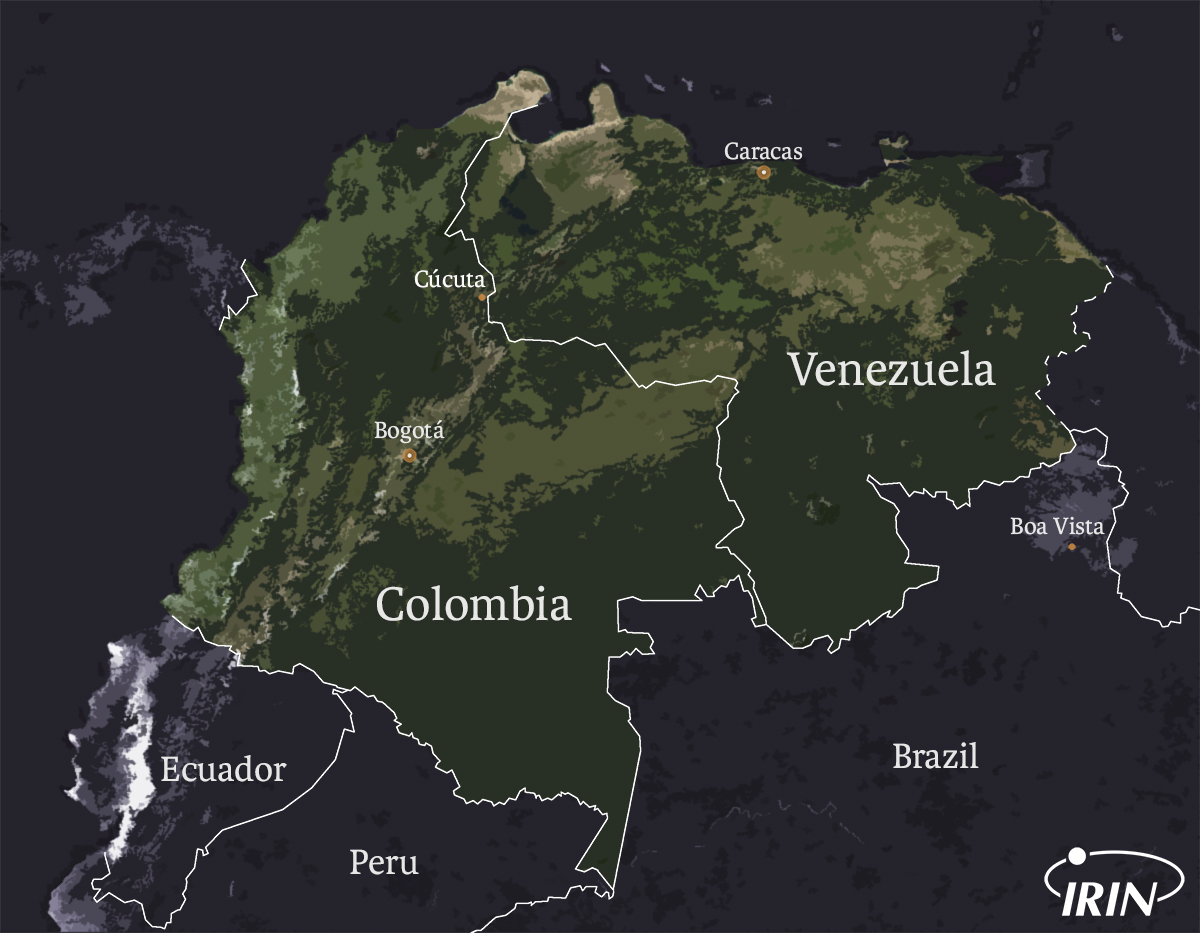 "Colombia is not prepared for what is happening now with Venezuela, and they have never gone through this," says Merkx. "Colombia is a refugee-producing country. Now, for the first time, it's a receiving country, and they are not ready."
The Colombian government has been drawing up emergency plans to cope with the influx of migrants, but concrete measures are still hard to identify. NGOs and charities as well as the UN and a few other international organizations provide assistance. The pace of arrivals is so great, though, that most Venezuelans fend largely for themselves, as a visit to Cúcuta in late February reveals.
A constant influx
On the Puente Internacional Simón Bolívar, the short bridge that is the main crossing point for Venezuelans into Colombia, the influx is continuous. Families dragging suitcases and pushing grandmothers in wheelchairs have an exhausted but relieved look on their faces as they cross.
José Luis has tears in his eyes. "I leave my wife and three children behind", says the 44-year-old carpenter, who declines to give his surname. Like many, he hopes that the last of his savings can take him somewhere he can find a job, turn his fortunes around, and start sending money back home.
Others are in worse shape.
"We haven't eaten for 24 hours so we can save some money", says a 27-year-old former teacher who asked to remain anonymous because she fears retaliation on family members back home. She left her five-year old behind with her father. Waiting in the queue at the Colombian migration office, she has around $10 to her name.
Hustling to get by
Colombia is a difficult place for Venezuelans to try their luck. Internal conflict has left more than seven million Colombians as internally displaced persons, without jobs or houses. That conflict includes decades of fighting among various left-wing guerrilla groups, right-wing paramilitary organizations and the Colombian National Army. Venezuelans must compete with the locally displaced on the formal and informal labour market. In Cúcuta, the 2017 unemployment rate was already 16 percent.
Many Venezuelans arrive solo con la ropa puesta — with only the clothes on their backs. People do what they can to get by.
"I buy hair, I buy hair!" a young Venezuelan man in a baseball cap, Julio César Romero, screams.
Women's hair for wigs can fetch anywhere between seven and 28 dollars, he explains, but the recent border restrictions have brought a decline in trade. "We used to have frequent clients", says the 18-year-old. "We cut the hair of 20, 30 girls a day."
A woman looks away. She doesn't want to answer questions. She just bought two large, black and recently cut ponytails.
The money women earn for their hair might be just enough for a bus ticket to a nearby destination. Bringing money from Venezuela is nearly useless, as the currency, the bolívar, has plummeted. The 2017 inflation rate in Venezuela is estimated to be more than 2,600 percent and is expected to rise above 8,000 percent this year.
The hair trade isn't the only recent entrepreneurial venture. Félix Martínez ran a tourist services company in Choroni, on the Caribbean Venezuelan coast, until last year. When tourists stopped visiting as a result of the crisis, the 34-year-old was unable to provide for his family. He arrived in Colombia five months ago.
"I'm selling tasty orange juice, from Venezuelan oranges and with a lot of vitamin C", he announces. "Most people love it!" If Martínez had the money to buy supplies, he would also like to sell piña coladas. He is not much of a complainer, though: He is sending money to his three children, wife, and father back in Venezuela.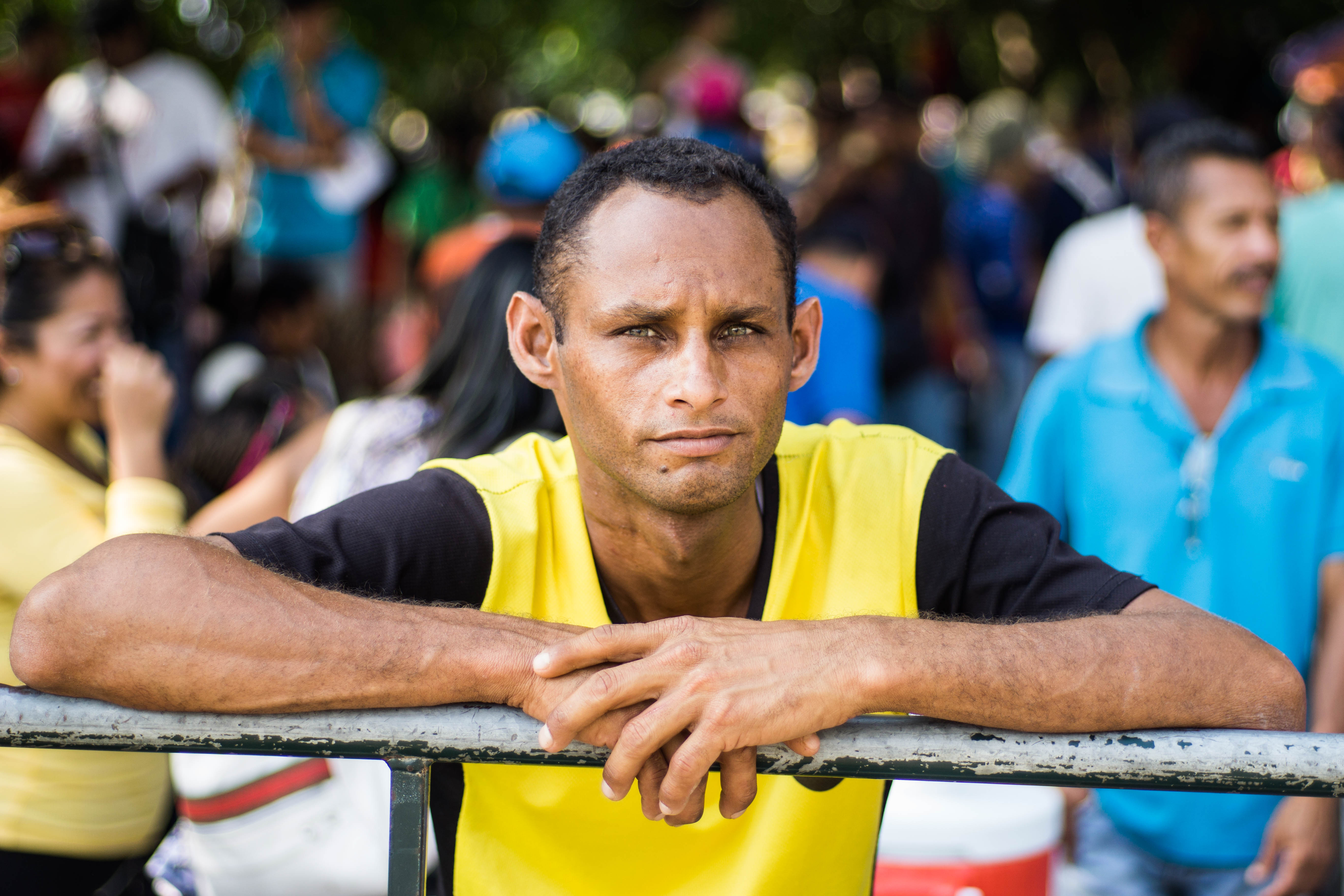 He earns about $35 a week and sends around $10 to his family. Martínez would like to find other opportunities, maybe in Ecuador or Peru. If Venezuela changes, he hopes to return. "To go back right now, I would go back as a defeated person", he says. "It will be the same, and that is not what we want."
"Open-air hotels"
The shelter run by the Catholic Church is completely full, and a second one managed by the local Red Cross and the Colombian foreign ministry is available only to Venezuelans with valid passports — which many recent arrivals lack. Venezuelans say access to new passports is difficult, with officials often asking for bribes or citing a shortage of materials to produce the documents.
Finding shelter has become a cat-and-mouse game among police officers, criminals, and migrants. When migrants began occupying sports fields near the central bus station, gangs saw an opportunity to charge fees for the use of the space. The makeshift camp, nicknamed "Hotel Caracas", was evacuated by the police, who deported about 130 people. Most of the migrants moved to other "open-air hotels." But wherever they settle in large numbers, the police usually arrive sooner or later to evict them, displacing them somewhere else.
Several Venezuelans interviewed for this article, while stressing their appreciation for help offered by Colombian citizens, also complained about hostile encounters with local people who fear for their jobs and worry about increased crime.
A new UNHCR campaign, "Somos Panas" – "We are friends" in Venezuelan slang — aims to counter fears of growing xenophobia.
A large refugee camp would not be a sustainable solution and can only be considered as a "last resort", says Merkx of the UNHCR. Refugee camps are intended as temporary solutions, he explains, but often turn into settlements while long-term solutions for the residents remain unaddressed. He also worries that camps may trigger a rise in migration.
Still, he emphasizes that solutions are urgently needed. "The border should stay open, one way or another, for the persons that flee from Venezuela", he says.
A surgeon, now sleeping on the street
Every day around lunchtime, nuns from the Diocesan Food Bank of Cúcuta hand out food to people living on the streets. Venezuelans fill the queues. Among them is Oswaldo López, a surgeon from Caracas who is in his late 40s.
"I studied 14 years for my career", he says, waiting for a fruit juice and a small portion of rice and beans. Eventually, López's income was not enough to provide for his family. Now, he sleeps rough on the streets of Cúcuta. The money he took with him, $35, was stolen at the border.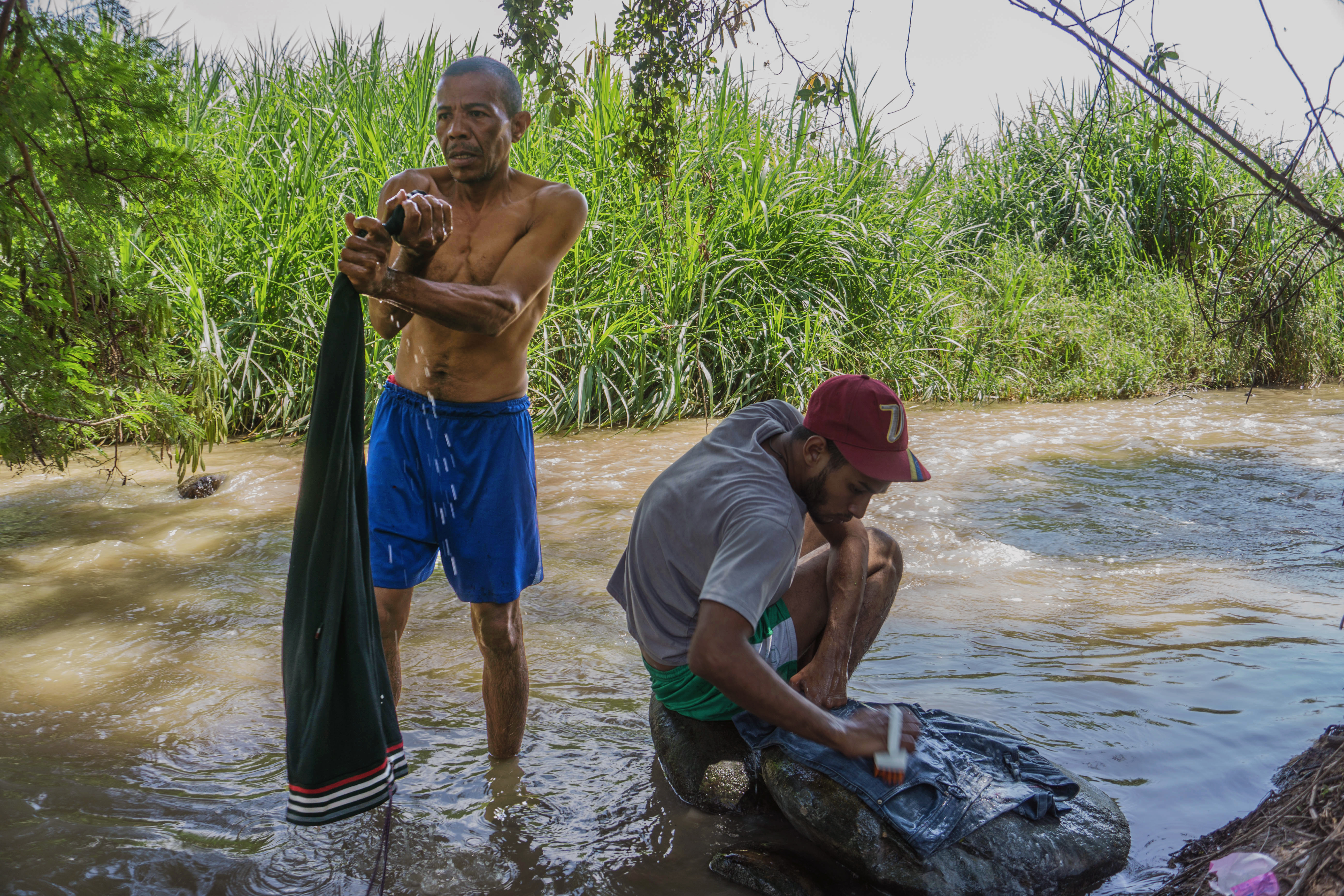 In the same queue stands Jhonny Castro from Barquisimeto, the capital of Venezuela's Lara state. He studied business administration, is father to a six-year-old, and says he watched his grandmother die from a lack of medication and his 23-year-old nephew succumb to tuberculosis, a disease easily treated in Colombia. He receives his meal and walks to the Pamplonita River in the centre of the city with a few other migrants he has befriended.
As Castro sits on a stone at the riverbank, his friends enter the dirty water to wash the clothes they are wearing. "We wash ourselves in the river because the water in Cúcuta is too expensive", says one, Yorman Alvarado, a 40-year-old father of three who worked in the Venezuelan military. He now does odd jobs as a welder.
As he eats, Castro explains that because he is undocumented he cannot get a formal job.  Instead, he looks for garbage to recycle, earning 20 cents a kilo for plastic and 10 cents for cardboard. A kilo of aluminium soda cans, though, brings 77 cents. On a good day, he can earn $1.50.
Nearby, three young cousins from Venezuela's third largest city, Valencia, have done well today. Over two days, they've gathered 20 kilos of cardboard, 15 kilos of scrap metal, and two of aluminium. This has bought enough food to last a few days. Firewood can be found easily, they say. The only problem: they have no pan to cook the food in.
be/ag/js
Find more IRIN coverage of Venezuela
Venezuela needs sane governance, not aid
Trash economics: surviving Venezuela's downfall
Venezuelan voices: The real-life stories beyond the protests