Ayeshah was just 14 when her father went missing in 2005, never to be seen again. He was a relative of Gambian autocrat Yahya Jammeh, but he had made the fatal mistake of telling the president "what he was doing to people was wrong," Ayeshah told IRIN.
When her aunt tried to search for her brother, she too "disappeared". The family learnt much later on, from listening to a dissident radio broadcast, that they had both been killed. They believe the murders were carried out on Jammeh's command, by his assassin team known as the Jungulars.
Her father, Haruna, was Jammeh's cousin and had been working as a farm manager on the then-president's sprawling estate in his home village, Kanilai. "My father was more like an older brother to Jammeh. People warned him not to work for him, but he believed his own blood would not harm him," Ayeshah said.
"I had to say my dad had travelled [many Gambians take the 'back way' out to Europe]," she added. "The only thing I want now is for Jammeh to face justice. I want him to stand up in court before all the people he has harmed."
Since Jammeh was forced into exile in Equatorial Guinea a year ago, the victims of his brutal rule have been driving the demand for justice.
Ayeshah is just one of many who feels she and her family will only get a sense of closure for their ordeal when the former dictator is tried and prosecuted.
In October, an umbrella group of victims joined forces with national and international human rights organisations to form the "Jammeh2Justice" coalition, with the goal of bringing Jammeh and his accomplices to account for the human rights violations perpetrated under his 22-year regime.
Lessons learnt
The Jammeh2Justice coalition is following the lead of the successful prosecution in Senegal of the former Chadian dictator Hissène Habré for crimes against humanity in 2016.
To learn how they managed it, members of the Gambia Centre for Victims of Human Rights Violations met with the Chadian victims that led that campaign.
"This meeting was so important to the Gambia victims," said Ayeshah. "When those people came, it gave us confidence. They said 'No matter how long and how hard you have to fight, you will get justice'."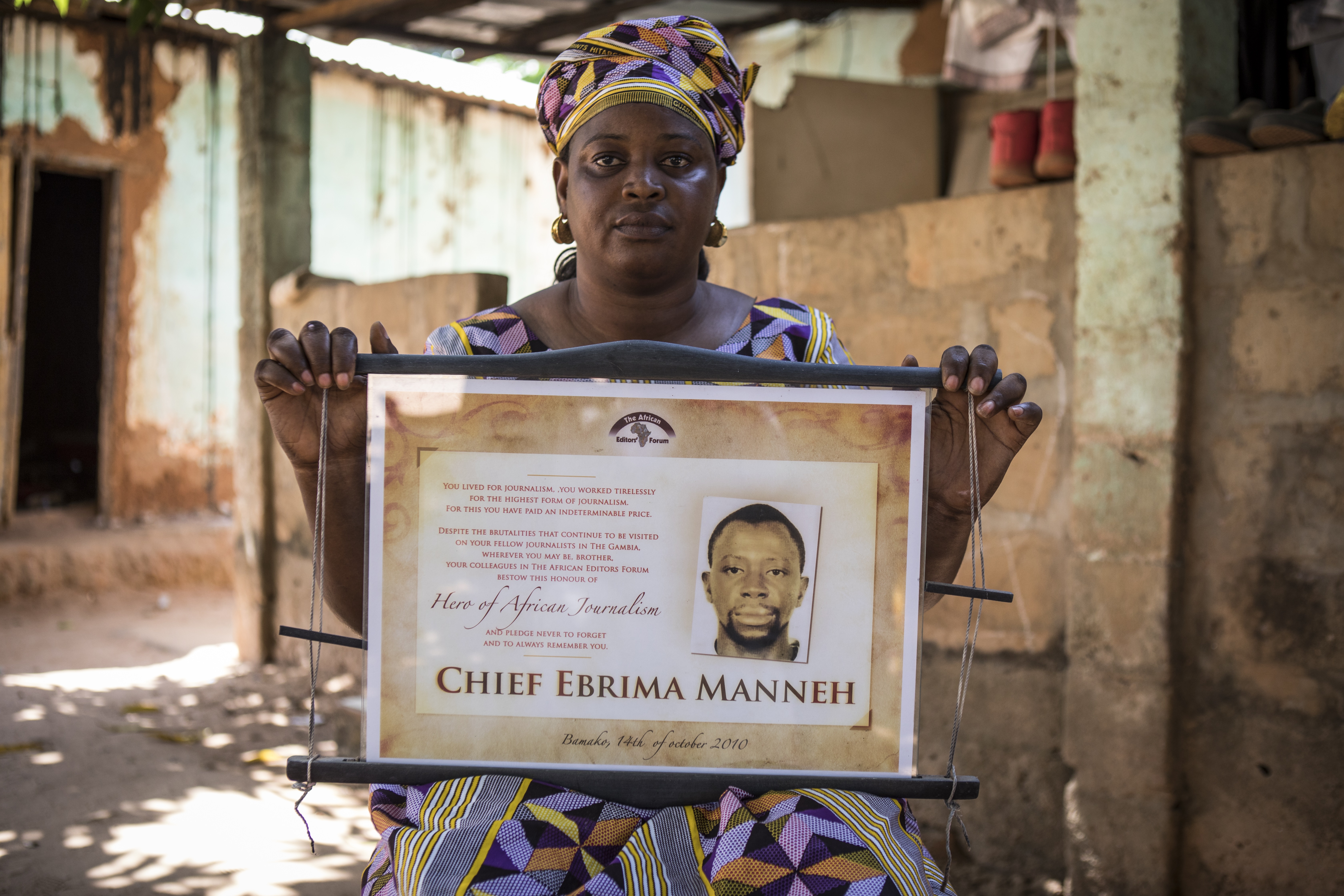 The April 2017 meeting was convened by human rights lawyer Reed Brody, who worked with the Chadian victims for 18 years to help bring Habré to trial.
Brody is now working with the Gambian victims on behalf of Human Rights Watch, adopting the same painstaking approach that eventually led to Habré's conviction, albeit, he hopes, in a much shorter timeframe.
"We start from a very different place; we start with the lessons learned," he told IRIN from his home in New York.
"One of the most important lessons is that you have to tell the victims' stories and put them at the centre; you talk about people who were killed and tortured rather than this abstract idea of prosecuting a dictator."
Since leaving The Gambia on 21 January last year following his electoral defeat and a military intervention by West African countries to enforce the result, Jammeh has been a guest of Equatorial Guinea's strongman President Teodoro Obiang.
Brody hopes to generate a groundswell of international support that will put enough pressure on Obiang to give Jammeh up for extradition.
In an interview with Radio France Internationale broadcast last week, Obiang – in power for 38 years – refused to be drawn on the question of surrendering Jammeh to an African court, replying simply: "if there is a request, I will analyse it with my lawyers".
The other prong to Brody's work is to build up the legal case against Jammeh, to show direct responsibility for crimes. In the Habré case, the discovery of police files containing the dictator's handwriting was key evidence.
"Victims are coming forward, as well as people who served in the security forces, both within and outside of Gambia," said Brody. "We are getting a lot of information about what went on inside, and [about] Jammeh's personal involvement."
Not ready for Jammeh?
But it is widely agreed that The Gambia is not yet ready for Jammeh to be extradited at this point, as recent clashes between pro-Jammeh supporters and political activists have highlighted. Holding a trial in a neighbouring country is also an option the coalition is examining.
Amnesty International supports the coalition's aims, but believes the Jammeh2Justice campaign should not distract from the broader work on truth-seeking and transitional justice that is needed in The Gambia.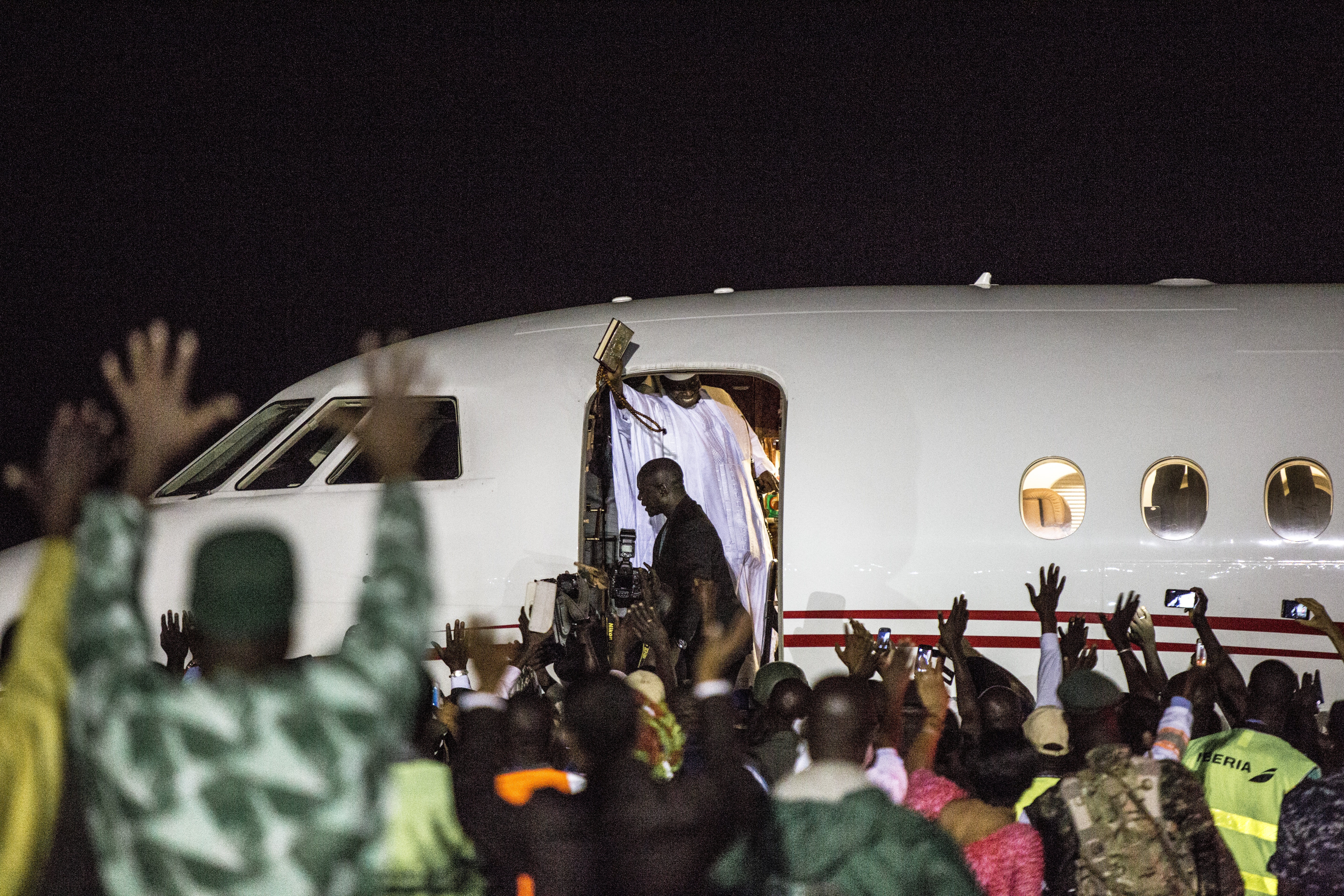 "It is important to have accountability, but this should not just be focused on Jammeh, but also those who are suspected of committing crimes under international law," said West Africa researcher Sabrina Mahtani.
"The forthcoming Truth, Reconciliation and Reparations Commission will be an important opportunity to look into the underlying causes of human rights violations," she added. "Further reform of institutions, such as the security services, is necessary for long-term change."
The proposed 11-person truth commission will hear the cases of victims and decide on reparations. It had been timetabled by Justice Minister Aboubacar Tambadou to launch last year but is now expected to begin in a few months' time, once commissioners have been appointed.
"Now it is about making sure the commission sits as soon as possible," said Gaye Sowe, executive director of the Banjul-based Institute for Human Rights and Development in Africa.
But Sowe, a human rights lawyer, acknowledged that the government is experiencing "very big capacity gaps" that makes it impossible to do all the transitional justice work on its own.
"This is why the interventions of the victims' centre and the campaign to bring Jammeh to justice are extremely important," he added.
See IRIN's film on the trial of Hissène Habré: The Gravedigger and the President
Tracing the disappeared
At present, many victims feel left in the dark about what has happened to their loved ones, the so-called "disappeared".
The Mannehs, for example, were only officially informed last January that their son, Ebrima Manneh, had been killed. He was a young journalist imprisoned in 2006 for a story he had written about the presidential term limit.
"We know the murder has been reported to the police headquarters and it is under investigation, and I go there to see how far, but still there is no information about him," his sister, Adama Manneh, also a policewoman, told IRIN.
The Gambia Centre for Victims of Human Rights Violations has quickly evolved over the past year from a small support group to a larger lobbying organisation for victims' voices to be heard.
Priscilla Ciesay, acting executive director, said victims were being encouraged to register and tell their experiences "so that they can be part of the history-making of the country".
Fighting impunity
So far, close to 1,000 victims have registered, and the centre has documented their experiences and hopes for justice and reparations. Ciesay wants the government to see the centre as a lynchpin for the work of the truth commission.
"We have a wealth of information which could be extremely useful to the commission so that they are not starting over from scratch," she told IRIN.
For now, it appears that the government doesn't see the prosecution of Jammeh as a priority, but it is aware that this is the ultimate wish of the majority of victims.
"There will be so much evidence from the truth commission that it will make a mockery of every process if, after that, the government does nothing to prosecute Jammeh," said Ciesay, adding: "The stories of the victims are so harrowing that something has to be done to address impunity."
lh/oa/ag
TOP PHOTO: Gambia's notorious Mile 2 prison where Jammeh's opponents were detained