One fifth of the entire population of Dominica has left the island in the month since Hurricane Maria, IRIN has learned. The Caribbean Disaster Emergency Management Agency gave IRIN an informal estimate of the exodus: 15,000 to 20,000 people of the total 73,000 living on the island. A ferry operator reported 300 departures daily, but said most passengers bought a return ticket. Some however, faced with overwhelming loss and despair, plan never to return.
"I've had enough of the stress and sadness… I don't think I'll come back," says Aritha Del Sol, as she waits for the ferry to St. Lucia at the dock of Dominica's capital, Roseau, just a few bags by her side.
Del Sol never thought she would leave her home island. When Tropical Storm Erika damaged her house in 2015, the 25-year-old accountant and her husband worked for weeks to pay off the repairs. But last month she didn't just lose her roof, she was also made redundant in a wave of sweeping post-hurricane layoffs as businesses countrywide shut up shop.
The queues are long and moving at a crawl. Tension sporadically flares in the early morning heat between passengers and the soldiers from St. Vincent and Barbados standing guard at the ticket and immigration desk.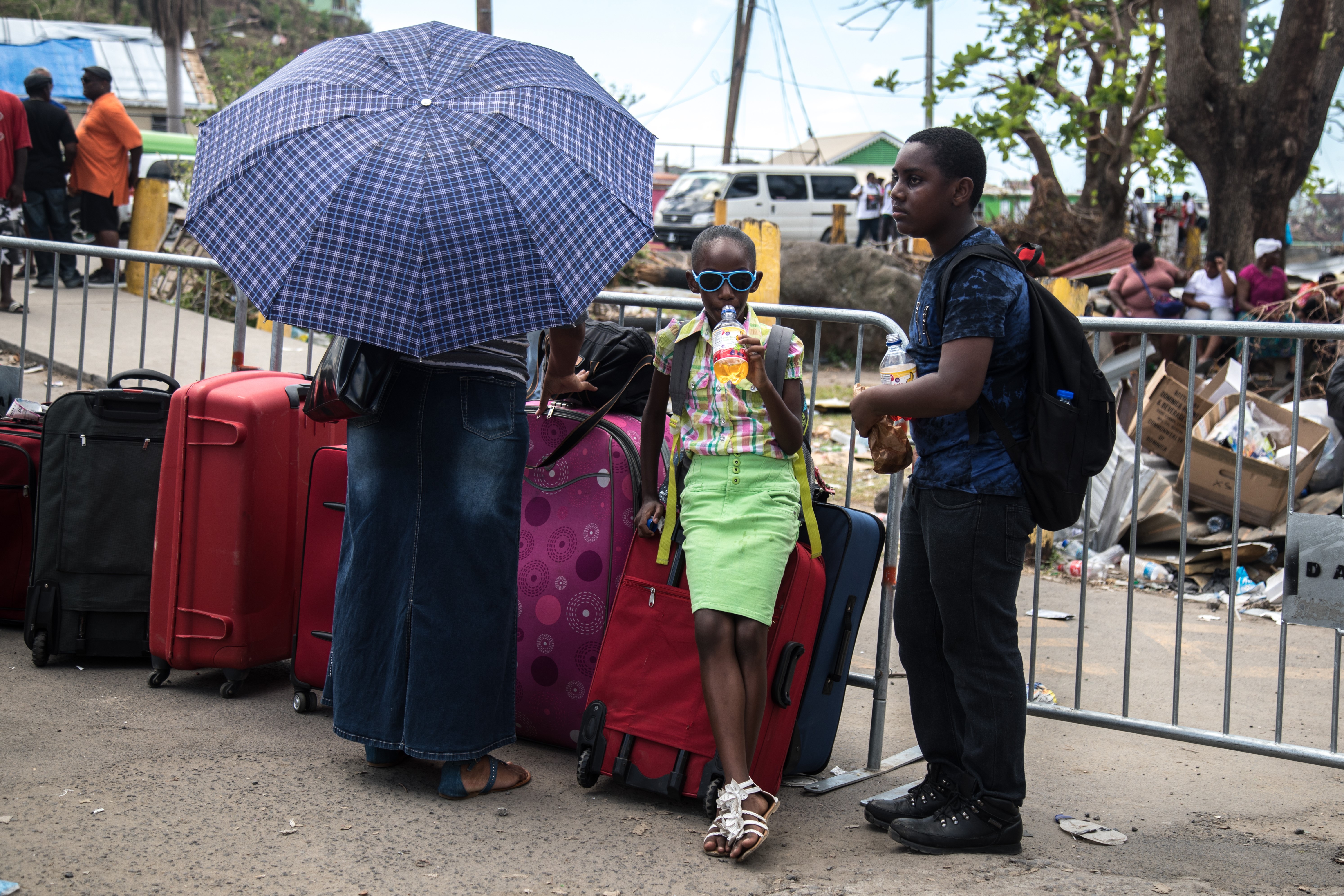 The travellers in waiting seek shelter from the unrelenting sun under colourful umbrellas; even shade is in short supply.
Del Sol and her husband have agreed that he'll join her in nearby St. Lucia once she finds a job and can rent a house. For now, she'll stay with family.
The decision to go away is made easier due to the strong Dominican diaspora in the region. Families have migrated for work and shelter around member nations of the Organisation of Eastern Caribbean States, which allows for free movement of labour during times of peace and crisis. Often, particularly with European overseas territories such as Guadeloupe, which harbours a large Dominican community, doing so in an undocumented and informal manner. Dominica in turn has hosted displaced people from other storm-struck islands in the past.
Non-stop departures
The majority of Dominicans taking to the sea are thought to be leaving only temporarily, either for a break from the chaos or on a mission for supplies.
Since Maria, the 300 ferry tickets have been completely sold out on all departures. The ferry's circuit starts in Guadeloupe, reaching Roseau mid-morning, followed by Martinique and ending in St. Lucia. Employees at the ferry company, L'Express Des Iles, however, estimate that only 15-20 percent leave without a return ticket.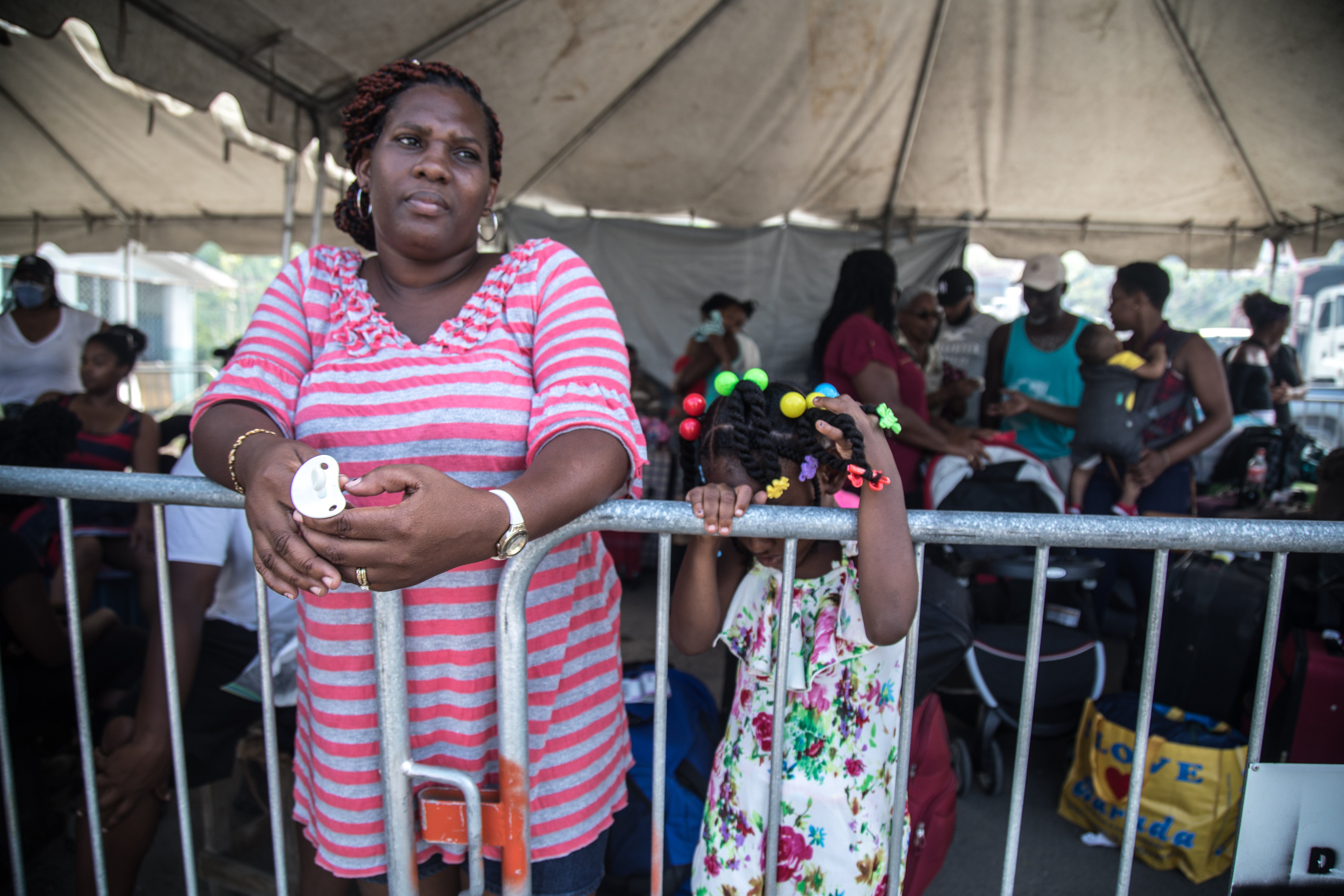 "I'll be back in one month. I just need some time off," says Kereta Sandy, a 34-year-old mother of two. She's waiting for the ferry with her three sisters and their children. They'll go and stay with family in St. Lucia for now. One swaddles an exhausted toddler, saying she's struggled to find enough milk and sugar for her kids.
The Sandy sisters also fear the slower-moving consequences of Maria. In their village of Newtown, diarrhoea is spreading quickly; likely due to shortages in clean water forcing people to use the creeks for drinking and cooking.
The ferry is the main route out. Caribbean telecom provider Digicel has evacuated at least 50 individuals via helicopter. Regional airline LIAT has flown people out for emergency reasons but commercial services have not restarted as Dominica's current state of emergency is only prioritising relief flights.
Numbers of arrivals on other islands are patchy. For example, according to figures released by Antigua and Barbuda's National Office of Disaster Services, the twin island nation has received 1,600 Dominicans since Maria struck, even while they deal with their own crisis in Barbuda.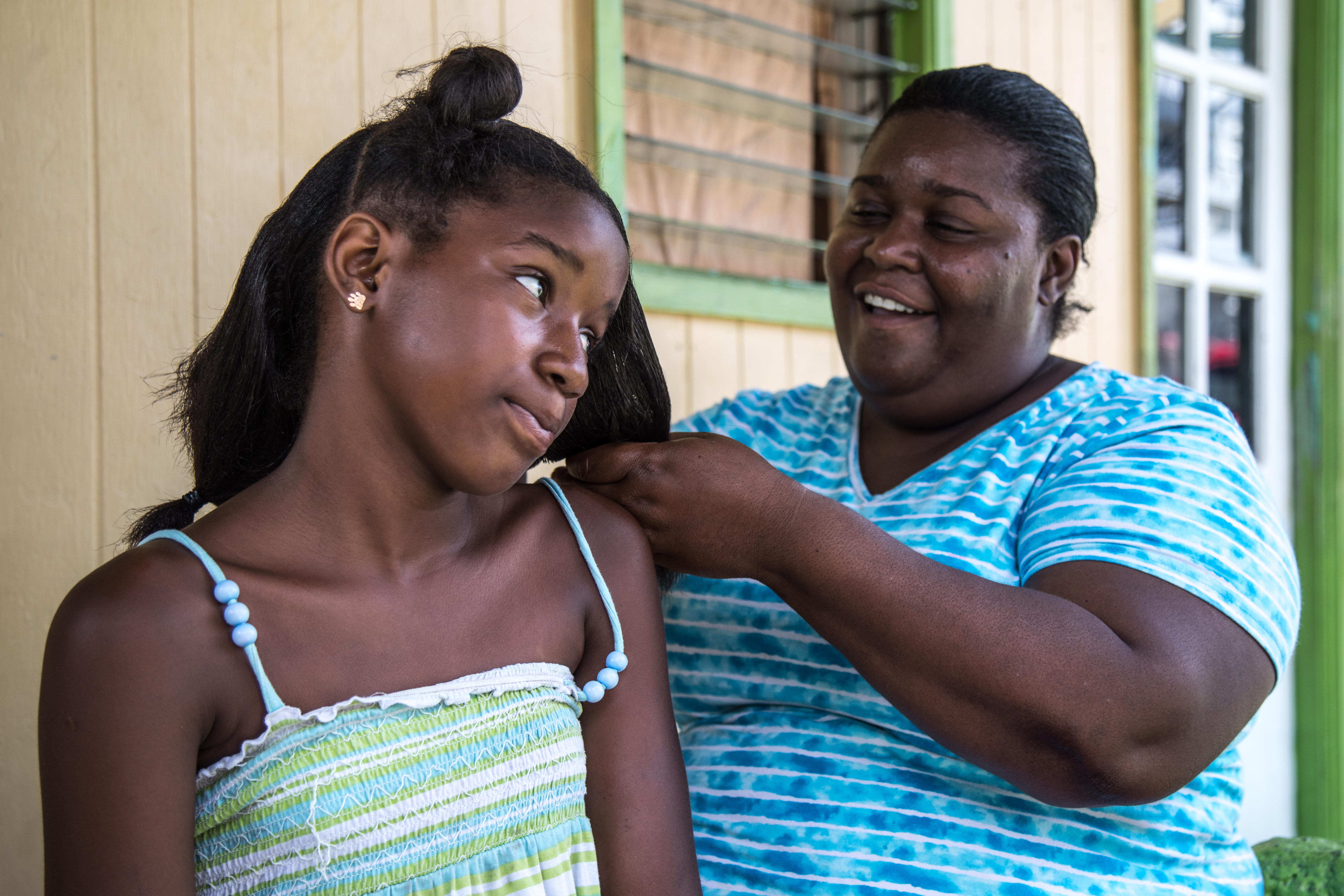 Staying
Not all Dominicans affected by the hurricane are thinking of leaving, even those whose houses are uninhabitable. At least 2,832 people are currently in government buildings used as shelters. But most Dominicans whose houses were severely damaged have relocated to the homes of family and friends. The total number of those internally displaced remains impossible to calculate so soon after the storm.
On the streets of Roseau, many who've stayed are growing frustrated with those who departed. "I'm angry and disappointed. Who'll fix the country if the young and the strong all leave?" asks Thiona Joseph, a 42-year-old high school teacher. Flanked by her daughters and aunties, she explains that 40 of her 180 students have left already. She claims that students in more affluent areas of the country have done the same, and in higher numbers.
A short trip abroad due to genuine motives such as sickness or pregnancy, Joseph can understand and even encourages. But her eyes well up as she expresses her bitterness about those who don't have valid reasons to go: "A former student of mine asked me on Facebook why he should stay when it's so depressing here. He said he'd be back when we have internet and showers again. It provoked me. I told him a true Dominican shouldn't quit when things get tough."
Her nephew, Tristan Lewis, is a living example of the resilience his aunt extolls. He lost his father to Erika just two years ago, forcing him into the breadwinner role for his siblings and widowed mother. Now he's making the conscious decision to stay to rebuild, despite losing a home and belongings for a second time in Hurricane Maria.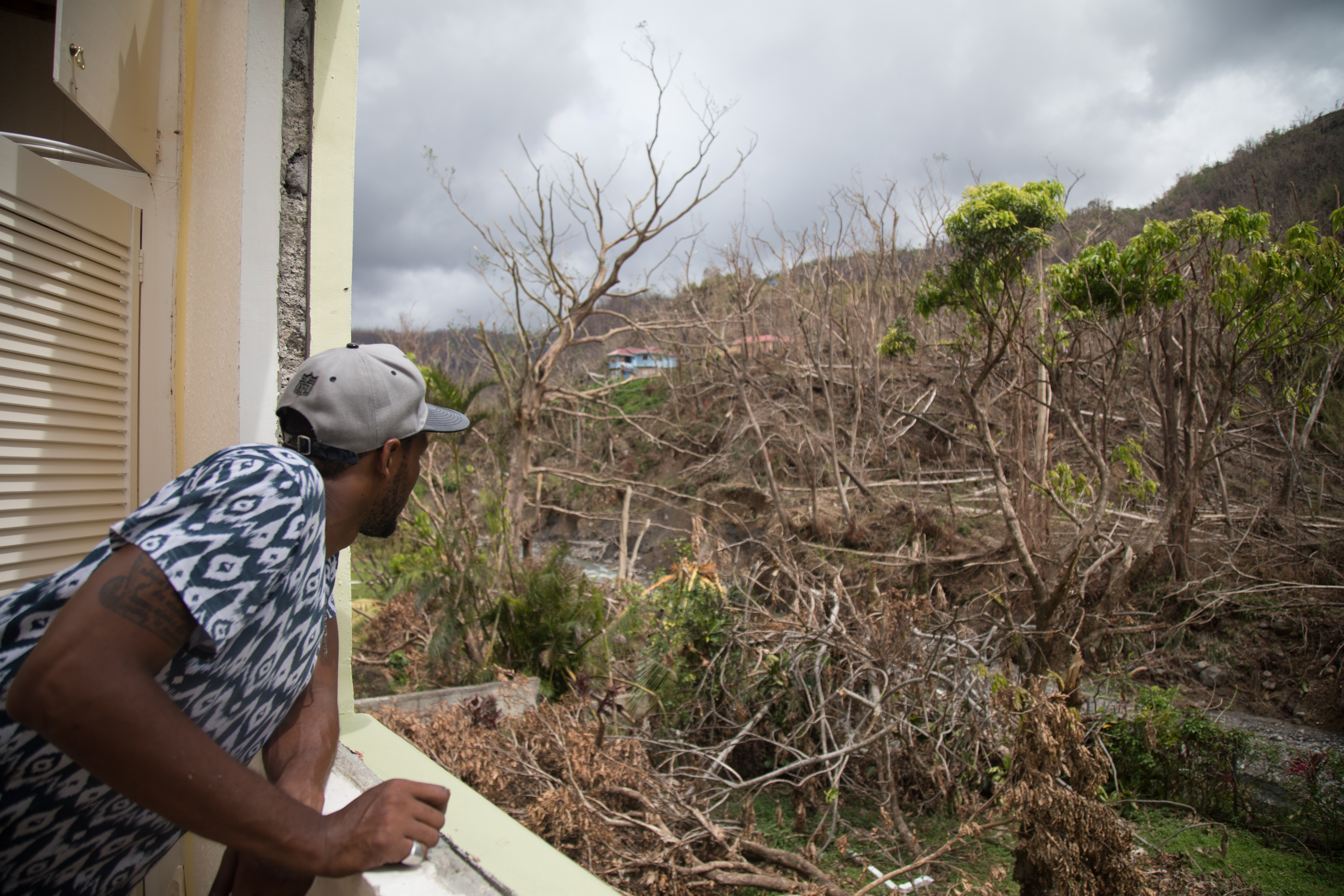 "My country needs me," explains the 28-year old longshoreman, speaking in the water-logged ruins of his home. Before Maria, he'd just about managed to get back on his feet again, to a basic pre-Erika standard of living. Now, he's back to square one.
"But," he hesitates before continuing: "if these monster storms come back year after year, I'm not sure anyone anywhere could stand it." For now Lewis, like his aunt, is determined not to abandon Dominica: "If all of us leave, then we won't ever rebuild and the country will stay mashed up."
mbh-ta/bp/ag