Ahead of World Humanitarian Day on 19 August, take a look at some highlights of our recent coverage related to this year's #NotATarget theme, which aims to bring attention to the thousands of aid workers and millions of civilians caught in the crossfire of conflict.
Red Cross killings in Afghanistan reveal the limits of aid access

In February 2017, six staff members of the International Committee of the Red Cross (ICRC) were killed in Jawzjan, Afghanistan. The attack echoed an earlier incident in 1996 that led aid agencies and NGOs to get more serious about security risks and staff protection.

Dangers remain however, especially for those working in crises where they can be labelled as proxies for the enemy or foreign forces. The Jawzjan murders were deeply demoralising because the ICRC, of all humanitarian organisations, dedicates significant resources to access, outreach, and ensuring acceptance by all sides in any conflict.

In this instructive commentary, security analyst Abby Stoddard argues that while it's important for NGOs to secure their own staff and operations, it's vital they do so without simply transferring those risks onto local partners.

 
Time to confront sexual abuse and harassment in the aid sector

As we reflect on the dangers facing aid workers this World Humanitarian Day, harassment and abuse cannot be overlooked. Women in the sector are too often subjected to sexual harassment from colleagues and superiors. They may also fear professional repercussions if they come forward, lacking trust in the system and options for accountability.

The Humanitarian Women's Network conducted a survey of more than 1,000 female aid workers and found that 69 percent of respondents had experienced discrimination, harassment, or abuse and did not report it. Additionally, the study suggested that female foreign aid workers are subjected to increased risk in the communities where they work, as seen with the aid workers raped in South Sudan.

When working in troubled countries and precarious situations, local law enforcement is sometimes not a safe or realistic option to report to, and so accountability is difficult.

As aid work continues to professionalise, policies and protections around sexual abuse and harassment remain critical, both in the wider community and within organisations themselves. Unfortunately, Report the Abuse, one of the few organisations dedicated solely to exposing and improving sexual violence crimes against humanitarians, is set to close shop for a lack of funding (certainly, not a lack of need).
Local aid workers on the front line of South Sudan's civil war
Worldwide, about 80 percent of aid personnel killed, kidnapped, and seriously wounded are locals working for organisations within their own country. South Sudan is no exception and, since the start of its civil war in 2013, has ranked as one of the deadliest countries for humanitarian workers.
This feature from regular IRIN contributor Sofia Barbarani exposes how in a civil war drawn largely on ethnic lines, local humanitarians are never entirely safe from being accused of allegiance to their own ethnicity. National NGOs also find donors are reluctant to give to them directly and can face accusations from both sides of bias and/or affiliation.
International NGOs don't have it easy by any means, but they are better placed to evacuate and protect their employees. Local NGOs can never leave.
Buddhist aid workers face backlash for helping Myanmar's Rohingya Muslims

In Myanmar, tensions and violence between the Rakhine Buddhists and the Rohingya Muslims erupted in 2012, displacing some 140,000 people. Most of the displaced remain in camps today – almost all of them Rohingya. They continue to live in an apartheid-like state and are largely denied citizenship by a government that fails to acknowledge or address their plight.

As part of our in-depth coverage of the denied oppression of Myanmar's Rohingya, IRIN contributor Joe Freeman explored the tricky dilemma facing Buddhist aid workers in the country. After the breakout of violence, international aid agencies came in and sought local staff. The work was seen as well-paid and interesting and drew many Rakhine Buddhists applicants and hires. The Rakhine aid workers must weigh their options between salaries double what they could earn elsewhere and being seen potentially as a traitor. Often, they choose to take the money but remain quiet in their community about the work they do.
Disturbing civilian death trends in Iraq-Syria air war

In June and July of 2017, an estimated minimum of 895 civilians were killed by US-led international coalition airstrikes fighting the so-called Islamic State in Iraq and Syria. Ordinary Iraqis and Syrians face a spiralling death toll, on a dramatic rise this year. Increasingly, whole families are victims, and civilians are often fatally struck as they attempt to flee.

In this fascinating insider's view, Alex Hopkins, an online researcher at Airwars responsible for archiving official military reports of the war and assessing the strikes examines whether the spike in casualties is the result of US President Trump taking office. After all, one of Trump's campaign promises was to "bomb the shit out of ISIS". Airwars found that more civilians are dying in Raqqa even when fewer targets are hit, reinforcing its theory that the rules of engagement have changed with the new US administration. The Aid Worker Security Report 2017 found that US and Russian airstrikes in Syria and state-sponsored violence in South Sudan contributed to state actors being the largest perpetrators of aid worker deaths.
More resources:
Aid Worker Security Report 2017

This study features the widest set of data about attacks on aid workers. It finds South Sudan to have the highest number of aid worker attacks followed by Afghanistan, Syria, the Democratic Republic of Congo, Somalia, and Yemen. Measuring by body count alone, state actors are responsible for the highest number of aid workers killed, largely because of Russian and US airstrikes in Syria, and violence in South Sudan. However, most attacks are from "national-level" non-state armed groups seeking to consolidate their power.

Humanitarian Access in a Changing World

The European Interagency Security Forum, EISF, has released a detailed report on security risk management matters and the future. Amongst the issues raised are access to populations in need, the transfer of risk to local partners, the impact of climate change and the shift of aid work to urban areas, and the stifling effect of some counter-terrorism measures on aid access.

Humanitarian Access Overview Map

For 2017's World Humanitarian Day, ACAPS has created a map that shows the 39 worst countries for humanitarian access constraints. They use nine indicators as proxies for measurements of violence against personnel, denial of needs, and active hostilities.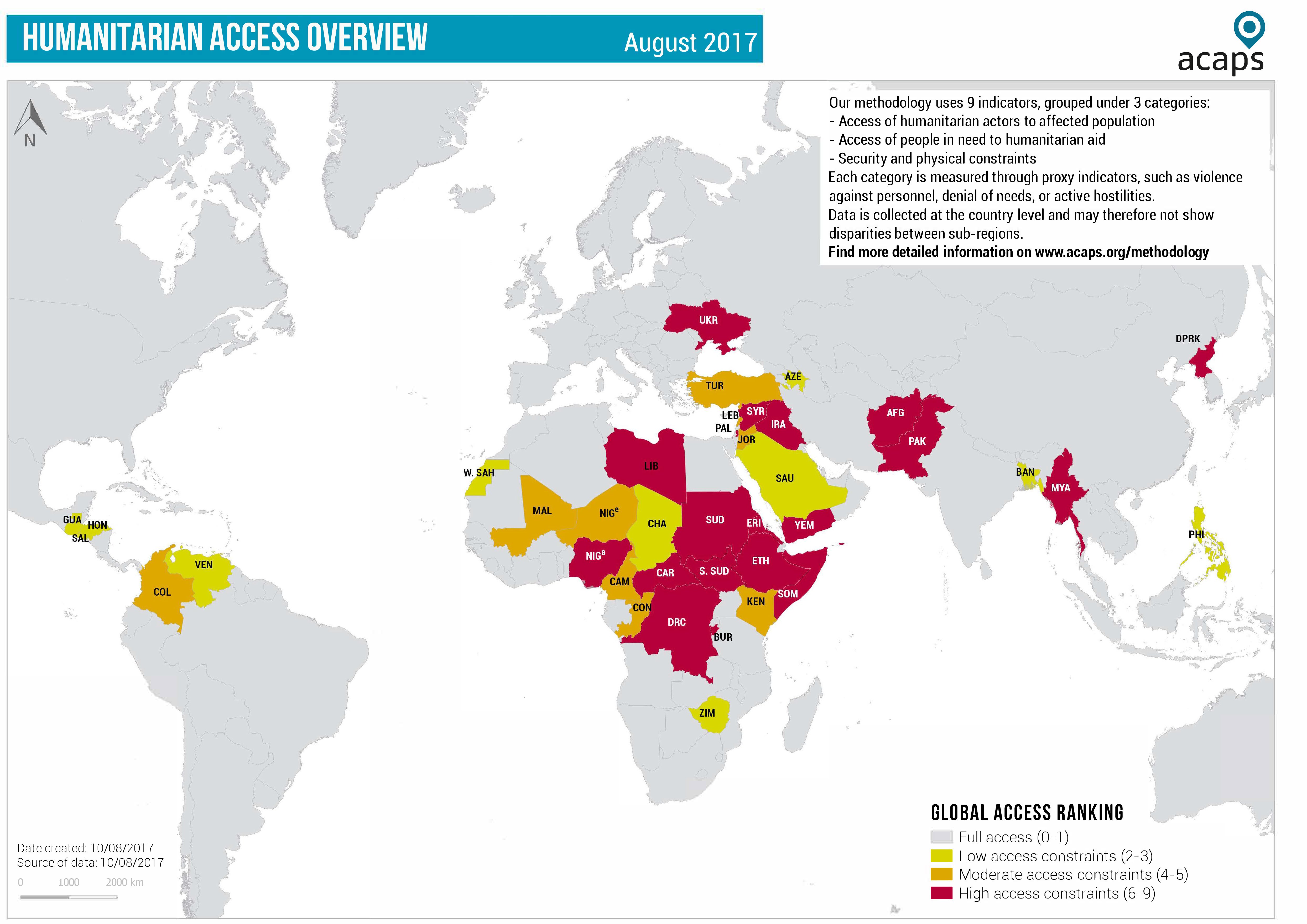 wp/bp/ag