Livestock is so central to the economy, food, and status of pastoralists in Kenya's northern drylands that formal education has traditionally taken second place to the role children play in tending to cows, goats, and sheep.
But with climate change increasingly seen as imperiling livelihoods, many pastoralists are now taking the longer view and regard education as a sort of insurance policy. And yet the severity of the current drought affecting much of east Africa, coupled with a long interruption in the provision of free meals, has led to a drop in school attendance.
"The drought has become too harsh," said Atiir Lokwawi, a 42-year-old mother who lives in the village of Kalokutanyang, in Kenya's Turkana County. "Animals are dying in huge numbers. We restock, but before we stabilise, drought comes and takes away our investment."
Lokwawi's husband travelled to Uganda to graze most of the family's herd. Of the 40 goats he left behind, 35 have died because of the drought.
"It is good if at least one child goes to school," said Lokwawi. "Educating our children is also another way to earn money – animals alone cannot help us survive," she said, explaining that of her seven children, only one, a 15-year-old girl, is currently attending school.
"It will take time for our children to go to school and get jobs, but at least there is hope that, someday, someone will be there for us."
To help make ends meet, Lokwawi makes charcoal and attends evening classes at a local mobile school.
"I burn charcoal to invest in my daughter's education. The government pays for her fees, but I have to buy her books, pen, and uniforms. She is my hope, my only family hope," said Lokwawi, adding that she would like her daughter to become a doctor.
Another of her daughters was married off, bringing the family a substantial dowry of livestock. But most of these animals also perished.
Teaching adaptation
Christine Tukei, a teacher at Kalokutanyang's mobile primary school, said education for pastoralists "needs to go beyond the [national] curriculum.
"It needs to add value and incorporate their lifestyle. It is vital to help communities prepare for and respond to impacts of climate change while promoting a sustainable way of life."
The mobile school has about 100 students: roughly two thirds youths aged between nine and 17, and one third adults aged between 35 and 42.
Classes take place between 8 and 10 pm, as during daytime the children are usually tending to livestock herds while the adults make and sell charcoal.
The ravages of the drought have led Tukei to add adaptation strategies to what she teaches.
"We discuss the importance of early destocking, minimising herds to manageable levels; the importance of investing in education; and alternative businesses. I also teach about preserving meat with salt as they slaughter some animals and store for food; and about good health and sanitation," she explained.
Disastrous drought
The current drought, which started in 2016 and which the Kenyan government deems a national emergency, has dried up water resources in half of the country's 47 counties, leaving an estimated three million people lacking access to clean water, according to OCHA, the UN's emergency aid coordination body.
"Recurrent droughts have destroyed livelihoods, triggered local conflicts over scare resources and eroded the ability of communities to cope," OCHA said, noting that prices of staple food had risen considerably.
The drought has sent rates of global acute malnutrition soaring: in Turkana North sub-county, the rate is 30.7 percent, more than double the emergency threshold.
Across Kenya, up to 3.5 million people are expected to need food assistance in August, up from 2.6 million in February, according to the UN's World Food Programme.
Large numbers of livestock deaths have been reported in Turkana County, as well as in the counties of Marsabit, Samburu, and Mandera.
As well as Kenya, drought is ravaging Ethiopia and Somalia. In these three countries, the education of some six million children has been disrupted, according to OCHA.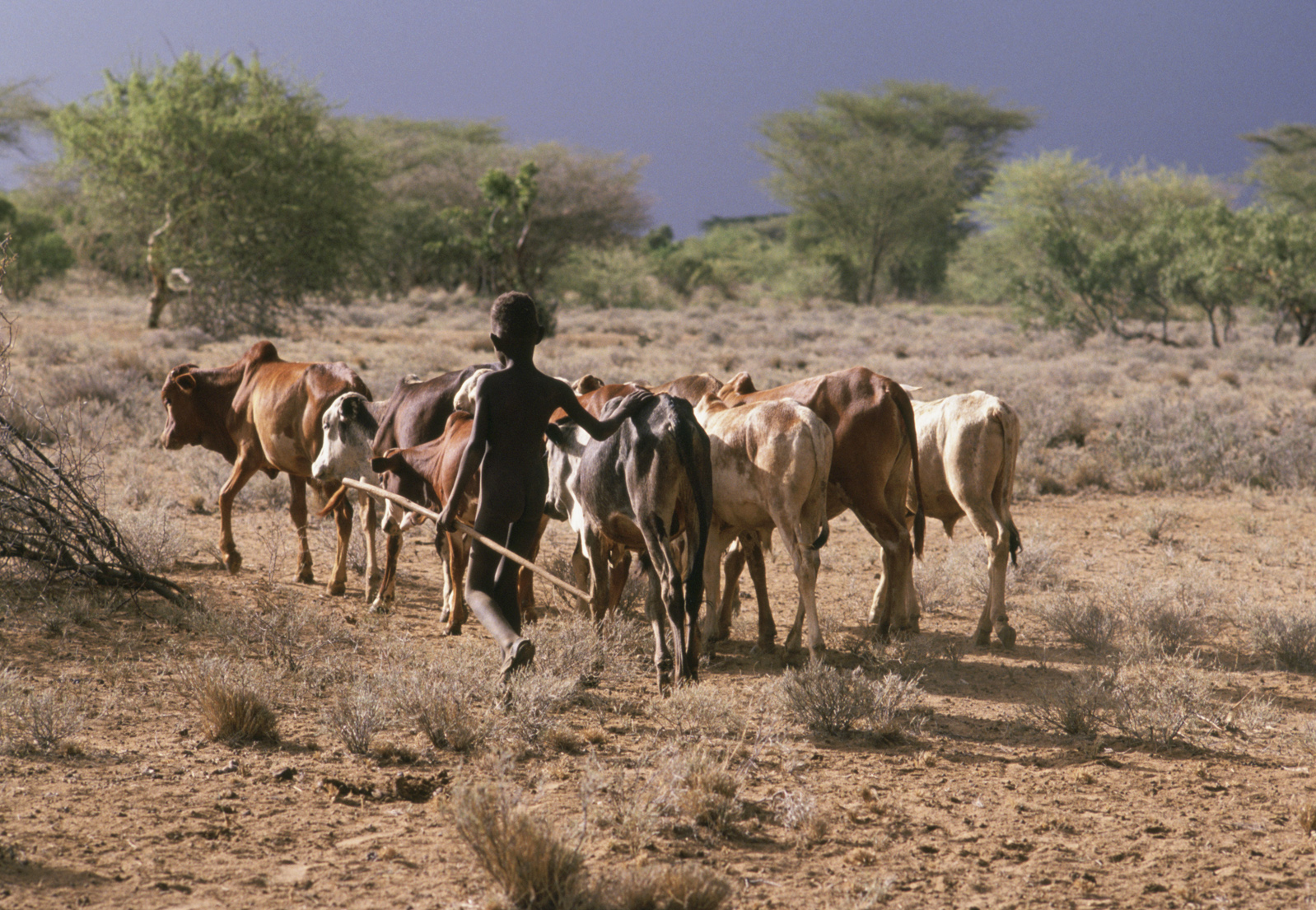 Low enrolment
Although the national introduction of free primary education in 2003 led to an increase in school attendance across Kenya, enrolment rates in dryland counties such as Turkana remain much lower than the rest of the country.
And of those who enroll in the first year of school, barely one in five stick it out through the eighth year, with dropouts attributed to early marriage and the need to look after livestock.
Even though going to school can lead to improved agriculture, better health, improved community relations, and better management of natural resources, "the culture [here] does not allow the community to attach much premium on education," Muthengi Muvea, the director of education in the sub-county of Turkana Central, told IRIN.
"A high number of pastoralists are not willing to wait for over 20 years to see returns on their investment, while a child has immediate returns such as dowry for girls and herding for boys," he explained.
According to Muvea, at any given time, at least 40 percent of children who are supposed to be in school in Turkana County are not.
This is attributed to: parents migrating during drought in search of pasture and water; inadequate infrastructure; understaffing in schools; and the parents' general unwillingness to enroll their children in school.
"January 2017 saw enrollment [in Turkana] drop by over 9,200 from the 2016 third term," said Jesse Nyongesa, of the Ministry of Education.
Matters were made worse in the first few months of 2017 by an interruption in the provision of free school meals across much of the country, although these meals – provided since 1980 by WFP and the Kenyan government and now benefiting 1.5 million children at an annual cost of four billion shillings ($39 million) – resumed in May.
"During drought, the meal the children get in school is the only meal they are likely to get for the day," said Matthew Epetet, the head teacher of a primary school in the Turkana Central village of Lochwa.
"It's critical to attaining food security in this part of the country. Unless it's assured, the rate of retention is low, especially for the junior classes."
Since it launched a Home-Grown School Meals programme in 2009, the government of Kenya has gradually increased its role in feeding school children. HGSM now benefits twice as many children as WFP's contribution and is set to feed all by 2019.
Under the programme, food is bought from nearby farmers, thereby stimulating the local economy while encouraging children to attend school.
The interruption of free school meals, combined with the migration of parents in search of water and pasture, led attendance at the school to fall by more than half, said Epetet.
"From a total of 585 students, only 257 students are attending class now," he said. "Among the 103 girls enrolled in school, about 37 are no longer in school. The pre-primary pupils have already stopped coming to school."
The head teacher explained that the recent start of oil exploration in Turkana's Lokichar Basin had been another factor in falling attendance.
"Fifteen boys have dropped out of school to work as motorcycle riders within Lokichar," he said. "Some are seeking manuals job from those employed in oil exploration companies such as fetching water."
Muvea believes it will take time before education fully improves the welfare of the community and contributes to a meaningful, sustainable manner of resilience.
"It's about perception," asserted Muvea. "School becomes necessary during drought emergencies because of food access. The way pastoralists perceive education has to change if it is to play a fundamental role in strengthening their resilience."
sm/am/ag
(TOP PHOTO: Break time at Karoge Primary School. Sophie Mbugua/IRIN)