Glowering across a table in a Tripoli café, 28-year-old Mohamed* has no kind words for Western leaders or any of Libya's three governments.
"In 2011, NATO said it intervened in Libya to protect the human rights of civilians," the young man, one of an estimated 50,000 people to have fled the coastal town of Sirte in the last fortnight alone, told IRIN.
"We lost even our most basic human rights under the (so-called) Islamic State," said Mohamed. "And Libya's three governments have given us no support at all. So where is NATO now?" 
After the fall of Muammar Gaddafi (the ruler went into hiding in August 2011 and was killed in October), political factions and militias fought to control Libya and its resources, eventually forming two rival governments. One, backed by a group of militias mostly from Misrata and Tripoli known as the Libya Dawn, is based in Tripoli, Gaddafi's former capital on the far northwestern coast. The other has its seat on the far northeastern coast, in Tobruk and Beida, and supports the army chief Major General Khalifa Haftar.
IS took advantage of the chaos to take nearly 200 kilometres of coastline, starting at Sirte, Gaddafi's hometown and one-time fiefdom, which it seized in February 2015. Estimates of how much support the group has in Libya vary.
In late March, the UN brokered a "unity government", which now sits in Tripoli. Some Tripoli forces have lent it limited support, but some of the Tripoli government and the separate leadership in Tobruk reject its authority entirely.
As NATO mulls what role to play now, the rival governments have launched an assault on IS in Sirte. Civilians flee, if they can.
Year of fear
Mohamed said at least 300 people have been executed in Sirte since IS took over a year ago. IRIN couldn't confirm this figure, but Human Rights Watch has documented at least 49 unlawful executions in the town.
The situation Mohamed describes before he left Sirte earlier this month is macabre. "They kill people every day, whether they announce those killings or not. Even children are forced to watch public executions, and everybody sees the bodies they hang up on scaffolding at the entrance to the town.
"There is a place on the town's outskirts where IS throw a lot of bodies in a big pile, and families with missing relatives go there to look through the corpses trying to find them."
Thousands of residents, in particular those threatened by IS or who formerly held government or military positions, had already fled Sirte during the past year, even before this recent, much larger exodus.
And it is not the only part of Libya in turmoil. Much of the country has descended into almost complete lawlessness – although there are pockets of order installed by militias and local leaders. Human trafficking is rife as thousands attempt to cross from Libya's northern coastline to Italy. The European Union and NATO have committed to help Libya by patrolling the Mediterranean, but stopped short, so far, of any further intervention.
The battle for Sirte
The new "unity government" has been supporting an assault on Sirte from the west, led by troops from Libya's third city of Misrata. After the armed forces operating under the Tobruk government announced an offensive to liberate Sirte from the east earlier this month, much of the remaining population decided to leave.
Siraj*, a member of a crisis committee formed by Sirte residents who fled last year to help newly displaced families in Tripoli and other towns in western Libya, estimated that only 15 percent of the town's original population (around 150,000, according to a 2006 census) remain in the town.
He said that vehicles leaving Sirte have to face five-hour queues at IS checkpoints, where militants empty cars of food, cooking gas, petrol and even soft furnishings. Those residents allowed to leave are only permitted to take clothes, those who made it out told IRIN. Others, including families of suspected dissidents and a few former IS loyalists who have grown disenchanted with the group's strict ideology, have been forbidden from leaving and made to return to their homes in Sirte.
With roads leading from IS territory to the east and the west sealed off by rival government forces, most families had to flee through the desert, navigating landmines locals who have left said had been laid extensively by IS.
Nowhere to go
Mohamed's six-person family now lives with distant relatives, crammed into one room in Tripoli. They are amongst the luckier ones.
The sheer numbers flowing out of Sirte have overwhelmed small towns with already overstretched resources. Most have struggled to find support or even a place to stay.
"Many families who fled to nearby towns like Bani Walid are now living in schools, which don't have adequate facilities such as enough toilets or showers," said Siraj. "And many people are in urgent need of mattresses and blankets because they left literally with nothing."
Families from Sirte arrive in Tripoli every day, but space is in short supply as even unfinished buildings and construction sites are already full of people displaced from other Libyan towns.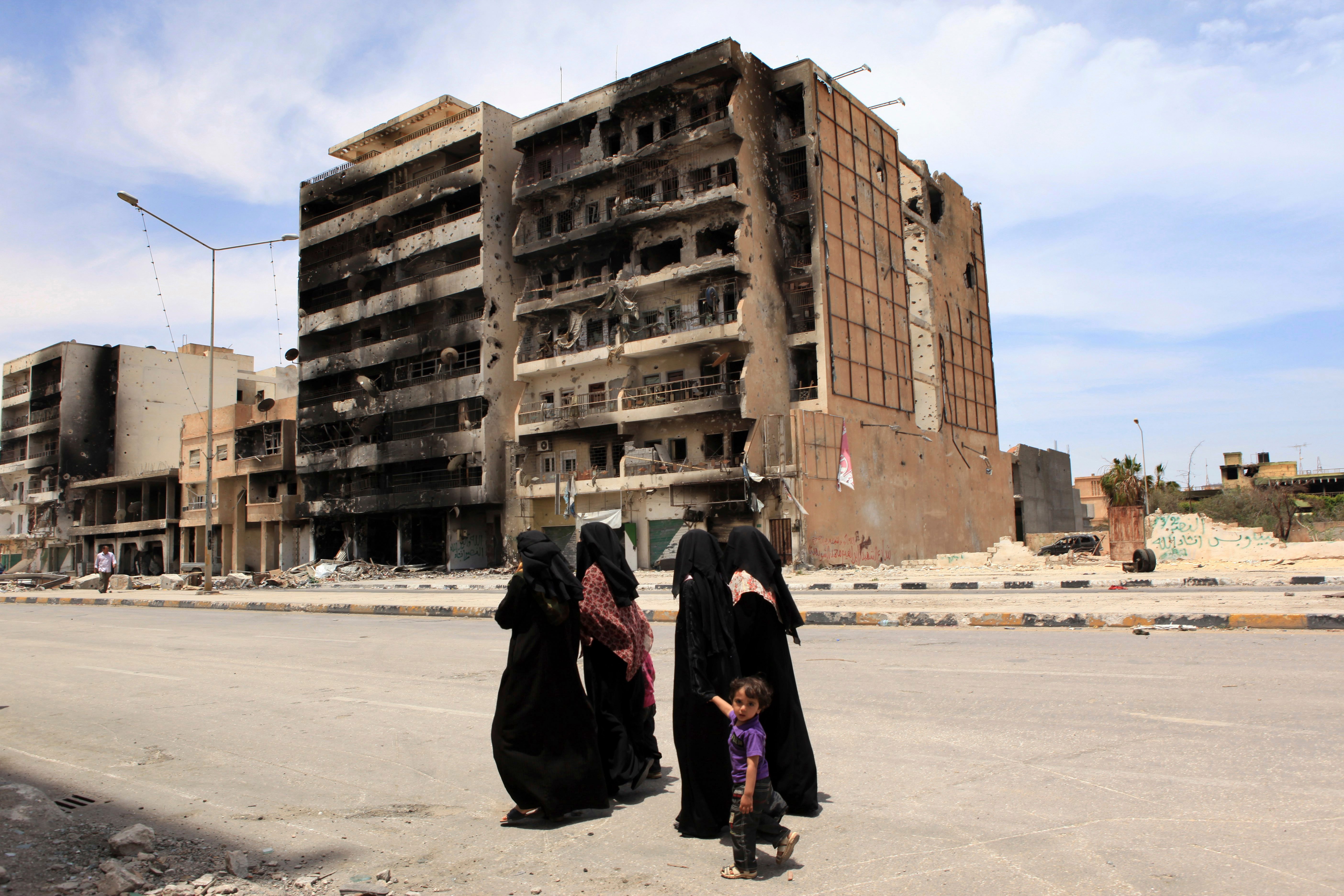 Ongoing fighting across the country has already displaced more than 417,000 Libyans, by the International Organisation for Migration's latest count. Siraj hopes more people displaced from other Libyan towsn will be able to return home soon, freeing up much-needed space in the capital and elsewhere for those fleeing from IS territories.
"Most families who have fled can't afford the high rents in Tripoli, and some have already been left with no choice but to go back to the Sirte [area]," he explained.
Three governments, little help
The fact that there are two separate and uncoordinated operations against IS in Sirte by rival armed forces that have been locked in civil conflict for two years is an obvious cause for concern.
"If the rival armies clash with each other around Sirte, the only people to benefit will be IS, who will just get stronger," said Mohamed.
Another displaced Sirte resident, former policeman Hamed, 28, criticised the various governments for failing to protect civilians as IS spread, and for failing to support those forcibly displaced.
"We have received no help from any of the governments," he said. "The threat of IS is being used by the political players in Libya and, meanwhile, the victims are ordinary Libyans. We have lost all faith and hope in Libyan governments and now we expect nothing."
Related

The dangers of a new Libyan intervention
Salah Abdulkareem Efemhah, a member of the eastern-based parliament who represents one district partially occupied by IS, said he hoped its military wing would liberate Sirte swiftly.
He told IRIN that the prime minister of the eastern-based government, Abdullah al-Thinni, had pledged almost $4 million in support for families fleeing IS territory.
Some material support has already been given to those who fled east, Efemhah said, explaining that ongoing fighting made it impossible for aid to be delivered from the east to families in western Libya, such as those in Bani Walid, between Sirte and Tripoli. 
Forgotten by everyone
The only aid to reach IDPs in Bani Walid so far has been food, mattresses and hygiene kits distributed by local branches of the Libyan Red Crescent.
Claudio Colantoni, country director for International Medical Corps, one of the most active NGOs working in Libya, said that, while the organisation continued to help"chronic numbers" of IDPs, particularly in Tripoli and Misrata, its scope was limited.
"We have no logistical capacity to work in Sirte or the surrounding areas… and we are very restricted by money," he said.
"Libya is no longer one of the main recipients for international aid because its unstable security environment and the lack of any political settlement continues to keep the main donors away." 
Ahmed, a former security official from Bin Jawad, IS's easternmost town, said the need for international help in Libya had never been greater.
"When the international community came to kill Gaddafi in 2011, they said it was to protect civilians but now civilians are in grave danger every day and no one wants to help," he said.
"Innocent people are being executed in town squares, some as young as 15 years old, but it feels as if the world, as well as our own people, have forgotten about us."
* Names used are not their real names
Header photo: A last tattered Libyan blows flag in Sirte, in the early weeks of the 2015 takeover. Locals said the bodies of executed residents would later be strung up nearby (Tom Westcott/IRIN).
tw/as/ag