Elena is about to go through a Ukrainian government checkpoint near the eastern town of Stanytsia Luhanska and cross the blown-up bridge into rebel-held territory.
She is waiting to get back to Luhansk, the de facto capital of the "Luhansk People's Republic", after a quick dash across the frontline of Ukraine's war to pick up essential items.
She didn't even try to get medicine for her 86-year-old mother, who has an illness affecting her central nervous system.
"We don't have any money, so we don't even go to the pharmacy," Elena, who doesn't want to give her last name, tells IRIN.
Her mother gets a so-called "pension" from the rebels, but she is too frail to cross over to get her official state pension or disability benefits.
Elena says that in September she called an ambulance for her mother but was told they don't come for the elderly anymore because they can't help them.
Related story
All Elena can do is try to save money by crossing the frontline as often as she can to buy as much food as possible to carry back. This time, she has meat, apples and a few sweets.
Last March, IRIN reported from the other side of the same broken bridge, describing how people had to clamber over to government-controlled Ukraine, where medicine, state pensions and cheaper food were available.
Almost a year on, we have to interview people from the government side as it's become increasingly difficult to enter rebel-held territory. But it isn't just journalists whose freedom of movement is being impeded.
A report yesterday by the Office of the UN High Commissioner for Human Rights highlighted how tighter restrictions are affecting both civilians and the aid agencies trying to reach them.
In the report, which covers mid-November to mid-February, OHCHR says it regularly observed up to 400 vehicles – cars, minivans and buses – waiting to cross. Ukraine's State Border Service says between 8,000 to 15,000 civilians cross the so-called "contact line" on a daily basis.
"Passengers spend the night in freezing temperatures and without access to water and sanitation," the UN report says. "During the reporting period, two elderly people (a man and a woman) died while queuing at the checkpoints due to lack of timely medical care."
A tough crossing
The conflict, which started in April 2014 when pro-Russian separatists took control of parts of eastern Ukraine, has led to at least 9,160 deaths. According to the UN's emergency aid coordination body, OCHA, 3.1 million people are in need of humanitarian assistance.
As of November 2015, an estimated 2.7 million people live in the rebel-held parts of the Donetsk and Luhansk regions, regarded by the separatists as independent people's republics.
Although there's been a general decline in the level of hostility and fewer military and civilian casualties during the winter months, residents of rebel areas wanting cheaper and/or essential goods still have to make the dangerous trip across no man's land, only it's getting harder.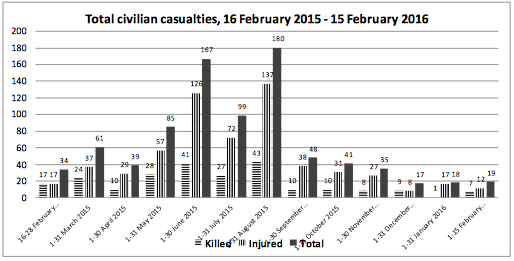 "The freedom of movement of civilians in Luhansk is particularly restricted," the UN report explains. "As of 15 February, only four transport corridors between the areas controlled by the government and those controlled by the armed groups (rebels) remained operational."
Three of those crossings, all allowing vehicles, are in Donetsk. The only one in Luhansk is the pedestrian one, via a broken bridge and steep stairs, where IRIN encountered Elena and where there's an obvious limit to what civilians can carry.
"People just don't have the discretionary income they used to, and so the majority of it goes to food, and it's not getting any better."
Rebel-held Luhansk residents wishing to cross with more goods or in a vehicle have to go via Donetsk or through Russia: routes that offer their own restrictions and challenges.
On the government side, Ukraine's State Border Service took over control of checkpoints in August and started imposing the stricter rules and procedures that one would associate with leaving a sovereign territory.
And to make matters worse, according to the OHCHR report, as of 19 January, movement between the two sides has been further restricted because the rebel Donetsk authorities began requiring the registration of passport data.
When the fighting flares up, checkpoints near affected areas often close (this happened on 3 February at the Zaitseve crossing point), making it more difficult for civilians to flee and more likely they will try to find alternative routes in areas that may have been mined.
Aid restrictions
Last July, the rebels banned international aid organisations. UN agencies have since been granted permission to operate in rebel-held Luhansk, allowing them to deliver treatment for those with HIV, for example. But the ban has had a crippling effect on aid efforts, with the UN report mentioning particular shortages in rebel-held Donetsk, which is still off-limits to most outside help.
Related Stories

Aid freeze promises hard winter in Ukraine

Ukraine tightens restrictions on rebel-held east
The Russian government provides some assistance to rebel territories and local humanitarian groups try to fill the gap.
Mercy Corps is another aid organisation that has been able to return to its work in rebel-held Luhansk, where it can carry out distributions. It has provided more than half a million people there with food aid, materials and water, and plans to help an additional 250,000 people up until April.
However, it still doesn't have official recognition from the rebel authorities, which slows down its ability to get permission to enter new towns.
For a few months, the organisation was ordered to stop most of its work. Civilians had to source food themselves, even as prices rose due to the Ukrainian government preventing commercial goods from entering rebel-held areas.
So-called "pension" payments from separatist groups come in rubles. Due to the currency market, the threat of further hikes in inflation, and the worsening Russian economy, this makes the financial situation in rebel areas even more perilous.
"People just don't have the discretionary income they used to, and so the majority of it goes to food, and it's not getting any better," Stuart Willcuts, Mercy Corps country director for Ukraine, told IRIN.
Unemployment is also on the rise, and some 69 percent of households in rebel areas have difficulty accessing food markets due to rising prices and poverty, according to OCHA.
An estimated 1.6 million people have been internally displaced by the conflict and more than one million Ukrainians have sought asylum or protection abroad, the majority in Russia and Belarus.
The UN said in its report that it had noticed an increasing trend of returns since September but noted that many arrive back only to find their home in ruins or commandeered by one side or the other.
Time is not a healer
With the conflict poised to enter its third year in April and no end in sight, the sense of lawlessness and despair in frontline areas is growing.
Where effective administration has been lacking for a prolonged period, so-called "parallel structures" have sprung up on the rebel side. These really amount to armed gangs, no rule of law and widespread human rights abuses.
"OHCHR is concerned that the situation is worsening in the 'Donetsk People's Republic', where armed groups continued to block or excessively control access to the territories under their control to humanitarian assistance, preventing proper monitoring of places of detention, and impeding the delivery of assistance that can relieve people from illness or even death, hunger and suffering," the UN report says.
Back at the checkpoint near the bridge, IRIN encounters Yakov Ivanovych. On this cold windy day, the 64-year-old will meet his wife, who is coming from Ukraine's capital, Kiev. All he knows is that she is bringing a bag of clothes.
She had cancer and had to flee Luhansk after being stuck in the city during two months of fighting. Her health had deteriorated and she had lost significant weight and needed to seek treatment at a hospital in Kiev, while Ivanovych stayed behind.
His health is not that much better.
"I need medication for my heart but I can't buy it because it's very expensive for me," he says.
Ivanovych is unemployed and gets 4,000 rubles ($50 USD) a month as his "pension" from the rebel authorities. Asked if it's enough to get food and other essentials, he simply laughs.
kj/ag