It is 9pm. The front entrance to Za'atari is lit mostly by the red and blue lights of the Jordanian gendarmerie vehicles parked at the entrance - little assurance of security to the 120,000 residents here, who say police rarely enter the camp.
The place has the feel of a lively city - music plays from personal speakers; children scream giddily as they play football; friends and relatives gather in each other's tents, chit-chatting into the night.
I stand on the other side of a fence that separates the sprawling city from what aid workers call "base camp", home to the offices of UN agencies and NGOs, watching the camp like a screenplay.
A few young refugees call out to me, interrupting my daze. We speak through the barbed wire until they insist emphatically that I join them in their tent for a proper chat.
The tent is sparse, but clean and spacious; lit - with fluctuating power - by a network of crisscrossing wires, illegally hooked up to the electricity grid.
As we sit cross-legged on the floor - they have already offered me `labneh' (yoghurt cheese) and olives, which they brought with them from Syria - they complain about inequitable shelter in the camp. Refugees use different and sometime fake IDs to get more aid, the father tells me; and those with money buy caravans while those who come empty-handed are left in tents, exposed to heat, dust, respiratory illnesses, fires and thefts.
"I heard a whole family died of a fire in the camp," the mother says. Her neighbour, a widow, stops by to borrow a broom. Hers was stolen during a recent robbery in her tent, along with 5,000 Syrian pounds (US$50), four blankets and the few supplies she owned. Fellow refugees then stoned her tent while she was sleeping.
Desperation
"The dealings between us Syrians are dire," the mother says, blaming it on desperation. "It's every man for himself here," her husband adds. "I feel I have no value any more, as if I'm not a human being."
At 10pm, night staff of the UN Refugee Agency (UNHCR) arrive from Amman in a minivan, joining another 45 staff from the International Organization for Migration, the Norwegian Refugee Council and Save the Children, who have, by now, a well-tuned system for welcoming new arrivals to the camp.
Tonight, there are 244 of them.
Many have spent days en route, trying to escape Syria. They include pregnant women and sick children. At the border, they are met by Jordanian soldiers, who board them onto buses to the camp. I watch as they unload their suitcases, some of them clearly exhausted.
One mother of five carries her crying toddler in one hand and a suitcase in the other as she tries to cajole her sleepy children to follow her towards the registration desk. She appears to be barely keeping herself together, but seeks assistance from no one.
Though I cannot quite put my finger on them, there are other emotions at play.
There is relief, almost elation.
"We've spent two years amid the fighting and the fear," says one refugee. "This is the first day we can breathe easy."
But there is also sorrow. Or rather, a sense of guilt.
One 19-year-old cradles her newborn, wrapped in a blanket. She travelled with her baby, literally just days old, from Aleppo, 500km north of Jordan, sleeping in a different village every night. Her husband, who fled to Jordan before her, has not yet seen his daughter.
The young woman is quiet and unexpressive while we speak. When I ask how she is feeling after her long journey, she smiles and says she is relieved to be in Jordan. But just as quickly, the smile falls from her face, as she remembers those still back in Syria.
Others appear nonchalant about their journey, which for some, involves dodging shelling and crossing a river-bed on foot. Desensitized, I wonder? In denial? In shock?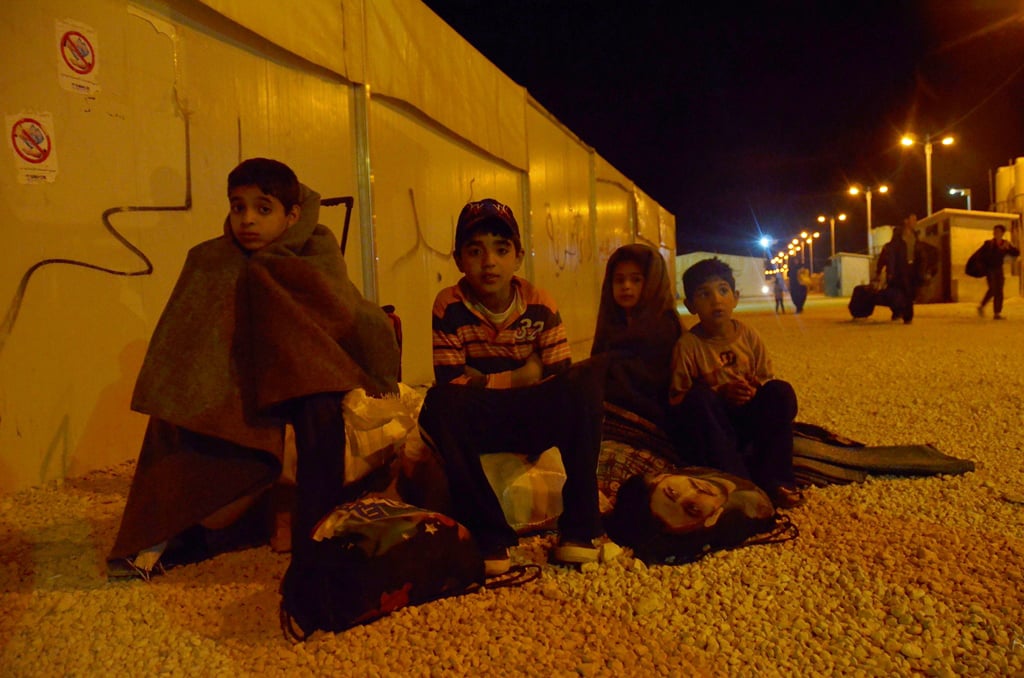 I sit outside the UNHCR registration office, speaking to each of the refugees as they wait their turn to enter. One old man warns me not to open the Pandora's Box and walks away, but many others are keen to share their experiences. One after the other, they tell harrowing stories as I take notes.
"Among us, there are stories to fill many more notebooks," one man says.
What I saw… I'll never forget
But the old man's warning soon proves true.
One man in a white traditional gown breaks down in tears as he remembers the charred bodies of two of his cousins. The corpses lay in a pool of water on a street in rural Aleppo for seven days until relatives risked death crossing a checkpoint to retrieve them.
He dug their graves himself.
"What I saw, what I experienced, I'll never forget," he says, his sun-bleached face twisted in emotion. "There is a limit to what a person can take."
Around 1.30am, the last cases are registered, and I head back outside, where four large "pre-fabs" have been set up to accommodate those who need a place to sleep until they receive a personal tent in the morning. They lie like lost souls on the cold, grey, concrete, the brisk air streaming through the windows - a rude, but accurate, awakening to life in refuge.
One man mistakes me for an aid worker and asks for more blankets for his grandchildren. They are a family of five and only have three blankets, he says. I have no blankets, but offer him my jacket. Ashamed, he politely refuses, and promises they will make do just fine.
By the end of the night, I feel lost in the refugees' stories, emotionally confused and overcome.
I cannot imagine how they withstand the pressures of the long, tiring journey and the overwhelming procedures upon arrival: government registration, pink slip, vaccinations for your children, welcome package, food ration card, voucher for tent, blanket, sleeping mat, questions, so many questions.
A rowdy crowd is gathered around the thin opening in the barbed wire fence separating the registration area from the camp. The new arrivals push their way through the mass of people, lugging their possessions and entering a new phase of difficulty, another unknown world.
"It hurts to think: How did this happen to us?" one elderly woman tells me. When I comment on the strength I have witnessed among the refugees, she responds:
"It's eat or be eaten. You're the wolf or the sheep."
ha/cb
---
This article was produced by IRIN News while it was part of the United Nations Office for the Coordination of Humanitarian Affairs. Please send queries on copyright or liability to the UN. For more information: https://shop.un.org/rights-permissions