Gender-based violence in the occupied Palestinian territory remains at epidemic levels, according to UN agencies, local NGOs and women, while victims lack legal recourse and often face a family backlash for reporting crimes.
The number of sexual assault cases reported from 2006 to 2009 increased more than seven times, while the number of attempted murder cases (of women) increased five times, according to the Palestinian Authority (PA) women's affairs ministry. The figures do not including numerous cases of drowning and falling in which a family member was responsible for the incident.
This data prompted the PA to launch a national plan to combat
violence against women
in January, in conjunction with six partner UN agencies and funded by a US$9 million grant from the Spanish government.
The plan aims to end gender-based violence through prevention, protection and law enforcement. However, even if the laws are successfully amended, most Palestinian women say they prefer not to report crimes against them so as to avoid social stigma and potential divorce.
Shadia Abu-Jawad, aged 24 and recently divorced, from Beit Hanoun in Gaza, told IRIN she reported her ex-husband to the police for abusing her.
"He beat me to the point that my nose bled and I was badly bruised, even on my face," said Shadia, but "he divorced me for reporting him." Shadia, unemployed and an unlikely candidate for remarriage now that her case is public, fears her ex-husband will take custody of their two-year-old son.
Basic law
Palestinian basic law, intended as a temporary constitution for the PA, was ratified by the legislature in 1997 and signed into law by former president Yasser Arafat in 2002. Article 92 of the Basic Law says "personal status shall be assumed by Sharia and religious courts in accordance with law." Personal status laws encompass nearly all legal areas that most acutely affect women, including marriage, divorce, child custody, maintenance, and inheritance.
We demand that all laws related to women's rights, including personal status law, be transferred from Sharia [Islamic] courts to Palestinian basic law
"We demand that all laws related to women's rights, including personal status law, be transferred from Sharia [Islamic] courts to Palestinian basic law," said women's rights attorney Karem Neshwan, with the
Women's Affairs Council
in Gaza.
However, PA women's affairs minister Rabiha Diab said Palestinian basic law does not give women equal protection under the law.
"The penal code [under Palestinian basic law] includes laws that are unjust to women and must be amended," said Diab, speaking at a 17 January press conference to launch the plan [to combat violence against women] in Ramallah. "The plan includes long-term development goals to increase the role of women in government," she said.
Palestinian women, especially those in government, and civil society sectors are looking to judicial reform as a key step towards equality, since changes in attitudes and beliefs about women are coming slowly in this patriarchal society.
"My husband often hits me, and now he is planning to marry a second wife," said Lina, a 30-year-old from Ramallah. She requested that her family name be omitted. "I want to report him and to leave him, but divorce is scandalous and I fear I could lose custody of our two children."
Discussion of private matters in a public forum is largely taboo in Palestinian society.
Penal code amendments
Assistant deputy justice minister Munjid Abdullah, in Ramallah, said the ministry is currently amending the penal code, under Palestinian Basic Law, to better protect women like Lina. Several of the amendments to basic law relate to women's rights.
"Rape and physical abuse between a husband and wife is illegal and falls under criminal law," he said.
However, Judge Daoud Darawi, a justice ministry consultant and expert in cases of gender-based violence, told IRIN: "The new text makes un-consensual intercourse between a man and a woman illegal, but does not specifically mention relations between husbands and wives."
"This ambiguity will be a problem; it's unlikely the law will be implemented between husbands and wives," he said, adding that the new plan to combat violence against women will be taken into consideration in drafting amendments to the penal code.
Many Palestinian victims of sexual assault and domestic violence say there is no recourse for them, so they choose to remain silent.
"Men and women think domestic violence is permissible under the law, especially if a husband suspects that his wife has committed adultery," said Reem Gitan, a 21-year-old business major at Birzeit University in Ramallah, the largest West Bank university. "This is a trend across the Arab world, but it's more connected to Arab culture than to Islam," she said.
The new code will be drafted in the next 3-6 months and will be implemented in the West Bank and Gaza in about a year, said assistant deputy justice minister Adullah. Although, the ministry has yet to determine if the new code will be presented to Palestinian Mahmoud Abbas for approval or to the legislative council.
"There is no connection between the justice ministry in Ramallah and in Gaza," said deputy justice minister in Gaza Omar Al-Barsh. "Any law that is approved by the legislative council will be implemented in the West Bank and Gaza, but presidential approval alone is illegal."
The Palestinian legislative council is currently frozen due the internal conflict between ruling factions Fatah in the West Bank and Hamas in Gaza.
Still living under Israeli military occupation, and with 35 percent of the population below the poverty line, according to the UN Development Programme (UNDP), Palestinian women lack the stability and resources to launch a full-scale women's rights movement.
Helpline
Meanwhile, local women's NGOs are trying to fill the void of institutional support for victims.
Sawa
, a local Palestinian NGO which combats violence against women, operates a helpline seven days a week for abuse victims in the West Bank and Gaza.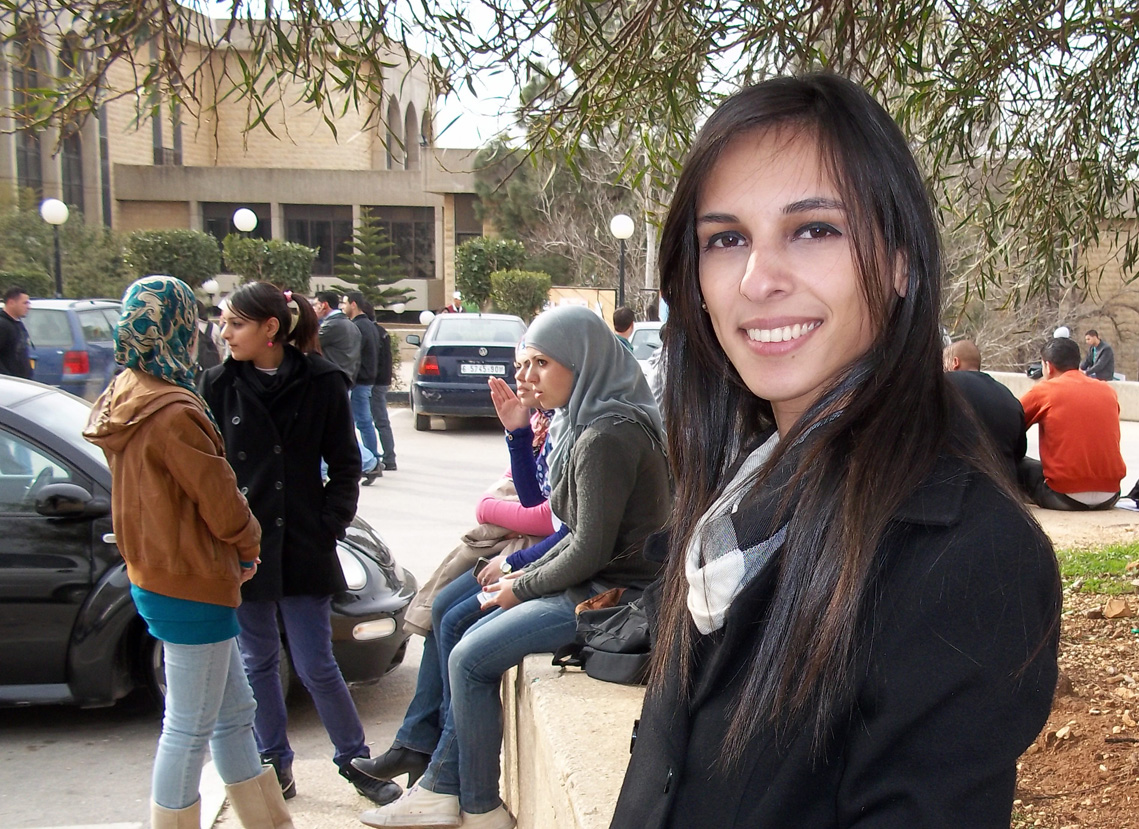 201101271420120156
Photo: Erica Silverman/IRIN
Raneem Dmari : "If a women reports an assault to the police, especially in a rural area, the community will not stand behind her and she will be labeled promiscuous."
"We receive 600-700 calls a day from women; the majority of the callers are victims of domestic violence and incest, and over half are from Gaza," said director Ohaila Shomar. There is no institutional mechanism related to hospitals or the healthcare system to treat victims or to document their trauma, she said.
"Many callers have questions about health problems related to their assault," she said, and often the personal security of medical professionals and social workers who assist victims is threatened by the victim's family.
According to a 2009
study
published by the Palestinian Women's Information and Media Center in Gaza, 67 percent of women were reported to be subjected to verbal violence on a regular basis; 71 percent to psychological violence; 52 percent to physical violence; and 14 percent to sexual violence.
"If a woman reports an assault to the police, especially in a rural area, the community will not stand behind her and she will be labelled promiscuous," said Raneem Dmari, a 21-year-old psychology student from Jerusalem. "And her husband will leave her or divorce her."
Even when women are aware of their rights, many feel the risk of losing family or social support makes it not worth seeking justice.
Tamam Adel Hamed, a 57-year-old mother of five from a village outside Ramallah, said she was not seeing change for women in her community. "If a woman [from her area] is raped the perpetrator and the victim are often forced by their families to marry."
There are currently three safe-houses for victims of gender-based violence in the West Bank - in Ramallah, Nablus and Bethlehem - but there are none in Gaza to date. The PA plan to combat violence intends to create additional safe spaces for victims.
es/cb
---
This article was produced by IRIN News while it was part of the United Nations Office for the Coordination of Humanitarian Affairs. Please send queries on copyright or liability to the UN. For more information: https://shop.un.org/rights-permissions