Chad President Idriss Deby came to power in a 1990 coup after marching westwards from Sudan and ousting the very man he had helped bring to power. Fifteen years on it is Deby whose position is in peril from the westward march of rebel fighters. Deby's time in office has been marked by repeated rebellions, dubious political reforms, and rows with donors over Chad's new oil wealth. President Deby has survived more rebel attacks this month and maintains that presidential elections on 3 May - in which he will be running after doctoring the national constitution - will go ahead as planned. His opponents have warned that extending Deby's reign will plunge the country and the region into chaos. Rise to power A career soldier in his mid-fifties, Deby has been a central figure in Chad politics for two decades. Born in the remote northern deserts of Chad in the ethnic Zaghawa group Deby, then 30 years old, helped the northern warlord Hissene Habre to topple President Goukouni Oueddei in 1982, and subsequently became one of his leading generals, later serving as defence minister. But by 1989 the relationship had turned sour and Deby, accused of plotting a coup, fled to neighbouring Sudan where he mustered support for his own rebellion. On 30 November 1990 Habre and his entourage fled N'djamena after Deby took the eastern town of Abeche. It was two days before Deby arrived in the capital to take the presidency, promising to replace Chad's legacy of rule by repressive oligarchies with multi-party politics and elections. Rebellion after rebellion From Deby's first year in office the constant threat of rebellions and uprisings throughout Chad's vast territory has made support from the Zaghawa-dominated Chadian military key to his power.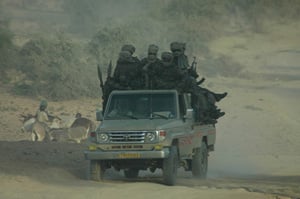 2006298
Chad soldiers on patrol
Since 2003 conflict in the neighbouring Darfur region of southern Sudan has time and again spilled over into eastern Chad, where today some 207,000 Sudanese refugees live in makeshift camps after fleeing the campaigns of violence, rape and bloodshed being waged at home. Chad and Sudan have continually accused the other of supporting rival insurgents and fuelling violence. And most recently the military on whom Deby relies is turning against him. Since October 2005, soldiers have been deserting in their droves and many are from Deby's own Zaghawa ethnic group, reflecting weakening tribal solidarity around Deby. Many Zaghawas in the military condemn the president for not doing more for their kin who are leading a rebellion against the Khartoum government in Sudan's western Darfur region.
Veneer of democracy
Deby established the principle, if not the practice, of a multi-party system when he lifted the ban on political parties in 1993. However, 13 years on the political opposition remains weak, with opposition leaders and journalists targeted for harassment and imprisonment, and political rallies regularly broken up. Deby retained the presidency in elections in 1996 and again in 2001, with international and national observers giving broad approval. However, the political opposition claimed widespread fraud after the 2001 poll. Some members of the National Electoral Commission resigned over irregularities in the 2001 vote-count and six opposition candidates were arrested. Scrapping an earlier commitment to quit power when his two-term mandate expires in 2006, Deby last year changed the constitution to allow himself to run for another term. The move prompted outrage from the country's opposition parties, human rights groups and labour unions, who accused Deby of trying to assume power for life. Opposition legislators boycotted the parliamentary vote and denounced as a sham a subsequent national referendum. Despite a spat of rebellions in March, Deby remains committed to holding presidential elections on the 3 May. Opposition groups have appealed to the international community to intervene saying the existing polling schedule "would unquestionably lead Chad into chaos."
Petro-dollars, guns and strained donor relations
Since 2003, Chad has been exporting oil from recently drilled fields in the west of the country to a platform off Cameroon by way of a 1,600-kilometre pipeline. Government revenues have surged as a result and some analysts say oil wealth has raised the stakes in lingering power struggles.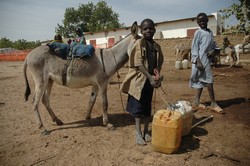 2006293
Despite oil, Chad is the world's fifth poorest country
The US $3.7-billion oil pipeline was touted as a model for making African natural resources work for the African people by providing guidelines and restrictions on how the oil money could be spent. But the project has been troubled from the start when Deby spent the first US $3 million of oil proceeds on guns in 2003. And last year, Deby angered donors again by scrapping a special fund to guard 10 percent of oil revenues for future development projects and diverting money earmarked for education and health. As a result, the World Bank pulled the plug on millions of dollars of aid projects in Chad, which despite its oil wealth remains one of the most impoverished countries in the world. While Deby says the government needs the oil money to develop the country now, many impoverished Chadians say that an increasingly isolated Deby wants the cash for arms to defend his besieged government. To read an IRIN Special Report on Chad,
CLICK HERE
For the latest IRIN reports on Chad,
CLICK HERE
---
This article was produced by IRIN News while it was part of the United Nations Office for the Coordination of Humanitarian Affairs. Please send queries on copyright or liability to the UN. For more information: https://shop.un.org/rights-permissions