Ra'nah Rahmani works as a cleaner in the wealthy suburbs of north Tehran, the capital. Six days a week, eight hours a day, the chatty 32-two-year-old cooks and cleans for Tehran's elite, earning US $250 a month. She has almost tripled her salary since she moved to Tehran 14 years ago from her remote village, Khoshk in northeastern Iran, and says a new government pilot scheme aimed at encouraging rural migrants to return to their villages of origin from cities will not attract her. "There's hardly anyone left in Khoshk. Most of my friends have gone, and the ones that haven't, are just waiting to leave," she told IRIN.
STEEP URBAN GROWTH
Iran has one of the highest urban-growth rates in the world. In 1950, about 27 percent of the population was urban; now the figure has more than doubled, to 65 percent, and a UN report predicts that by 2030, that percentage will shoot up to nearly 80 - an unprecedented figure for a developing country. The result of this population shift is that cities have been unable to keep up with the population explosion. NGOs say slum areas, high unemployment, poor public services and a depressed economy are direct results of mass urbanisation.
GOVERNMENT INITIATIVE
The government's initiative – dubbed the "reverse-migration initiative", to be launched in Rahmani's home province of Khorasan, is a five-year plan which will plough much-needed money into regenerating rural areas. By investing in local industries, farming and public services, the government hopes to create jobs and stimulate agricultural production, which has been in steady decline since the 1960s. The Islamic deputy councillor of Khorasan, Abbas Ali Ornaghi, hopes that the pilot scheme will succeed. "We have to consider that employment is one of the biggest issues for most migrants. We know that most of our villagers have the capability of agricultural work, therefore investment in those areas will be a solution," he told the Iranian daily, Hamshahri. But for people like Rahmani, returning to the old way of life – farming – is not an option. "In my village, we used to cultivate the land and grow saffron and barberries. But the physical labour is hard – our bodies aren't used to it, as we haven't been brought up doing it. We wouldn't survive," she said. For decades, the government has been researching ways to curb the steady stream of migrants like Rahmani to the cities. For this latest project, Ferdowsi University in Khorasan is sharing its independent research findings on rural to urban migration with the government.
NEED FOR JOBS IN RURAL AREAS
"When you start to create jobs and facilities in villages, slowly reverse migration will happen. To create or plan the policy of reverse migration, investment is the key to success," Dr Dariush Haidari-Bigvand, the head of the research project at Ferdowsi University, told IRIN. "Through proper investment you can create employment, which in turn brings with it good facilities in the small villages," he said. But Babak Dorbeiki, a senior consultant at an Iranian economic and political consulting firm, says Iran, being such a centralised country, has created a pro-urban mentality. Government industrialisation policies, he says, have made the cities dream destinations for villagers, and no amount of investment will change this. "Migration in Iran does not solely depend on economic factors, and many more factors, such as security, social and cultural viewpoints, are involved. After the Islamic Revolution in 1979, the government had a new approach to economy, and agriculture was its priority. So the government focused mostly on rural developments, such as water-network development, electrification and road construction," he told IRIN.
BUT MIGRATION CONTINUES
"Most of these plans were utilised in deprived regions, such as Khorasan. Nevertheless, migration in these provinces continued, which means government investments won't guarantee the decrease in the migration process," he said. Dorbeiki cites Namak, in Khorasan, as an example: a small, deprived village with a population of around 3,000 before the 1979 revolution. The government invested heavily in local facilities and services there as incentives for the villagers to stay. But electricity, water networks and new schools were not enough to stop Namakis from leaving.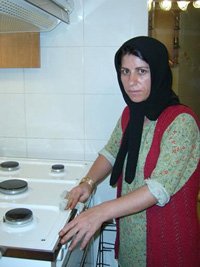 2003111813
Ra'nah Rahmani doesn't believe the government's efforts will work
According to Dorbeiki, the number of people leaving the village actually continued to rise. Now, the population of Namak is under 500 – even though the population growth rate in rural areas is increasing rapidly and at a higher rate than in urban areas. This for Dorbeiki is proof that no amount of investment in rural areas can halt migration. Meanwhile, most experts agree that the project will not succeed without help from the private sector. There are no shops in Khoshk: if Rahmani wanted to buy onions, she had to take the daily bus to the nearest town of Qa'en – a two-hour ride. There is only one school, with only one class, and as it's a primary school, Rahmani's two teenage girls would have to make the long journey to Qa'en. "We'd love to be able to go back to our village, but we just can't – there are no jobs, no shops and no money. And all the springs have dried out," Rahmani said. "In Tehran, it's polluted, and I worry about the kids – it's dangerous here, it's not like in the village. But at least here I can work as a cleaner – I can't even work there." Haidari-Bigvand's research indicates that the reverse-migration project will work. If it is a success in Khorasan – the largest province in Iran – the government hopes to implement it country-wide. "When villagers in big cities find out they can work in their birthplace, where they will have health care, education, and even a big supermarket, they will start to move away from the noise and pollution of the city, and the social problems like crime and drugs," he told IRIN. "If the government invests properly in villages, the success rate will be 100 percent," he added. Rahmani disagrees. "It'll never happen; there are some villagers who will never return. They've got their lives here now, this is their home."
---
This article was produced by IRIN News while it was part of the United Nations Office for the Coordination of Humanitarian Affairs. Please send queries on copyright or liability to the UN. For more information: https://shop.un.org/rights-permissions