The return and reintegration of more than 2.5 million Afghan refugees and Internally Displaced Persons (IDPs) to their country and places of origin following the dramatic events of 11 September present one of the most urgent and demanding issues that Afghanistan faces today. Kheyrabad, a village of ethnic Turkmen carpet weavers some 50 km northwest of the northern Afghan city of Mazar-e Sharif presents a telling example of the challenges that returnees face in trying to settle into their original communities and rebuild their shattered livelihoods. With over one thousand families living in their mud houses, Kheyrabad has only one school and no health facilities. Although the village is connected to Mazar-e Sharif by a dirt road, electricity remains a far-fetched luxury and the villagers walk to the city as they cannot afford bus fares. For Abd al-Mannan, a middle-aged father of four, the return to Kheyrabad after decades of exile in neighbouring Pakistan has solved none of his problems. "We have to depend on agriculture for survival and we don't have enough water for that," he told IRIN. Abd al-Mannan's family, together with 90 others, came home last summer. Despite receiving substantial assistance in the form of cash and building materials from the office of the UN High Commissioner for Refugees (UNHCR), they remain concerned. "We are getting far lower prices for our carpets here and we are unable to produce food," Abd al-Mannan said. In Afghanistan, Turkmens now sell a square metre of handwoven carpet for just half the US $30 they used to get in Pakistan. While living in the refugee camp at Haripur, some 100 km west of the Pakistani capital, Islamabad, they had access to basic health care, provided by clinics run by aid agencies. They also had electricity, and many of their children were going to school. Fifty-year-old Maryam, who has returned after a decade in exile, does not find conditions in Kheyrabad very different from what was obtained there in 1992. "Insecurity forced us to leave and it's still very uncertain here," she told IRIN. Maryam maintained that the lack of health care in the village rendered conditions very difficult for women. "Just imagine how hard it is for pregnant women or sick children, they have to be taken to Mazar-e Sharif," she said. Although UNHCR has established a school in Kheyrabad, it only has six grades and accommodates a limited number of children.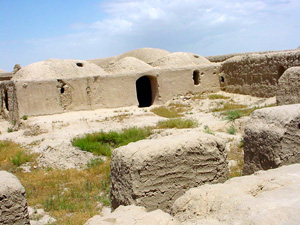 200361319
Empty houses in Kheyrabad await their residents
Such concerns are widely recognised and even shared by the fledgling Afghan government in the capital, Kabul. Habibollah Qaderi, the chief adviser to the Ministry of Refugees and Repatriation, told IRIN his ministry's major concern was that compared to the large numbers of returnees, their reintegration and rehabilitation presented problems equally large. "Due to this, our strategy and policy is that the repatriation should be voluntary, informative, gradual and in a controlled way," he said, noting that the assistance received for reintegration projects was insufficient. According to UNHCR, by the end of March, about 600,000 Afghan refugees and IDPs, had returned to their homes in the nine northern provinces of Faryab, Jowzjan, Sar-e Pol, Badakhshan, Takhar, Baghlan, Konduz, Samangan and Balkh. Of these, some 400,000 refugees came from Iran, Pakistan and the Central Asian republics with UNHCR assistance. While 140,000 IDPs also returned to their villages with the assistance of the refugee agency and other aid organisations, another 60,000 returned spontaneously or without assistance. Six to seven million people, or one-quarter of the population left Afghanistan over the past 23 years. Following the communist coup in the late 1970s and the Russian invasion in 1980, a great number of mostly rural people left for Iran and Pakistan. The fall of the communist regime in 1992 produced another huge refugee group. More recently, fighting between the Taliban and their opponents of the Northern Alliance forced hundreds of thousands to flee northern Afghanistan. Moreover, the worst drought in living memory during the 1990s ruined nomadic pastoralist and agrarian livelihoods and people left their villages. Following the fall of the Taliban, ethnic Pashtuns in the north were persecuted by ethnic militias and independent commanders and forced to flee. As many members of the Taliban came from among the Pashtun clerics in the south, they were associated with the reclusive movement and subsequently victimised. UNHCR estimates that 60,000 Pashtuns fled the area after the demise of the Taliban in December 2001. Vicky Tennant, a protection officer with UNHCR in Mazar-e Sharif, told IRIN that security remained one of their major concerns. "In some areas, local commanders still effectively exercise the authority and power," she told IRIN, noting that civilian authority was weak across northern Afghanistan. The jostling for power between the ethnic Uzbek general, Abdul Rashid Dostum, and the Tajik commander, Mohammad Ata, had resulted in armed clashes and instability across the region. She maintained that in addition to insecurity, many returnees had problems with shelter, with access to water, they wanted more schools and demanded a clinic closer to their village. "A majority thinks that they will feel safe after a comprehensive disarmament campaign," she said. The refugee agency estimates that 24 percent, or 100,000 returnees over the past year, were Pashtuns. Tennant explained that the process of building up trust and relationships between the Pashtun and other communities who had remained would be a complex and long-term process. Aid workers believe that the situation has largely stabilised in the northeastern provinces of Takhar Baghlan and Konduz, where most of the Pashtuns have returned. However, few have returned to the northwestern provinces of Faryab, Jowzjan, Sar-e Pol and Badghis. In March, Rudd Lubbers, head of the UNHCR, inaugurated a return commission comprising representatives from the UN, the central government in Kabul and northern faction leaders. With thousands of Pashtuns living in crowded and squalid displacement camps in southern and western Afghanistan, the return commission has yet to send a working group there to persuade them to return to their ancestral homes. Local observers felt that political rivalries in the north were hindering such initiatives. However, Tennant maintained that the commission's working group had now completed its initial assessments of the areas in the five northern provinces of Faryab, Samangan, Sar-e Pol, Jowzjan, and Balkh. "Their reports are extremely comprehensive and forthright in identifying abuses by local commanders as a key issue which must be addressed in order to create the confidence necessary for large-scale returns to the north and northwest," she said. In addition, they emphasised the need for ongoing assistance from the international aid community towards securing access to shelter, water, livelihoods, health facilities and education. Making the returns sustainable would need paced, integrated development and reconstruction. But aid workers maintained that there was a gap between the emergency humanitarian assistance delivered and the time of return or immediately after return. Substantial development work such as rebuilding sustainable livelihoods through income generation, infrastructure development and institution building therefore needed to be undertaken. "The long-term development programmes have yet to kick off," Tennant said. Although donors and aid agencies have recognised the problems, and had initiated some projects, the people have far greater needs. Over the past year, UNHCR has built shelters for some 8,000 families; 470 water wells in the communities were dug and 12 schools were established. The agency also established six clinics to improve health conditions. Last winter 100,000 returnees received blankets, stoves, fuel and tents to survive through the harsh weather. The government had realised such shortcomings, and President Hamid Karzai has repeatedly called for more funding. According to Qaderi of the ministry of refugees and repatriation, the country needed to rebuild basic infrastructure such as roads, electricity and a telephone system. But the country has a long way to go before it rehabilitates and moves towards self-reliance. "If there is no improvement in the situation it would certainly have a negative impact on the overall sustainability of the return and the future stability of this country," he warned.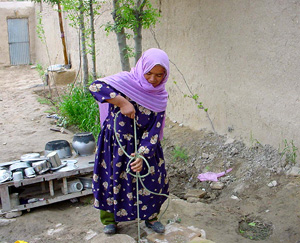 200361318
Life for returnees is hard in the war ravaged country
Some provinces have attracted more returnees than others. Paola Emerson, the area coordinator for relief and reconstruction for the northeast with the UN Assistance Mission to Afghanistan (UNAMA), told IRIN that the perception of Konduz being a rich province was attracting a large number of returnees. UNHCR assisted some 110,000 refugees to return to the fertile agricultural region last year. "We are concerned over the land-ownership disputes, as land is scarce and there are competing claims," she said. In the ethnically heterogeneous north, returning refugees and IDPs find themselves entangled in land disputes as they try to rebuild their shattered lives. "For a significant number of returning refugees, it is one of the most problematic issues," Tennant explained. A recent report by the independent Afghanistan Research and Evaluation Unit (AREU) has found that land-ownership disputes are fuelling local conflicts at a time when stability is needed for reconstruction. "The number-one source of conflict here today is land disputes," the AREU's director, Andrew Wilder, told IRIN in Kabul. Tennant added that although UNHCR was working with the traditional dispute-settlement mechanisms such as shuras, or village councils, the rule of law remained the only long-term solution to the issue. "This is the primary prerequisite, and we encourage that even now by supporting the courts," she said. Emerson maintained that reconstruction also required decentralisation, thereby creating opportunities for returnees. "The provincial authorities also need capacity building," she said, noting that besides salaries, they did not receive any funds from Kabul. "How can you be governor and serve the people without a budget? she asked. According to Gabriel Frailich, the head of the International Organisation for Migration (IOM) in Faryab, there were still some 50,000 IDPs in the region now after the agency resettled about 150,000 in their villages over the past year. Although the returning refugees and IDPs have similar problems, IDPs in general are poorer. "Survival is their main problem," he told IRIN. Frailich maintained that understanding the situation in depth and addressing it by removing the primary causes of displacement remained the key to success. Recently, in Astana valley in Faryab Province, IOM built one of the first rural water supply schemes, a school was opened with UNHCR support and repairs were made to the access road. "Life is reverberating in the village that was completely abandoned during the Taliban rule two years earlier," he said. Meanwhile, back in Kheyrabad, 41-year-old Ahmad Dawran is already thinking of going to Pakistan. "We need more assistance, and without that it's difficult to live here," he told IRIN. Some 270 families from the village still live in exile in Pakistan and Iran, and occasionally some of them visit the place to gauge their prospects for return. "I hope we can have a better life in the future, but at the moment it's really difficult," he said.
---
This article was produced by IRIN News while it was part of the United Nations Office for the Coordination of Humanitarian Affairs. Please send queries on copyright or liability to the UN. For more information: https://shop.un.org/rights-permissions