The New Humanitarian welcomes Paula Escobar-Chavarría and Syed Nazakat to board of directors
We are delighted to announce the election of two new members to our board of directors: Chilean journalist, editor, and author Paula Escobar-Chavarría, and award-winning Indian journalist and media entrepreneur Syed Nazakat.
"Paula and Syed bring decades of experience in newsroom management and media start-ups," said Heba Aly, CEO of The New Humanitarian. "We are excited to have perspectives from different parts of the world and are humbled by their commitment to our work."
Paula Escobar-Chavarría is currently a columnist and panellist at La Tercera, CNN Chile, and Duna radio; a professor at Universidad Diego Portales, where she is Executive Director of the Chair on Women and Media; a board member of the World Economic Forum's Young Global Leaders foundation; a board member of Comunidad Mujer, a non-profit that promotes women's rights; and a board member of Educación2020, an NGO that works to make education the first priority in Chile. 
It really, really feels so inspiring to be part of a community like this.
"I'm really, really proud and honoured to be part of this amazing group," said Escobar-Chavarría. "I think the work The New Humanitarian is doing is remarkable and it really, really feels so inspiring to be part of a community like this – so committed to quality journalism but also to a journalism that makes a difference for people that normally don't have a voice. So this is not about journalism to make each of us more successful as journalists, but it's about giving voice and helping people that really don't get to be listened to."
Escobar-Chavarría has published eight non-fiction books, including one in which she interviewed all the Chilean presidents since the return of democracy. She is the former Magazines Editor at El Mercurio, a major newspaper in Chile; the former Editor-in-Chief of Caras magazine; and the former Editorial Director of Televisa Group in Chile.
Escobar-Chavarría was named a Young Global Leader in 2006 by the World Economic Forum, and a Yale World Fellow in 2012. She won the Lenka Franulic award for the best woman journalist in Chile in 2014, and was chosen as one of the BBC 100 Inspiring women of 2015. In 2019, she and her team won the UAH Excellence in Journalism Award in print media in Chile for their coverage of sexual misconduct and abuse. In 2020, she was elected a Poynter Fellow. 
I'm a great believer in collaboration.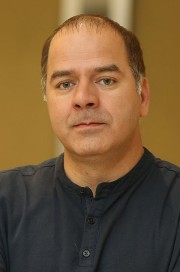 Syed Nazakat is the founder and CEO of DataLeads, a digital media company he founded to promote open data and the democratisation of information at scale. 
"I'm a great believer in collaboration," said Nazakat. "I think this is a unique model at The New Humanitarian to bring people from different backgrounds and different regions together, to serve journalism better. I feel honoured to be here. 
"We need good journalism here in India, in Asia. There are great stories that just need to be told. So I'm really keen to help to bring those stories to global audiences."
Nazakat has more than 18 years of experience across broadcast, print, and online journalism. He has reported from more than 25 countries, covering the war in Afghanistan, political turmoil in Nepal, development issues in Laos and Cambodia, unrest in Thailand, the conflict in India's Kashmir region, and the civil war in South Sudan. He was the first Indian journalist to report from an al-Qaeda rehabilitation camp in Saudi Arabia, and in 2013 he secured unprecedented access to the military detention facility in Guantanamo Bay, Cuba, to report on prison abuse cases.
Nazakat is a founder of Health Analytics Asia, a multimedia health reporting platform that is forging strong collaborations between journalists and doctors to strengthen health reporting and fact-checking in Asia.
Also, as a Program Director of the Google News Initiative's India Training Network, he leads one of the world's biggest fact-checking training operations – one that has resulted in the launch of many similar initiatives in India, in multiple languages, and benefiting hundreds of journalism institutions and media organisations. Over the years, he has trained and mentored hundreds of journalists, media educators, and media students across Asia in specially designed data boot camps. 
Nazakat is a former president of the Society of Asian Journalists (SAJ), a member of the International Consortium of Investigative Journalists, and he represents the Asia and Pacific region at the Global Investigative Journalism Network, leading GIJN's mandate and media activities across Asia. He was also one of the global jury members for Google's Media Award, choosing grantees for a $3 million fund for a COVID-19 Vaccine Counter-Misinformation Open Fund.
"In addition to their rich journalistic experience, Paula and Syed also bring deep insights into Latin America and Asia, respectively – two regions that are central to The New Humanitarian's coverage," said Aly. "Together with board members from Africa and the Middle East, they will help ensure that our governance is representative of – and listening to – the regions our journalism serves."