The New Humanitarian Annual Report 2019
2019 was our Coming of Age. In every area of our work - from our journalism to our finances - we have transitioned from a start-up finding its way to a stable organisation thriving in a challenging landscape.
We professionalised our journalistic offering, shifted most of our financing to multi-year contracts, institutionalised our systems, and left behind IRIN for a new brand: The New Humanitarian.
Read below for highlights from our work in 2019 or use the links to download the full Annual Report or Executive Summary.
Downloads: The New Humanitarian Annual Report 2019 | Executive Summary
Our impact
In 2019, our coverage of humanitarian crises informed high-level decision-making in the interest of those most affected – from the Rohingya crisis in Bangladesh to the emerging crisis in the Sahel.
We provided greater accountability and transparency in the aid sector: our reporting on the neglected crisis and displaced population in Gedeo zone, Ethiopia, was soon followed by a visit from the Ministry of Peace and additional material support from the government.
After we revealed that a high number of children were dying after arriving at al-Hol camp in Hassakeh province, Syria, weakened by the journey to flee Islamic State, the Syrian Democratic Forces allowed the United Nations to open a transit centre.
By making humanitarian issues more accessible to a wider audience, we also raised awareness and inspired further support.
Our journalism
The New Humanitarian's journalism seeks to do three things:
Provide in-depth, field-based perspectives on humanitarian crises

We mapped the spread of infectious diseases, with a focus on Ebola in the Democratic Republic of Congo and measles, HIV and diphtheria worldwide.
We documented the humanitarian impacts climate change is having on communities.
We highlighted abuses against displaced people.

Shine a spotlight on forgotten stories and emerging trends

We flagged the rise of militancy, particularly in the Sahel as well as Mozambique.
We kept an eye on Colombia, which continues to be plagued by economic hardships and social unrest.

Cast a critical eye over the emergency aid sector

Our investigations team exposed neglect and abuses of power by aid agencies, from a bungled UN investigation into sexual abuse by peacekeepers to a questionable deal between the World Food Programme and CIA-linked data mining firm Palantir.
We provided a platform for debate on aid policy.
Becoming The New Humanitarian
On 21 March, we officially changed our name and brand from IRIN News to The New Humanitarian, marking our move from a United Nations project to an independent newsroom.
Read more about The New Humanitarian brand
Developing our reader experience
We sought to enhance our reader experience in 2019 with a number of improvements to our web platform and online presence. These efforts were rewarded in the final quarter of the year, when unique visitors to our website increased to an average of 209,000 per month.
Our work on social media outreach and engagement throughout 2019 was recognised by the Geneva Engage Awards, in which we won first place in the Non-profit Organisations and Associations category.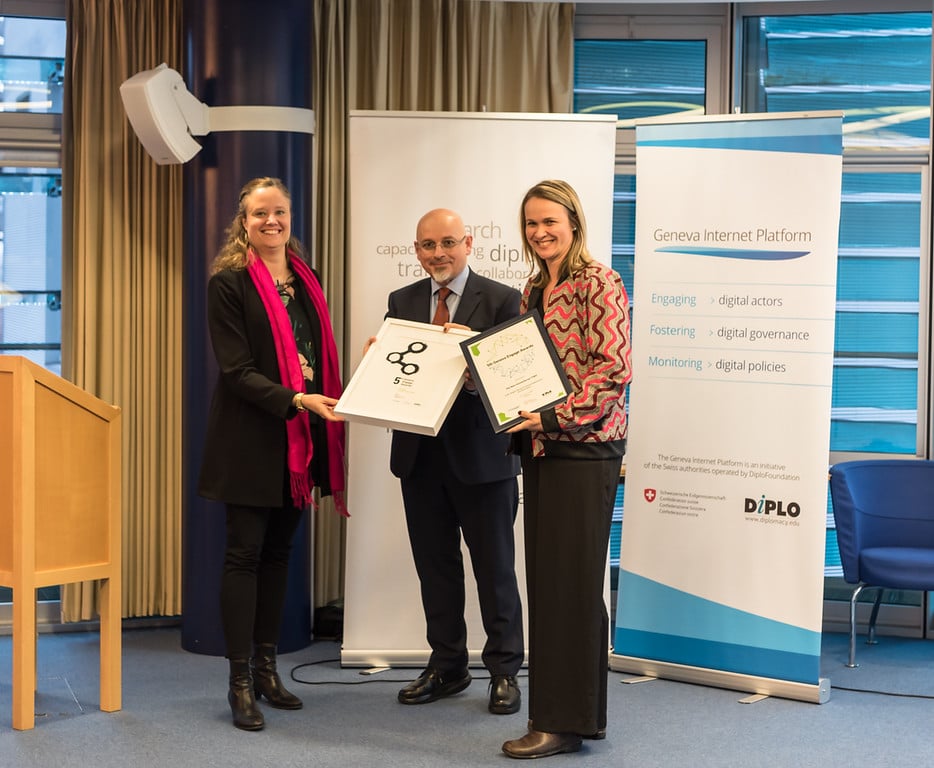 TNH won first place in the Non-profit Organisations and Associations category, in recognition of our social media outreach and engagement throughout 2019.
Follow The New Humanitarian: Twitter | Facebook | Instagram
Thought leadership
We were recognised as an authoritative voice in the humanitarian and media sectors, with invitations to speak at high-level events around the world. We hosted our own well-attended events on everything from fragile state to local aid.
We also gave keynote speeches at the International Conference of the Red Cross and Red Crescent and Constructive Journalism Conference; we chaired discussions at the World Economic Forum in Davos, the Humanitarian Congress in Berlin, and the Dubai International Humanitarian Aid & Development Conference; and we briefed private foundations, governments and university classes alike.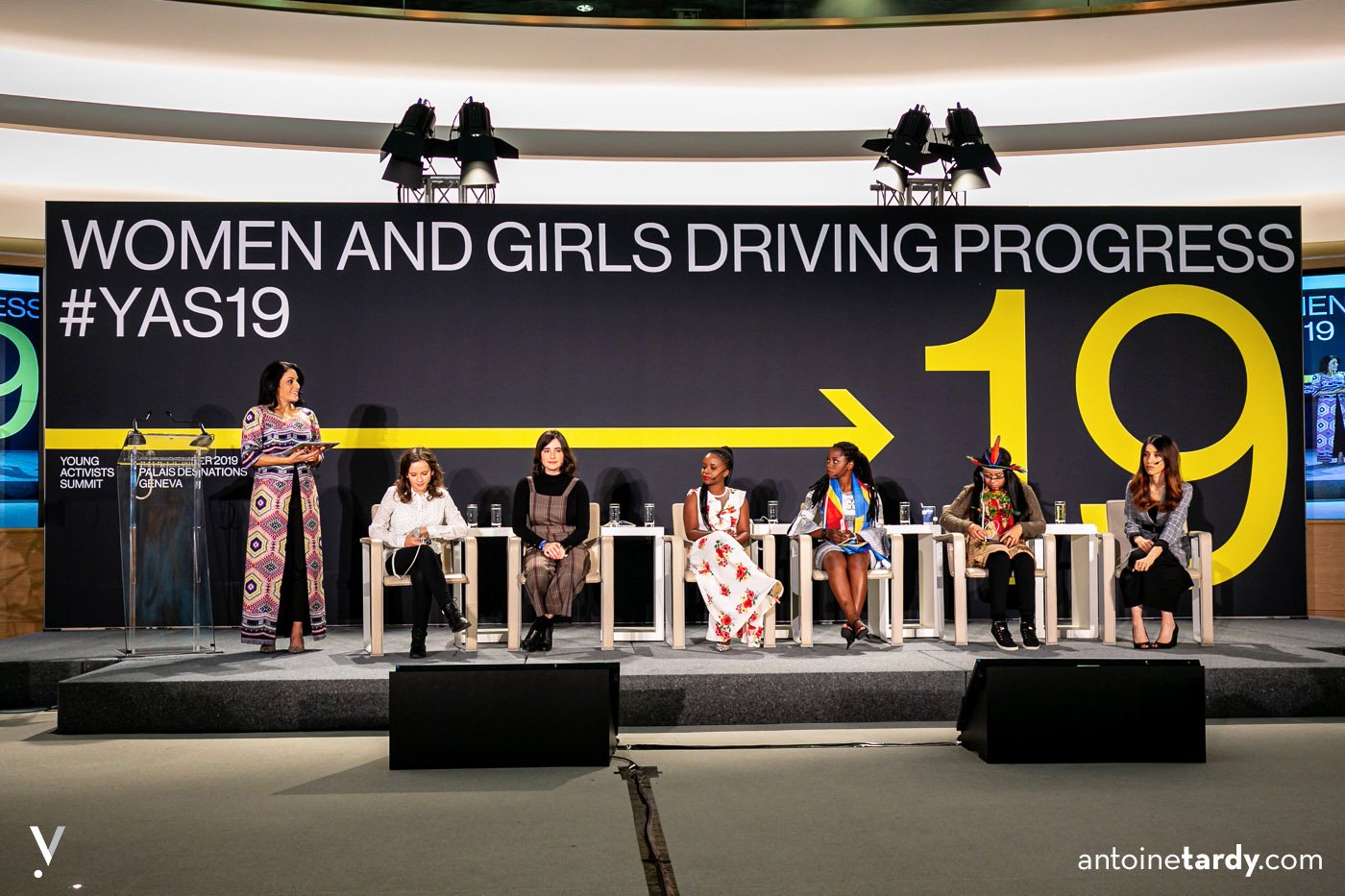 TNH Director Heba Aly MC-ed at the award ceremony of the Young Activists Summit in Geneva, with young, female activists, including Nobel Peace Prize winner Nadia Murad. Photo: Antoine Tardy/YAS
Read more about our events in 2019.
Finding our place in the media sector
We raised our profile in media circles in 2019, joining well-respected bodies like the Global Investigative Journalism Network, the International Press Institute, and the CIVIL foundation, a not-for-profit using blockchain to help independent media be more sustainable.
Our editors and freelancers were interviewed by outlets like the BBC World Service, the Canadian Broadcasting Corporation, and Switzerland's national broadcaster, among others, and regularly solicited for behind-the-scenes advice on covering specific crises.
Our funding
We made great strides with our funding and sustainability in 2019, increasing our funding portfolio to 18 partners, up from 13 in 2018, bringing on board five new donors - the Canadian government, the Danish government, Humanity United, the IKEA Foundation and the Wallace Global Fund.
Multi-year funding agreements now account for 75 percent of our funding. Our overall income grew by 15 percent over 2018 to CHF 1.95 million.
A new way to support our work
As we mark our 25th anniversary, we are launching a voluntary membership programme. Become a member of The New Humanitarian to support our journalism and become more involved in our community.