IRIN editors give their weekly take on humanitarian news, trends, and developments from around the globe.
On our radar
Civilians may still be trapped in last Islamic State pocket in Syria
A reported 2,000 people were evacuated from so-called Islamic State's last pocket of territory in eastern Syria this week, but the US-backed Syrian Democratic Forces said there may still be civilians remaining in the village of Baghouz. Once screened for membership in the extremist group, many leaving the territory are taken to al-Hol camp. The UN says 61 young children have died since December on the way there or soon after arrival. The World Health Organisation's head in Syria told IRIN recently that the security checks were delaying urgent healthcare and that local authorities had denied a request to set up a medical waystation. The SDF denied the charges, but since then UN agencies say they have set up just such a transit site "to address the high number of child deaths". Some people who had fled Baghouz told Human Rights Watch of hunger and being trapped under heavy shelling, air strikes, and IS threats.
"One after the other": Tropical storms swarm the Pacific
The cyclone season has put parts of the southwestern Pacific on high alert. Cyclone Oma threatened the Solomon Islands and Vanuatu for five days, sending over 1,000 to evacuation centres. The storm later brushed New Caledonia's coast and was due to push towards Australia. Earlier this month, the cyclone warning system in Tonga sent out repeated alerts as four separate "extreme tropical weather systems" threatened the country. Tonga escaped severe damage, but the country's head meteorologist said facing so many in quick succession was exceptional. Storms in the Pacific islands needn't cause headline-grabbing death tolls to leave a lasting impact; officials in Vanuatu and the Solomon Islands were expecting food shortages after Oma wiped out some smallholdings. Vast distances make repairs and recovery difficult. For more on preparing for Pacific disaster, see our recent story on women fighting for a seat at the table: Fiji's storm-watchers.
South Sudan rights violations may amount to war crimes
Despite the signing of last year's peace agreement in South Sudan, ongoing violations including rape and sexual violence "may amount to international crimes, including war crimes and crimes against humanity," according to a new UN report. Investigators with the Commission on Human Rights in South Sudan noted a "confirmed pattern" in the way combatants attacked and destroyed villages, plundered homes, and took women as sexual slaves. Sexual violence has worsened markedly since the commission's last update in December 2017; those targeted included children, the elderly, and pregnant women. Many sides of the conflict, including the army, national security forces, and rebel groups, were blamed for the violence, while the commission also investigated sexual exploitation and abuse by UN peacekeepers. South Sudan remains one of the world's worst humanitarian crises: 4.5 million people are displaced, seven million are in need of aid, and nearly 60 percent of the population will face severe food insecurity this year.
Joining up billions in development, humanitarian, and peace spending
The "triple nexus" may sound like an ice skating move, but it's the new orthodoxy in aid. A "recommendation" was adopted today by members of the Organisation for Economic Co-operation and Development. The OECD says its donor states command over $74 billion of international funding in "fragile" situations. The new Development Assistance Committee policy says long-term development, peacemaking, and emergency relief should have complementary goals and together could "avoid the occurrence of humanitarian needs". One aid agency nexus-watcher told IRIN that after much discussion in the aid community it was a relief to see clear definitions and terminology emerge. A source familiar with the discussions said "more must be done to prevent crises and deal with structural issues and root causes, rather than leaving the humanitarian system to pick up the pieces". The text refers six times to continued respect for humanitarian principles: critics question how humanitarian neutrality and independence sit with politically-flavoured development and peace efforts.
In case you missed it
Burkina Faso: More than 100,000 people have been displaced by instability and fighting in the West African country, according to the UN. Tens of thousands have fled this year, as rising militancy and attacks by armed groups affect the North, Sahel, and Eastern regions.
Madagascar: More than 900 people have died since a measles epidemic began in the huge island nation in September, the WHO said. Over 68,000 cases have been documented; those most at risk are infants from nine to 11 months old.
Myanmar: Restrictions on humanitarian access in Rakhine State are affecting some 95,000 people due to ongoing clashes between the military and the Arakan Army, an ethnic Rakhine insurgent group, according to the UN's humanitarian coordination arm. More than 5,500 people have been displaced since December.
Refugee resettlement 2018: UNHCR says 55,692 refugees were permanently resettled in 2018. The UN refugee agency says that's only about five percent of those they think were eligible. Despite deep cuts in its quota, the US took in more than any other nation. IRIN explored the numbers here.
Yemen: UN envoy for Yemen Martin Griffiths told the Security Council on 19 February that the two main sides in Yemen's war had agreed to withdraw from a small port and oil facility near the Red Sea city of Hodeidah, in a first step towards implementing a much-discussed ceasefire deal for the city.
Weekend read
As we write this, Venezuela is top of many media headlines as a quarter of a million people are estimated to be assembling on the border, in Colombia. The presidents of Colombia and Chile are expected – and maybe even Richard Branson. He is backing the concert they're all there to see, Venezuela Aid Live. The event's sponsors say it will raise $100 million to help the millions of Venezuelans living with shortages of, well, nearly everything. Branson even suggests that the performance could help persuade Venezuela's military to defy orders and open the border – sealed tight by President Nicolás Maduro – to aid shipments; shipments that opposition leader Juan Guaidó is inviting. Meanwhile, on the Venezuelan side of the border, Maduro is hosting his own benefit concerts on Friday and Saturday. What's a humanitarian to make of all this? Analyst and columnist Francisco Toro offers a reality check in his essay on what he calls the "increasingly blatant politicisation of aid". $100 million for food and medicine, for instance, "is completely out of proportion" with the scale of need in Venezuela. And if you're concerned about the politicisation of aid, you might like to check out this from The Guardian, on the politicisation of, um, bread.
And finally
US-armed donor proposal stirs alarm
A new type of US government aid official could be embedded with US intelligence or military forces in insecure hotspots to work on certain tactical projects. They would be "super enablers", according to a proposal developed by consultants hired by USAID. The proposed two-person Rapid Expeditionary Development (RED) teams would be physically fit, armed, and able to deploy where USAID can't send civilians. The proposals met with some support in the US military and intelligence communities, and mixed views from within USAID, the 75-page report said. The concept, first reported by Devex, has been met with dismay by some in the humanitarian Twittersphere, earning reactions such as "wannabe SEALS" and "incredibly unwise". Also, it's been met with a humanitarian principles meme (a Ranger tab is a badge indicating completion of a very tough two-month US Army training course):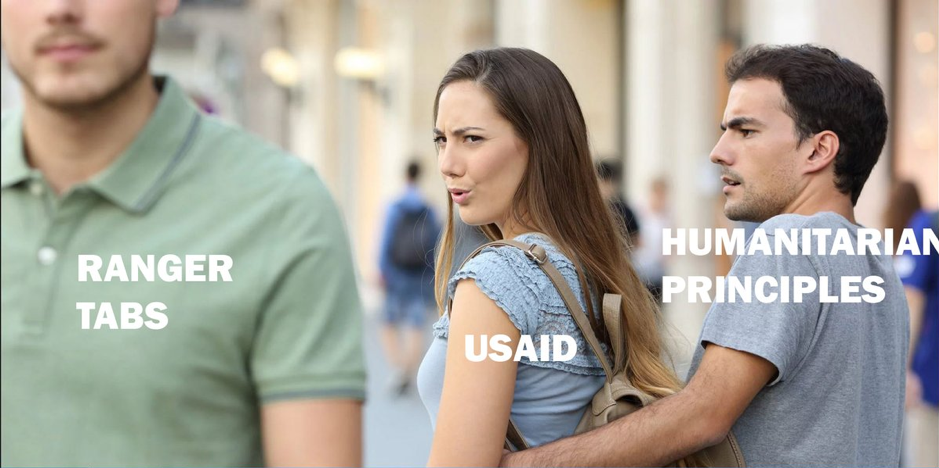 (TOP PHOTO: Some of those fleeing besieged IS territory in Syria. CREDIT: Constantin Gouvy/IRIN)
bp-as-il-si/ag