For the past 20 years, Felipe Nazar has started his day with a cup of coffee at 3am, then set off for his farm in Bulacan province, north of the capital Manila, so he can finish before the heat makes it impossible to work. 
It is a gruelling schedule, but Nazar, 52, has not skipped a day since prices for farm inputs, such as seeds, feed, and fertiliser, began to climb last year. 
"We can't afford to waste a day," Nazar told The New Humanitarian. "We don't earn anything during harvests. We just survive. We're practically giving away our crops." 
Recent events beyond their control – the COVID-19 pandemic, Russia's invasion of Ukraine, and weather-related disasters – have made life increasingly precarious for farmers like Nazar, raising concerns about rising hunger in the Philippines, an archipelago of more than 7,000 islands and some 109 million people.
Climate disruptions also loom on the horizon. The El Niño climate pattern, which started in June and could last until next year, is bringing higher temperatures in some places and wetter weather in others, creating dry conditions as well as more powerful storms. The Philippines' National Water Resources Board has already cut back water supply for irrigation in Bulacan, where Nazar lives, the state news reported.
Farmers and fisherfolk were the two poorest groups of workers in the Philippines in 2021, with nearly one in three living below the poverty threshold, compared to the national average of around one in five, according to a survey by the Philippines Statistic Authority released this year. Input costs for farmers have more than doubled since 2020, adding to their burden.
When he was a younger man, Nazar could save up to 20,000 Philippine pesos (about $367) in a good month. These days, however, his family is subsisting on dried fish and vegetables, and Nazar can't afford his children's school fees.
Despite his wife and four daughters helping with the fieldwork, their two-hectare farm has not made a profit for more than a year. Instead, Nazar is in debt after borrowing around 2,000 pesos ($37) at a 10% monthly interest rate from loan sharks to cover the costs of fertiliser, prices of which have nearly tripled in the last year. Transportation costs are up as well, with gas about 20% higher than 2022. 
In the end, Nazar sells a kilo of rice for 15 pesos ($0.27), whereas consumers end up paying around 58 pesos ($1.06) a kilo. 
In the northern Tarlac province, Arnold Unan, 54, has also turned to money lenders to make ends meet. He has pawned his claims to a parcel of land to pay for his costs to run a one-hectare rice farm. 
His income – 10,000 pesos ($138) for each of his three harvests – is not enough to feed his family, so he has taken on side jobs, including construction and carpentry. "Without a loan, we can't work. I don't know if I'll ever be out of debt," he said. 
Hunger spreads in the Philippines
In a recent report, the UN's Food and Agriculture Organization (FAO) said that there is "currently no reason to suspect an impending food [shortage] crisis" in the Philippines; it's affordability that is the concern. The World Bank in May also had an optimistic outlook for the Philippines, calling it one of the "dynamic economies" in Asia. 
With a growing middle class and a large and young population, it is currently a lower-middle-income country that could be on track to reach upper-middle-income status. Its inflation rate of 5.4% in June 2023, down from a 14-year high of 8.7% in January, is significantly lower than other nations, including Argentina (114%), Ghana (42.2%), and Egypt (35.7%). 
Still, food inflation is higher, at 6.7%, and even a small shift can have an outsized impact in a country where households spend more than half of their monthly income on food. 
National averages mask regional differences in hunger and poverty levels that persist in remote islands and mountains, said Suresh Murugesu, country director for Action Against Hunger Philippines. Parts of central and southern Philippines have hunger levels three to four times that of regions with the lowest levels. 
A survey released in May by Social Weather Stations, a nonprofit research group, found nearly one in 10 Filipinos experienced "involuntary hunger" – being hungry and not having anything to eat – at least once in the past three months. In addition, 74% of Filipinos could not afford a healthy diet in 2021, data from the latest UN report on global food insecurity showed. 
People like Jessica Bonus, 50, and Julie Gutierrez, 40, fall into both categories. Bonus, a factory worker, has earned the same daily wage of less than 429 pesos ($8) for two decades. She borrows money to feed her only child and an infant grandchild, and worries that the canned food and eggs she buys are not nutritious enough for her grandchild. 
Gutierrez was once one of over two million Filipinos working abroad whose remittances kept her family afloat, but health issues forced her to return. Her husband is now the sole breadwinner, and with their son in college, the urgency to earn more has never been higher. 
"Our breakfast and lunch have become one. Our merienda (afternoon snacks) are gone. Rice, eggs, everything is expensive," said Gutierrez, who hopes a campaign by unions and civil society groups for a family minimum living wage of around 1,100 pesos ($20 USD) will increase the family income.
Reliance on imports hurts local farmers
President Ferdinand "Bongbong" Marcos Jr., who took office last June, raised hopes when he also took on the role of secretary of agriculture, an important nod to the country's agrarian roots. But activists and farmers The New Humanitarian spoke to are concerned he is preoccupied with reviving failed policies of his father, a dictator who was president from 1965 until 1986. 
Some experts say the country's long history of relying on food imports to feed its expanding population makes it susceptible to swings in global prices, impoverishing Filipino farmers as well as making food and fuel expensive for ordinary people. 
Two key imports are rice, the most popular staple food, as well as about 95% of the country's fertiliser, according to the Department of Agriculture. This year, the government doubled the National Rice Programme budget to 30.30 billion pesos ($550 million) to increase the volume of imports. 
Sonny Africa, executive director of the economic think tank Ibon Foundation, said trade liberalisation under tariff reform programmes, free trade deals, and the country's entry into the World Trade Organisation in 1995 dictated its policies of "importing the economy's needs instead of actively supporting, protecting, and promoting domestic agriculture".
Some experts say the country's long history of relying on food imports to feed its expanding population makes it susceptible to swings in global prices, impoverishing Filipino farmers as well as making food and fuel expensive for ordinary people. 
Local farmers are being forced to "compete with more advanced or heavily subsidised agricultural production from abroad", said Africa. 
Between 2019 and 2022, the government spent more than 155 billion pesos ($2.8 billion) to import 14.1 million tonnes of rice because it does not produce enough rice to feed its population, causing losses of nearly 300 billion pesos ($5.5 billion) to local farmers who have had to reduce prices to compete with cheaper imports, said Danilo Ramos, leader of the Peasant Movement of the Philippines.
"Farmers are poorer than ever. In the Bicol region, farmers sold unmilled rice at seven pesos ($0.13) per kilo instead of 20 pesos ($0.37) just to keep up with the market," he told The New Humanitarian. 
Meanwhile, the gap between imports and exports has widened, putting pressure on the state's coffers, said Rafael Mariano, former secretary for the Department of Agrarian Reform. 
In fact, the Philippines has the largest food trade deficit in Southeast Asia, according to Trinh Nguyen, a nonresident scholar in the Asia Programme at the Carnegie Endowment for International Peace. Such dependency makes it particularly vulnerable to food inflation and intensifies the impact of global crises on Filipino farmers, particularly those growing rice.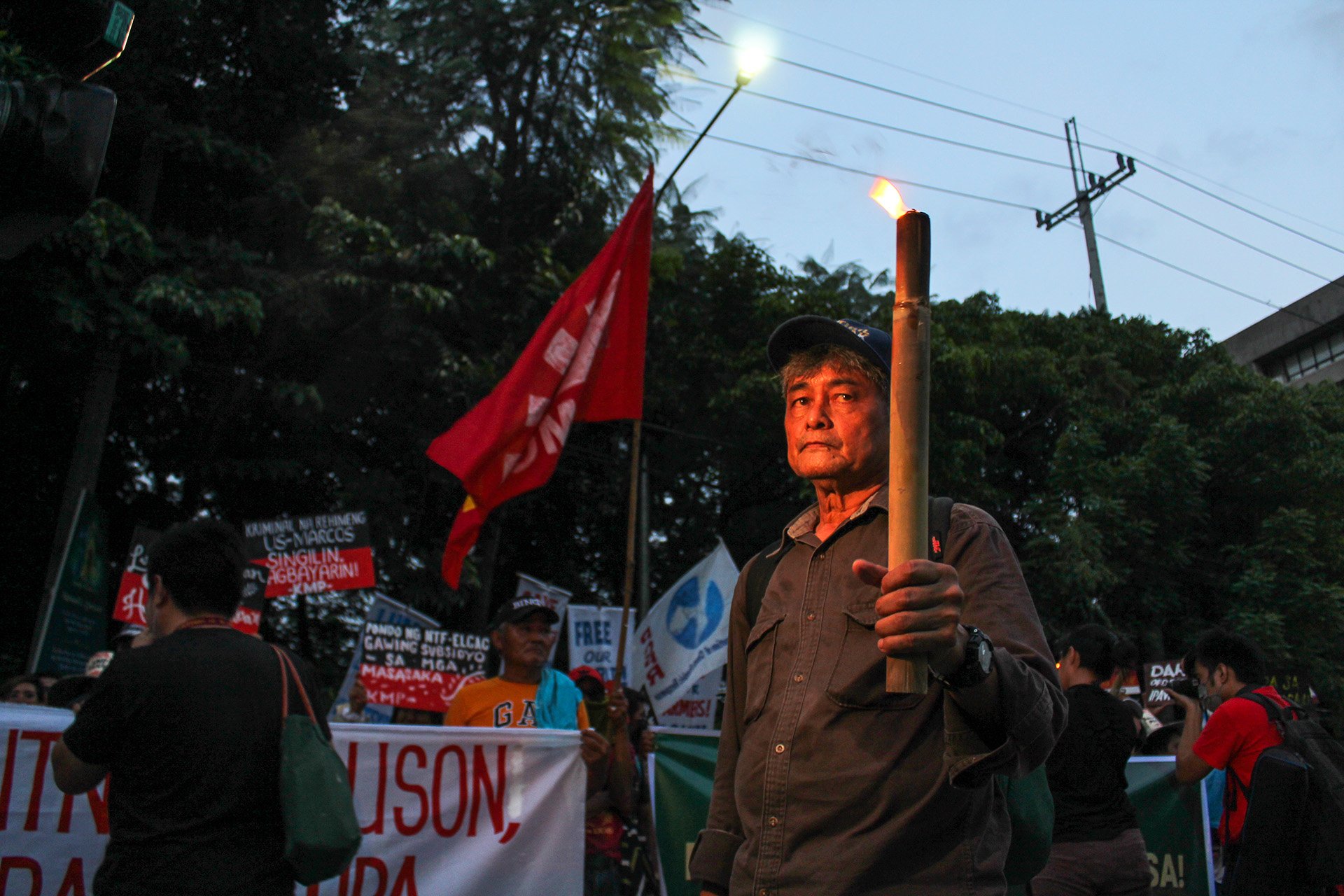 But some say food imports are still needed, at least in the short run. 
"If we don't [import], prices will skyrocket, and we will be unable to meet… food and nutritional requirements," said Carlie Labaria, an FAO specialist on environment and natural resources. "In the long run, we think [the government] should be looking at the National Food Production Strategy, which will boost local production." 
Ensuring farmers have access to credit and capital, helping them use resources, such as fertilisers, more efficiently to reduce costs, and improving environmental outcomes will improve the situation, added Labaria.
The ghost of the Marcos dynasty 
Since Marcos Jr. "made unilateral actions to increase imports", he can "do the same for farmer support", said Mariano. 
The National Food Authority, which Mariano said has the power to replenish the country's rice supply from both local and foreign sources, can do this. The government can also help struggling consumers by imposing a cap on the price of key commodities, he added. 
Ramos, a farmer-turned-activist, has a more radical suggestion for the new government: suspend the Rice Tariffication Law passed under former-president Rodrigo Duterte in 2019, which removed restrictions on imports and replaced them with a 35% tariff, and support small scale farmers with monthly subsidies worth $274 to beef up local production. He also called for reforms to benefit landless farmers.
"Thousands of land disputes cases have piled up in government offices," Ramos said. "These need to be resolved quickly so that land can be freely distributed and cultivated."
There have been some improvements. Agriculture received a 25% increase in funding this year, but it was mainly for infrastructure, and the country is planning to import its largest-ever haul of rice next year. What the government should work on is shortening domestic supply chains, said economists, aid workers, and former officials. 
Diversification is also key, said Nicostrato Perez, a Filipino Research Fellow at the Washington DC-based International Food Policy Research Institute. 
"For rice, we should focus on those really productive regions like Central Luzon and a part in central Mindanao," said Perez. "But the rest of the productive areas should diversify to high value crops, which are mostly vegetables and fruits."
This could have the benefit of providing more nutritious food. "Consumption will follow when we produce more fruits and vegetables. The diet will also change once they become more available and accessible," Perez added. 
Critics, however, said what Marcos Jr. has done instead was to resurrect his father's projects, such as the Kadiwa stores offering subsidised food items, and the rice self-sufficiency project Masagana (Bountiful) 99. 
The Kadiwa stores of the 1980s didn't last long because of chronic mismanagement and unstable prices. And the previous Masagana programme used extensive monocropping of imported hybrid rice and "caused damages beyond repair to our environment, farmer's livelihoods, and our food and agricultural systems, including the erasure of our country's more than 4,000 local rice varieties", said Eliseo Ruzol Jr., information officer at Masipag, a grassroots farmer-led advocacy network. 
Such projects also do not help farmers become resilient because relying on expensive seeds, fertilisers, and pesticides will keep them in a vicious cycle of poverty, said Masipag's agricultural scientist Charito Medina. 
"If you plant hybrid rice on a wide scale, which the government intends to do," said Medina, "a single fungus or disease can wipe it all." 
Edited by Tom Brady.