Blocked from entering Jordan, some 70,000 Syrians are camped out near a border crossing known as Rukban, one of two locations where refugees and asylum seekers are marooned in a demilitarised zone a few kilometres wide on the Syria-Jordan border, demarcated by ridges of bulldozed earth known as berms.
Syrians began arriving at this remote, wind-battered stretch of desert in July 2014, and with Jordan refusing the majority entry, as the settlement has grown it has also become home to a mix of smugglers and rebel groups, extremist militants, as well as Jordanian and allied foreign forces active in the area.
A suicide attack claimed by so-called Islamic State killed seven Jordanian security personnel at a Rukban military base on 21 June, prompting Jordan to tighten security. Aid has been reduced to almost nothing, and the UN and donors have been trying to thrash out a deal for weeks. The plan for Rukban, drafted by the UN in consultation with the Jordanian military, is laid out in a provisional agreement obtained exclusively by IRIN, and further outlined in briefings from diplomats and aid officials.
At a glance
Aid will reach the refugees but under new conditions
Donors are expected to fund a $39 million package of humanitarian measures, as well as additional security support to Jordan
The package will not allow more refugees into Jordan
The new aid distribution point will be moved deeper into the DMZ, possibly just into Syria, in the hope that the displaced Syrians will move northwest of their current location
The new distribution point will be patrolled by a unit of Syrian security guards trained in Jordan, while fencing and other measures aim to contain movement

Another 7,000 Syrians at Hadalat, a crossing point 90 kilometres to the west, are not covered by the scheme

Satellite imagery obtained by an NGO shows new earthworks in the DMZ
The deal, agreed in principle by the UN but not yet formally accepted by the new chief of the Jordanian Armed Forces, General Mahmoud Freihat, comes three and a half months after the bomber entered Jordan through the distribution area and detonated his vehicle and after which most aid was suspended.
Supplies of aid to the berm were already patchy at best. Since the attack, only a trickle of water has been provided – well below minimum standards – and a single, crane-delivered food drop.
Security
For Jordan, a key US ally and peaceful bulwark against extremism in the region, security is the primary concern. The ease with which a militant entered the country from amongst the civilians at the berm and carried out a suicide mission has spooked authorities here.
"That car came from Rukban camp, and in less than two minutes, they had done their business," Brigadier-General Mohammad al-Mawajdeh, the JAF's director of civil military affairs, told IRIN. He stressed that what Jordan needed most was more time to respond to possible threats.
Diplomats present at negotiations say that after the June attack, some proposals involved moving the Syrians beyond the northern berm, well into Syria. But humanitarians balked at the prospect of pushing refugees back into their country of origin, closer to an active war zone. This would also have been questionable under international humanitarian law and a principle known as non-refoulement, which precludes the forcible driving of refugees back towards persecution.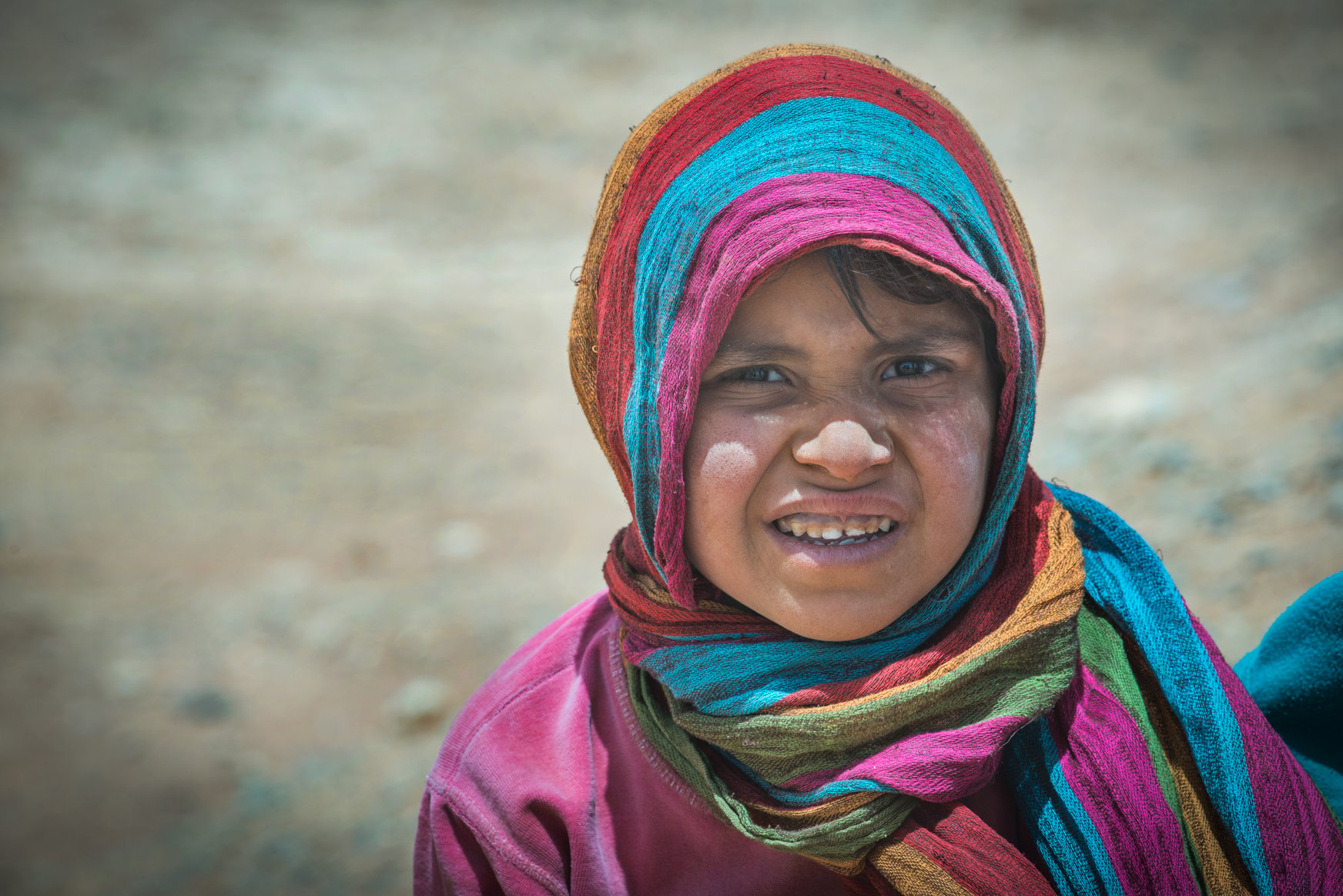 A compromise was eventually found to relocate the main aid distribution point within the berm area but still closer to the Syrian war. The new location is some 7km north-west of the current distribution point, and around 9km from the military base where Jordanian and other allied forces are based. UN officials are hoping for what they have referred to in meetings as "a spontaneous movement of refugees to the new distribution point".
Al-Mawajdeh said this should deliver what Jordan needs. "The movement of those people to the north will give us adequate response time. The new location will give us an open area to monitor movement towards our border and assess any strange movement, whether it's friendly or not," he said.
Amnesty International's refugee researcher Khairunissa Dhala described the recommencement of aid as "welcome", but cautioned against forcing the Syrians to move.
"Any efforts by the UN and Jordan to provide aid must be in line with international standards and ensure that refugees at the berm are not either directly or indirectly coerced to move in order to receive it. Forcing them to move to areas where they may be more vulnerable would be a flagrant violation of international law," she said.
"A military issue"
Off the record, several Amman-based diplomats familiar with the negotiations have put the matter more bluntly.
"Everyone has abandoned the principle of the right to seek asylum"
"Everyone has abandoned the principle of the right to seek asylum, and then they abandoned the right to humanitarian aid. This is a military issue now, and the US will not abandon Jordan's stability. It's all about that," said one senior European diplomat.
Another European diplomat called the plan "the creation of a buffer zone".
"What is being presented is a compromise between what Jordan wants and what the international community can handle," he said.
According to the draft plan leaked to IRIN, of $39 million in spending from September through December, $26 million is security-related. This includes $20 million for a new road from Karama to Rukban, $5.1 million on additional border posts in the area, and $1million on a reinforced temporary service area. There will also be a community health centre – this may be located closer to Jordanian territory.
A senior diplomat present at negotiations said Jordan would, in addition to the UN plan connected to humanitarian services, also win donor support for a range of other related security enhancements, including watchtowers, allowances for security personnel and armoured vehicles.
Remote operations
Aid agency staff will not be providing the aid directly. Given the lawlessness and uncertainty about the location of the exact border line, the risk of sending staff beyond the Jordanian berm may simply be too high, even were Jordan to agree.
"There's not a snowball's chance in hell that humanitarian agencies would allow staff in," claimed one senior aid manager.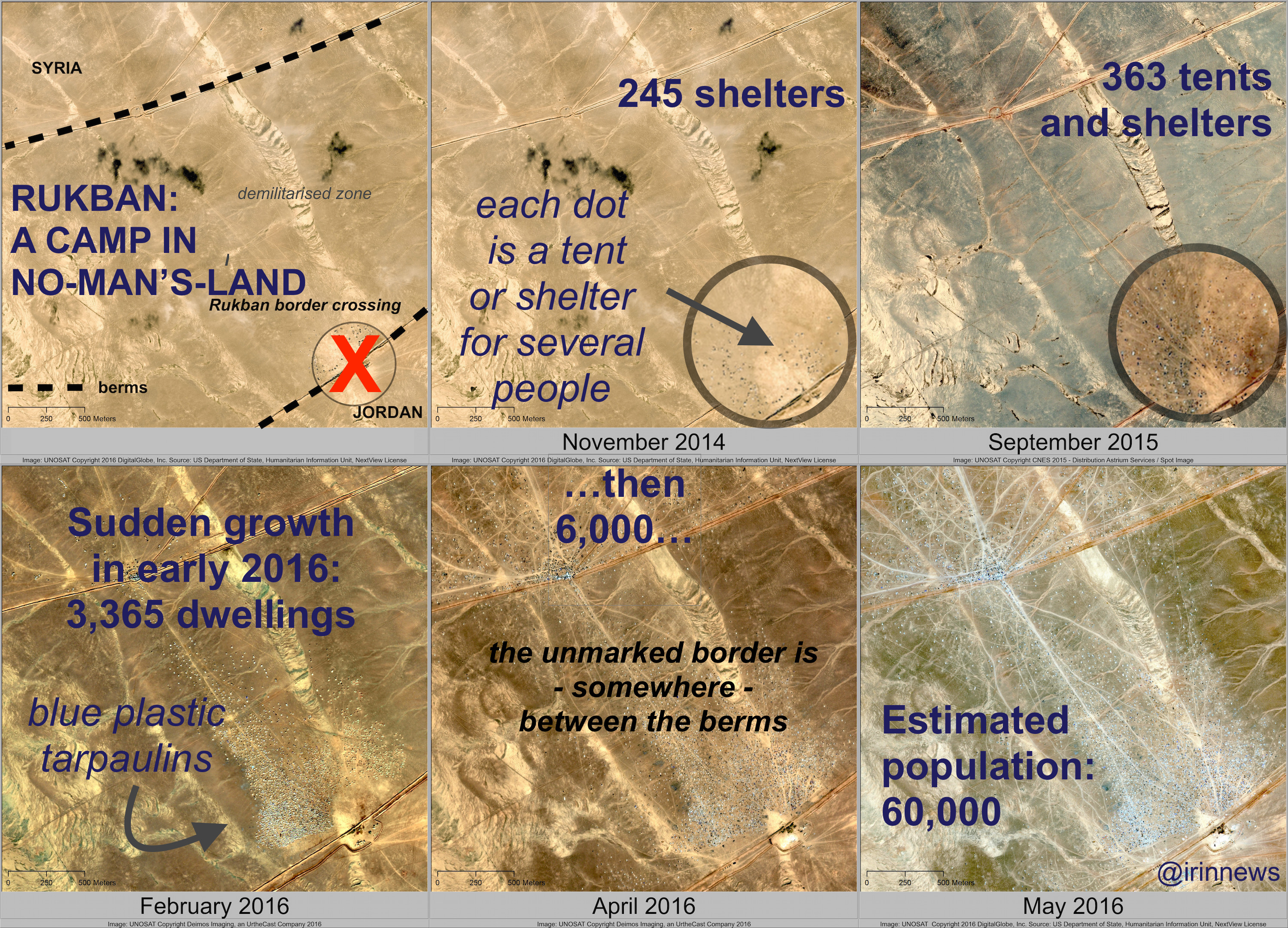 The solution, hiring contractors to move in and out of the zone, monitor and deliver goods and services, raises other questions.
Multiple sources told IRIN that UNICEF will contract the Jordanian firm Loyalty Support Services to handle water distribution at the new service area.
Several other firms will begin providing for-hire services at Rukban in the near future.
Those services will include the provision of food, medical attention and supervising a soon-to-be-hired team of Syrian security officers, who, according to the draft plan, are to be trained at the Peace Operation Training Centre in Jordan to patrol and "ensure stability on the Syrian side of the berm".
The inclusion of private sector service providers in a humanitarian response has raised the ire of some humanitarians involved.
"These are for-profit operations.... Can you imagine how much money they are making? It's like a honey pot," said one regional aid agency head. "They are making profit off the backs of those people."
While all the aid officials IRIN spoke to acknowledged that Jordan has legitimate security concerns, some viewed the agreement as simply beyond the pale.
"Don't call it humanitarian aid, because it's nothing like humanitarian aid. It's just assistance," said another senior humanitarian based in Amman.
"This approach doesn't properly address the needs. If the distribution point is moved into the demilitarised zone and the army can't go in, what's to stop people from walking south and firing their rockets anyway?" he asked.
Various UN agencies – UNICEF, (the aid coordination arm) OCHA, UNHCR, and the World Food Programme – all declined to comment while the plan was still being negotiated, but UN Resident and Humanitarian Coordinator in Jordan Edward Kallon told the Jordan Times earlier this week that the UN was "in the process of finalising the implementation plan with the Jordanian Armed Forces".
Will it work?
After months of high-level negotiations, the plan may stumble when put to the only party not at the table: the Syrians at the berm themselves.
According to a recent Associated Press report, there is little appetite amongst Rukban's displaced Syrians to move. After the plan was announced to community leaders, residents staged a protest, holding signs that asked: "Where can we go? Starvation and deprivation before us, bombs and murder behind."
"The situation of those people, I cannot describe it, how bad it is"
Although some of the estimated 70,000 people in Rukban, the majority of whom are women and children, want to enter Jordan, this is not true of them all. In interviews with refugees admitted to Jordan from Rukban in spring 2016, many families told IRIN they had gone there for food and water, but most said they were drawn primarily by the perceived security that came from being so close to the Jordanian border.
Many people at Rukban have been there for months, some for more than a year. They have battled lawlessness and conflict to scratch out a bit of security in the rocky desert. It is small wonder that refugees now at Jordan's Azraq camp, just inside the border, have said the prime spots at Rukban, especially for women and children, are the ones closest to the Jordanian berm, within sight of the Jordanian forces.
The details are still being ironed out, and more than a month after UN humanitarian chief Stephen O'Brien last visited Jordan and called conditions at the berm "dire", UN agencies are very conscious that even if this agreement isn't perfect, every day of negotiation is a day 70,000 people go without.
Said one experienced humanitarian: "The situation of those people, I cannot describe it, how bad it is."
(TOP PHOTO: Syrians at the berm on the border with Jordan, June 2016. Photo: Peter Biro/ECHO)

sw/as/bp/ag