As Hurricane Irma whipped its way through the Caribbean and headed for Florida, its catastrophic impacts further east put into stark relief the vulnerability of the region's poor island communities to increasingly fierce and frequent weather events.
The toll the record-breaking storm will take on Florida remains to be seen, but the resources pouring in to buffer the US state and its inhabitants dwarf those of hardest-hit island communities with nowhere else to go.
As Floridians – and coastal Georgians – boarded up their homes with plywood and took to their cars, or the skies, to find safer parts of the country, options were few and far between for those stranded on small Caribbean islands in fragile homes, with little high ground and scarce emergency shelters.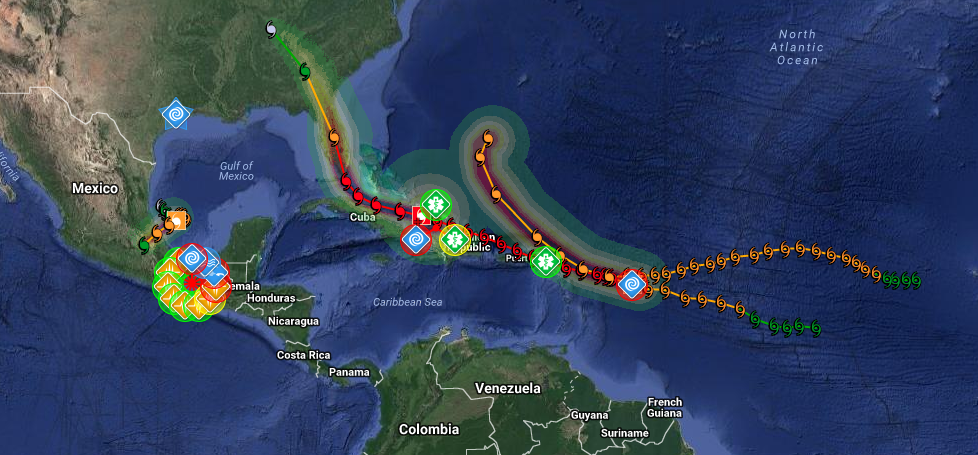 Residents of Anguilla, Barbuda, Saint-Martin/Sint-Maarten, and the British and US Virgin Islands surveyed the wreckage and recounted miraculous stories of survival, including tying themselves down with ropes, as a massive storm the size of France destroyed most of their houses and flooded their villages.
Respite appeared short-lived as Hurricane Jose strengthened to a major Category 3 storm in the Atlantic with sustained winds of 125mph and a similar course as Irma.
"The damage is already catastrophic," Ronald Jackson, director of the Caribbean Disaster Management Agency, told IRIN. "The only good thing is that the death toll is not commensurate with the extent of the damage we've seen."
A total of 19 people had been confirmed killed (one each in Barbuda, Anguilla, and Sint-Maarten, three in Puerto Rico, four in the US Virgin Islands, and nine in Saint Martin) by mid-Friday, but it was still early days in the search-and-rescue efforts and the fatality situation was still unclear in the badly hit British Virgin Islands and Turks and Caicos.
 Jackson said there were fears Hurricane Jose could wreak even more damage, given the saturation, weakened buildings, and flooding left by Irma.
Asked by IRIN whether the islands had been prepared, Jackson replied: "No one can be prepared for a hurricane of this nature. We can evacuate and board up houses, but we are talking of catastrophic wind speeds. You simply cannot prepare for the outcome of these things." 
[IRMA] Saint Martin dans le mur de l'oeil subit les effets de l'ouragan IRMA #iram #ouragan #SaintMartin (Source : Rinsy Xieng) pic.twitter.com/e2j7e9KtOu

— RCI Guadeloupe (@RCI_GP) September 6, 2017
The damage to tiny islands like Saint-Martin and Barbuda has been devastating, with almost all the housing destroyed or badly damaged. Although Puerto Rico avoided a direct hit, almost one million people were without power in a US territory already grappling with electricity problems and crippling debt.
Haiti largely spared
As Irma closed in, relief workers in Haiti tried to persuade reluctant inhabitants in the north to abandon their homes and livestock for higher ground.
Caution was still being urged in what is the poorest country in the western hemisphere – one ravaged by deforestation and natural disasters and prone to deadly floods and landslides. Hurricane Matthew caused awful coastal flooding in southern Haiti in October 2016 that left hundreds dead, while a catastrophic earthquake in 2010 killed hundreds of thousands, many of them beneath the rubble of the flattened capital, Port-au-Prince.
A measure of the vulnerability of Haiti and the neighbouring Dominican Republic, which share the island of Hispaniola, is that while they were largely bypassed by Hurricane Irma they still suffered widespread flooding and thousands of homes were damaged and people displaced.
As Britain, France, Holland, and the United States dispatched warships and planes full of aid and emergency personnel to restore a measure of functionality to their territories, it was left to aid groups and the perennially disaster-stricken national government to help out Haiti.
Yvonne Helle, the UN Development Programme's senior country director in Haiti, said people in the north who had not borne the brunt of Hurricane Matthew last year were less sensitised to the danger. "In some areas people evacuated but in others, not. It's very difficult to persuade people to leave." Prisoners and orphans were among those who were evacuated early, she added.
So far, the damage in Haiti was less than expected, despite some severe flooding from the Rivière du Massacre, bordering the Dominican Republic. There were still fears of flooding and landslides in the northwest of the country however. In the south, Helle said desperately needed aid for rebuilding infrastructure destroyed by Hurricane Matthew in October last year was only coming in now.
The good news was the high level of coordination between the relief agencies and the relevant sectors of government, despite the fact President Jovenel Moïse's administration was still relatively new. "Everyone is applying the lessons they learned with Hurricane Matthew and communication between all the parties is now much better," said Helle. 
Resilience and climate change
Several experts and observers said they were witnessing a "new normal" with more frequent and more intense storms in a region that had to become better prepared. "For us living in the Caribbean, we see that climate change is real. We are seeing drought and rainfall patterns changing. Hurricanes are stronger and are happening later in the season," said Helle.
The Platform of Disaster Displacement's Walter Kaelin said storms like Irma show that the worst hit are those who are least resilient. "It is clearly linked to poverty," he said. "Those who have to live in unsafe settlements are exposed to flooding and landslides. These storms exacerbate pre-existing vulnerabilities."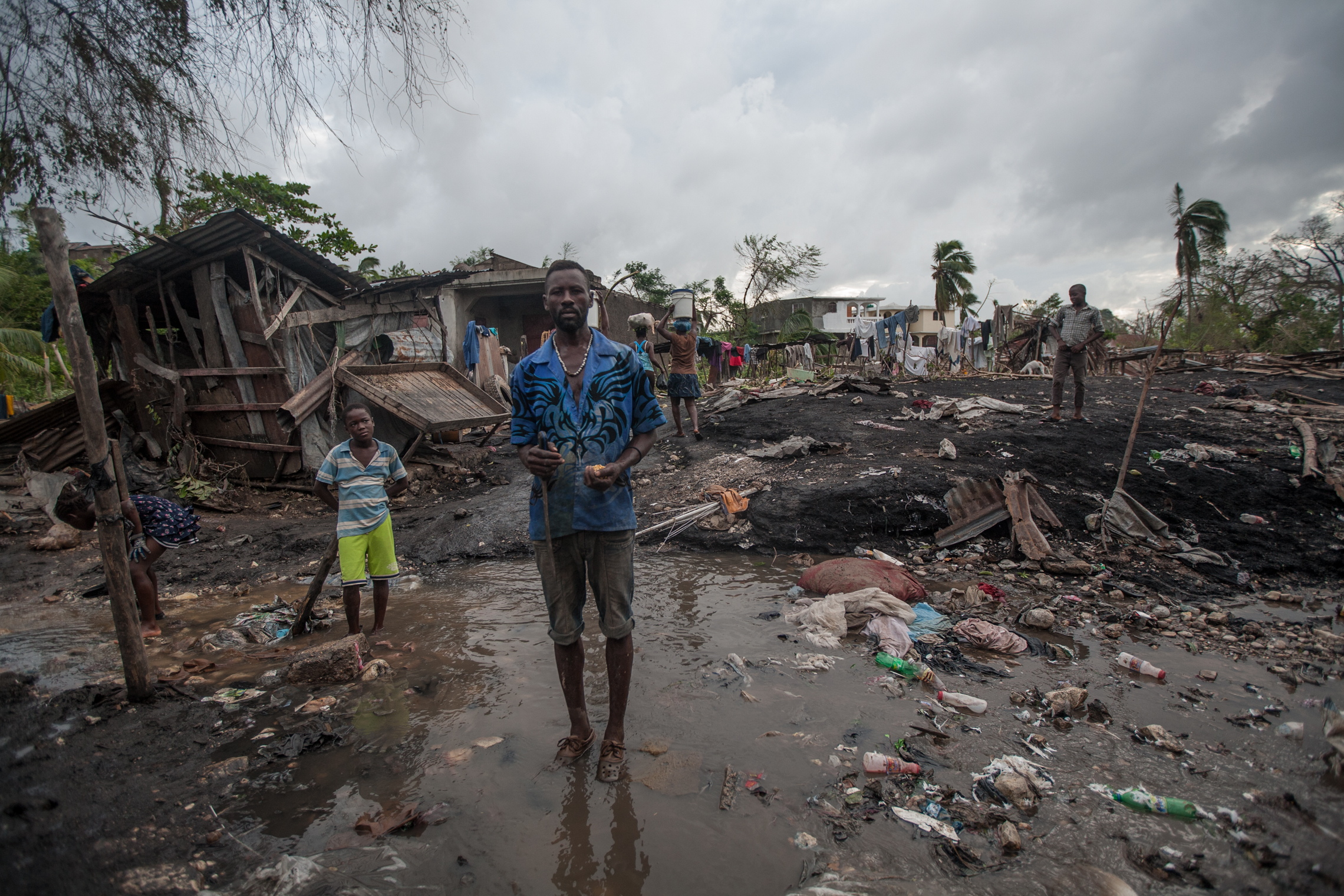 Kaelin said there are strong connections between these storms and climate change. "We do know that with global warming, super storms will increase in terms of strength," he told IRIN. "There is some debate about whether this is causing more frequency, but we know there is a relationship."
Jackson agreed, saying that even though hurricanes were part of the identity of people in the Caribbean, "we are in an era where the climate is changing and is having a huge impact on (us)."
"We are in a new normal where hurricanes and tropical storms are rapidly developing" and "where we're seeing an uptick in the frequency of high-magnitude and extreme events."
Diplomatic efforts to get countries to reduce their carbon emissions is one thing (the Caribbean produces less than one percent of global emissions), but in the meantime, "we need to invest in environmental sustainability and emergency services," he said. 
Speaking from Barbados, Jackson said steps had to be taken to improve drainage on the islands, which had suffered from the removal of too many trees to make way for development.
Building codes had to be updated, but more importantly, implemented and enforced, he said, calling for greater partnerships between public and private sectors to bolster Caribbean island states unable to bear the costs, not only of repair, but also of developing resilience for future storms.
Kaelin pointed to climate adaptation strategies being put in place in vulnerable islands in the Pacific (including seasonal migration programs that allow islanders to work in countries like Australia and return with resources to build stronger houses at home), but said this kind of country-to-country cooperation has yet to occur in the Caribbean in any consistent way.
"There will be people in future who will try to leave the islands," predicted Kaelin. Countries like the United States and Canada will have to decide whether "out of an act of humanity they will let people in". At the very least, he suggested, temporary protection status should be granted to people from affected islands living in these countries who would otherwise be deported, as occurred with the Haiti earthquake.
pg/ag