Cholera is now killing more people than bombs and bullets in Yemen, in a raging outbreak that is out of control thanks to the inability of the country to cope after more than two years of war.
According to the latest (and always growing) numbers, 923 people have died of cholera in Yemen since the end of April, 532 in May alone. For comparison, the UN recorded violent deaths of 98 civilians in May.
When IRIN first reported on Yemen's cholera outbreak in the middle of last month, it was bad: hospitals in the capital of Sana'a were overflowing, and humanitarians were racing to contain the disease.
Aid agencies seemed to be ticking all the boxes: providing back-up for those medical facilities still operating in the midst of war, setting up centres to fight deadly dehydration, and chlorinating water that could spread the disease.
But all the while, patients were likely passing cholera between each other in the very places they sought treatment. And in rural areas, with barely any health infrastructure or aid agency presence to serve the population or collect information on the scope of the problem, civilians were suffering at a scale much greater than anyone thought.
The UN counts more than 124,000 suspected cholera cases in the country. UNICEF and the World Health Organization estimate this figure will more than double by the end of the year, while Oxfam Country Director Sajjad Mohammed Sajid told IRIN he fears the additional number of cases could be closer to 300,000 by then.
In a recent update, the WHO said: "Yemen is in the grip of a severe cholera epidemic of an unprecedented scale."
There can be no more hedging of a country "on the brink" or "on the edge" of a disaster from cholera. Yemen is already deep in the abyss.
Why is it so bad?
The root cause of the latest outbreak is unclear, but Yemen is always at risk. A lower-level outbreak, between October 2016 and March of this year, saw more than 24,000 suspected cases and 143 deaths.
The constant threat comes from Yemen's location near the Indian Ocean and relatively close to the Bay of Bengal, described to IRIN by Doctor Mohammad Ali, cholera expert at Johns Hopkins Bloomberg School of Public Health, as the "home of cholera".
The Bay of Bengal is believed to be the source of several past outbreaks – via international travel – including the 2010 outbreak in Haiti that killed 10,000 people and has been blamed on UN peacekeepers from Nepal.
Cholera should be relatively simple to treat. In countries nearby with advanced sanitation, water treatment, and health systems – say, Oman and Saudi Arabia – cases are rare.
The major problem is that after two years of war Yemen's health system is far from robust: by some estimates only 45 percent of health facilities are operational. Water treatment and sanitation systems have also broken down or been damaged beyond repair.
In addition, the near-famine caused by the conflict means Yemenis are more susceptible to the disease than they would have been before.
"People who suffer from hunger and are not receiving adequate nutrition are often less able to fight off diseases such as cholera, and the consequences of infections can be much more serious and deteriorate at a much quicker rate," explained Erin Hutchinson, Yemen country director for Action Contre La Faim (Action Against Hunger). "Of particular concern are children with acute malnutrition, whose health status is already severely compromised, and for whom treatment can be more complicated."
Hospital spread
In a disturbing development, it appears that those who made it to places providing treatment may very well have caught or spread the disease in hospital.
At least at the onset of the outbreak, cases of acute watery diarrhoea and cholera – not the same thing but presenting with almost the same symptoms – were "being treated in the same place," Oxfam's Sajid told IRIN.
"There was no system of triage where you can keep a person who is only suffering from acute watery diarrhoea from cholera," he added. "So the contamination was spreading from people to people, even in the hospitals."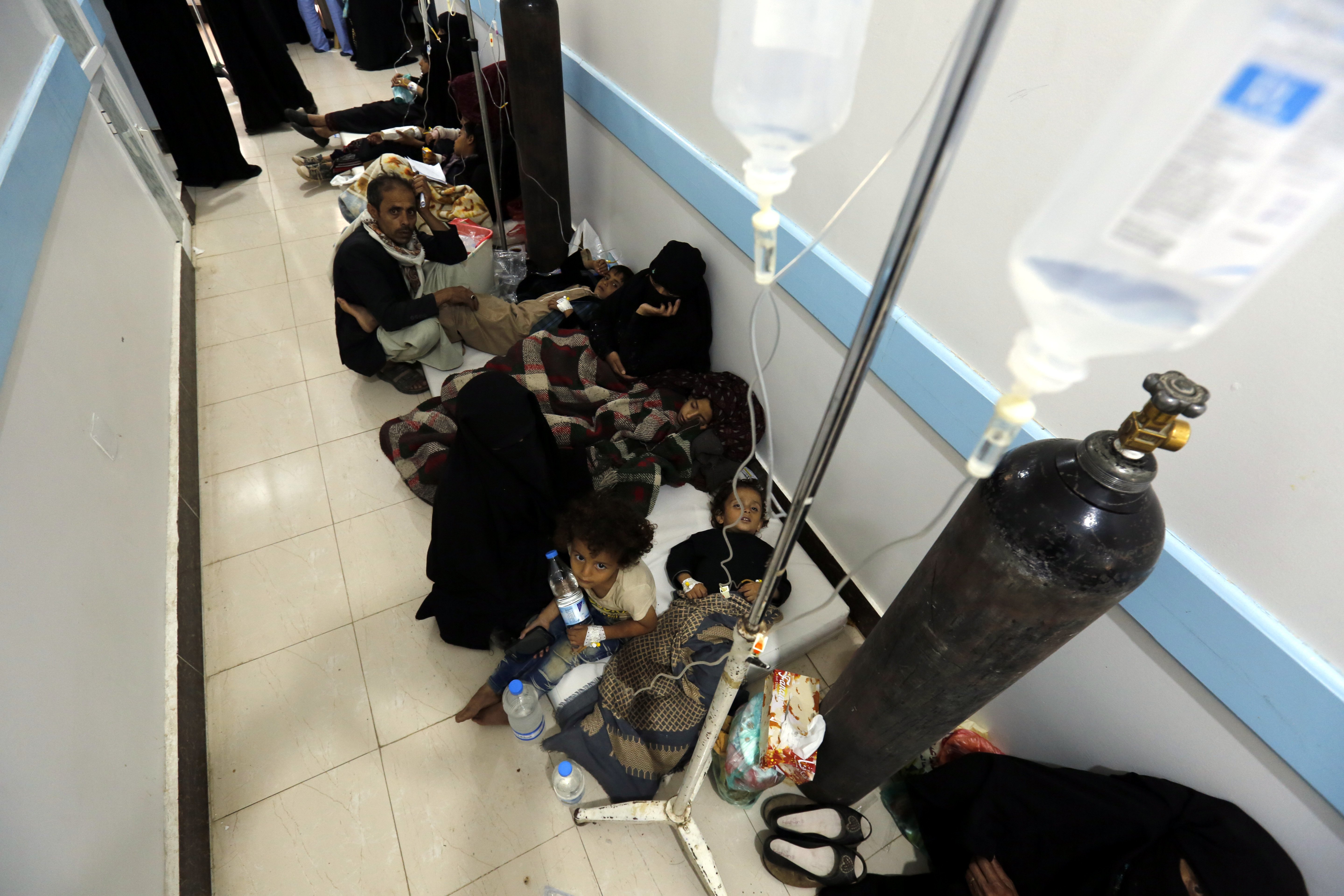 UNICEF Yemen spokesman Rajat Madhok agreed that this lack of separation had contributed to the rapid spread of the disease, telling IRIN by email: "As the population is aware of the outbreak, all [people with] diarrhoea are coming to the health facilities irrespective of the severity or type of diarrhoea."
Testing for cholera proper requires laboratory testing – facilities for which are severely limited.
For example, out in Habur Zulaymah, a rural mountainous district in Amran Province 135 kilometres north of Sana'a that has emerged in the past few weeks as one of the worst-affected areas, separating suspected cholera patients from others is impossible let alone testing for the disease.
"We have no space to isolate patients," said Doctor Yayha Ali Amer, director of the only hospital around. He told IRIN he was scared the situation would get worse, "especially when you have pneumonia patients mixed with cholera [patients in the same ward]."
The rural access factor
While the initial focus was on urban centres like Sana'a – where the epidemic is indeed severe – cholera was also catching on under the radar in areas where health centres are few and far between and where aid agencies have less of a traditional presence. Official tallies have been shooting up as statistics emerge from rural areas.
"Health services which have already been dysfunctional were not there as a first place of contact," said Oxfam's Sajid. "So information came in first from health centres located in urban areas."
This lack of reliable information combined with the lack of facilities has proved disastrous in remote areas.
"Once the epidemic happened, they didn't have the infrastructure to manage and mitigate it, so it exploded," Sajid explained.
Hutchinson of Action contre La Faim said that although various parties to the war were keen to facilitiate the cholera response, she was worried access issues would prolong and exacerbate the epidemic.
"We are worried that we will not be able to effectively reach all areas necessary with prevention and treatment, and that these areas will act as 'wells' of cholera that will cause recurrent outbreaks. The critical food security and malnutrition crisis will further aggravate the situation, as will the rapidly deteriorating situation of the health care system in the country."
In Habur Zulaymah, Doctor Amer said aid agencies had begun to call and establish a presence, but that "nothing much changed here in the hospital".
"We lack medical solutions [for rehydration] and resources," he added.
Hygiene and water
It may be host communities, not the country's three million displaced, who are most at risk. That's because IDPs often receive trucked or otherwise treated water.
Above all, it is poor hygiene and contaminated water that allow the disease to spread so quickly.
"Testing of both public and private wells shows widespread contamination; as do the testing of vegetables and fruits in various locations," said UNICEF's Madhok.
Doctor Amer told IRIN that "the majority" of people in his rural area "depend on stagnant water ponds, from which they drink and wash." Some people use water that runs through valleys, but "the majority defecate outdoors and along [the same valley] routes through which the water passes," he added.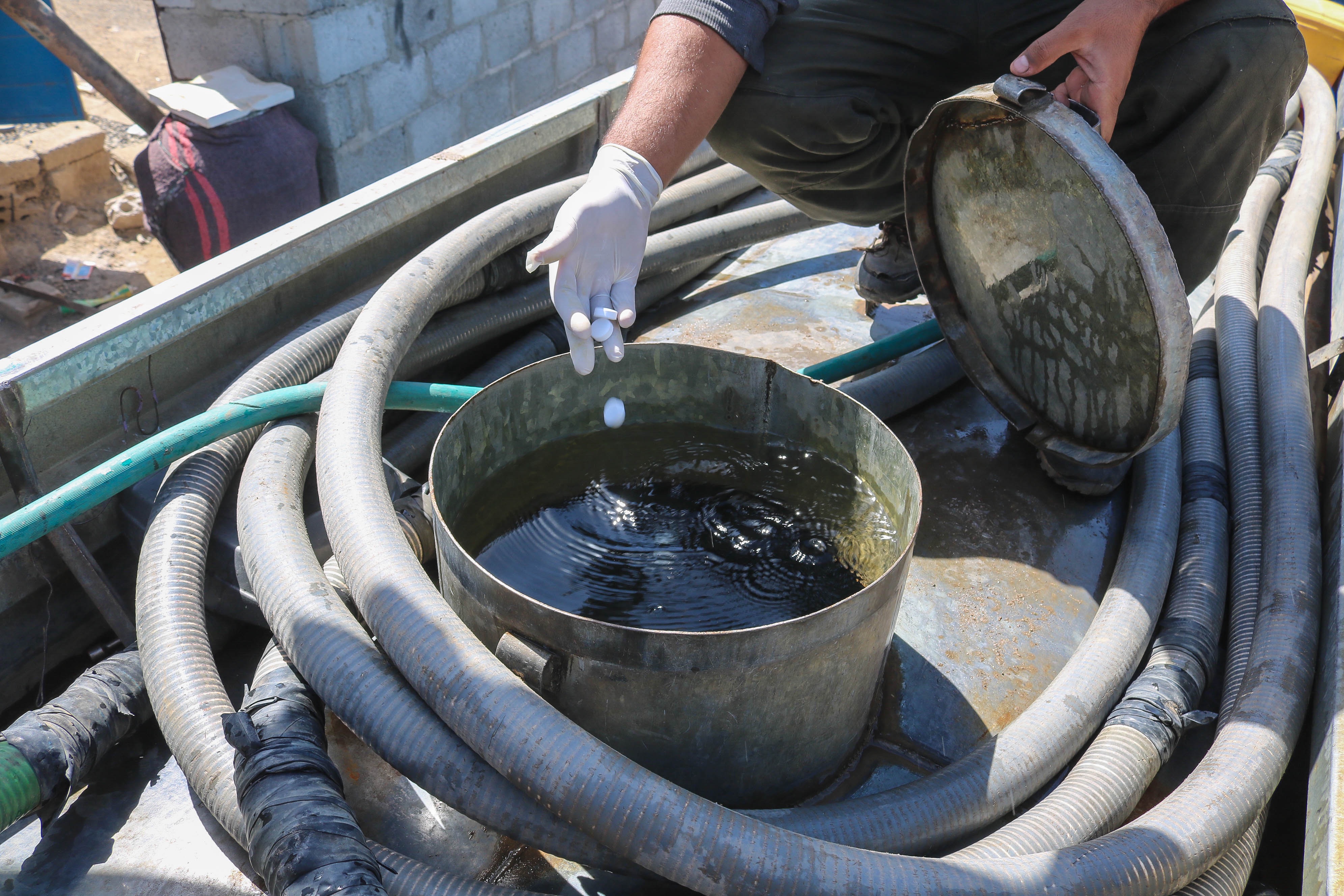 Amer said his neighbours had now received some clean water from aid agencies, along with guidance. Education is part of the UN's cholera strategy – there are messages running on radio, billboards, and television advising on hygiene practices and urging the sick to seek help before it's too late. Workers are also being trained to go door to door, to check for symptoms and encourage treatment.
But Doctor Ali, of Johns Hopkins Bloomberg School of Public Health, argued that while education and rebuilding infrastructure are key, the only quick fix is to deploy the vaccine – the WHO has stocks for just this purpose – and do it fast.
"In an emergency situation, the only solution is vaccination… My understanding is that Yemen should immediately vaccinate the people to stop transmission," he said, adding: "Vaccination – you don't need labs, you don't need hospitals."
But how successful a mass vaccination campaign might be in a time of war, when access to many parts of the country ranges from dangerous to impossible, remains a critical question.
UNICEF's Madhok told IRIN a decision on vaccine deployment was imminent: "UNICEF Supply Division is informed and on standby to procure and supply the vaccine from and beyond the stockpile."
Whatever happens, the people of Yemen are standing by.
With additional reporting by Shuaib Almosawa
(TOP PHOTO: Yehya Abdullah, four years old, travelled an hour and half with his mother to reach an MSF cholera treatment centre in Khamer, Amran Province. Nuha Haider/MSF)
as-sa/ag