The 23 Fulani captives froze in fear as they sat on a dusty patch of ground in January. They were surrounded by armed vigilantes from the local ethnic Mossi community.
Moments before, the men had been trading cattle, goats, and food at a busy market in Sago, a poor village in the dusty plains of northern Burkina Faso. By the time the sun faded that day, all but three of the Fulani men would be dead.
"They shot all of us," said Allaye Diallo, a survivor who recalled the scene from a displaced persons camp in nearby Barsalogho, bullets still lodged inside his body.
The killings at the market are one in a string of recent atrocities against Burkina Faso's cattle-herding Fulani community that have signalled the entry of inter-communal conflict into a spiralling crisis in this West African nation, which is beset by extremist violence.
Attacks by Islamist groups have risen dramatically in the past few months, triggering widespread reprisals against marginalised Fulani communities, who are accused of joining and harbouring militants.
While such violence is relatively new in Burkina Faso, it echoes a wider pattern in the Sahel where militants have been exploiting the region's ethnic fault lines and stirring inter-communal conflicts that are now – in some cases – far deadlier than anything the jihadists are doing directly themselves.
Last month, at least 157 Fulani men, women, and children were killed in a single attack by a Dogon militia in neighbouring Mali – part of a year-long campaign of violence that is now being widely described as "ethnic cleansing".
The January attacks in Burkina Faso have been blamed on a mostly Mossi citizen's militia known as the Koglweogo – one of a number of community-based 'self-defense' groups that have proliferated in recent years amid growing insecurity.
According to civil society groups, the violence left more than 200 Fulani dead and thousands displaced, with many landing in this isolated, dust-blown cluster of tents in Barsalogho, just west of Sago.
In late March, a fresh bout of inter-communal conflict – this time between ethnic Foulse and Fulani communities – left at least 60 people dead and thousands more displaced from the area around the northern town of Arbinda. The New Humanitarian has reported steadily on the deteriorating situation since last year.
"The potential for violence is very big," said Mahamadou Savadogo, a researcher based in the capital, Ouagadougou.
Fulani villagers recount attacks
Djeneba Diallo, 60, said she lost six members of her family during the attack at Sago market, including her husband and three of her children. "It is painful," she recalled from Barsalogho camp. "I never imagined this could happen to me."
Adama Dicko, from a village called Kassaye, said his house was burnt down and his son – Sadou Dicko – killed during the wave of violence in early January. The 53-year-old spent three days hiding in the bush with other villagers, drinking water from a dirty lake. "My child was not guilty of anything," he said. "I am feeling the pain."
44-year-old Marianne Dicko also fled to the bush during the attack in Kassaye. The following day she returned home to find her husband's body lying in the dust in a pool of blood. "I don't feel safe going home," she said. "The Koglweogo are still present with their weapons."
Allaye Diallo, 47, was selling his cows at a livestock market in Sago when armed members of the Koglweogo 'self-defence' group shot him and killed dozens of other Fulani men. He said conditions at Barsalogho camp are difficult but he has no plans of returning home. "I am still under threat he said," he said. "The Koglweogo have not been arrested or jailed."
❮
❯
Rising tensions
Though communal conflicts over land, water, and other resources are not uncommon here, Burkina Faso has previously been known in the region for peaceful coexistence between different religious and ethnic groups.
Tensions worsened with the emergence of al-Qaeda and so-called Islamic State militants as well as the homegrown movement Ansaroul Islam in late 2016. The group was founded by now-deceased Fulani preacher Malam Ibrahim Dicko, who was known for recruiting young members of the marginalised Fulani community in the northern province of Soum.
Fulani in Soum, which borders Mali, have long felt abandoned by the state, pointing to a lack of economic development, poor infrastructure, and low representation in political and administrative positions.
Though all ethnic communities have been targeted as the militants expand their grip, reports suggest the majority of recent victims have been members of the Mossi, Bella, and Foulse groups, who are perceived to be sympathetic to the government.
This has increased anger toward the Fulani, even though the vast majority of the Fulani reject the Islamists who have also attracted individuals from other ethnic groups.
'I don't understand why they did this'
The worst of the recent violence against Fulani has been concentrated in the Centre-North, a majority Mossi administrative region that sits just beneath the militant's main area of influence in Soum.
The region is considered a stronghold of the Koglweogo, a crime-fighting vigilante group that is known for its rough justice and kangaroo courts.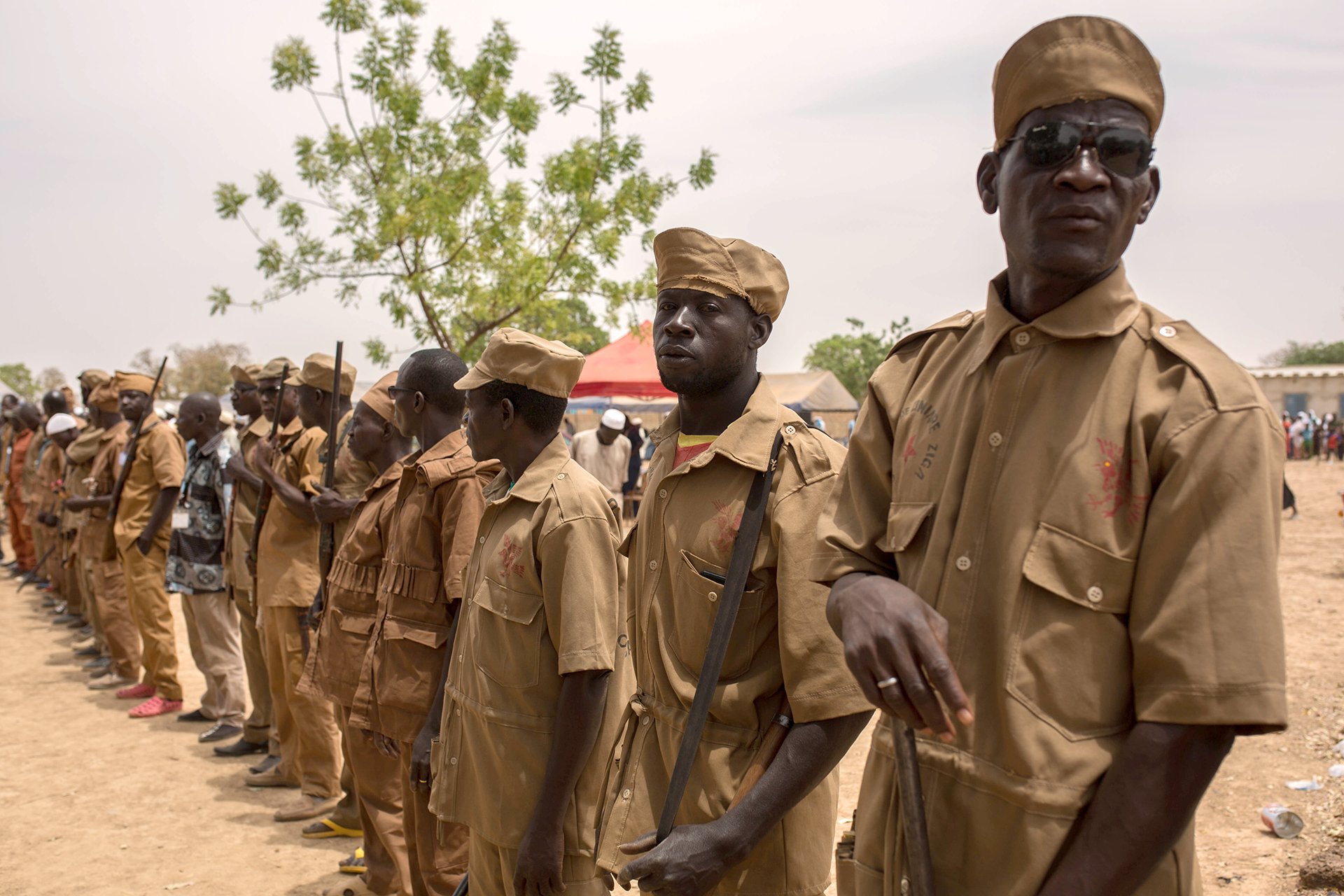 Some locals say the Koglweogo began attacking Fulani civilians after jihadists executed a prominent Mossi chief and two of his sons – both Koglweogo members – in the village of Yirgou.
At the Sago market, the herdsman Diallo said the Koglweogo split the Fulani into a separate group from the Mossi. He assumed it was a routine ID check.
Then they started shooting.
The herder was hit in his arms, legs, and back. He survived by playing dead under a pile of bodies – men whom he had known for years.
He later escaped to the bush, where he was found by his brother and taken via bicycle to Barsalogho camp, where he now spends his days mourning the loss of his friends and livelihood.
"I was at the market to sell my cows," he said. "I don't understand why they did this."
'Guardians of the bush'
The official line from the Koglweogo, which means "Guardians of the Bush" in the local Mooré language, is that the clash was between local villagers – the Koglweogo were not involved. The group's national president, Rassamkandé Naaba, blamed the killings on "a fight between two communities" – Mossi villagers killing their Fulani neighbours in revenge for their chief's death.
"It was a settling of scores," he said from Kombissiri, a town just south of Ouagadougou.
Naaba said his group was focused on fighting bandits and didn't necessarily want to be drawn into battles with well-armed groups of Islamists.
Further north, some Koglweogo members took a more radical view.
"We are preventing terrorists from taking over our region," said Joseph Sawadogo, a vocal member of the armed Koglweogo in the village of Foube.
Though the men deny involvement in the January attacks – media reports contradict their assertions.
Patchwork of militias
While the Centre-North has so far bared the brunt of the inter-communal violence, many fear it could spread into other parts of the country, where groups have also proliferated in recent years.
The Koglweogo has a particularly strong presence in the east, where there is a growing militant presence and a significant Fulani community too. In the west, traditional hunters known as Dozos – drawn from a number of ethnic communities – have already clashed with reported jihadists as well as Koglweogo, while in the north some researchers say there are now also elements of Da Na Ambassagou – the Dogon armed group that has been slaughtering Fulani civilians in Mali.
"Remember that our only common enemy… is the terrorists"
Many fear the Fulani community will form their own 'self-defence' groups – as they have in Mali – or, worse still, turn to the jihadists.
The outcome will largely depend on how the government deals with the militias, starting with the Koglweogo. Some have called for the group's disarmament and dissolution, but it remains popular, particularly in the countryside, and has received support from prominent political figures.
Instead of arresting those responsible for January's violence, Burkinabe President Roch Kaboré has urged residents in the area to "forgive" and "remember that our only common enemy… is the terrorists".
For those in Barsalogho camp, forgiveness won't come easily. Many here say the Koglweogo have threatened those seeking to return home; others are so traumatised they have no plans to go back.
Djeneba Diallo, a resident of Sago, said two generations of men from her family were wiped out at the market massacre in January. Hunched over a chair, the 60-year-old Fulani woman said: "all I have left now are tears to cry".
pk/pd/ag