A massive 7.3-magnitude earthquake struck at 1818 GMT on Sunday some 30 kilometres south of the Iraqi city of Halabja. The epicentre was in a mountainous region on the Iranian side of the border where hundreds of fatalities were reported. The toll is expected to rise further as relief efforts reach the remote area.
November 15
(This live blog was closed at 1730 GMT on Wednesday 15th November)
Advice for US Iranians keen to help
Days after a 7.3-magnitude earthquake hit near the Iran-Iraq border, survivors are still struggling to cope with the aftermath, attending funerals for the dead and sleeping in tents or cars.
Reporting from the worst-affected city of Sarpol-e Zahab and the surrounding villages, the New York Times painted a picture of destruction and shock, even in a region accustomed to earthquakes and war.
In Tehran, volunteers were collecting food and blankets for the victims. In the United States, where there are around one million Iranian Americans, the National Iranian American Council advised how residents of a country with a comprehensive trade embargo with Iran could help without running afoul of sanctions laws.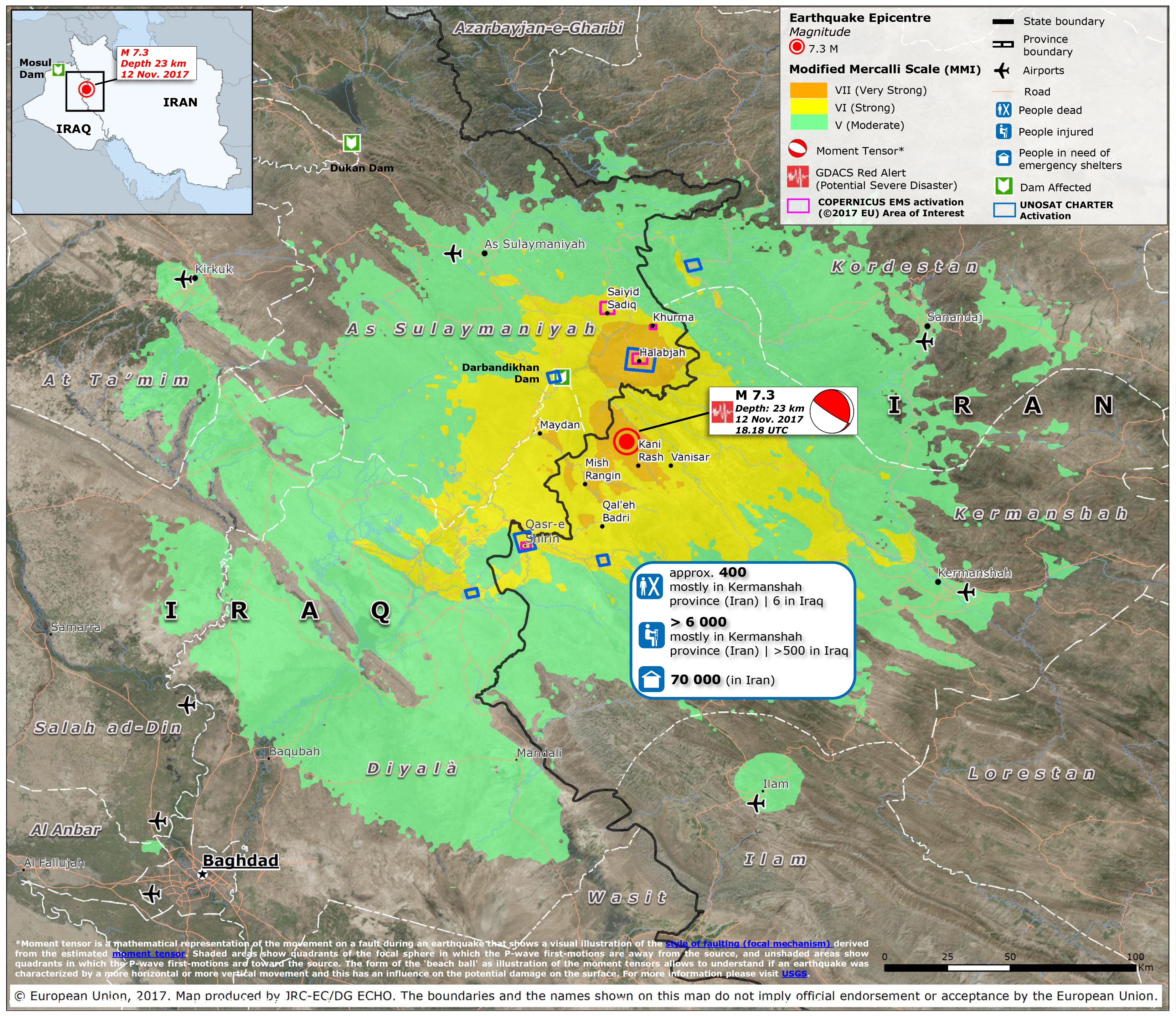 ---
November 14
Unauthorised burials push toll higher
The death toll in Iran following Sunday's earthquake is now believed to be higher than previously thought because many of the victims were buried by their families before the authorities were notified. "Up to now, we have issued 430 death certificates… but an estimated number of 100 to 150 more people have been buried in quake-stricken villages and towns without permission… which raises the overall death toll to between 530 to 580 in Kermanshah," Mohammad-Ali Monshizadeh, an official from Kermanshah province, told the state news agency IRNA.
---
President Rouhani visits disaster zone
Iranian President Hassan Rouhani toured the worst-hit town of Sarpol-e Zahab on Tuesday, offering his condolence to the families of the victims and pledging to personally oversee the reconstruction effort.
"I call on all governmental and military officials and all NGOs to help the Housing Foundation and do not do separate work," Rouhani said in a statement, according to the president's official website.
"This was painful for all Iranians," Rouhani said, urging people to rebuild their own homes but offering loans to help them. "The government will accelerate this process so that it can be done in the shortest time possible," he added.
Iranian president visiting quake-hit areas in Kermanshah, vowing to accelerate relief efforts https://t.co/4TtbaJ4fr5

— Press TV (@PressTV) November 14, 2017
---
No international assistance
Iran has so far not requested international assistance to deal with Sunday night's earthquake. On Tuesday, Iranian Foreign Minister Javad Zarif tweeted that Iran was "grateful for global expressions of sympathy and offers of assistance", but added: "For now, we can manage with our own resources."

Francesco Rocca, newly elected president of the International Federation of the Red Cross, told IRIN in an interview that the Iranian Red Crescent is "a strong and well-prepared society with well-trained staff."
"In my experience, I think many in the humanitarian field could learn from the Iranian Red Crescent about how to cope with national disasters. The level of training of their volunteers is something you can find in only a few countries around the world."

He explained that the IFRC's role is "to support them in case of need. We are in constant dialogue with them and ready to deploy… if they ask."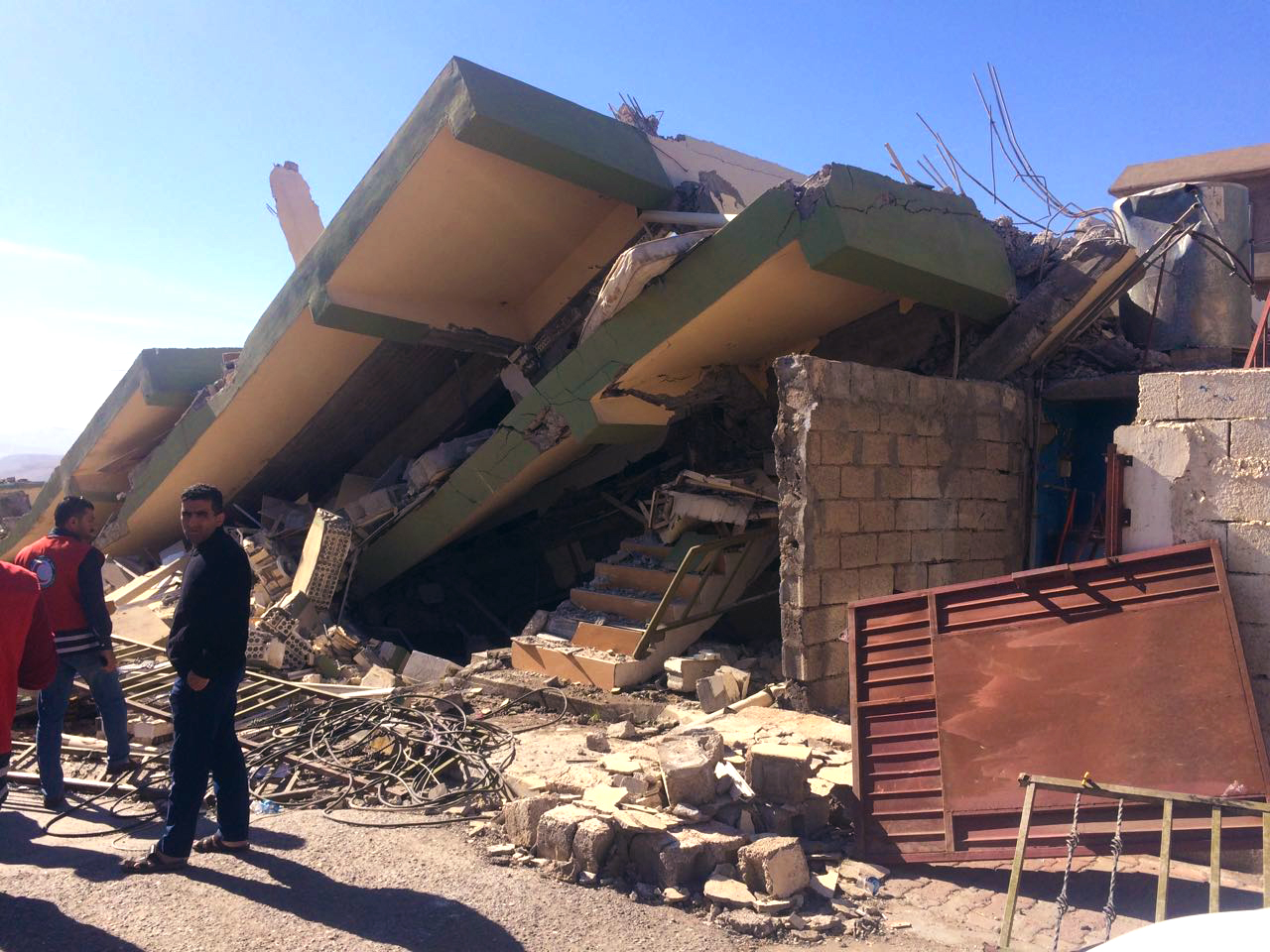 ---
Night in the cold
The Iranian Red Crescent is scrambling to get blankets and shelter to thousands of Iranians who spent a second night out in the cold in makeshift camps or in the open. As rescue operations wind down, providing shelter to an estimated 70,000 made homeless by Sunday's earthquake, most of them in the worst-hit area in the mountainous province of Kermanshah, has become the priority.
Update from #Iran Red Crescent:
12,000 residential buildings had totally collapsed.
More than 500 villages have been affected
428 ppl died & 7370 have been injured
Volunteers are trying to reach remote villages to distribute tents, blankets & food. #هلال_أحمر #eُarthquake

— IFRC MENA (@IFRC_MENA) November 14, 2017
---
Power and water outages
Iranian state media reports electricity and water cuts in areas affected by Sunday's quake, with some roads blocked. Officials voiced concerns about further casualties in remote areas.
Reuters described images on state TV of rubble and injured survivors wrapped in blankets. "We need a shelter," said a man in the hard-hit town of Sarpol-e Zahab. "Where is the aid? Where is the help?"
Foreign journalists and Iranians working for foreign media outlets were not immediately permitted to visit the areas impacted, but the restrictions now appear to have been lifted.
UPDATE: In a change of heart foreign reporters are now allowed to travel to the area where the earthquake struck, with a delay, but still.

— Thomas Erdbrink (@ThomasErdbrink) November 13, 2017
---
November 13
Iran rescue operations go into the night
Rescue operations following Sunday night's earthquake headed into a second night in Iran late Monday, with response teams, ambulances, helicopters, dogs, and debris removal teams "working around the clock to evacuate the injured", according to a tweet from the International Federation of the Red Cross in the Middle East and North Africa.
The IFRC said 114 aftershocks had been recorded in Iran, and that people were afraid to go home, fearing further damage. The Red Crescent added that it is distributing tents, blankets, kitchen sets, and food to those in need.
Red Crescent in #Iran continues the search & rescue operations after a 7.3 #earthquake hit western part of the country yesterday. Response teams, ambulances, helicopters, sniffer dogs, debris removing teams are working around the clock to evacuate the injured #هلال_أحمر pic.twitter.com/c6iISYcFrm

— IFRC MENA (@IFRC_MENA) November 13, 2017
---
Rescue operations end in Iraq; nine dead
Deaths from Sunday night's earthquake have reached nine in the whole of Iraq, including Iraqi Kurdistan, Doctor Yassin Abbas, president of the Iraqi Red Crescent Society, told IRIN. Eight of the nine deaths were in Darbindikhan, a town in Sulaymaniah Province, he said, and the last in Khanaqin, Diyala Province. This brings the overall toll in Iran and Iraq to at least 416.
Abbas added that 10 homes had been almost completely destroyed in Darbindikhan, as had a a three-storey building. The town hospital's casualty unit was also damaged in the quake.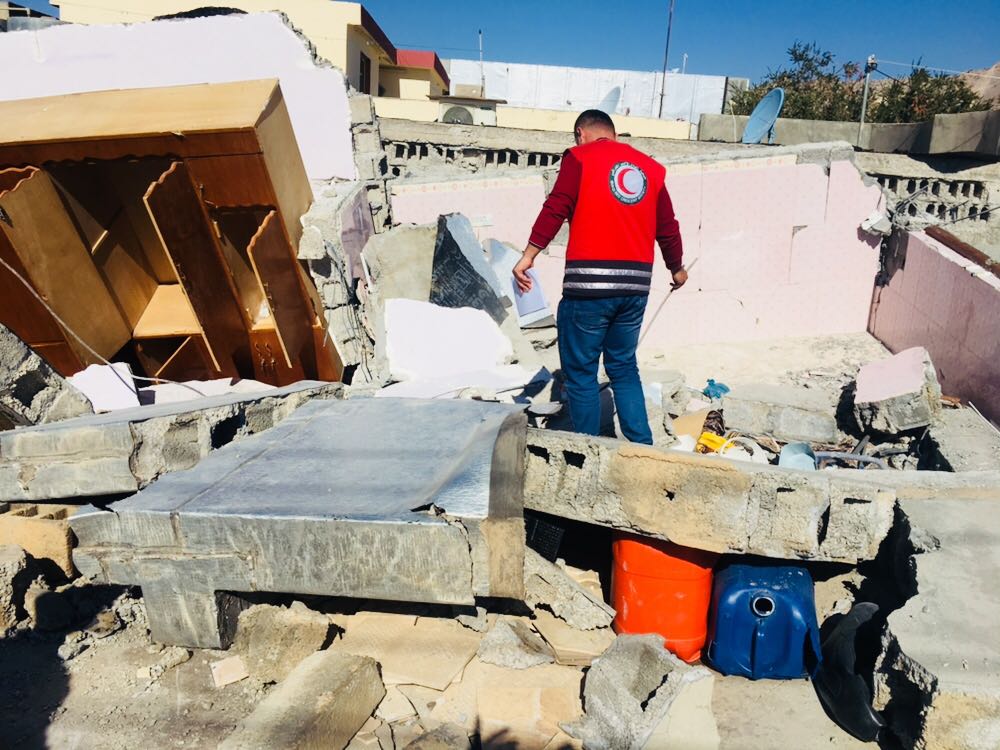 He said some 15 families (around 100 people) had left their homes due to the quake, and were staying in tents provided by the Iraqi Red Crescent. Another 100 people are being hosted by family or friends.
There were also concerns about the possible collapse of the Darbindikhan dam, but doctor Abbas insisted it would hold: "There were some cracks in the body of the dam, but no leakage of water and I think it is solid." Still, he said the Red Crescent was "closely monitoring the situation" and had replenished their stocks – thanks to an aid convoy from the Turkish Red Crescent – and were prepared for the worst, be it a problem with the dam or aftershocks.
Footage shows moment earthquake hits #Darbandikhan dam. #NRTnews #TwitterKurds pic.twitter.com/o4BJuX6lVC

— NRT English (@NRT_English) November 13, 2017

Abbas described the panic across Iraq as the ground shook on Sunday night: "People felt shaking of the ground underneath them and… Iraqis have never witnessed an earthquake [like this], at least not in recent history so it was shocking for them. There was a state of panic in some cities like Baghdad and people were running out of… shopping centres, restaurants."
He added that some of the 425 injuries recorded in Iraq were due to this alarm, as several patients were treated for heart conditions and released. Abbas said rescue work was finished on the Iraqi side of the border: "The rescue operation is over and all the people have been evacuated… we don't have anybody [unaccounted for]."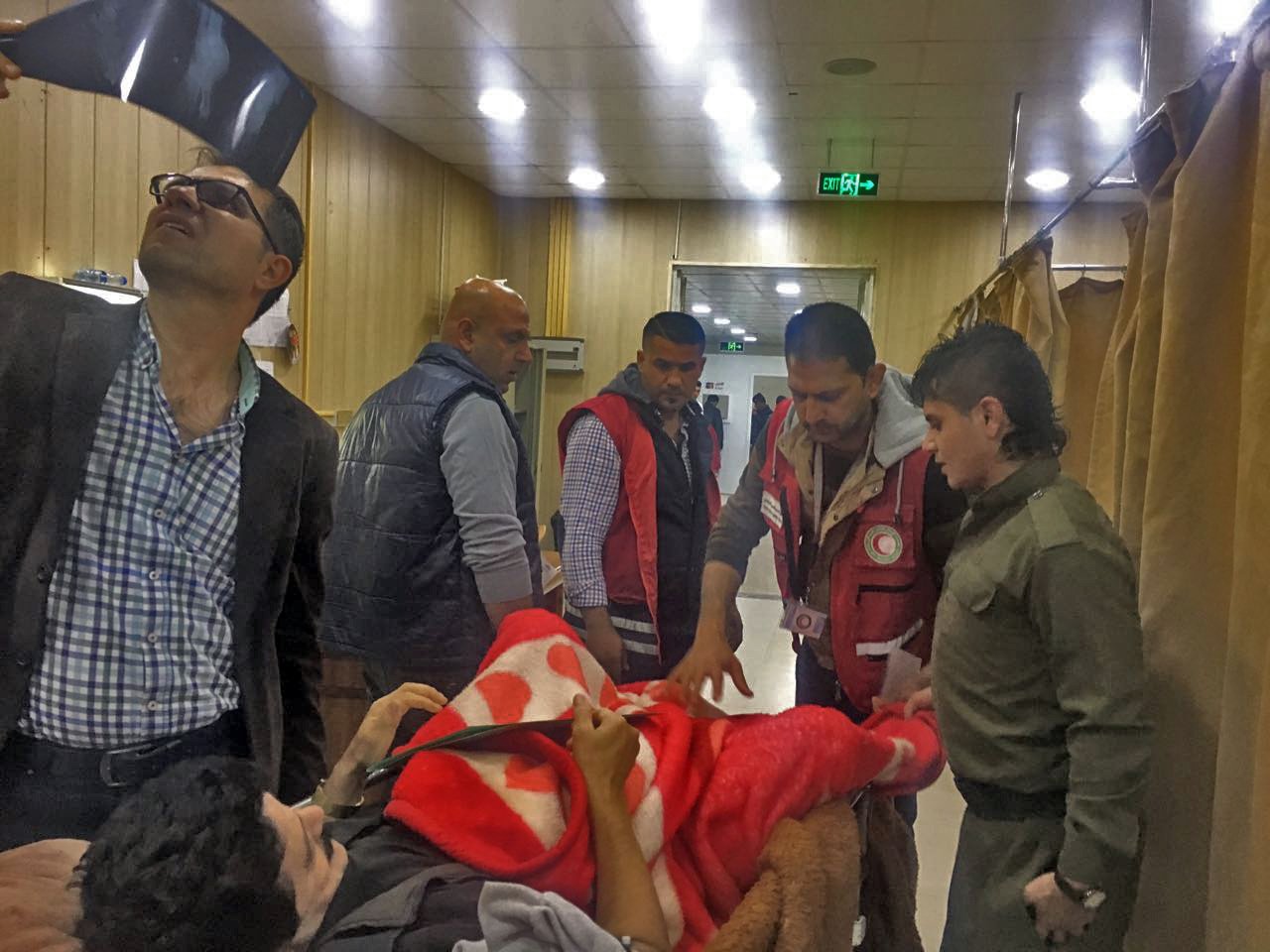 ---
Iran death toll at least 407 
The death toll from Sunday's earthquake has reached at least 407 in Iran alone, with more than 6,000 injured, Mansoureh Bagheri, director of international operations for the Iranian Red Crescent Society, told IRIN.
Bagheri said she did not yet have a full picture of how many houses had been damaged or people displaced as Red Crescent teams were still in the field dealing with the "first phase" of the aid operation: rescuing victims, providing emergency shelter, removing debris, and dispatching health teams to the affected areas.
"Priority is rescuing people from the debris," she said, adding that although landslides had been a concern they had not impeded rescue efforts. But she added that "because of the vast area [affected] – there are a lot of villages and two cities – teams are working hard."
Bagheri said that the aid distributed was all from the Iranian Red Crescent and that none had come cross-border: "We have not received any international assistance because we did not appeal for it." She added that the need for "voluntary contributions" from abroad may be considered when the full extent of the damage becomes clear.
---
Scenes from quake
At least 300 people have been killed in an earthquake that shook the border region between Iraq and Iran.

Rescue teams are still searching for survivors. pic.twitter.com/KPwyjWlNvz

— AJ+ (@ajplus) November 13, 2017
---
Aid response
On the Iraqi side of the border, aid has been sent by AFAD, the Turkish Disaster and Emergency Management Authority. The Turkish Red Crescent also shipped supplies – 30,000 tents, 10,000 blankets, 3,000 heaters, a mobile kitchen, and 10,000 beds – as well as personnel and said it would coordinate with the Iraqi and Iranian Red Crescent societies.
Lise Grande, UN humanitarian coordinator for Iraq, said in a Monday statement: "Our priority right now is to help local authorities respond as quickly as possible." She said UN assessment teams had arrived in Darbandikhan, an area hit hard in Sulaymaniah Province. A UN disaster and coordination team is also on its way from Geneva, Grande added, and the World Health Organization has sent supplies, a team, and two ambulances to a local hospital.
TRC workers distribute aid parcels in Darbendixan district. pic.twitter.com/Dl2BvQ7Xuu

— Turkish Red Crescent (@RedCrescentTR) November 13, 2017
The Iranian Red Crescent is deploying teams to Qasre-Shirin, Gilane-Garb, Kermanshah, Sare-Pule-Zahab, Salase-Babajani, Dalahoo, Islamabad-e-Gharb, and Javanrood. Its English-language website reports that 40 ambulances, 55 4WD vehicles, nine rescue vehicles, and five helicopters have been dispatched. Turkey and other nations have offered assistance and Turkey has search-and-rescue teams at the ready, but IRIN understands that Iran has still not requested any international help. Iran's Press TVreports that 100 Iranian medics have been dispatched to the most-affected areas and that the Iranian air force has deployed helicopters to transport the injured out of the quake-stricken region.
---
Early pictures emerge
الصور الاولى للاستجابة لضحايا الهزة الارضية
The First Images of the relief response to the earthquake victims pic.twitter.com/fBDwd1pElI

— الهلال الاحمر العراق (@iraqircs) November 13, 2017
---
Latest toll
At least 348 people have been killed and thousands injured, mostly in Iran's northwestern Kermanshah Province. The death toll is expected to rise as relief crews reach remote towns and villages. The majority of the initial deaths were reported in the Iranian city of Sarpol-e Zahab, about 15 kilometres from the Iraqi border. There are conflicting reports about the death toll in Iraqi Kurdistan, where as many as eight were reported, and between 300 people and more than 500 hospitalised.
---
Iran's past quakes
Iran sits on several fault lines and the government has even considered moving its capital out of Tehran to avoid the devastation of an earthquake in the city of more than eight million. In 1990, a 7.4-magnitude earthquake in northern Iran near the Caspian Sea killed an estimated 40,000 people, while a 6.6-magnitude quake near the southeastern city of Bam killed around 30,000 in 2003.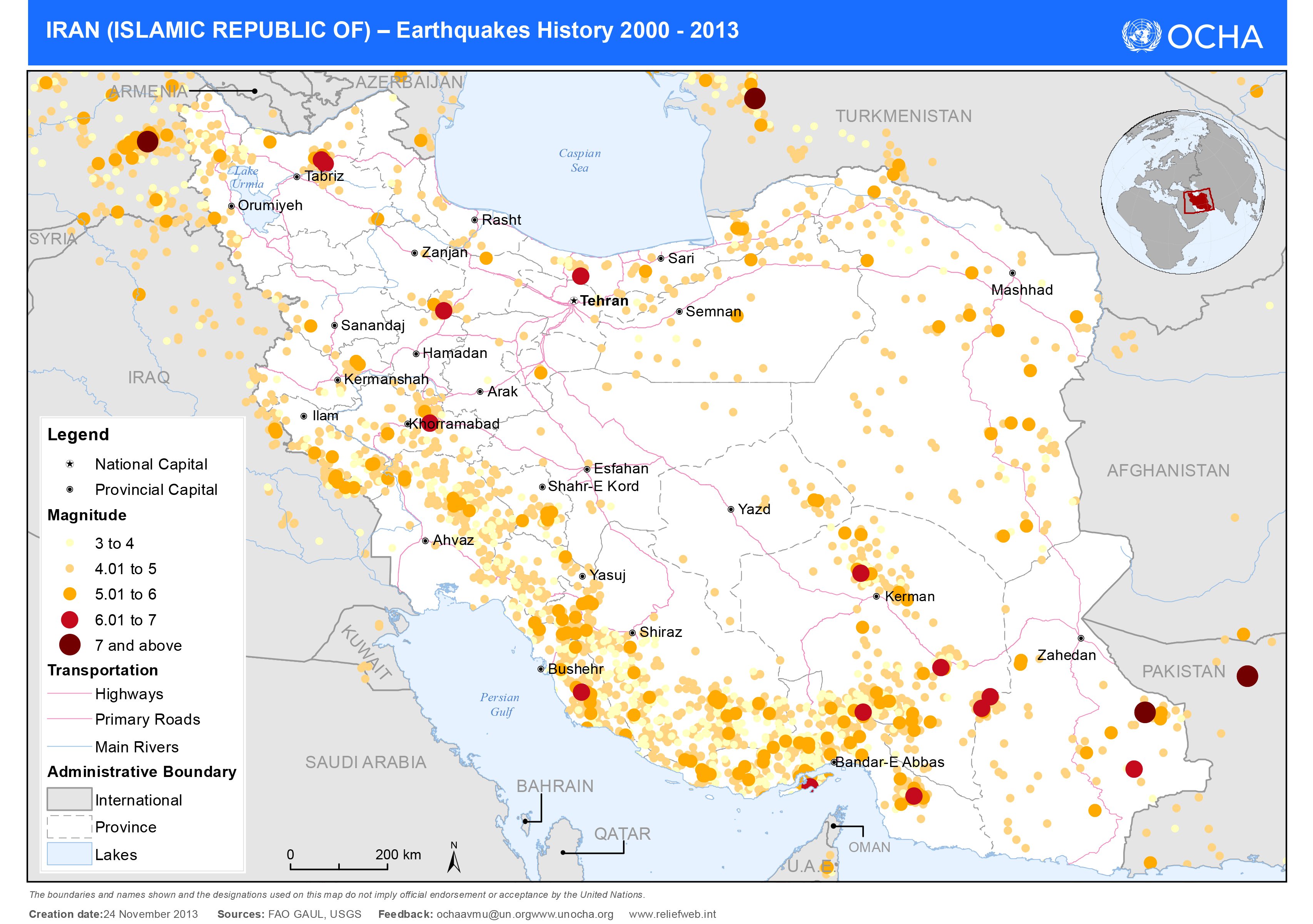 ---
The impact zone
The UN estimates that approximately 1.8 million people (in both countries) live within 100 kilometres of the epicentre. Gary Lewis, the UN resident coordinator in Iraq, tweeted that the UN was "considering options for support to Iran if needed". IRIN understands the Iranian government has not asked for assistance at this time.
---
Live broadcast 
Kurdish-Iraqi TV channel Rudaw was live when the earthquake hit. Here's what the broadcast looked like:
Caught on #Rudaw: Strong earthquake in #Kurdistan Region. pic.twitter.com/y6WjZW1Lvq

— Rudaw English (@RudawEnglish) November 12, 2017
---
Facebook activates Safety Check
Facebook has activated its suite of emergency-related offerings. The page for the earthquake includes the Safety Check feature, which allows people to tell their friends they are OK. A donate button steers public contributions to Global Giving, a funding organisation that lists no projects in Iran, but 12 in Iraq. 
---