Rana spent more than five months at the Jordanian border with Syria, with very little in the way of food, water, medical care or shelter. She eventually made it into Jordan, but for the past 20 days the 15-year-old has been trapped, alongside thousands of others, inside what is euphemistically known as "Village 5", a fenced-off compound within the UN-run Azraq camp, some 80 kilometres east of Amman.
Her home is one of several thousand metal shelters, laid out in a regimented grid of dusty dirt tracks behind 10-foot high barbed-wire fencing. With almost nothing to occupy her time, Rana spends her days queuing for food rations, carrying pumped water around, and trying, often without success, to escape the heat.
Like all of the approximately 12,700 Syrian refugees living here, she's prevented from leaving by the fence and, beyond that, desert.
At a young age, Rana is caught at one of the darkest points of the Syrian refugee crisis, a place no one in the aid system much wants to talk about.
IRIN gained rare access and spoke to a few of the refugees, but aid agencies that work inside the camp were wary of speaking on record about the place. Despite repeated requests, UNHCR, the UN's agency for refugees, refused to even comment on Village 5, which it runs along with the rest of Azraq.
Abeer lives in Village 5 too, and is dealing with the fallout from her own flight from Syria. She's paid a minimal wage for her work at a makeshift education centre, having nabbed one of a handful of sought-after "paid volunteering" opportunities in Village 5. Back home, she was a teacher; her colleagues now include young people who worked as engineers or were studying at university to become pharmacists.
"We can't go out. I can't see my family; my family can't come to see me," the 24-year-old, who has close relatives in a city close to Amman, tells IRIN. "We are in a fenced area. It's like a jail."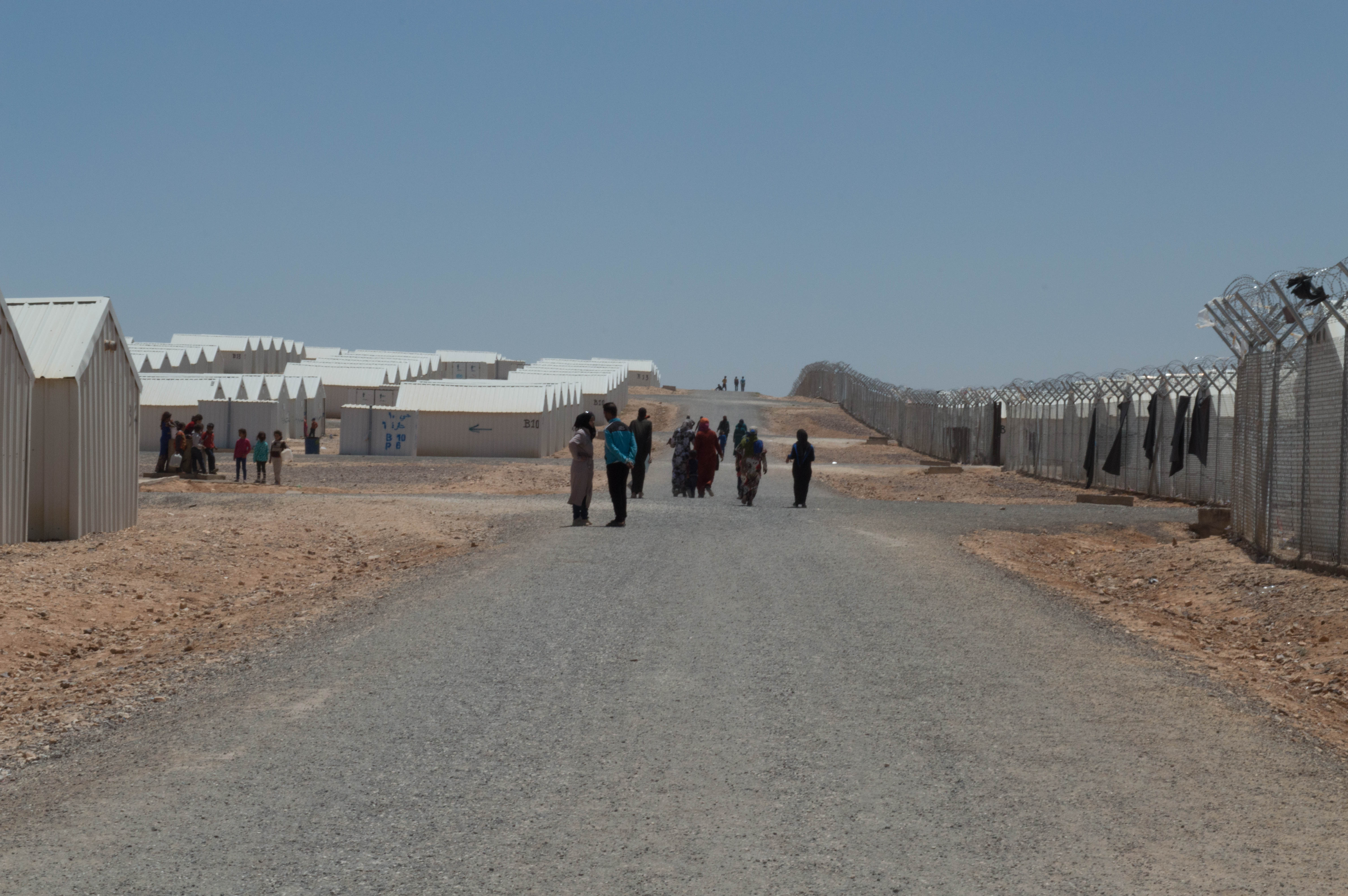 No going back to the berm
Rana is happy to be here, but then she has travelled from far worse.
"Things are very good," she says, smiling. "There are no problems. We have a caravan. There's water and food. Everything is available."
That's a major change from where she came from – a no man's land just south of Jordan's border with Syria, a raised sand barrier known as "the berm", where some 60,000 Syrians are now massed. 
When the violence in Syria began in 2011, hundreds of thousands sought safe haven in Jordan. At first, most went to Zaatari camp, which at its height in 2013 sheltered more than 150,000 refugees. Many have since left for the country's cities and towns. Others have sought refuge in Europe, and others still have returned to Syria, leaving Zaatari's current population at just under 80,000.
In mid-2013, Jordan quietly closed its western borders. This meant all Syrians trying to make it to Jordan, including those from Aleppo and from areas in the northeast controlled by so-called Islamic State (the group began its offensive on Deir Ezzor in April 2014), began to head for the east and the berm.
By mid-2014, the eastern crossings were closed off too, leaving all those attempting to enter Jordan stranded on the berm. And they kept coming. In April of last year there were an estimated 2,500 Syrians hoping to gain entry, and the number has exponentially climbed since then. 
Jordan, which hosts more than 650,000 registered Syrian refugees, considers the newcomers a security concern – in January King Abdullah said that members of IS were known to be at the berm.
The fears are based both on the chaos of the berm and where Syrians have come from to get there – Aleppo, Homs, Deir Ezzor, and areas in the northeast that are either controlled by IS or necessitate a journey through territory it controls.
Humanitarians have complained about a lack of access to the berm and riots have been reported.
Rana describes life there as "horrible". "There were gangs controlling everything. There wasn't even any bread."
Allowed in, but only to "Village 5"
Azraq was opened in April 2014, a carefully planned corrective for the failures and overcrowding at Zaatari, designed as a system of villages to foster a sense of community.
In March, under increasing international pressure and following reports of desperate conditions at the berm, the Kingdom began allowing a trickle of 200-300 Syrians in on an almost daily basis. All were sent to Azraq, and into Village 5. Refugees living there are unable to leave, save those with special medical needs, and a few – mostly particularly vulnerable people or those with family elsewhere in the camp – who have been located to other villages. The presence of Jordanian intelligence agents is no secret to aid workers, or, presumably, residents.
Brigadier General Mohammad al-Mawajdeh, director of civil and military affairs for the Jordanian military, told IRIN that new arrivals are vetted both at the border and at a secondary centre inside Jordan before they are sent to a "dedicated area of Azraq camp".
"They are being observed, and from time to time they transfer some of them to other 'villages' inside the camp," he said.
Detaining refugees for a long period of time was never part of the plan, and with the arrival of around 17,000 people in Azraq since 9 March, the camp-within-a-camp is now at full capacity.
At a meeting in Azraq last week, Jordanian authorities announced that 500 Syrians would be crossing the border each day, all of them sent to Azraq despite warnings by aid agencies that only a few thousand more can be accommodated there. 
Al-Mawajdeh confirmed that the new Syrian refugees will be sent to Azraq "for the time being", and added that, even though an increased number are entering Jordan, the population trapped at the border continues to grow.
Model village?
With Village 5 now full, the remaining Syrian refugees from the berm are already being housed in other parts of the camp, many in large caravans where more than 100 people sleep. These areas are also fenced off.
Solutions for the latest arrivals are still being discussed, but it's likely they'll eventually be housed in another new Azraq "village" that's currently uninhabited. It appears the new area could fill much faster than it can be prepared, and with refugees that Jordan wants contained.
"The UNHCR are trying to figure out what to do with the situation," Stephen Allen, field coordinator at UNICEF, told IRIN.
Even if shelter can be ready, the basics of survival – water infrastructure, toilets, a clinic – take much longer to set up. Electricity is out of the question: Azraq has been standing for two years and it's still off the grid. At present, it can hold around 50,000 people, although its projected capacity is 100,000, including blocks that don't exist yet.
Life in limbo
Every day, the communal areas of Village 5 swell with people. Men squat in lines in the limited shade, clutching papers, and crowds of hundreds gather on the muddy dirt near administrative buildings.
Some are searching for a way out, seeking contact with family members elsewhere in the camp or Jordan. Others queue for food rations, or supplies like blankets or diapers, at a distribution centre that opened this week. It's not uncommon for residents to queue from 9am until midday for bread and still leave empty handed. Minutes from camp organisation meetings indicate that recent distributions have been troubled by unruly crowds.
At Village 5's "supermarket", a small metal shelter with barred windows, Afaf is among those waiting for sustenance.
A grandmother who arrived at the camp one week ago, she says she isn't able to secure enough food to sustain her family. She's here with seven others, including four children, and clutches boldly-printed food vouchers in a plastic folder.
"We can't really cook," she says. "By the end of the day, it's just a cup of tea here, a bit of bread there. It's very difficult."
There's a proper supermarket in Azraq – but these refugees aren't allowed out to shop there.
"The young men don't have anything to do: they're trapped," she continues. "They want to get out. They want to work to support their families."
What facilities are there?
Village 5's medical clinic is just a tent, but health needs are severe: chronic illness left untreated during long months at the border, trauma from war, and diseases born from the harsh conditions of the camp. The clinic is equipped to respond to common issues like severe mental health problems and diarrhoea, but for the mother seeking a hearing aid for her child, left deaf by aerial bombings, less help is provided.
Camp activities, education and psychosocial support have also been gradually introduced to Village 5 despite the tight restrictions on movement and activity. Speaking on condition of anonymity, some aid workers told IRIN they have been forbidden from having more than cursory conversations with the refugees in Village 5.
A white tent at the edge of a rocky, barren playing field serves as a school, floored with scruffy mats and with plastic windows covered in a film of sand. There's no furniture or equipment save for a square metre on the floor where pens, paper and craft materials are arranged. Kids sit on the floor, rising to shout a welcome in unison to any visitors that walk in.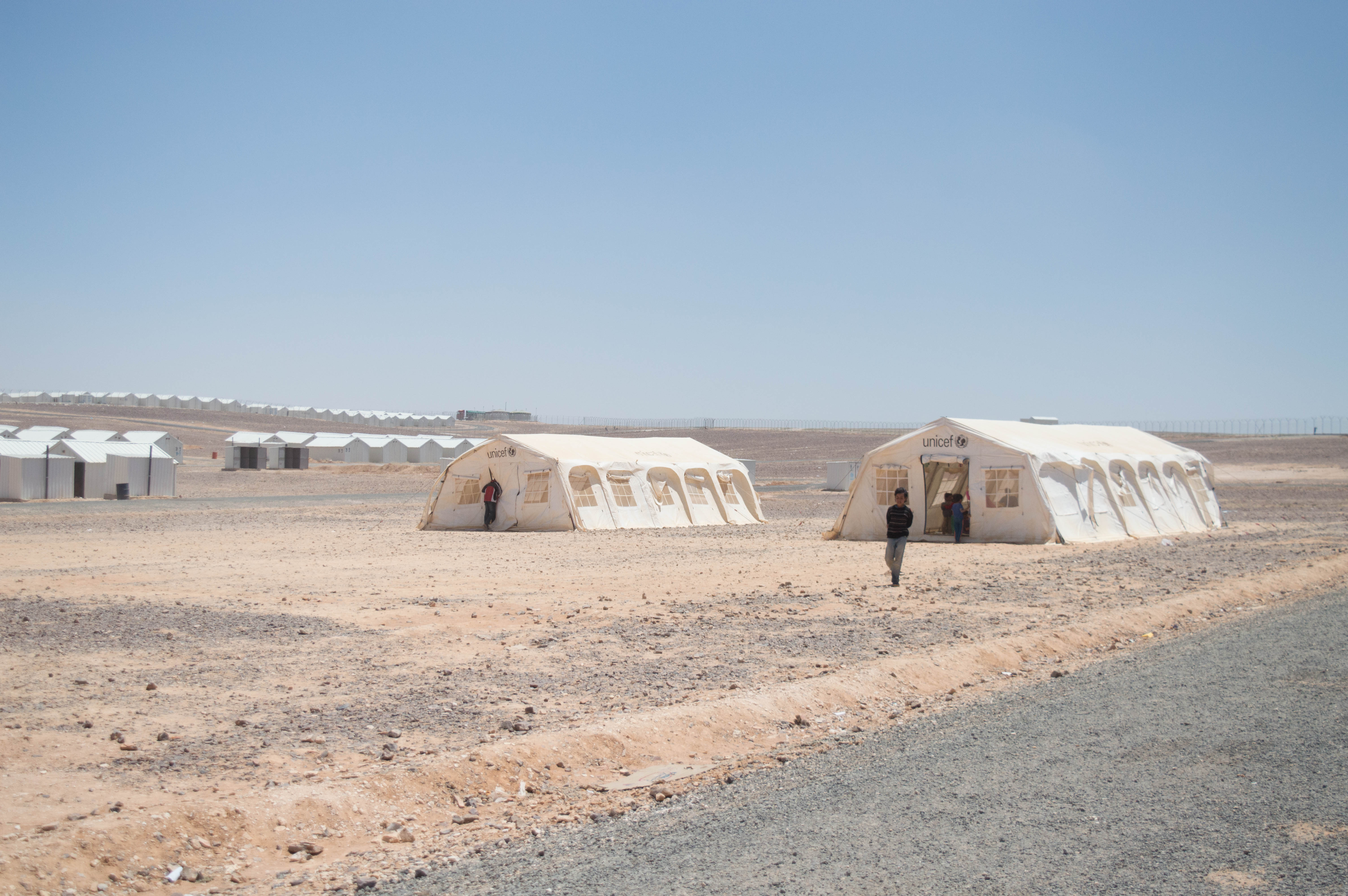 With a small team, Abeer provides a space for play, in the hope of helping the children process the trauma they've experienced. But the centre is desperate for resources, and pupils have already used up most of the craft materials they've been given.
Though teachers and children speak highly of the abilities of young people in the camp, this is a difficult place to thrive. Teenagers introduce their friends as talented in writing or music. One of Abeer's pupils, she says, is gifted in embroidery. But the centre simply can't provide the facilities for young people to develop their skills.
"Of course, they have psychological issues," Abeer explains. "They've experienced a lot. There's so much in their heads and they're very emotional. Sometimes, when they hear a song or are singing, you can see the memories."
The refugees are frustrated and struggling to deal with their containment, but for many the overwhelming feeling is one of relief.
"It's so much better here," Rana says, waiting for an appointment at the dusty, hot clinic. "We're safe."
bs/as/ag