President Hamid Karzai has refused to extend an action plan for transitional justice which expired in March 2009 but failed to achieve most of its targets, according to human rights groups.
The Peace, Reconciliation and Justice Action Plan (PRJAP) - widely known as transitional justice - was endorsed by the Afghan government and international community in 2005 as a roadmap for addressing past human rights violations.
Afghanistan has seen mass executions, ethnic persecution, disappearances, forced migration and many other conflict-related crimes over the past three decades but no groups or individuals have been held accountable thus far.
Not only is the PRJAP outdated, it has been surpassed by a controversial law which offers categorical amnesty for past crimes, experts say.
Read more → Family-related determinants of poverty
The government says the so-called National Reconciliation, General Amnesty and Stability Law, popularly known as the amnesty law, aims to enhance national reconciliation and stability.
People were blindfolded and pushed into a post-transitional justice era by a political system which is dominated by alleged war criminals and backed by the international community
However, the International Centre for Transitional Justice, which does not have an office in Afghanistan but has provided training and technical support to human rights bodies since 2002, said: "Blanket amnesties promote impunity and are currently deemed unlawful under international law."
Read more → Unofficial moratorium on capital punishment
"People were blindfolded and pushed into a post-transitional justice era by a political system which is dominated by alleged war criminals and backed by the international community," said Ajmal Samadi, director of the Afghanistan Rights Monitor.
Catch 22
According to the amnesty law, individuals are allowed to file lawsuits against alleged criminals but the state will not investigate, document or address large-scale crimes and violations on victims' behalf.
"In fact the state has left victims and criminals to solve their problems without its intervention," said Shukria Barakzai, a member of parliament, adding that most victims were too weak to challenge alleged culprits who wielded extensive power in government.
"What about the hundreds of thousands of victims who do not exist? Who will register their complaints?" she said.
Read more → Human rights under pressure
The amnesty law has been criticized by human rights organizations, and the UN has called on the government to revoke it. It has been described as contrary to international human rights laws to which Afghanistan is legally committed.
The Afghanistan Independent Human Rights Commission (AIHRC), which has been tasked to document and investigate past crimes, said it would continue campaigning for the transitional justice plan.
"We will not be deterred by the amnesty law," Nader Nadery, a commissioner on transitional justice at the AIHRC, told IRIN. However, this will be in defiance of a promulgated law and will be considered illegal.
"The human rights commission cannot investigate or document evidence for legal or judicial processes against the provisions of this law," warned Yusouf Haleem, head of the Ministry of Justice's legal department.

Read more → Women's rights trampled despite new law<

"As with other laws a violation of this [amnesty] law is a punishable crime," he said.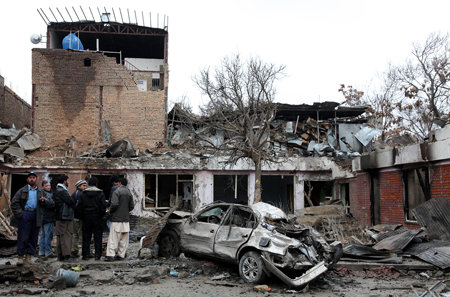 Justice for future
Almost nine years after the repressive Taliban regime in which men were incarcerated for listening to music and women were flogged in public for not wearing a `burka' (head-to-toe covering), work for human rights in Afghanistan has become more difficult and perilous, according to rights activists.
The country's human rights record is poor.
"Extrajudicial killings, torture, poor prison conditions, official impunity, prolonged pre-trial detention, restrictions on press freedom of the press, restrictions on freedom of religion, violence and societal discrimination against women, restrictions on religious conversions, abuses against minorities, sexual abuse of children, trafficking in persons, abuse of worker rights, the use of child soldiers in armed conflict, and child labor," were among major human rights problems in Afghanistan the US State Department said in 2009.
The failure to address past crimes and implement justice has contributed to a culture of criminal impunity in which all violent actors have continued committing crimes, experts say.
The failure of justice has impeded peace-building and stability in the country.
"In Afghanistan dealing with impunity does not require only confronting the past. It is a question of addressing the present in order to safeguard an endangered future," the Afghanistan Research and Evaluation Unit said in an April report.
While transitional justice is considered a missed opportunity by many Afghans, officials in the AIHRC gave assurances they were still collecting and compiling information - for judgment by the next generation.
ad/cb
---
This article was produced by IRIN News while it was part of the United Nations Office for the Coordination of Humanitarian Affairs. Please send queries on copyright or liability to the UN. For more information: https://shop.un.org/rights-permissions