Immigration inspectors have launched an operation aimed at deporting nearly 300,000 illegal migrants and visa violators, according to Tziki Sela, head of the enforcement unit at Israel's new Immigration Authority.
"We will carry out the deportations with the [maximum] measures of care and consideration and a humane attitude, but we are serious and we will deport all illegal migrant workers and visa violators," Sela said.
The Israel Immigration Authority replaced the Immigration Police on 2 July. Its 200 inspectors have undergone a three-week course and been given full police authority.
According to the UN Refugee Agency (UNHCR), visa violators are
asylum seekers
detained in areas where they were not allowed to reside, or whose visas had expired.
Many NGOs and human rights activists voiced their concerns over the new operation, fearing a repeat of the scenes witnessed in Tel Aviv in 2003-2005 when the Immigration Police conducted a much criticized and often brutal manhunt aimed at deporting illegal migrant workers.
At that time, some 145,000 migrants were reportedly deported or left Israel voluntarily, many of them were from Ghana, the Philippines, China, Romania, Thailand and some other African countries.
"The operation will resemble that of 2003-2005 in the aspect that we intend to do our job; it will take us a long time to detain and deport all illegal residents, but we will do it," Sela said, adding that his inspectors had already been subjected to threats and physical attacks by activists and migrants.
Asylum seekers whose status had not yet been determined and had violated their permits and migrant workers awaiting deportation would be held in detention centres, including Ktziot in the southern Negev, where families of asylum seekers, including infants and children, have been held since July 2007.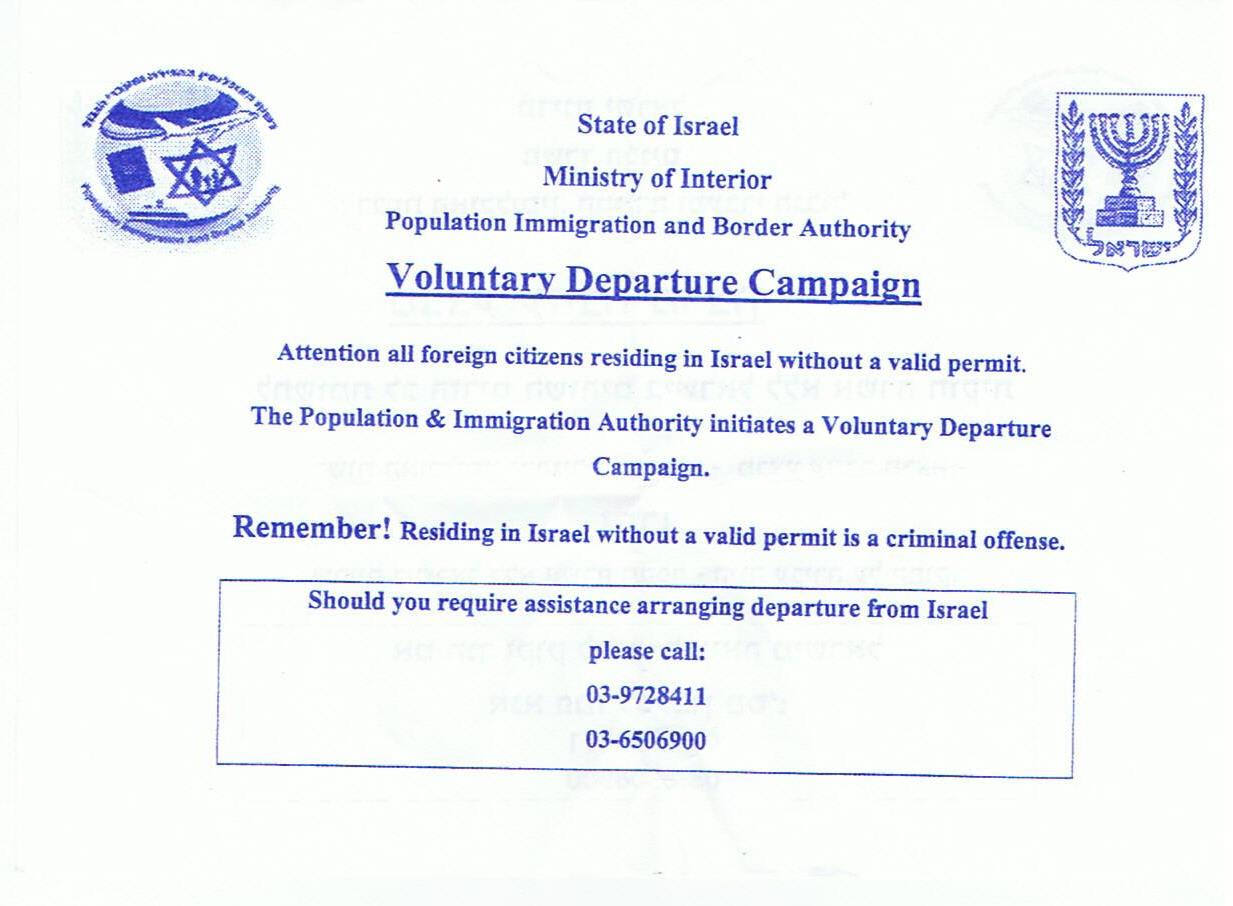 200907141049120911
Photo: Tamar Dressler/IRIN
The pamphlet the Israeli Immigration Authority distributes

Question of minors
On 8 June, Israel's Knesset held an urgent meeting of its child welfare committee to discuss the issue of minors and detention during the new operation.
Lawmakers Ilan Gilon and Nitzan Horowitz criticized the Immigration Authority's intention to detain the children of migrant workers and asylum seekers. Horowitz said those children might not be Jewish but they were Israelis as they had been born there.
In 2006, Israel granted legal residency status to more than 600 children of migrant workers born in Israel out of some 860 requests filed.
On 12 June, Horowitz initiated a new draft law preventing detention of children under 14 and restricting detention of minors over 14.
"We will arrest families with children starting from 1 August. We will not act within the education or the medical system to detain children or patients, we give the parents a choice - they are welcome to approach us and we will make sure that their relocation is done with minimum difficulties; if not we will have to detain them," Sela explained.
"We intend to fund plane tickets, help with any debt collection from employers and supply a small allowance to all those who willingly approach us. So far, some 50 illegal migrant workers have come forth and asked for our assistance in returning to their homeland," he said.
Some say that the recent clampdown on illegal migrants is related to the economic slowdown and growing unemployment in Israel. According to the Organization for Economic Cooperation and Development (OECD)
Outlook no. 85 - Israel report
issued on 24 June, Israel's Gross Domestic Product (GDP) is expected to contract by 2 percent in 2009 and unemployment rise to 8.5 percent from 6.1 percent in 2008.
While immigration inspectors distributed pamphlets calling on the migrant community to take advantage of the offer, NGOs and activists mobilized to prevent detentions by patrolling the streets of southern Tel Aviv and warning migrant workers and asylum seekers about the ongoing operation and holding weekly demonstrations.
td/at/mw
---
This article was produced by IRIN News while it was part of the United Nations Office for the Coordination of Humanitarian Affairs. Please send queries on copyright or liability to the UN. For more information: https://shop.un.org/rights-permissions