Aid groups are racing to provide support to almost one million South Sudanese in need of lifesaving assistance after abnormally heavy rains that began in July plunged large swathes of the country under water.
Earlier this month, photojournalist Alex McBride travelled to the eastern town of Pibor – one of the worst affected areas, where health centres are submerged, communities are crammed together on higher ground, and the water shows no signs of receding.
Only small helicopters are currently able to land on the town's flooded runway, which is hampering relief efforts, while a lack of dry land elsewhere is making it hard to assist the roughly 140,000 people who live in the wider area.
Pibor sits on a layer of what is known as black cotton soil, which struggles to absorb heavy rainfall and relies upon the heat of the sun to evaporate it.
"The soil is not absorbing the water; there's no space for storage, no capacity to put more than six specialised staff on the ground at one time," said Maria Teresa de Magalhaes, an emergency coordinator with medical charity Médecins Sans Frontières.
"There used to be very good water from the tap… now we have to drink dirty water."
An estimated 420,000 people across South Sudan have been displaced by the floods – driven by a weather phenomenon called the Indian Ocean Dipole – and roughly 40,000 acres of cropland were destroyed, just as the farming season was about to begin, the World Food Programme said.
Heavy rainfall and flooding has also affected several other East African countries including Ethiopia, Kenya, and Somalia, where 370,000 people are displaced after two rivers burst their banks.
On a visit to Pibor last week, the UN's humanitarian coordinator, Alain Noudéhou, said more than $60 million would be required to save lives across the country and protect the fragile humanitarian gains made over the course of a year-long ceasefire from South Sudan's civil war.
For now, 10,000 households in Pibor have escaped onto small patches of dry land, where the ground is slightly higher than the surrounding flat landscape. Man-made mud walls are all that separates these remaining dry areas from the floodwater.
Some 2,700 individuals are living in makeshift shelters on one of the dry areas, MSF said. The 300-square-metre area, once an open space used for public meetings and celebrations, has just one functioning borehole for those displaced.
A healthcare centre run by MSF – accessed by The New Humanitarian by boat – has been totally submerged. Tents, vehicles, and buildings that once housed an operating theatre and a medical storage room are all under water. Rowboats are now the only way to move around.
In the village of Gumuruk, a 15-minute helicopter ride from Pibor, an elderly woman, Joung Maze, stood shin-deep in water outside her home explaining that she'd heard stories about intense flooding from her father but never seen it in person.
"Everything and everywhere is covered with water; we cannot access a better place," she said. "There used to be very good water from the tap… now we have to drink dirty water."
South Sudanese President Salva Kiir declared a state of national emergency last month, but David Yau Yau, the governor of Pibor, said the national government "has not yet taken any initiative towards this situation".
The floods come at a delicate moment for the country. Last week President Kiir and opposition leader Riek Machar agreed to delay the formation of a unity government by 100 days, after missing a 12 November deadline.
The two sides signed a peace deal in September 2018 after five years of civil war but have been unable to finalise negotiations on core elements of the agreement such as the formation of a unified army.
Canoeing through streets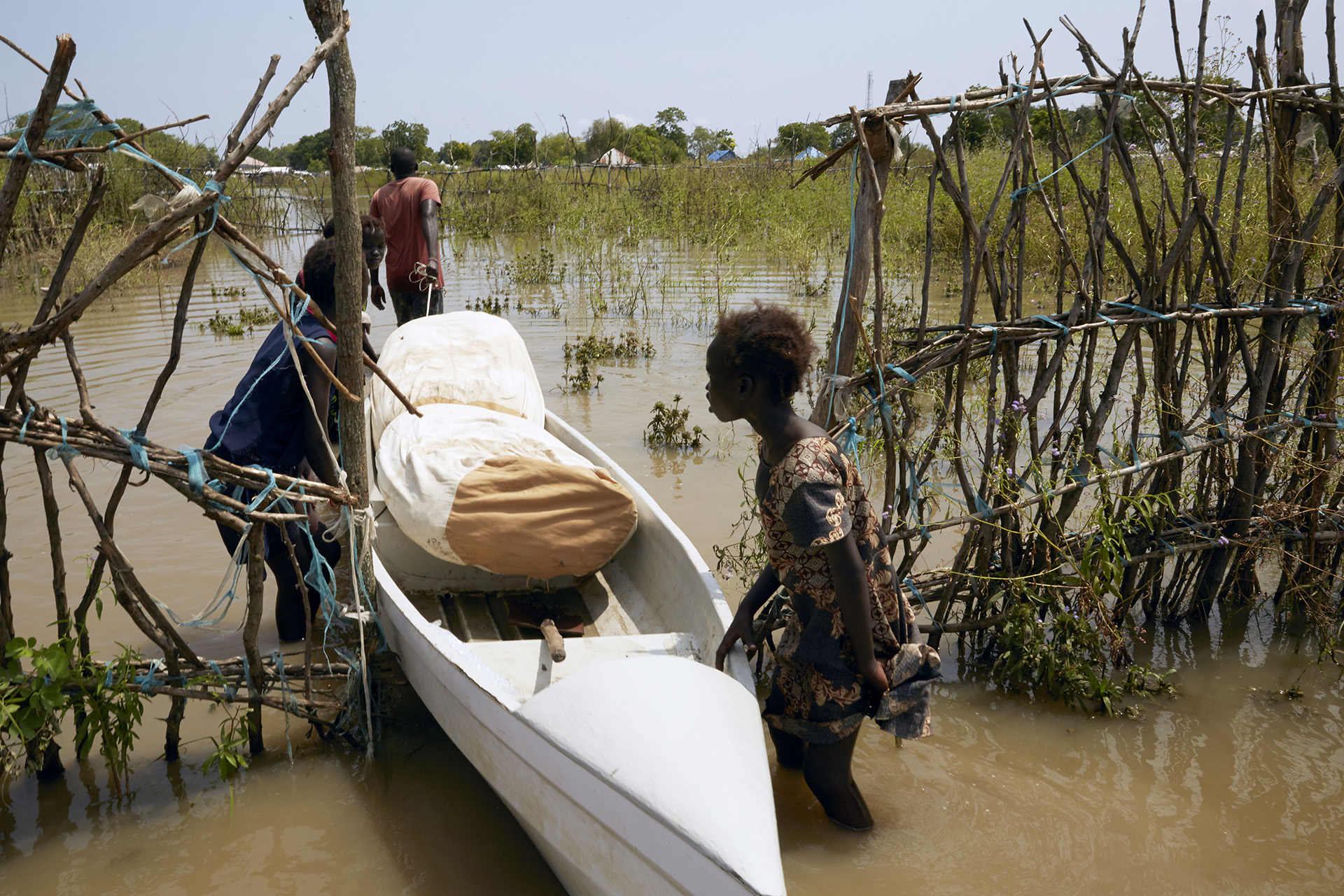 A man and three young girls use a canoe to transport their belongings on what was once a dry footpath leading away from Pibor's airstrip. The rains are likely to continue until at least the end of November, putting even more people at risk.
Cramped camps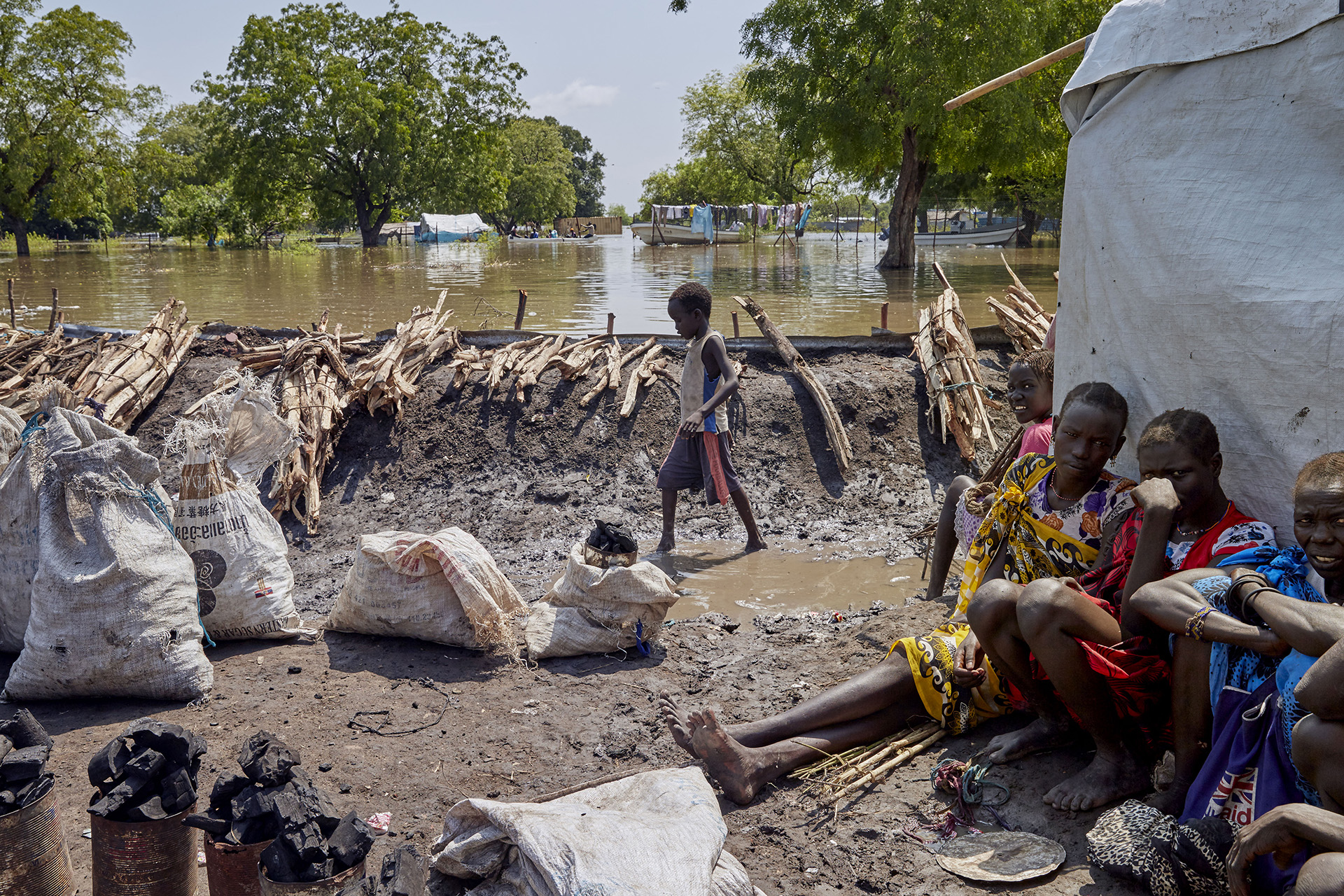 A boy walks beside a man-made mud barrier that is keeping the floodwaters away from a small patch of dry land where roughly 2,700 people are living in makeshift shelters. Aid organisations worry that the cramped conditions could lead to a rise in the already high number of measles cases in the area, while diarrhoea, respiratory tract infections, and malaria cases are also expected to grow.
Destroyed medical clinic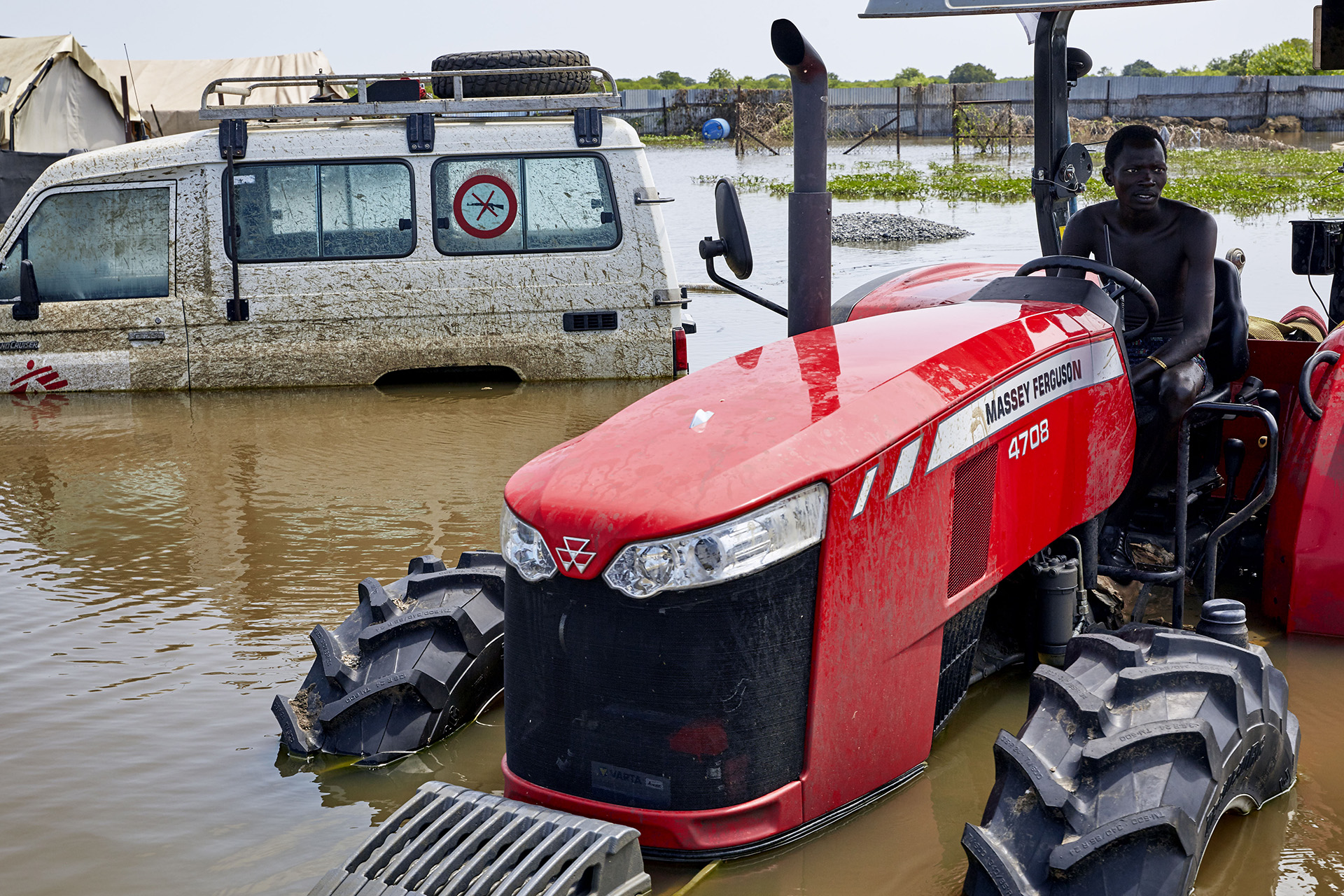 A man sits in a flooded tractor within the compound of a now-defunct MSF primary healthcare centre in central Pibor. The centre was the only inpatient medical facility for a population of around 140,000 people. Its operating theatre could provide procedures like caesarean sections and other lifesaving medical surgeries.
Floating hospital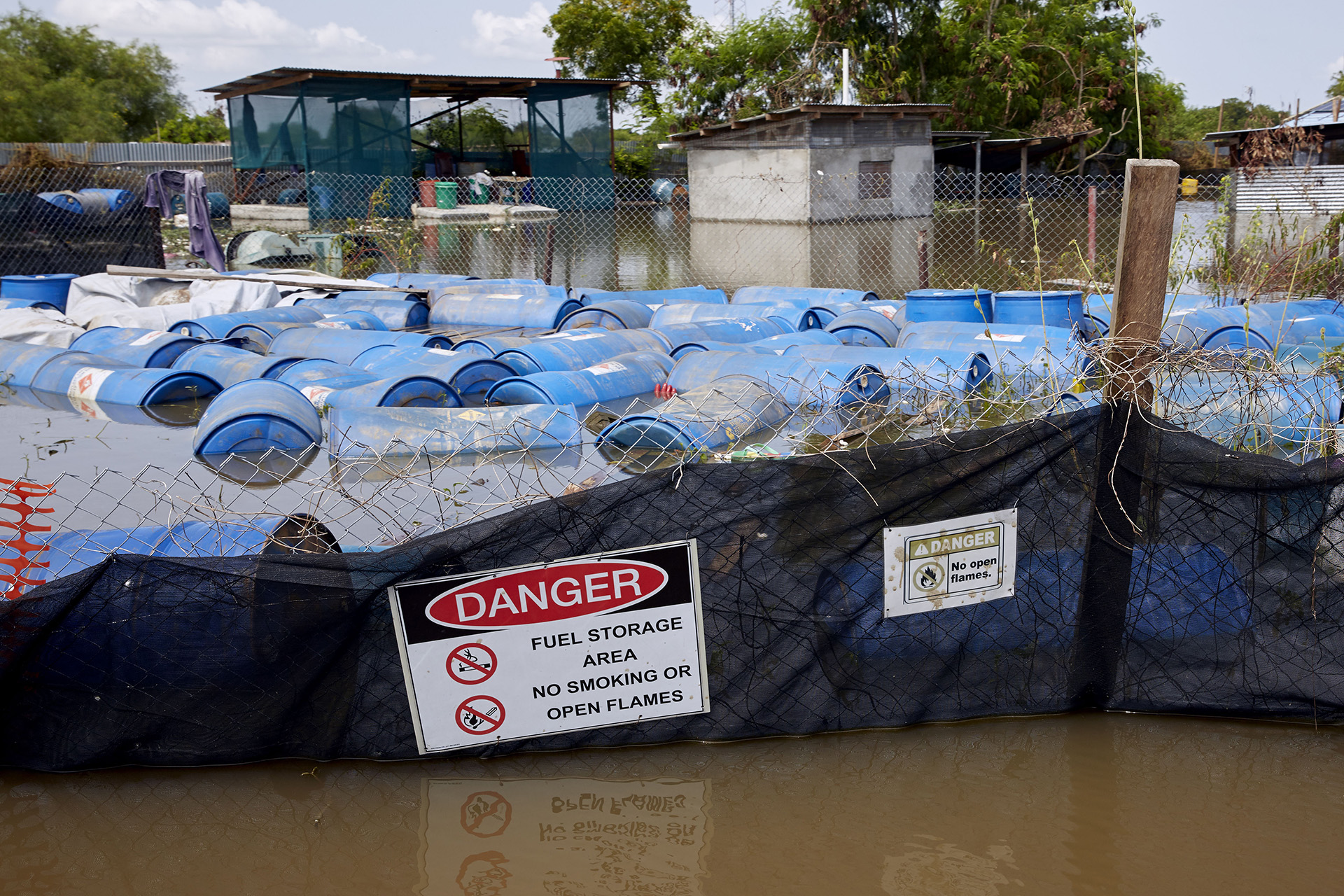 Empty fuel drums float around in the MSF healthcare facility. The floodwater has rendered the hospital completely inaccessible. "The only way to move around the hospital now is by boat," said MSF's medical team leader Benedetta Capelli, who recently returned from Pibor.
Abandoned homes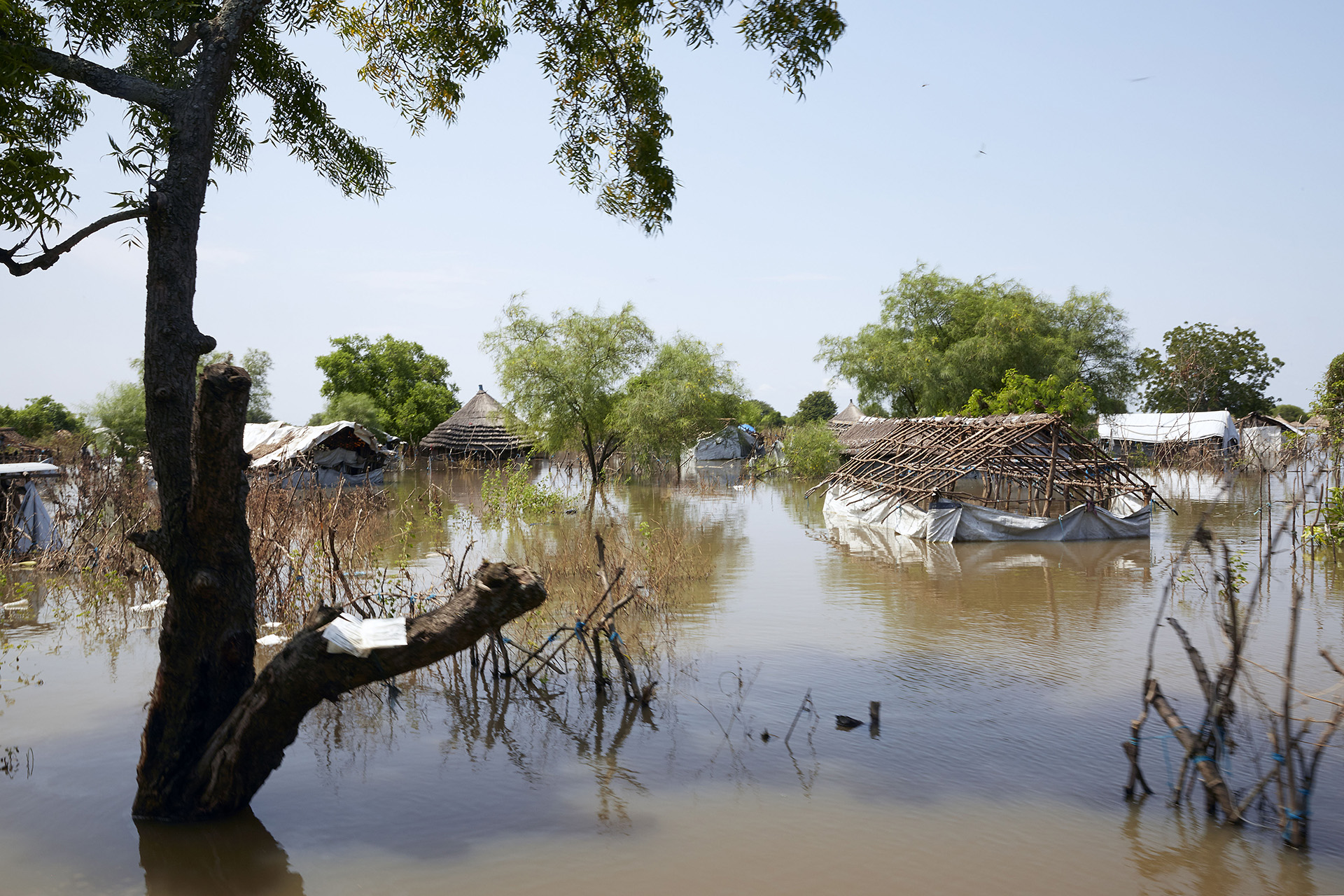 Residents in central Pibor have had to flee their homes and scramble to safety. The extent of the damage has meant that humanitarian organisations are now being forced to provide aid with resources originally intended for next year's dry season.
Lost livestock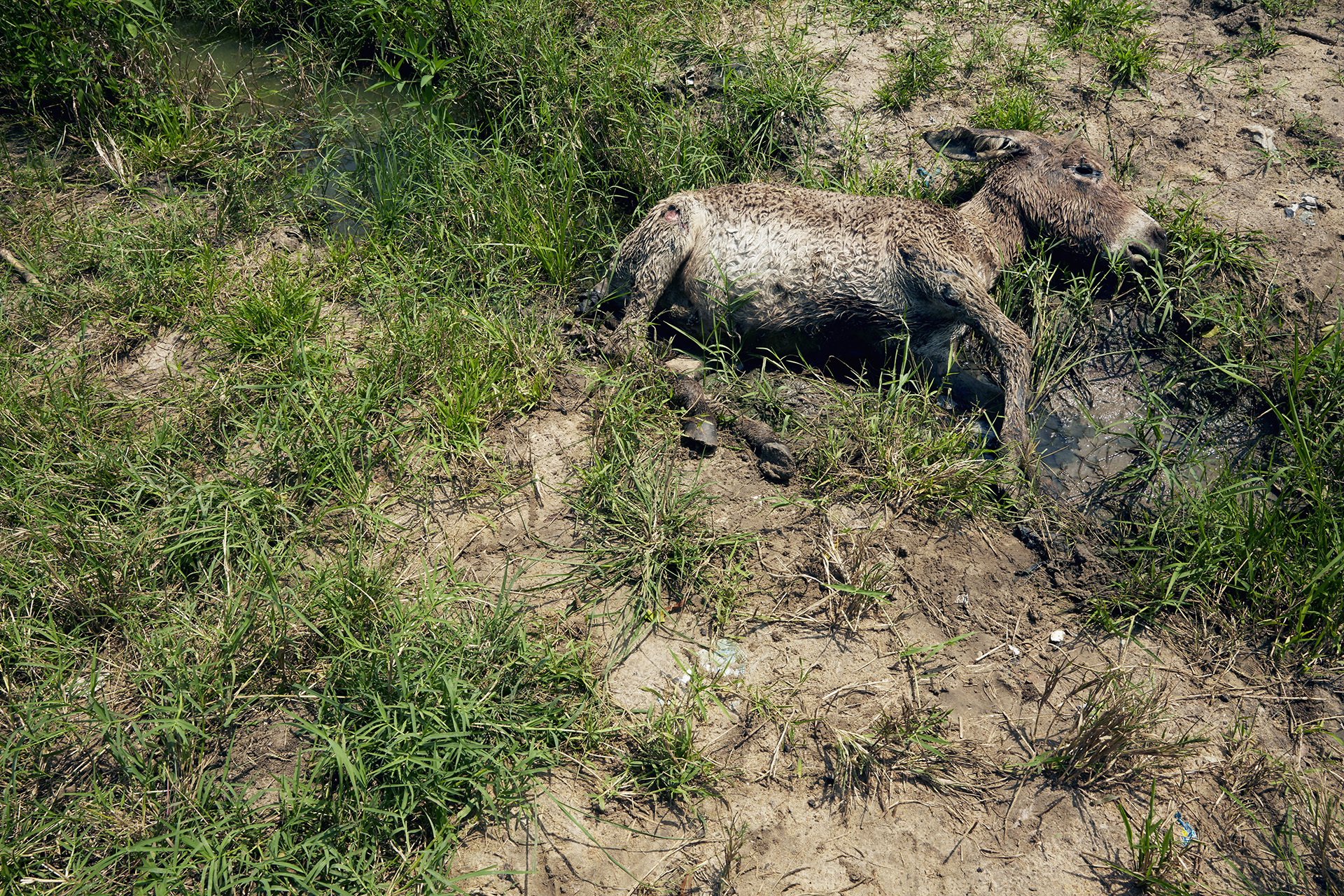 A young donkey lies dead in the grass in Gumuruk, a village roughly 30 kilometres from Pibor town. Local farmers have lost considerable amounts of livestock since the flooding began, due to a lack of available land to graze as well as waterborne parasites.
Calls for help
A man drives a speedboat along what was once a footpath in central Pibor. The national government "has not yet taken any initiative towards this situation", said the governor of Pibor, David Yau Yau.
Water still rising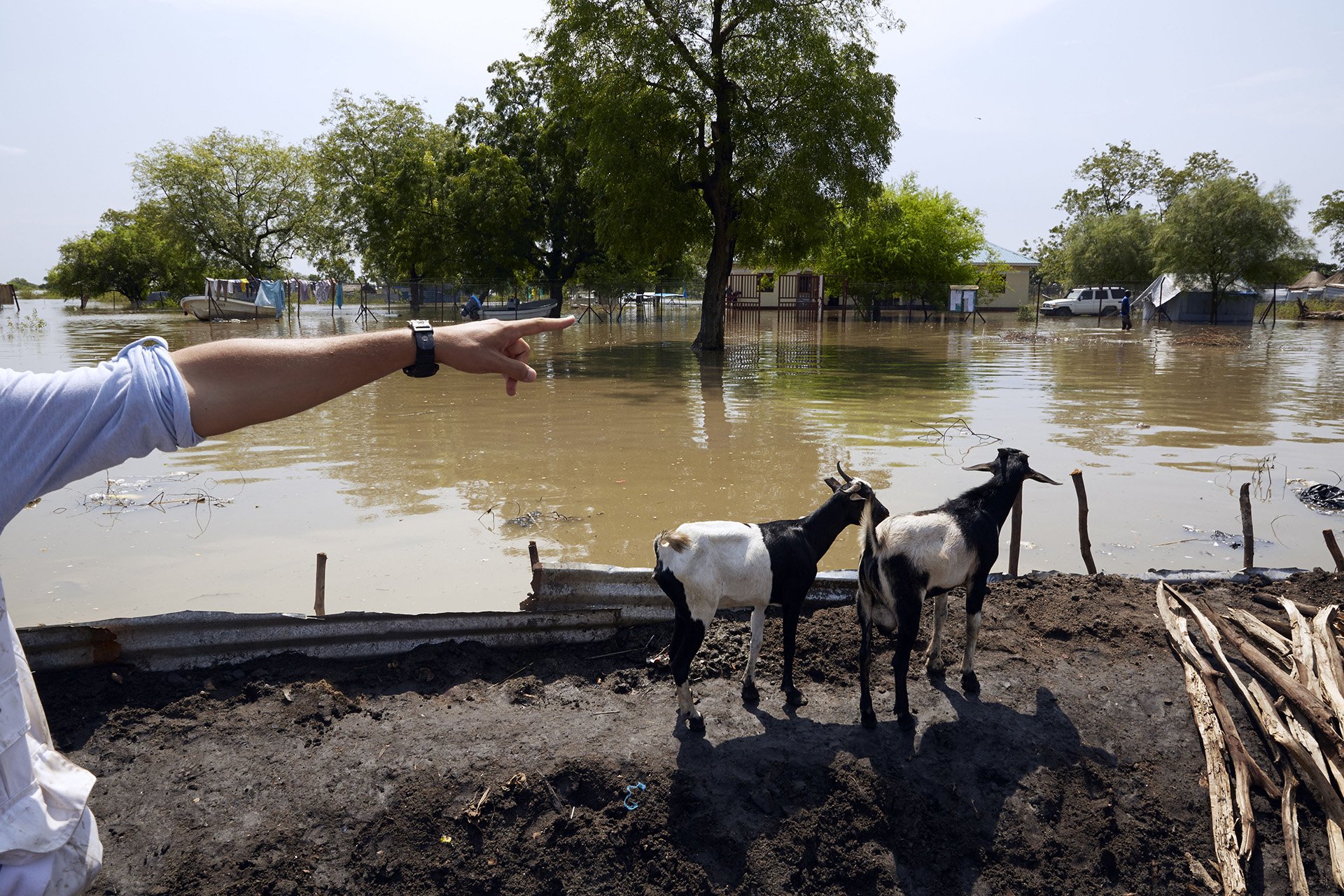 The land adjacent to the Pibor River is now indistinguishable from the river itself. Floods here in 2017 took three months to subside, according to MSF, and the water is still rising.
TNH used transportation provided by Médecins Sans Frontières.
am/pk/ag